There was that good old report published back in 2017 by Coleman Company. It showed that nearly half of the respondents listed cooking outdoors as a favorite activity during a trip. Despite this, cooking grills or equipment didn't make a list of the top 10 camping items purchased in the previous year.
Cooking food with one of these is ridiculously easy. That's besides the fact that it allows you to cook many things at once – perfect for larger groups. Not only that, but it is crucial to ensure you keep and cook your food properly to prevent food poisoning.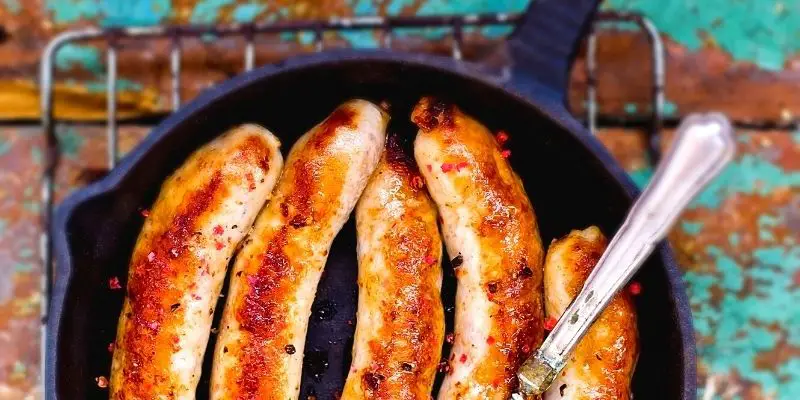 Unless bringing back home some rare parasites as a souvenir to remember your adventure is your primary goal, getting a backpacking grill is a solid plan. 
I've spent hours on Amazon trying to find a good option when scheduling my last camping trip. And I didn't want all that time to be wasted for nothing. So I put this list together.  
If you don't want to go through the long article and landed on this page just for a quick suggestion, I'd say check this wood-burning stove by Unigear. It is collapsible, made of stainless steel, and can be used to cook food with almost any fuel source. It is versatile and portable, priced well too, and sturdy, so it's a solid option to consider.  
If you're looking for something a bit more specific than this one, then read on. 
Are you interested in a backpacking grill for a particular purposes? Then use the table of contents below to jump to the most relevant section. And you can always go back by clicking on the black arrow in the right bottom corner of the page. Also, please note that some of the links in this article may be affiliate links. For more details, check the Disclosure section at the bottom of the page. 

Lightweight hiking grill
If you're looking for a packable grill that won't break your back on your next backpacking adventure, then this one by Bitty Big Q is the one for you. Weighing in at only 1.7lbs and completely foldable, this is a truly compact option if you're looking for an ultralight backpacking grill that you can nearly forget you're carrying. Despite its compact profile when folded, it can be assembled to serve up to 5 people, making it spectacular for backpacking groups.
Titanium backpacking grill
Titanium is fantastic because despite being half the weight of stainless steel, it is easily stronger. This makes getting a titanium grill a great way to lighten up your backpacking load. This stove from Stadelhorn weighs under half a pound, which is incredible, and despite that its lightweight, it can carry up to 100lbs. It is built to work with wood, though you can use branches and leaves as well.
Best backpacking grill: my top choice 
This portable stove by Unigear is my top pick for backpacking grills, and for clear reasons. Not only is it very competitively priced, but it can be folded down and has multiple racks for different cooking methods. It is made of stainless steel and can easily be packed into the carrying bag that comes with it. The best part is you can use it with different fuel sources, whether wood, gas, coal, or fuel tablets.
Best portable grill for backpacking
Like its name suggests, the Flatpack is a portable camping grill that can be packed flat. This is a miracle for portability in terms of size, but when it comes to weight, it weighs a hefty 3.2lbs. At that weight, you're likely to feel it on your back after some hours. There's a smaller variant. However, if you want to go lighter on the weight, but when we talk about portability, UCO kicks asses of competition. This grill holds the fuel, either wood or coal, making cleaning up very easy.
Cheap backpacking grill
Suppose you're looking for the most inexpensive option to help you get the cooking done on your next backpacking trip. In that case, this backpacker grill grate from DZRZVD is one of the simplest options you can find. It is a grill grate of woven stainless steel that comes with a carrying bag. It doesn't have a stand and doesn't fold as well, but considering the price, it's not such a bad deal.
Best small campfire grill
This small backpacking grill from Naturehike is great because of how modular and compact it is. It can be placed over a pre-made fire if you remove the bottom sheet, or a fire can be constructed isolated within it. It's hard to find a campfire grill for backpacking that comes with a carrying bag as stylish as the one that comes with this. However, it is a high-quality grill, which probably explains why it costs a rather hefty sum and weighs nearly 6 pounds.
Best backpack BBQ grill
Cast iron is one of the strongest materials to use to construct equipment. It is revered because of how well it can handle itself under intense heat. This makes barbecuing exquisitely satisfying. The main downside of cast iron is how heavy it is. But this camping gadget only weighs over 10 pounds, which is not the heaviest amongst the grills with the same purpose. The grill legs can be unscrewed to allow for flat storage, so portability isn't bad at all. And well, you have some sacrifice to make if you are craving for those juicy melting ribs cooked outdoors.
Best foldable backpacking grill
If you're looking for a stainless steel backpacker grill that operates in one piece and simply needs to be unfolded to use, this is the one. The whole construction is stainless steel, and it can easily be propped over a fire to start cooking right away. This folding backpacking grill by Redcamp can be stored easily in the included carrying bag once you're done, making it simple to tote around.