From the comfort of our homes to braving the relative discomfort of the great outdoors, that's one way to describe backpacking. However, it isn't about intentionally making yourself suffer, despite that. 
It's very common to experience back pain during camping or hiking trips. A poorly constructed seat (or lack of it) just makes it worse. Good backpacking chair isn't only for staving off pain and discomfort, but sometimes to augment already-existing comfort. After all, your back won't thank you for sitting on that log for too long. 
And health-related issues aside… I'm sure you have heard of glamping – 'glamorous camping' – which is projected to become a $5 billion dollar industry by 2025.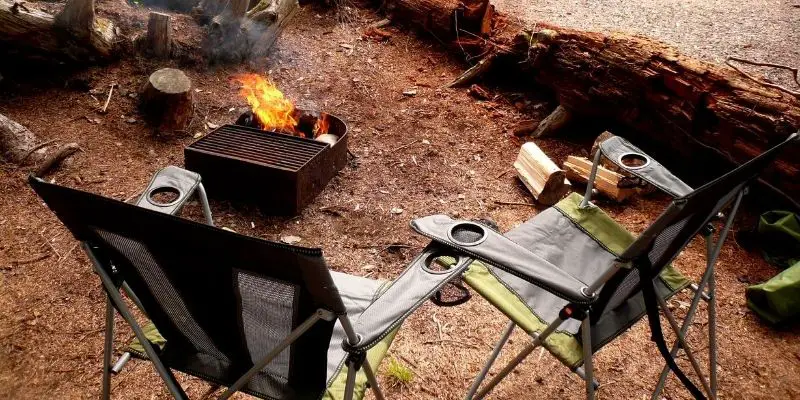 The fact that so many new products have been popping out in this category is living proof: glamping is not a fad and backpacking chairs are clearly turning to be one of the staples on any camping gadgets lists.
That is why I thought it won't hurt to check out the merch they have on Amazon. And pick the most decent seating options for my next backpacking trip. 
I've spent about 20 hours on this research, so I hope it can be useful for you too. 
If you're in a hurry to go off on your next trip and want to know what my top pick is, I'd say check out this chair by Rock Cloud. It's lightweight, folds up in a snap, is created for all-terrain use in terms of both build and functionality, and comes with pockets for storage.
Otherwise, keep reading – I have a few more backpacking chairs suggestions that might be a good fit depending on your needs and circumstances. 
Do you have a particular question about picking the right backpacking chair? Then use the table of contents below to jump to the most relevant section. And you can always go back by clicking on the black arrow in the right bottom corner of the page. Also, please note that some of the links in this article may be affiliate links. For more details, check the Disclosure section at the bottom of the page. 

Backpacking chairs comparison
| Best for... | Price | Weight | Capacity | |
| --- | --- | --- | --- | --- |
| Best overall | $$ | 2.35lb | up to 265 lb | |
| Ultralight | $$$ | 1.2lb | up to 265lb | |
| Most comfortable | $$ | 2lb | up to 242lb | |
| ...Hiking | $$ | 2.3lb | up to 300lb | |
| Budget | $ | 1.9lb | up to 330lb | |
| Heavy-duty | $$ | 13.2lb | up to 450lb | |
| Swivel | $$ | 8.5lb | up to 300lb | |
Best backpacking chair
If you ask me to select a single backpacking chair that leaves me satisfied and with no complaints overall, then it has to be this light, foldable chair from Rock Cloud. Why? Apart from the fact it is sturdy and only weighs 2.3lb, it is built with a solid aluminum alloy and is advertised to support up to 265lb. Aluminum means it won't rust, and the fabric is waterproof. If you've tried out some of the less acclaimed chairs, you'll know that sinking into the mud is a concern when the chair has poorly designed feet. That's why I just have to mention the specially designed feet which allow this Rock Cloud chair to sit nicely pretty much anywhere. Mud, sand, snow? It's got you.
Pros
Super fast and straightforward to assemble
Large feet prevent sinking on softer terrain
The chair is relatively lightweight
Has pockets for storage
Very affordable
Cons
The chair may be too low for taller people
The seat is small, despite the maximum load


Ultralight backpacking chair
This backpacking chair from Helinox is the proper definition of featherweight. This ultralight chair comes in at a mere 1.2lb, which is less than a bottle of water. That makes it easily the lightest backpacking chair on this list. Portability definitely isn't a weak point of this chair. The frame is rated to hold up to 265lb, thanks to the durable aluminum alloy it's built of. And it's not only the frame that excels. The seat material is a weather-resistant polyester, so you know it can handle a lot.
Pros
One of the lightest options available, and packs very small
Stays sturdy even when holding close to the maximum weight
The chair is comfortable even for people with taller frames
Assembles quickly
Cons
Rather costly
Tends to sink in on soft terrain
No pockets for storage


Most comfortable backpacking chair
For some people, portability and weight isn't the primary concern when shopping for a backpacking chair. Just like a regular chair, you might just want one that is super comfy to sit in. Moon Lence addresses that with this. The seat is soft, with a breathable mesh for the back and sides to keep you from getting sweaty. It also has two small pockets to keep your hands free and leave you in maximum comfort.
Pros
The price is relatively affordable
Extremely easy to put together
Super comfortable to sit in for long periods
Holds bigger frames quite nicely
Cons
Feet may sink into sand or mud
The fabric is weak, and the frame may tear through


Best hiking chair
If you're going hiking, you're looking for a chair that is not only sturdy and durable but one that you can easily pack up and move at a moment's notice. I've been with hiking groups that don't want to sit around and watch you fumble around packing your chair. Good thing this one can be assembled in about half a minute, and packed nearly as quick. An aircraft-grade aluminum frame guarantees a strong build and a lighter carry. Seeing as hiking always takes us to uncertain terrain, it's great that this chair can hold up nicely on soft ground without sinking into it. The higher seat also means more comfort for your back, which is much appreciated on long hikes. 
Pros
The material is very comfortable
Shock cords make assembly super-fast
Sits higher than most chairs, works well even for the taller folks
Legs hold up well on softer ground
Cons
May not hold higher weights as well, despite the advertised load
The first assembly may be complicated


Best budget backpacking chair
It may not bring all the fancy features that more expensive options do. But if you're looking for a cheap backpacking chair that you can purchase without feeling a dent in your wallet, this is the perfect one. The chair weighs less than 2 pounds and still brings in an aviation-grade aluminum-alloy despite its affordability. The breathable mesh cloth makes sitting in this as comfortable as can be.
Pros
One of the best options for a cheap backpacking chair
Provides good support for the back
Very portable and easy to tote around
Cons
Feet sink into the ground
The frame may tear through the fabric holes


Heavy-duty backpacking chair
If you have a bigger frame, then most of the chairs on this list just won't cut it for you, with most holding only up to 260lb. I can say that the best backpacking chair for big guys is this heavy-duty option from Alpha Camp. Just looking at it, you know: sitting in it will feel like heaven. The build differs significantly from the others on the list, with steel framing at a larger diameter, that lets this chair hold up to 450lb of weight. Not only that but with padded armrests, comfort is a major consideration.
Pros
Sits comfortably high, and padding makes a cozy fit
Has ample storage space, including one to keep drinks cool
Exceptionally well-built, and holds heavier loads wellLeak-proof
Cons
The front bar may make the chair uncomfortable for shorter people
Over 13lb makes this chair heavier than most of the others


Swivel backpacking chair
One thing that most backpacking chairs don't afford you is freedom of movement. You're stuck facing one direction, but perhaps you want to be able to look behind you at a moment's notice to look out for hungry bears! You get 360 degrees of motion, all built up upon a slightly intricately built iron frame. It's not all about the swivel though: the flat bottomed foot pads make it easy to sit on soft, uneven surfaces. And you get a cup holder and an advertised weight of up to 300lb, which is impressive.
Pros
Sits nicely even on unstable ground, and doesn't sink in
Comfortable for people with bigger frames
The carrying bag is large enough for stress-free storage
Cons
The chair may sit too low for taller people
The fabric seat is not very comfortable
Swivel hinge tends to squeak with movement
Relatively heavy at 8.5lb


Is a backpacking chair worth it?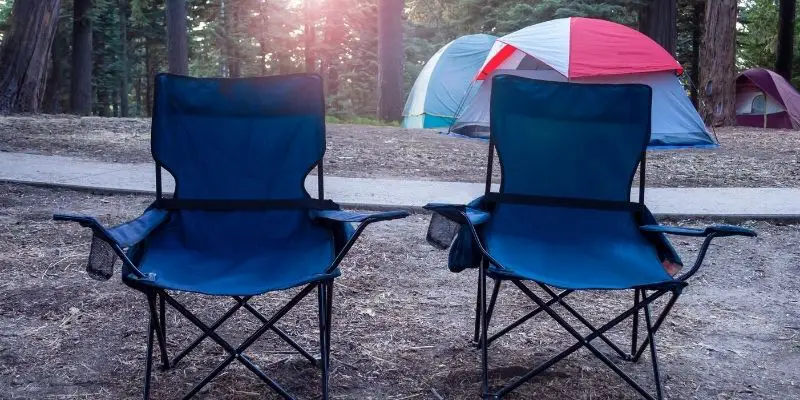 Some of the more hardcore backpackers would probably cast chairs aside as an unnecessary addition to your travel gear. Some might call it a luxury. But if you ask me, I think that once you experience a backpacking chair, you can never go back.
Sure, you can always find a log or a rock to rest against, and maybe use a foam pad to make it a bit more comfortable. But honestly, why subject yourself to that when you can bring a chair along for barely any additional weight? There are budget chairs if your concern is cost. There are ultralight chairs if your concern is the weight.
A backpacking chair also saves you the absolute stress of back and muscle pain. Hiking is already intense enough, and adding body pain to it doesn't make it any easier. In fact, you're not doing your body any lasting favors.
So if you want to ask me whether a backpacking chair is worth it, I'm sure that you probably know that my answer is a "Yes!".
Credits: Thanks for the photo to Canva.

At ipoki.com we only mention the products that we've researched and considered worthy. But it's important to mention that we are a participant of several affiliate programs, including Amazon Services LLC Associates Program, an affiliate advertising program designed to provide a mean for us to earn fees by linking to Amazon.com and affiliated sites. As an Amazon Associate ipoki.com earns from qualifying purchases.