If you like traveling light or have limited living space, you might be on the lookout for the best portable washing machine. I realize that the task of choosing the best product from a huge lot can be overwhelming. Especially if we are not talking about cheap impulsive purchases. So, I have done extensive research on finding the best units that you might consider depending on your requirements. 
Do you have a particular question about portable washing machines? Then use the table of contents below to jump to the most relevant section. And you can always go back by clicking on the black arrow in the right bottom corner of the page. Also, please note that some of the links in this article may be affiliate links. For more details, check the Disclosure section at the bottom of the page. 

Best portable washing machine: our top choice
The hOmeLabs Portable Washer offers a handy automatic wash, rinse, and spin cycles. It comes with a faucet adapter, making the inlet water connection convenient. Roller wheels at the rear offer the smooth movement of the machine. With a 6-pound clothes capacity, the stainless-steel drum can last a lifetime courtesy of its corrosion and rust resistance.
Plus, you have superior controls as you can watch your clothes spin from the transparent lid. And can even control the parameters with the LED display. Three water levels provide you with versatility and offer water savings. It's quite heavy, though (44.1 pounds).
But still small enough (17.7 x 18.1 x 31.5 inches), especially given all its functionality. It's practical as efficient as your standard washing machine at a fraction of the cost. 
Overall this washer from hOmeLabs is our top choice as it is cost-effective; it offers premium features at a pretty impressive price point.
Portable washing machine and dryer
The Giantex Mini Twin-Tub Portable Washer comes with an in-built spin dryer. With 11lbs washing and 6.6lbs drying capacity, it's unlikely that any of your dirty clothes will be left out.
You can set washing and drying times separately. The washer can effectively remove stubborn stains with 300w washer motor power and 110w spinner power. The pleasant, top-load, and compact design of this washer from Giantex takes up minimum space while doing its job efficiently (it weighs only 29.3 pounds and as small as 28.5 in height). 
Besides, the washer is equipped with a drainage tube, saving your energy and time. Just let gravity do its work through the drainage tube.
Cheap portable washing machine
This portable washer seems to be the best machine when considering the price/value ratio. It's equipped with a spin dryer and offers 5.6lbs washing and 4.4lbs drying capacity while merely taking any significant space.
Powerful 1300RPM motor, 110V/60Hz voltage frequency, and simple operation of the washer make it efficient and easy to use.
For each load, the washer time is 15 minutes, while the spin cycle runs for 5 minutes. While small in size, this cheap portable washer offers the best compromise between size and capacity.
It's made with durable plastic, the body is lightweight and perfect for outdoor use. And weighs only 22 pounds. So you can quickly move it around. 
Handheld portable washing machine
The Breathing Mobile Washer comes handy when you are lacking access to electricity or even an ample amount of water. This tiny, portable washer cleans your clothes using minimum water and soap.
It weighs only 11.3 ounces and measures 8 X 8 X 8 inches. It's efficient with the stuff you don't usually put in a washing machine, for instance, rugs, bags, or large and delicate items.
Also, this handheld washer considerably reduces your costs by saving electricity, detergent, and water. It's a small tool that can prove to be a great travel companion. Plus, it performs surprisingly well, especially considering the price.
Non-electric portable washer
Lavario washer is a non-electric tool that efficiently cleans clothes with easy up and down motion. It does not demand much human power either. The water seeps through the fabric with the patented "power flow technology," performing effective cleaning.
Plus, it consumes just a fraction of the water and detergent consumed by electric washers, minimizing the running cost. It takes about 20 minutes to clean the clothes. It is easy to use and handle, has a lightweight body (only 14 pounds!). And it is non-electric, which makes this washer perfect for camping and travel.
This portable washer works gently on delicate clothes but still has no mercy for stains. Awesome piece! 
Portable washer for camping
This mini twin tub washer is one of the smallest and lightest machines. With 5.5lbs washing and 4.4lbs spin capacity, 1300RPM motor, and frequency of 60Hz, the tiny portable washer washes small loads efficiently and works well for delicates.
Plus, you can run the washer and spinner at the same time; the washing time is 15 mins, and the spinner is 5 mins per load. It has a separate time controller for washer and spinner. It provides you more control and cleans effectively with any type of home laundry additive. 
The piece is built with high-density plastic and clearly intended to last for years. And, being so small and lightweight, it's ideal for camping trips. 
Portable countertop washing machine
This countertop washer is ideal for you if you want to get small loads washed quickly. It takes a couple of minutes to finish a single load. It doesn't use an agitator that can damage your clothes, so it's a safe washing machine alternative and ideal for delicates.
You can use any household laundry detergent, however, using pre-measured capsules is not recommended as they have too much detergent. Also, Wonderwash uses little water, no electricity, and has a durable, long-lasting handle insert. 
RV portable washer
The laundry alternative "Wonderwash" washer is small-sized, hand-powered, and offers a quick wash of small loads. It takes up less space and weighs in merely 6lbs; so, it's an ideal RV portable washer.
The washer cleans dirty laundry within 2 minutes, requires no electric connection, and is gentle on your delicate clothes and fabrics.
Plus, this RV portable washer is long-lasting, as it works gently and has no running motor inside. With a 90% less water consumption than the conventional washing machines and a relatively cheaper price point, the Wonderwash is good for your budget too.  
Portable Washing Machine Buying Guide and FAQ
How does a portable washer work?
Portable washers don't require a permanent water connection. And some models even don't require electricity. 
So, you put your dirty clothes in, connect the inlet hose of the machine to the faucet of your kitchen or any water source for clean water. Then position the outlet hose into a drain for dirty water and turn the unit on.
After the washing cycle is complete, you can dry the wet clothes. Some portable washers are equipped with a spinner for drying as well.
3 reasons to buy a portable washing machine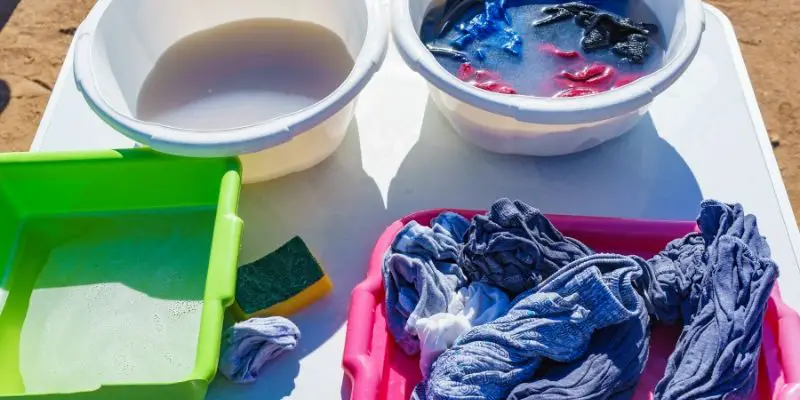 A portable washer offers numerous benefits over full-sized washing machines. For instance:
1. Works well for smaller spaces. It is smaller in size and has less weight, hence easily portable anywhere you want it to wash your clothes clean. Plus, wherever you put it in your house, it won't take much space.
2. Good for traveling. If you are a traveler, you can take a few clothes with you, since you can wash them whenever they get dirty. This will significantly reduce your backpack or suitcase size.
3. Lower your water/electricity/laundromat bills. Besides offering convenience, these portable washers are considerably cheaper than the conventional ones.
I think these three perks are enticing, to say the least. After all, who wouldn't prefer a more convenient and cost-effective alternative?
How much does a portable washer cost?
While the price depends on the features of a portable washer. According to my research, it can cost ranging from around $50 to $300. A standard portable washing machine will cost you about $100. If you just want a simple washer, with on and off functionality, cheaper options will do fine. 
 In short, robbing the bank is not required before making a purchase. 
What to look for when buying a portable washing machine?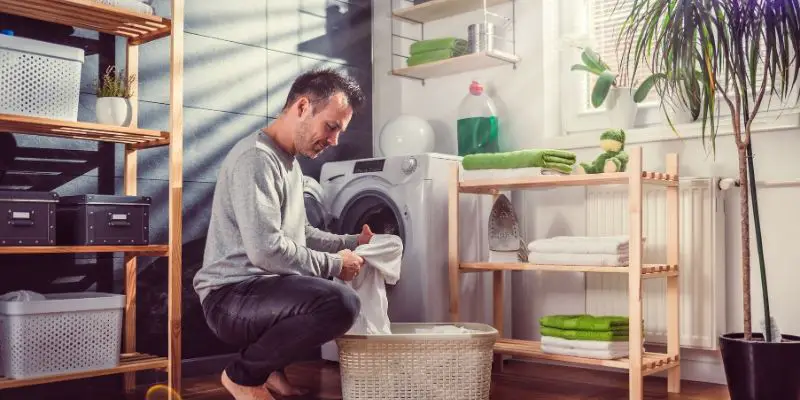 Every washer has a different capacity; considering that, you go for the one that aligns with your required capacity per batch of clothes.
Ask yourself, do you want a human-powered or electric-powered washer? Electric-powered is suitable when you have a power source available all the time. The human-powered machine will work better for those who like to travel and are okay with manual washing.
You'll also have to consider whether the washer is equipped with a dryer or not. If you want to air-dry your clothes, just go with the unit without the spinner.
Front-load machines are more energy and water efficient than top-load washers. However, front-load units offer convenience as you won't have to bend to use them.
Size matters. You don't want it to take up any extra space than it needs to. A small portable washing machine does the job effectively.
Credits: Thanks for the photo to Canva. Additional cover photo credit: ©geertweggen
At ipoki.com we only mention the products that we've researched and considered worthy. But it's important to mention that we are a participant of several affiliate programs, including Amazon Services LLC Associates Program, an affiliate advertising program designed to provide a mean for us to earn fees by linking to Amazon.com and affiliated sites. As an Amazon Associate ipoki.com earns from qualifying purchases.