Whether you are looking to rekindle your passion for the music of yesteryears or listen to a classical number to soothe your soul, the right record player is essential. 
Vinyl record players will remain faithful to the authentic sound of music, after all, Jack White did say, "There is no romance, in singing about an iPod." 
If you are only here to find the best record player, our choice would be this portable suitcase player by GRC. It sounds excellent, portable, affordable, looks cool, and overall combines all the essential well-made features you might need.
And if you are willing to learn more about the device and figure out what exactly you have to look for when hunting for a perfect turntable, we have more data for you. Check out the table of contents below and jump to the most relevant section quickly. And you can always go back by clicking on the black arrow in the right bottom corner of the page. 
How does a record player work?
The record player is a marvel of the invention since Thomas Edison introduced the first phonograph in the late 19 century. And even though compact discs have overwhelmed the market, vinyl still remains a favorite for real music lovers across the globe.
So how does this science ingenuity produce the sounds you hear?
First off, a record player is similar to a CD but larger with groove markings on it. To play the record, you need a turntable, which is the metal portion where the vinyl record is placed on. 
Now there is an arm with a pointy tip called the stylus. This function to play the sound by following the grooved parts on the record. And also acts as the transfer arm that transports the sounds to the speakers.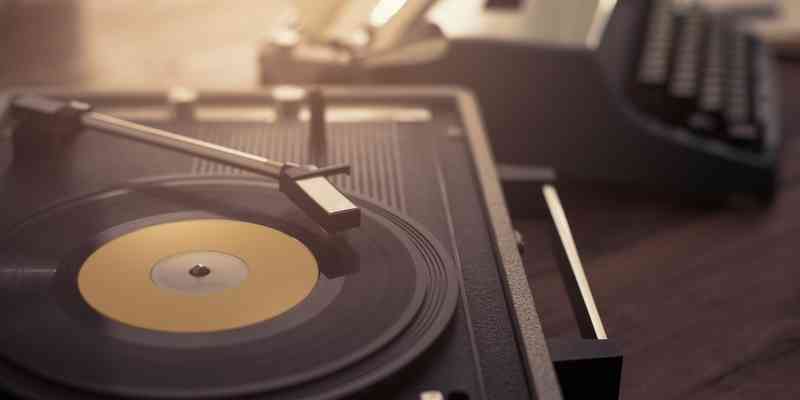 The record player is driven by a motor system that turns the belt around, revolving the vinyl record on the turntable. Now the vinyl will not play unless the stylus is touching it.
As the record turns, the stylus moves along the grove markings on the vinyl record. It creates sound vibrations that are converted to electrical energy passing through the arm of the stylus to an amplifier. And it changes further the rich sound you can hear.
So long as the needle continues to vibrate through the markings on the vinyl record, energy keeps getting converted, and your room is filled with rich, beautiful music.

How much does a record player cost?
A good record player that will serve you well costs $200 – $400, and one that will remain in the family will set you back about $500 and above. But it's totally possible to find something decent below $100 on the market.


5 Top Reasons to Buy a Record Player today
Some might not see anything useful in buying a record player or think only DJs need it for their job. But purchasing the first record can be the beginning of a lifechanging music journey.  
Make a personal collection of music you love
If you love music, vinyl records are the only way to have a unique collection of music from your favorite artists without compromising the sound quality of the music. Besides, having a record player will allow you to make more friends from your local record store as you walk your way through their collection.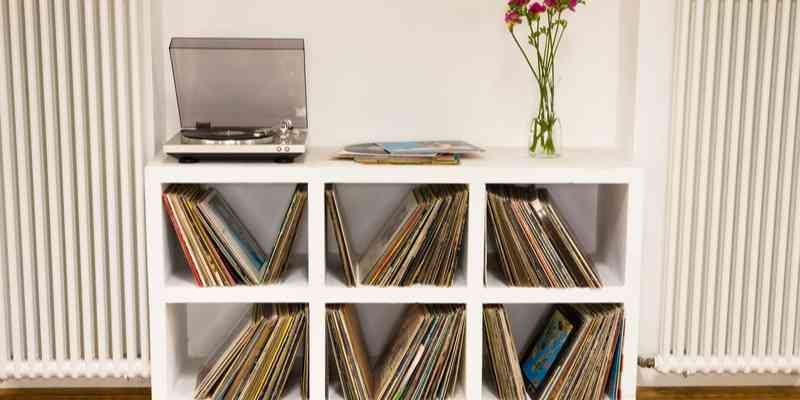 Enjoy a deeper, warmer and sharper sound
Yes, CD and music from your iPod are nice, but have you ever listened to a record player playing your favorite song. It sounds different based on pure physics. Vinyl is an analog, meaning that recording is capturing every tiny bit of a sound wave. And when it comes to digital music, it produced by taking frequent snapshots of soundwave and feeding it to a speaker. So even though it's almost unrecognizable to our hearing, a significant amount of data is lost when going digital. And true music lovers definitely prefer to listen to the sound that was intended to be heard by its creators. 
It adds a wow factor to your home
Need something to add some pizzazz to your space, think record player. While you might be thinking, oh no, it is too outdated. You will be surprised how many people appreciate a record player that can churn out classical numbers that enrich your ambiance and décor.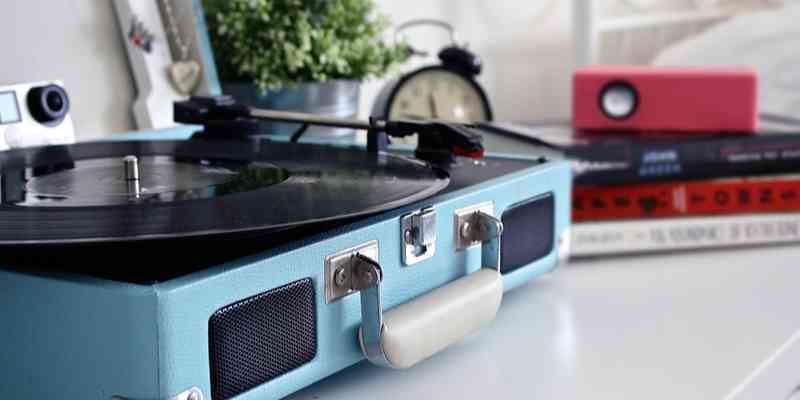 Preserve your music collection for years 
CDs scratch very easy, but a vinyl record usually preserved safely for way longer.

Discover and broaden your musical mind
Yes, a good record player will help you develop a musical library that you can rely on better than the digital music collection on your phone. Digital collections have specific music that doesn't flow with your style and sound. However, with a record player in your house, you can learn more about music that speaks to you more than digital songs.


What to look for when buying a record player?
There is something thrilling about holding a collection of songs that remind you of some important events from your life. While digital music is taking over everything we know, the record player still remains the best way to listen to music.
So when buying one, what are you supposed to consider?
The cost
As with everything you buy, the price is a deciding factor as to whether you get to purchase or not. The same theory works with a record player. Record player cost anything from below $100 to as much as $1000.
The more money you have to spend on a record player, the better the record player will be, and the better the sound of the records will be too. So if you love listening to music from your soul, then a good investment is definitely worth it.
Space
If you are tempted to buy a record player, think space; what good is a record player to you if it lands among a pile of rubbish in the basement or garage? While the market is filled with portable record players that will play your favorite song and be folded away. The beauty of a contemporary record player is the opportunity to showcase it in your interior.
How does it work?
A record player is a complex piece of machine for most people. The turntable, the arm, and the vinyl need to all come together in a harmonious unity to produce excellent music for you. Although most people know how to work a record player, the new generation looking to develop their musical mindset will find this hard. So when buying one, know how to use it, or have somebody teach you. 
The Look
A true music lover will go for a vintage record player. Those will tell a story of how deep your love for music is. Another factor to note is whether the record player comes in a suitcase or not? It will preserve the device from damage and might also look very unique.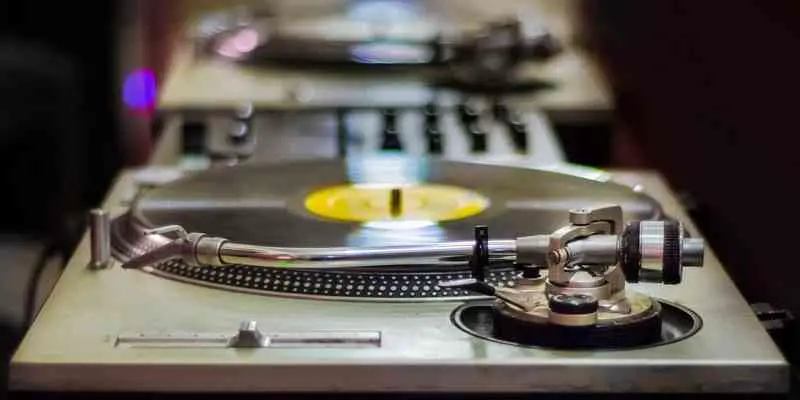 The Features and Compatibility
The modern-day record player offers consumers a variety of features that will help decide which direction you want to go with your choice for one. Some features are
USB or Non-USB port Record player – having a USB port on your record player allows you to convert music from your record to your computers easily.
Manual or Automatic
Without the arm touching the vinyl, the music won't come on. Some players can lift the tonearm automatically when the music is over to avoid scratching the record while you have to handle others on your own. So if you want to just listen to the song without doing the work, then automatic it is.
New or Second Hand 
There are very few places where you will get a new record player from the old generation, but most musical store might have one for you.
However, when you are on the market for an old piece, there are a couple of questions you need to ask the store owner like:
How long has the record players been on the ground?
Are all components of the record player functional and working correctly?
Are the parts on the record player original, refurbished, or replaced?
What was the record player used for before it came to the shop? This question allows you to know if it has overworked or not. A record player used by a DJ has seen good days and may not last long.
Is the shopkeeper the original owner of the record player?
Furthermore, don't be deceived by a record player that is playing smoothly at the shop, check all components properly. If your knowledge of record players are not up-to-date, ask someone (with a good record player background) to tag along to help you or just stick to the list below. 

Best Record Player: Our Top Choice
GRC Vinyl Record Player
If you grew up in a family of music listeners, then you should be able to relate to why this is our top choice for a record player. Aside from being a perfect gift box to music lovers, the record player produces exquisitely crisp sound and quality note that makes every song feel new to the listener.
Furthermore, it is easy to use, and for first-time buyers of vinyl record players, you are in for a fascinating ride into the world of music.
This device comes in an elegant fabric style suitcase with bronze handles and white leather interior. So it's one of the most stylish, portable music device on the go we've seen. And oh, it adds some finesse, and swag to your style.

Best Vintage Record Player
Victrola Retro Record Player
This is best vintage record player to bring back your lover.
Record players are associated with old school days. But if you like your modern record player to look like the '50s but feel like a modern tech, you can't go wrong with this one.
If you are looking for a vintage record player made to impress, this is it. It is well-built, high-quality, and well-packaged. The stunning red color brings back memories of an old 50s Corvette, and the sound during play is flawless.
Besides the beauty is the modern addition that allows you to record directly onto your MP3 or computer. Whether you want clean sound from a vinyl record, play a CD, or listen to the radio, this sure brings back beautiful memories, and worth every penny spent.

Best Record Player with Speakers
Wockoder record player with stereo speaker

Records players didn't come with speakers to allow you to enjoy the beauty of the record playing. So you can imagine our excitement when we found one with very decent speakers.
This record player has some exciting features, but the two forward-facing speakers make you remember just how good vinyl records sound. Although it also comes with an RCS port to connect to an amplifier, the speakers are audible enough without them.

Best Cheap Record Player 
Dodocool Record Player 
The right record player is expensive, so having one with all the features of the retro and present technology in the equal mix it this price point is a steal.
Dodocool takes this for its quality, portability, design, and its COST. It is simply beautiful, and if you are wondering how long will this last – forever.
After going through lots of vinyl record players, the price to value (quality) ratio is top-notch, especially for those looking to start a musical journey into the world of vinyl record players.

Best Portable Record Player
Miric Record Player
While all the record players on our list are portable, it is nice to have one that is light, the perfect size, and very compact. It can be used anywhere you are if there is a power source close to you. The Miric Bluetooth turntable will churn our beautiful sounds from the speakers.
Now you can take the music to the party with an easy to use system that allows you to play three different record sizes or the music from your phone. Enjoy music on the go with the Miric portable record player.

Best Quality Record Player for Audiophiles
Audio Technica AT – LP 120X
A well-established sound innovator, Audio Technica, knocks this out of the park with this reinvented retro vintage record player that puts the quality of the music before anything else.
At quite an affordable price (in comparison to other similar devices), this is the most reliable quality record player for audiophiles; easy to use and setup, the sound quality is outstanding and a considerable upgrade from its predecessor.
Furthermore, it is a very great record player to convert all your favorite songs into digital on your mobile device or computer.

Best Bluetooth Record Player
 SeeYing Bluetooth wooden record players
There are so many features to love about this record player, the natural wood design, the vintage style that enhances your interior décor and style.
However, being singled out as the best Bluetooth record player is because of its versatility and compatibility with many modern-day technology devices. So you can enjoy retro-style music of all your favorite digital songs through wireless connectivity.
This Bluetooth record player has a dimension of 12.36 by 10.86 by 4.92 inches and weighs 4.85 pounds making it super light and portable to fit anywhere in your home.

Top 3 best sounding vinyl records of all time
First, let's establish that vinyl DOES sound better than any other type of existing music carrier. It's an analog recording, that feeds the sound wave as it is – with no compression or decompression, coding or decoding.
Digital music, like the one stored on CDs, is a result of taking frequent snapshots of the analog signal (44,100 per second).
So, by the end of the day, you don't hear the real thing – you only listen to its more or less accurate representation. MP3 goes further and compress it all, to make it possible to store and send it all via the internet. 
To keep it short, vinyl's soundwaves can be much more precise, and that can be heard in the richness of the sound. Yes, the difference is almost indistinct to human hearing, but those who want to listen to the "real thing" would always prefer the vinyl.   

And now to our choice of the records: 
Whether you are a fan or not of Led Zeppelin, you can't deny the creativity and masterpieces that their works entail. With the best sounds, listening to their song just takes your breath away and makes you marvel at their work
Michael Jackson – Thriller
Although this vinyl record sold millions, Thriller by the King of Pop sounds new every time you listen to it, and what better way to appreciate this album/song that on a turntable.
The Beatles – Sgt Pepper's Lonely Hearts Club Band 
As one of the top English rock boy band in the world, the Beetles songs are an epitome of good music that only a vinyl record player can release to you. The song above was released in 1967 and spent 27 weeks and 15 weeks as number one in the UK and the US, respectively.
Credits: Thanks for the photo to Canva.

At ipoki.com we only mention the products that we've researched and considered worthy. But it's important to mention that we are a participant of several affiliate programs, including Amazon Services LLC Associates Program, an affiliate advertising program designed to provide a mean for us to earn fees by linking to Amazon.com and affiliated sites. As an Amazon Associate ipoki.com earns from qualifying purchases.