You might be inclined to pick up some old pots and pans for your trip to the wilderness and not worry about purchasing the set of fancy camping cookware. That's fair. 
However, there is such a huge demand and competition in the niche that manufacturers of all sizes have stepped up their game. Nowadays, you can find light, self, pretty, nested, and very cheap sets that will look pretty and set up a better tone for your camping adventure. So it might be worth giving it a look. 
If you are here only to check for the best suggestion, I would say go with this set. It comes with any utensils you would need: light, safe, easy to clean, and affordably priced. 
But stick around if you can. 
I've looked into dozens of camping cookware sets options and shortlisted 7 of those. And since I've spent around 10 hours doing so, I hope you'll find at least a few of the options below worth considering and helpful too. 
Do you have a particular question about picking the best camping cookware? Then use the table of contents below to jump to the most relevant section. And you can always go back by clicking on the black arrow in the right bottom corner of the page. Also, please note that some of the links in this article may be affiliate links. For more details, check the Disclosure section at the bottom of the page. 

Best camping cookware
Considering every feature, this camping cookware is the best overall. You can rely on its safe material as it won't contaminate your foods. With excellent portability, lightweight, compact design, and ease in use, this would be one of the best camping gadgets you can own.
The cookware's material is anodized aluminum; anodization yields an aluminum oxide layer on the surface. It hinders further rusting/oxidation, keeping your food safe and equipment durable.
The nylon lining makes it heat resistant, safe, and sturdy as nylon is BPA-free and is more heat-resistant and sturdier than other cookware materials. All the components are kept in a nylon bag, making them easy to carry.
Plus, this cooking gear for camping equips every utensil you would need for your camping trips. It cooks fast and is easy to use and clean, which makes it ideal for camping enthusiasts.

Best value for money
The foldable design, high-quality material, variety of utensils, safety measures, and ease of use make this set the best value for your money.
Two pots of 1.2L and 0.6L have anti-slip, remain-cool handles for convenient cooking. A 304 stainless steel durable cup has smooth edges for your drinking comfort. It comes with a silicone holder, so even if the beverage inside is too hot, you won't have a problem holding it. 
Material is anodized aluminum, making it resistant to corrosion or rust and safe for the food. It's a compact camping gear that can be put in your backpack or carried in your hands. The parts are folded and kept in a bag that makes it very portable.
All you have to do is take out the parts, easily assemble them, and cook anything you want. All in all, it's an excellent addition to your camping gear collection. 

Stainless steel camping cookware
This set is built to last. The pots are made of anodized aluminum, making it anti-corrosion. Stainless steel utensils, will probably last longer and prove to be safer than other cookware. The size is ideal for a couple of campers.
Aluminum is highly conductive, so you will have your meal ready in no time. Stainless steel is the best when it comes to resisting oxygen-led reactions with water or air, making the plats, cups, forks, spoons safe, and enduring.
The kit is lightweight, so you can carry it while hiking with no problem.   
It's also an outstanding gift idea for family and friends because of the high-quality stainless steel accessories. Plus, the design is pretty sleek. 

Best mess kit for backpacking
If you are looking for a little and portable mess kit for 2 people, this one would be the best choice. With 2 knives, 2 forks, 2 cups, the cookware. The anti-slip handles of pots and the insulated silicone cup holder will make your life pretty easy.
It's lightweight yet durable and compact in design, making it an ideal companion for backpacking trips.
The anodized material is non-toxic and corrosion-resistant, making it safe for the food and durable in the long run. And since it's made of aluminum, and this metal is a great conductor of heat, the cooking will be faster. 

Best lightweight backpacking cookware
Stainless steel is great, but it can be too heavy for backpacking. Aluminum is a lightweight yet durable material with resistance to corrosion. This anodized aluminum pans and pots are lightweight and won't take much space because of the kit's compact design. 
The material of the pots and pan is non-toxic and easy to clean. With bowls, forks, dishes, ladle – you have everything you need for a great traveling experience.
Different-sized pots make it a flexible and versatile camping gear. 

Nesting pots and pans for camping
These camping pots and pans sets come in three sizes: small, medium, and large. The largest kit weighs just above 3lbs, which makes it a compact, easy-to-carry camping gadget.
A single set includes a frypan, two pots, two strainer lids, a stuff sack, and a cutting board, making it one of the best camping gadgets for family outings.
There is also a foldable handle that you can attach to any pot or the pan; it snaps right in the brackets and enables you to handle the containers with ease. After the cooking session, you can just unhinge and store it.
You can stack the camping pots and store or carry them easily as they would not take much space while serving the whole family. Pretty neat.

Non-stick camping cookware
Pores are the main reason why food sticks to the pan. Anodizing of aluminum metal makes the surfaces ultra-smooth and non-porous. So cookware like this one will make the cooking and cleaning process way more convenient. 
Besides, the aluminum pots are highly conductive, which would accelerate the preparation of the meals. The design is compact and material light. The whole kit weighs about 2lbs folds into the small packing bag. And it comes with a little stove too! 
Containing every tool you would need outdoors, this set can be a solid choice for family camping trips.

Shopping for camping cookware. FAQ
Is aluminum or enamel safe?
Both are safe. 
Aluminum is mostly anodized, which produces an aluminum oxide coating onto the surface, making it resistant to corrosion and rust. The anodization process smoothens the surface, filling up all the pores and making it easy to wash. The surface is sealed and won't react with your food. So it's safe.
Enamel coatings are entirely safe; the pots are made of cast iron, which can interact with your food. To prevent this, they are coated with enamel, making it safe for the food. Also, enamel coatings make the surface non-stick and easy to wash and cook.
Titanium vs. aluminum vs. steel camping cookware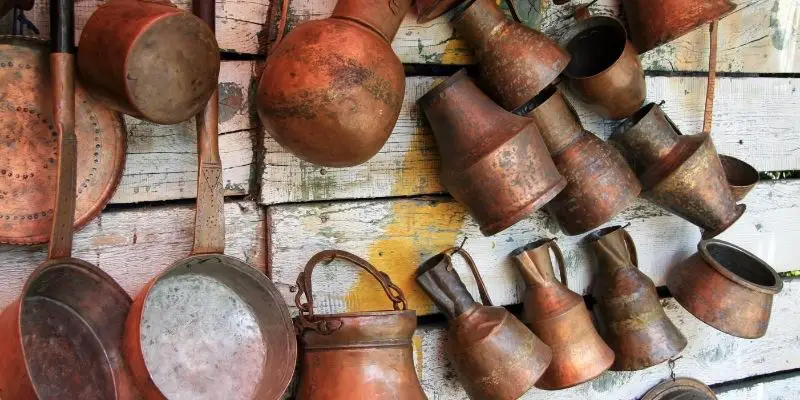 Steel is the hardest, then comes titanium, then aluminum. And it goes the other way around when it comes to weight. Aluminum is the most conductive, so it will cook faster than the other two. Titanium is the least conductive but has the best strength to weight ratio; it's more durable than aluminum and lighter than steel. Overall, I think aluminum wins the race since it's safe, lightweight, and cheap. You are not buying cookware that will be inherited by your grandchildren, so aluminum will do just fine for the purpose.  
How to choose camping cookware?
Keep your needs in mind. How many camping companions do you go out with? Would you want a full set or just a few necessary tools? How would you like to cook? See if the cookware is easily portable or can be put into the backpack without adding much weight. Make sure it's non-stick, have all the necessary tools you need, durable enough, and don't take much space.
What are the best non-toxic materials?
Stainless steel cookware is non-toxic and long lasting. Anodized aluminum cookware is sealed and won't react with your food. Enameled cast iron is also safe and strong.
What is the longest-lasting camping cookware?
Stainless steel is durable and rust-proof, which makes it longer lasting than others. However, it's not a very good heat conductor compared to aluminum. And it's also pretty heavy, so it's not perfect for backpacking trips. However, aluminum, although corrosion-resistant, is not strong enough, making stainless steel a clear winner as far as longevity is concerned.
How much does a decent cooking set cost?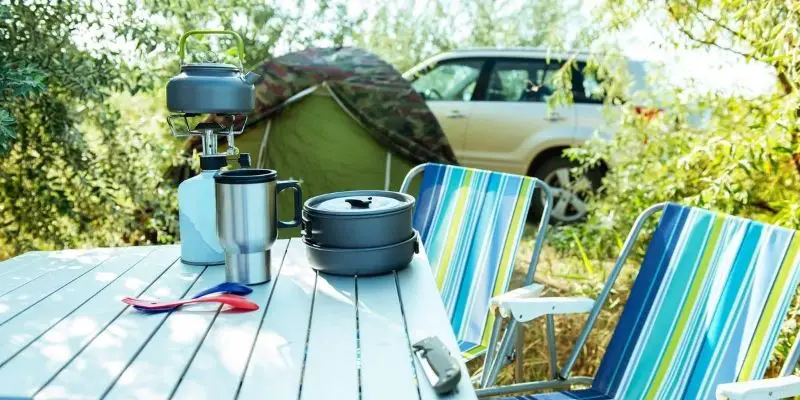 It may vary based on your requirements; a large set would cost higher than a kit for two campers. Depending on the material, kit size, and portability, decent camp cookware may average around $25-40.
How to remove soot from camping cookware?
You can fill the sink with water, add some soap and ¼ cup baking soda, and rinse the areas affected by soot. You can also mix water and vinegar and scrub it onto the cookware to get rid of any residue.
Credits: Thanks for the photo to Canva.

At ipoki.com we only mention the products that we've researched and considered worthy. But it's important to mention that we are a participant of several affiliate programs, including Amazon Services LLC Associates Program, an affiliate advertising program designed to provide a mean for us to earn fees by linking to Amazon.com and affiliated sites. As an Amazon Associate ipoki.com earns from qualifying purchases.