Lights are on the top of the packing list for any trip into the wilderness. Surprisingly, getting the right camping lantern can be as challenging as conquering a bear with bare hands. 
Many brands will put out a blinding number of lumens into their products. However, if the piece is poorly designed, it won't be able to project the light well. Some will be too delicate even if made of seemingly unbreakable materials. And some – too heavy, even when not supposed to. And don't get me started on price/quality ratio. 
If you are here just for a quick suggestion, I'd say this one would be my preferred choice if we are looking for a combination of power, visibility, lasting battery, and the price. 
But stick around if you can. 
I've looked into hundreds of camping lights options and shortlisted 9 of those. And since I've spent around 15 hours doing so, I hope you'll find at least a few of the options below worth considering. 
Do you have a particular question about picking a decent camping lantern? Then use the table of contents below to jump to the most relevant section. And you can always go back by clicking on the black arrow in the right bottom corner of the page. Also, please note that some of the links in this article may be affiliate links. For more details, check the Disclosure section at the bottom of the page. 

Best Battery Lantern
This Energizer LED lantern works from four batteries. That's enough power to deliver high-intensity light, surprisingly efficient considering how compact it is in design.
You can switch between low and high light-intensity options according to your needs. In terms of the quantity of light, this lantern offers 240 lumens, making your surroundings bright. You can go hands-free by stowing away the sturdy rubberized handle.
The 100-hour battery life makes this camping lamp an ideal option for extended camping trips, home use, and night travels. It's an excellent survival and camping gadget for nature lovers.
Best Camping Lantern
This lantern will deliver a 360-degree 1000 lumen of light, lighting up your surroundings/room, and providing broader visibility in the dark than other camping lights.
It comes with two separate hooks, one at the bottom and one at the top, this camping gear lets you hang it upside down for better lighting reach.
It also has IPX4 protection that won't let occasional water splashes and rain spoil your camping trip's fun. 
It works from 3 * 1.5V batteries that last for as long as 25 hours of continuous use on High light settings. But you can lower the intensity (this light has 4 options) and make the charge last for way longer. 
Brightest Camping Lantern
One of the brightest ones I've come across (given that I was looking for a combo brightness + quality). This model can go up to 2000 lumens, and the piece's construction seems to be working well to ensure 360° light diffusion. Plus, it can go as low as 50 lumens to provide you with the dimmest light you would ever need. 
It's powered by 4 D batteries that will last for up to 115 hours.  
This lantern looks neat and made of durable ABS plastic to ensure scratch, impact, and heat resistance.
Tent Lantern
This small and lightweight tent lantern is one of the most versatile camping gadgets on this list. 
It works as a light and a 2200 mAh power bank for charging your gadgets in emergency situations. Plus, there is a built-in magnet as an added option for storage/placement when you can't hook it.
It is compact and lightweight, so easy to carry around. The hook makes it easier to take this small yet powerful camping gear to your tent.
There are low, middle, and high brightness modes that offer 40, 20, and 9 hours of battery time, respectively. The corrosion-resistant and waterproof material of this lantern makes it long-lasting and versatile tent lighting.
Portable Led Lantern
This LED lantern is one of the best as far as portability is concerned. It's foldable and is merely 5.9 oz in weight. You can put it easily in your backpack. Plus, it can be used as a flashlight, which adds to the value it provides during outdoor activities.
You can recharge in two ways – using USB or solar power. The smart chip protects the batteries from exceeding a certain level of charge, making it safe and enhancing the device's life.
Even though it's tiny, it's super bright too and has two lighting modes (high is about 63Lm and low 25Lm). And the charge lasts! You'll get three 9-hour nights of light on low power on one charge.  
Propane Camping Lantern
If you would like to light up your surroundings using a classic-shape propane camping lantern, this one's for you. This dual-fuel lantern for camping can be run with the Coleman liquid fuel as well as unleaded gasoline.
One gallon of Coleman liquid fuel lasts as much as 4.5 propane cylinders. So, you won't have to fill it up frequently, saving you money and space.
It's one of the most durable camping gadgets and glows your surroundings with up to 800 lumens. It spreads the light as far as 22 meters, providing a longer sight in the dark.
You can adjust the brightness with the control knob after lighting the lantern with a quick match strike. Once it's up and running, you can hang it using the bail handle. The handle lets you carry it around with virtually zero effort.  
One thing to remember – even though gas options work terrific in the lighting department, these are not recommended for indoor use, even in very-well ventilated spaces. So keep that in mind.
Cheap Camping Lanterns
If you want a nice-looking, bright, and long lasting-battery camping lantern without breaking the bank, this option by Eveready might be something worth considering. You'll get not one but two collapsible LED lanterns, each of which has 3 AA batteries. The batteries are included in the package, so you get all the power you need right out of the box.
280 lumens is pretty decent if you ask me. Plus, you can use it as a flashlight as well. You can hang it inside the tent or use the strong magnet base to place it wherever you want.
There are 4 modes: 360-degree lantern, flashlight, night vision, and SOS mode for emergency. And the battery life is really good. You can use it for 16 hours straight in the camping mode and 9 hours in the flashlight mode.
Cool Camping Lights
This camping lamp not only has a cool design, but it provides an excellent value too. With 18 low-powered individual LEDs, this small lantern will light up your surroundings. And there's also a fan with a low and high-speed setting. Literally cool, right?
Light diffusion is decent. Plus, it's very lightweight and folds up to take less space, allowing you to carry it wherever you want easily.
The battery lasts for up to 20-hour if you are using the piece as a light. 15 hours – as a low-speed fan and 5 hours if you are using it at high speed.  
The best thing about it – it really works! 
Solar Lantern for Camping
Want to be free of the responsibility to charge your batteries every now and then and also harness the power of sustainability. Then this solar camp light will be perfect. The lithium-polymer batteries take about 8 hours to get fully charged under the sun.
You can run this gadget in three modes: low, bright, and blinking. 
The piece is made of PVC material to protect it from water erosion. And it's super portable, making it a perfect camping accessory.  
Shopping for camping lanterns. FAQ
How many lumens is enough for a camping lantern?
Lumens are the measure of the amount of light you get from a lantern. Typically, 100 lumens will be enough to wander around in a camp at night safely. Lamps may have as low as 40-lumen output or as high as 2000 or even 3000-lumen output. (Although the larger number does not always equal, the better lighting – construction matters too). 
How to use a rechargeable camping lantern?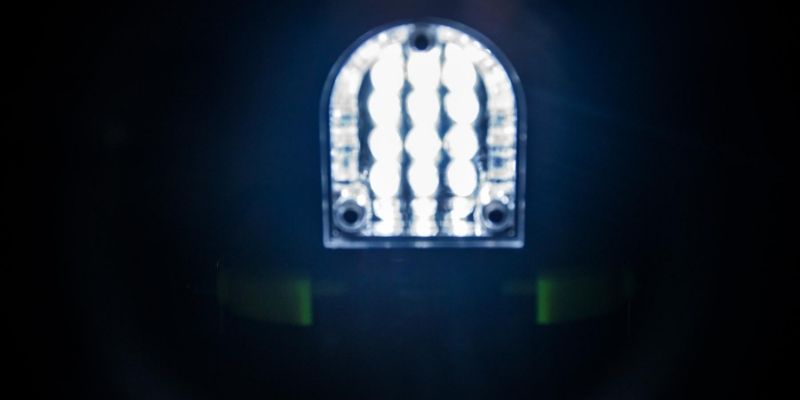 Charge the batteries first via a charging cable, for instance, a USB cable and place/hang the lantern at an appropriate spot. When the battery is about to die, recharge it with the same cable or solar panel, and repeat it. There is no need to buy a battery after the first time (that too if it's not included in the package).
Can you use a camping lantern indoors?
Camp lanterns using battery power can be safely used indoors as they pose no apparent danger. However, the lights that use fossil fuels like propane or Coleman liquid fuel shouldn't be used indoors as they emit carbon monoxide, which can be dangerous. A good LED lantern will be a safer bet.
Camping lantern gas vs. battery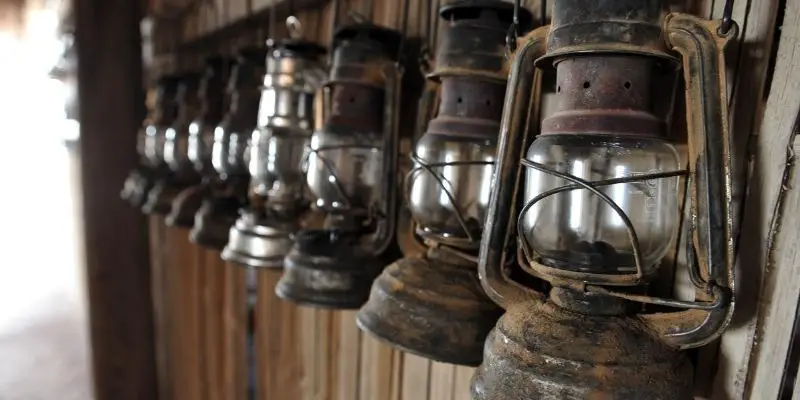 Gas lanterns burn gasoline, propane, or Coleman fuel to produce light. Whereas, the battery lanterns provide light using electricity stored in its batteries. Both are great camping gadgets, but gas lanterns are not recommended for indoor use.
What kind of camping lantern is best to invest in?
A battery camp lantern would be an ideal option. It doesn't burn any fossil fuels that can excrete dangerous exhaust gases and are safe to use. Plus, battery power can prove to be efficient in the long run. I personally quite like solar options, but if you are stuck in a dark place, the versatile devices with solar/battery power features can be the best.
How much does a camping lantern cost on average?
The price point depends mainly on the energy source and the quality and flexibility of this camping gear. Rechargeable battery-powered lanterns offer peace of mind, but they can be more expensive. On average, you can get a decent camping lantern for around $15-20, but it can go as low as $8 or as high as $200.
Credits: Thanks for the photo to Canva.
At ipoki.com we only mention the products that we've researched and considered worthy. But it's important to mention that we are a participant of several affiliate programs, including Amazon Services LLC Associates Program, an affiliate advertising program designed to provide a mean for us to earn fees by linking to Amazon.com and affiliated sites. As an Amazon Associate ipoki.com earns from qualifying purchases.