Every time they show a powerful CEO's desk in the movies, he always has a Newton's Cradle on it. If you don't know what that is, it's a desk gadget made of those metal balls that clack against each other back and forth. It's always fun to look at, and those can really turn a boring desk into a fun, entertaining space. They've been around for the longest time, so they definitely serve a purpose.
Spicing up your office space isn't just limited to toys like this one. Sometimes you need something more functional.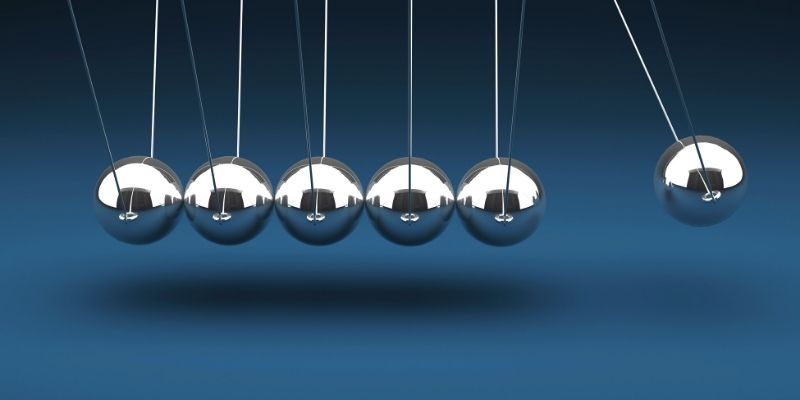 And there's a huge market for cool office gadgets like these. Office and administrative support workers make up about 16% of employed Americans. And if you'll be sitting at a desk for the whole workday, then it surely makes sense to spice it up a bit.
The office desk gadgets that I have compiled here cover various functions, from comfort to convenience to stress relief. If you've got a desk, you'll definitely find these to be some of the best desk gadgets you can buy. 
Are you interested in a particular desk gadget? Then use the table of contents below to jump to the most relevant section. And you can always go back by clicking on the black arrow in the right bottom corner of the page. Also, please note that some of the links in this article may be affiliate links. For more details, check the Disclosure section at the bottom of the page. 

Headphone Stand
Listening to music while doing office work is an excellent way to make tasks less monotonous. If you're a gamer, you'll need headphones at the ready too. To keep your pair of headphones at the ready and tidy when, not in use, a sleek stand like this is definitely the way to go. With an anti-slip bottom, this inexpensive headphone stand is one desk gadget for gamers (and coders too) that will change your space's look and functionality.
Light Therapy Lamp
Desk work happens indoors, and when your workload is plentiful, you may find yourself deprived of sunlight for hours on end. When taking a walk outside can't be accommodated, unique desk gadgets like this bring the sunlight indoors. Rated to deliver up to 10,000 Lux, this lamp can improve your sleep, energy levels, and mood by imitating sunlight. There are three brightness levels, and the lamp comes with an automatic timer as well.
Cable Management Box
There's nobody who doesn't appreciate a tidy desk space, I can tell you that. The one thing that frustrates efforts to achieve that, however, are the cables. Luckily, handy desk gadgets like this cable management box from DMoose are good-looking and will help keep your cables out of sight and well-managed. It also makes a space safer when there are no cables to trip over.
Smartphone Stand
If you're typing at a computer, you're best served by having both of your hands free. If you're following a video or referencing some information from your phone, that might be a little difficult. Luckily, this smartphone stand will hold your device at a natural angle so you can view your content hands-free. This cool cheap gadget has a gorgeous polished silver appearance. With anti-skid feet and a rubber cushion where you'd place your phone, you can be sure it'll stay in place.
Mini Fan
When your desk is away from a window, you're going to find yourself deprived of premium ventilation. It's hard to work if you're hot and sweaty, and the makers of this definitely recognize that. The false wood finish makes this mini fan look old-school. You get three fan speeds, which is powered from the mains, so you can be sure it'll cool like a boss. I don't know why, but the false wood finish on retro gadgets like this pleases me.
Reusable Notebook
Office work involves a lot of paper. The environmental impact that each worker has accumulates to a considerable mass. Taking notes and organizing tasks is integral in daily office life, though. Smart desk gadgets like the Rocketbook Fusion come between these two issues and present a completely reusable smart notebook. Write what you want, let it dry, and wipe with a wet cloth once you're done with it. The coolest part is that the Rocketbook app made for this notebook means you can send your notes to the cloud!
Foot Hammock
Sitting for hours at a time can cause serious leg aches, particularly from poor posture. Sometimes you want to elevate your legs a bit to improve blood return. Work from home office gadgets can easily up the comfort. This product will achieve that effortlessly. Whether you're at the office or on an airplane, you can use this must-have office gadget to keep yourself comfortable. Kick back and relax!
Floating Speaker
Whether you're a fan of Star Wars, audio equipment, or levitating gadgets brought to life by the power of magnets, then this Bluetooth speaker is definitely your best choice. It's a little pricey, but the magnitude to which this is a conversation starter might make it absolutely worth it. With glowing lights, it looks even cooler than it already does by levitating.
Floating Speaker Kinetic Desk Toy
Relieving stress is one of the many functions that can be ascribed to desk toys. There is something about repetitive motions that calms me down, and I think it would do the same for you. This nearly spherical ball can be spun over and over. The silver helix painted into the body produces a gorgeous effect when in motion. That's the perfect distraction from the harshness of work.
Star Wars Bluetooth Speaker
Even if you don't know the name of the ship, the Millennium Falcon is one of those instantly recognizable pop culture things. To then have a Bluetooth speaker in what already looks good as a desk model is great. There are also alternative models of this Star Wars gadget, such as a Tie Fighter and the Star Destroyer. This can be voice-controlled with Siri and Google Assistant as well.
Multi-tool Pen
A pen is expected to be for one thing, and that's writing. This one does six things, though, and only one of those is writing. It has a flat head and Phillips screwdriver, a ruler, a spirit level, and a stylus. This cool desktop gadget will help keep a few extra things off your table by putting them all in one place, and the aluminum build means that this is high quality.
Desktop Vacuum Cleaner
When hair, crumbs, and other particles get on your workstation, they can be really hard to clean. With a mini vacuum cleaner like this one, that worry is gone. It's compact and can fit easily in a single hand, and using two AA batteries, you can use it anywhere at any time, with no need for a wire. This little thing is powerful and is a desk cleaning gadget that will do a fantastic job.
Dinosaur Terrarium
Suppose you're looking for a desk gadget that will instantly make your tabletop awesome. In that case, this little dinosaur in a jar is the perfect one. It's tiny, so perfect for anywhere on your work surface. It is a great way to add some flavor to your space, and the fact that this cute desk gadget won't cost you a pretty penny makes it totally worth it.
Zen Board
To be at peace with yourself, you must understand that moments fade away and that the now is the most important. The idea behind the Buddha Board is to allow us to appreciate that. By painting with water, you create images that are akin to calligraphy. But in a matter of minutes, they shall fade, only to be appreciated at the moment. This can help calm you, and this useful desk gadget will help you find peace in the workplace's hectic atmosphere.
Wall Mount Thermometer
In this no-contact age, with a pandemic dominating the news, things are different. They will remain different for a long time to come as more people are getting cautious about their health. Some measures have to be taken to stay as safe as possible. Office health gadgets like this contactless thermometer from Gorilla Gadgets can make that easier to achieve. The results are read in a second. There are alerts for abnormal temperatures. With the app, you can catalog numerous temperature patterns for multiple people.
Motivational Button
Sometimes you need the positive words of someone to keep you motivated. Unfortunately, sometimes there is no one around to do that for you, particularly in the workplace. In that case, how about you get a button that can do that for you? With just a press, this funny desk gadget will choose any of its 101 messages to either get you smiling, laughing, or inspired.
Tesla Invention Model
Some desk gadgets are simply cooler than others. This smart desk gadget brings science straight to your tabletop. It can create purple sparks of plasma and push around a little spinner with their energy. It can even light up a fluorescent tube brought within proximity, which is incredible. In addition to how it'll make your desk an interesting exhibit, it can function as a loudspeaker as well!
Credits: Thanks for the photo to Canva.
At ipoki.com we only mention the products that we've researched and considered worthy. But it's important to mention that we are a participant of several affiliate programs, including Amazon Services LLC Associates Program, an affiliate advertising program designed to provide a mean for us to earn fees by linking to Amazon.com and affiliated sites. As an Amazon Associate ipoki.com earns from qualifying purchases.