Cotton candy is probably one of my favorite sweets – as it's not about the sugar rush, but rather the experience of watching it made and eating it. Nowadays, it can cost you anywhere from $3 to $8 and sometimes as high as $15 for the most instagrammable version of it sold by Disney. 
However, it only costs about $0.15 to produce a cone of cotton candy. So if you are all about mindful budgeting, purchasing a cotton candy maker may seem like a great deal. 
Not only can you save on making these candies yourself, but you can get it whenever you want. What's best about it is that it doesn't even have that many calories. Since you are in control of the ingredients. And well, it can be a cool gift option for bakers and sweets enthusiasts.
If you're here just to get a quick recommendation, then I say go for this machine. It looks like a vintage machine, it's small enough to store in your home, and it works right out of the box. Easy to use and makes a good batch. Additionally, there is no need to break up the pieces of your favorite candy. It melts it easily, which means you can get any flavor you want. 
Do you have a particular question about choosing the best cotton candy maker? Then use the table of contents below to jump to the most relevant section. And you can always go back by clicking on the black arrow in the right bottom corner of the page. Also, please note that some of the links in this article may be affiliate links. For more details, check the Disclosure section at the bottom of the page. 

Commercial cotton candy machine
If cotton candies are not already on your favorite candies list, then put that on there now! For a professional cotton candy machine, the VIVO Pink Electric Cotton Candy Machine has the wheels, the height, the flare, and the fun aesthetic. Imagine having this machine in your home. Definitely a (delicious!) conversation starter. Getting a commercial cotton candy machine is perfect if you want to look professional or be reminded of the 'real' ones in carnivals/fairs. It's obvious that they're not just for the homes, but a great decorative piece. 
Pros
Set up is quick and easy
Easy to use and fast at making the cotton candy
Well-built and is a large size and height, feels like a "real" machine
Cons
Depending on your space, maybe too large
 Because it is fast, always ensure you have the sticks (cones) ready, or it will make a mess
Best cotton candy machine: my top choice
If candy machines leave you feeling nostalgic, then you are not alone! Every time I think of and eat these sweet treats, I am always reminded of theme parks in my childhood. I think of old movies or vintage films about the circus! This machine will definitely trigger those memories. It has a unique, vintage-style while being small and easy to store in your home. The reason why it's the best is that you can put any candy of your choice without having to break it up. Works immediately and makes a good batch. 
Pros
Can make 1-2 cones with 1 scoop of sugar
Clear instructions on how to set it up 
Don't have to break up other candies. The machine melts it easily 
Cons
May take 20 minutes to really get heated and get a big piece
The sugar can sometimes make lumps in the corner of the bowl
Best cotton candy maker for kids
If you are looking for something small and straightforward to use, this option by Carnus might be the right choice for you. This mini cotton candy machine is a great machine for the kids. The size is perfect, so that they'll be able to get involved in the candy-making process with the five varieties of colors that come with it. Definitely a fun family activity. 
Pros
Comes with five packets of sugar flavoring
Works great and easy to use for all ages, especially for kids
Can also be used to make adult beverages
Cons
A little difficult to clean the base of the machine
May take some time to heat up; preheat before using it
Best cheap cotton candy maker
Getting your first real cotton candy machine might require a little more thinking, especially if you will spend a lot on a large one. For the cheapest option to practice your cotton candy making skills, this cotton candy maker is great. It's a perfect small size and easy to turn on.
Pros
Very small, easy to store, and portable
Available in four different colors
Easy to use with no installation needed
Cons
Might be too small if a lot of kids will want to use it
Must buy sugar and candy separately from product
Best home cotton candy machine
If you are so much of a cotton candy lover and want to eat it for yourself at home, then the Nostalgia PCM805 will be the perfect home cotton candy machine. It's a snug size and very practical. Yes, you can share it with guests, and multiple people can use it; but really, its simple design is suiting if you don't want to have the large, commercial machine. It's cheap but sturdy.
Pros
Small and light; more of an appliance than a machine
Can turn any candy, even hard candy, into the floss
Easy to assemble and disassemble
Cons
Does not come with a lot of cones
Takes over 10 minutes to really heat up
FAQ before you buy cotton candy maker
How to make cotton candy without a cotton candy maker?
You will need sugar, corn syrup, salt, and water. Mix together in a large bowl. Stir this mixture over medium heat until sugar is melted. Make sure the mixture does not go over 320 degrees using a thermometer. With a whisk or any stick, pick up the mix slowly and drizzle the thinning strands of sugar over parchment paper. Make sure you do this in a light, back and forth movement. Do this until it is looking like a nest. Or, grab a stick and, in a round motion, collect the strands. 
… And why might you need this machine? 
So if you can make it at home, why buy a machine? Making cotton candy without a machine will take much longer, and your ordinary pans and equipment are not built to make these fluffy treats! Additionally, the devices are convenient, saving you time. If you were to host a party and make it for some children, the machines are built in a way that people can participate and get involved. It's not just food, but an activity that friends and family can gather to use. 
How does a cotton candy maker work?
The way a cotton candy maker works is the sweet science. Instead of melting sugar in a pan, the cotton candy maker is already an electric heating funnel. The machine rotates quickly, which flings the syrup/sugar through these tiny holes in the funnel. It uses centrifugal force. An outer bowl catches the thread as they cool. That's when you can get the "cotton" with your cone. What looks like a simple bowl can create these delicious sweets.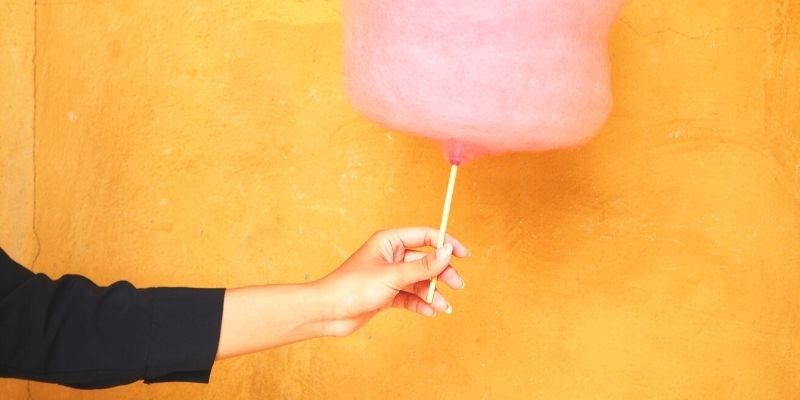 How much does a cotton candy maker cost?
Cotton candy maker prices will vary depending on size, material, and design. The cheaper, plastic ones are just as good and will give you a good size; these cost around $35. The larger ones with the wheels and side railings can range from $250-340. Meanwhile, the cotton candy makers that are medium-sized and can be laid on any surface range from $50-100. 
How to use cotton candy machine?
The first thing to do is to make sure you have all the ingredients and equipment around you nearby. Allow the machine to warm up for at least 10 minutes. Different machines will recommend varying scoops, but let's say we are using pure sugar. Measure out two scoops of sugar and add a few drops of food coloring. Mix well together. Place the mixture in the center of the bowl and turn the machine on to spin. Slowly you will see the fluffy texture forming around the bowl. Pick up your stick/cone and collect the cotton, going back and forth the bowl. Twist the stick around so that it grabs the candy. 
Can you use regular sugar in a cotton candy maker? 
This all depends on the cotton candy machine. As you've read above, there are cotton candy machines that take almost everything, from the pre-mixed floss sugar or syrup (made for the machine) and even hard candy. So check if your cotton candy machine does this. In this case, yes, you may use regular sugar. 
What can you put in a cotton candy maker? 
Traditionally, the ingredients for cotton candy makers are just pure sugar- NO other type of sugar. With pure sugar, then add a few drops of food coloring. Also, there are already cotton-candy mixes, either syrup or in sugar form. 
Again this depends on the machine. The ones that can take hard candy can take any sugar type: granulated sugar, superfine, and caster sugar. You can add it to the cotton candy syrup or mix if you need a little more sweet taste. To play safe, I recommend sticking to the approved mixes and pure sugar for better results. 
How to clean cotton candy maker? 
Time goes by fast when you're having fun. One moment, you're totally enjoying your cotton candy, then the next, you've got to clean it up! The best way to clean a cotton candy machine is to run in under warm as soon as possible, right after use. If not immediately, stains and residue will remain in the long run. You can use any sponge and any dishwashing soap. Do use the rough part of a sponge to really clean out the sugar. 
Credits: Thanks for the photo to Canva.

At ipoki.com we only mention the products that we've researched and considered worthy. But it's important to mention that we are a participant of several affiliate programs, including Amazon Services LLC Associates Program, an affiliate advertising program designed to provide a mean for us to earn fees by linking to Amazon.com and affiliated sites. As an Amazon Associate ipoki.com earns from qualifying purchases.