If you ended up on this page, you most likely aware that the fingerprint door lock is a sound technology. Whether you are tired of carrying around (and losing) keys or just love new tech (biometrics in particular). Or maybe looking for options to save on your door-locking system long-term maintenance with little upfront investment, this post might be of value to you. 
I spend several hours comparing different biometric lock options at various price points and documented the results. 
But if you are in a hurry and just wonder which option is the best all-around, my choice would be this one by Ultraloq. It is one of the most secure options with an added layer of precautions against hackers. And it's priced very reasonably. 
Read on if you want more details (along with pros and cons) for other models, depending on your situations and requirements. 
Do you have a particular question about fingerprint locks? Then use the table of contents below to jump to the most relevant section. And you can always go back by clicking on the black arrow in the right bottom corner of the page. Also, please note that some of the links in this article may be affiliate links. For more details, check the Disclosure section at the bottom of the page. 

Best fingerprint door lock: top choice
With premium metal build for security and double encryption for added safety from hackers, this smart lock in total offers 6 safe and convenient ways to get in your home. You can use Fingerprint, Smartphone, Mechanical Key, Auto Unlock, Anti-peep Keypad, or Shake to Open feature to open the door.
When you approach the lock with your smartphone, the geofencing technology opens the lock and then relocks it again when you move into the house. You can give limited-time access to anyone by providing them an eKey or a code.
Plus, the anti-peep keypad allows you to enter any number of digits containing your key. This will take care of any prying eyes and offer you peace of mind. The 360° fingerprint ID is not angle-dependent. So, you can place your finger at any angle, it will work. Also, with 4 AA batteries, it offers access to up to 8000 times and has a low-battery alarm as well.
This fingerprint scanner lock is my top choice as it offers powerful protection, ease of use, long battery, and peace of mind.


Best cheap fingerprint door lock
This inexpensive digital door lock is replaceable with any standard US door lock. The fingerprint lock is easy to install; no drilling or wiring needed, just two screws will suffice. The lock fits well with left-handed and right-handed doors. Plus, you can have a database of 100 people with the flexibility of adding or deleting any user.
The fingerprint lock has an in-built Li-ion battery that works a full year with a 90 min charge. Plus, you don't need to relock it; it relocks the door after only three seconds of unlocking.
It is built with a zinc alloy, a weatherproof alloy with excellent corrosion-resistant properties. So, this biometric door lock will endure the harsh environments, offering longevity and peace of mind.
The most exciting thing about this thumbprint lock is its low price. Even at an impressively low price point, it offers adequate features to deliver effective security. An ultimate apartment gadget!


Best finger scan door lock for office
This digital fingerprint lock is an ideal safety precaution you can take for your office's security. With a video installation guide and online customer support for any queries, the lock is easy to install in any office.
The biometric lock has a colored-screen access control device. You can use your fingerprint, RFID card, or a password to unlock it. Download entry record whenever you need with the RJ45 ethernet cable. Whenever you need to go out, just press the exit button.
This ideal-for-office 600 lbs digital lock has a capacity of recording 3000 people's identities and works with dry and wet fingers. With a time attendance device, you can keep track of your staff entering and leaving the premises.
Anodized aluminum makes this fingerprint scanner durable and resistant to rust and corrosion, typically resulting from long-term exposure to oxygen in the air.
This fingerprint scanner is the best for offices with a good user and log capacity, durable material, and time attendance device.


Fingerprint door lock with key
The ZKTeco fingerprint scanner lock with key offers you multiple unlocking options. You can unlock your door with your fingerprint, a card, passcode, phone app, or the classic physical key. It can give access to up to 100 people.
The material used in the lock is dust-proof and water-proof, so no need to worry about the durability either. Plus, it only takes 0.4 seconds to recognize and unlock; and, it locks itself again after 20 seconds of inactivity. You can adjust the relock time through the app, though. After five consecutive incorrect entries, the screen locks itself for five minutes.
Additionally, it's easy to install as there is a detailed manual guide for you to follow. You will need a screwdriver and a drill. An instructional video can also help you in the installation process.
The lock has a 99% recognition rate. You won't have to put your finger multiple times; it quickly detects the recognizes the members.
The lock is ideal for those who like to keep a small key for additional peace of mind or for the experience.


Fingerprint door lock with remote control
This fingerprint scanner from Lockly has an advanced built-in fingerprint 3D sensor that enables high accuracy. The lock comes with remote control and saves up to 99 fingerprints.
The pin genie doesn't let anyone figure out your code even after watching you enter your code. The numbers on the screen are continuously changing to make it impossible to guess your code for the prying eye.
Plus, it fixes on the left and right swing doors. And, you can use Alexa and Google Assistant to control it using your voice.
Push notifications on your mobile device will let you know who entered or exited your house, keeping you informed of any activity.
Impressively, whenever you are away, and guests arrive, you can unlock this digital lock using its smartphone app from anywhere in the world, or give them a key to unlock it.


Fingerprint lock with camera for face recognition
This fingerprint scan door lock comes with a sophisticated face recognition feature equipped to differentiate between identical twins even. You can use fingerprint, password, cards, or a key to unlock as well.
By scanning over 2000 points within a second at an average recognition rate of 99%, the software offers highly accurate face recognition. Plus, You can enter any random digits before and after the correct code to counter any prying eyes.
The infrared camera lets the face recognition work effectively without any dependence on the availability of light. Plus, it comes with a rechargeable lithium-ion battery and a touch screen menu for convenience.
Nobody will be able to use your picture for face recognition thanks to the 3D face scan technology. Besides, there is a smart alarm for break-in or low-battery.
However, the finger scan lock is not water-proof, so it would not be suitable for outdoor use. Plus, it's recommended that you ask a locksmith for its installation.


FAQ section
What is a fingerprint door lock?
Every human being has a different fingerprint. The fingerprint door lock uses this uniqueness to make your house safe from burglars. Only those who have their fingerprints saved in the database can open this digital door lock. No other person can open the lock unless you provide them a pin code.
Applications of fingerprint door lock
Finger scan door lock can be installed wherever there is a risk of infiltration. The most prominent use of this technology is in homes, offices, and government buildings. Other places containing sensitive data or expensive products also use this system for effective security.
How do fingerprint door locks work?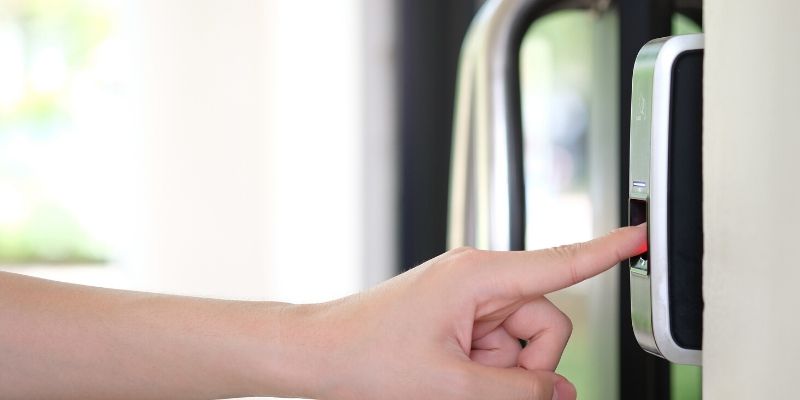 Fingerprint door locks work by saving your fingerprint data into a numeric template when you first put your finger on it. Whenever you put your finger on the scanner, the identity is recalled, and you are granted access.
Is it possible to hack a fingerprint door lock?
Just like a master key, hackers can develop a master print for fingerprint door locks. However, it's challenging. And effective encryption and appropriate programming in good-quality locks make hacking almost impossible.
Is the fingerprint door lock safe?
Fingerprint door locks are safer in the sense that it's almost impossible to mimic a fingerprint. At the same time, it's relatively easy to copy or steal a key. Some fingerprint door locks offer dual encryption for added safety, so yes, fingerprint door locks usually are very safe.
Advantages and disadvantages of fingerprint door lock system
A prominent advantage of the fingerprint door lock system is the convenience it offers. You don't need to carry a key and look for it while your hands are full of groceries. You just put your finger and enter your home.
Plus, you can save money by investing upfront. Smart locks inform about any activity, and you don't need to worry about maintenance and repair.
On the contrary, it is a little complicated process, and you need to invest upfront to reap the long-term benefits.

Fingerprint lock. Is it worth buying? My verdict:
With only an initial cost and a little installation inconvenience, you can actually save money in the long-run as these locks don't need much maintenance or repairs. Plus, you won't have to worry about the keys getting lost or stolen; everything is automated and convenient.
Overall it is a wise idea to invest in a solid fingerprint lock for your security, convenience, and of course, cost-effectiveness.
Credits: Thanks for the photo to Canva.

At ipoki.com we only mention the products that we've researched and considered worthy. But it's important to mention that we are a participant of several affiliate programs, including Amazon Services LLC Associates Program, an affiliate advertising program designed to provide a mean for us to earn fees by linking to Amazon.com and affiliated sites. As an Amazon Associate ipoki.com earns from qualifying purchases.