A robot dog may seem like one of those crazy ideas born of sci-fi movies, but if you've been paying attention, you'll know that these are a real thing and have been for the longest time. One of the popular variants of this is Sony's Aibo, which was first launched in the late 90s.
Having a dog as a companion is beneficial in so many ways. It gives you a loyal, caring friend and will stick by your side through anything. Not only do they make such great friends, but they are actually very helpful in attaining the best mental health. Dogs have been shown to have therapeutic effects and improve mental health conditions like depression and anxiety.
Unfortunately, because 10% to 20% of people in the world may have allergies to cats or dogs, this shows that this option isn't accessible to anyone. Or perhaps the apartment you live in doesn't allow pets in. This makes things inconvenient, and any of these reasons can stop a person from getting a dog, even if they adore them.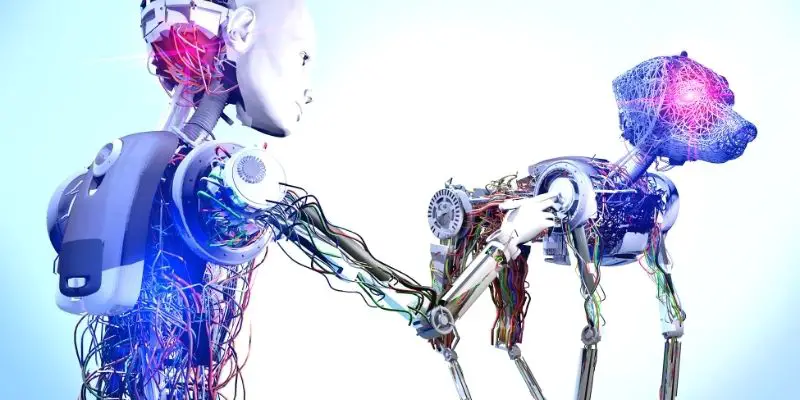 Luckily, robot dogs have come to the rescue. You might think that it is clearly not the same thing as a real dog, and you wouldn't be entirely wrong. However, robot dogs have been shown to provide companionship and support for people, particularly among senior citizens. If you can't get a dog for whatever reason, this is one effective way to compromise!
If you're curious about my top choice or you're pressed for time, it is this toy dog from YuanBo. It can be operated by voice or remote control and has an array of tricks and songs it can play. It is affordable and easy to get the hang of.
This article will tell you what you need to know if you're searching to buy a robot dog toy. 
Do you have a particular question about finding the best robot dog toy? Then use the table of contents below to jump to the most relevant section. And you can always go back by clicking on the black arrow in the right bottom corner of the page. Also, please note that some of the links in this article may be affiliate links. For more details, check the Disclosure section at the bottom of the page. 

Zoomer vs. Chip: Most Popular Dog Robots
Zoomer and Chip are two of the most popular models of robot pet dogs. They both have a similar array of features and ways that they can interact with you, but some key differences may make some people choose one over the other.
They are both able to show off their emotion to you thanks to the LEDs in their eyes, so you can always know how your robot puppy is feeling. Both have a speaker so they can bark and make other sounds. You can also name either of them, and they will respond to voice commands, just like a real dog.
The Zoomer Playful Pup is more of a limber toy robot dog, with more joints and articulation than Chip, including movement at the midriff. These allow it to move more fluidly and very similar to a real dog. In fact, Zoomer doesn't betray its name. It zooms around everywhere, even without you giving any commands. If you want an active robot dog, one that never stops moving, Zoomer is the way to go. Plus, the furry tail and ears make this even more realistic.
WowWee Chip comes with an array of accessories, including a ball for it to play with, a charging station, and a little watch. Zoomer comes with a USB cable and has to be plugged in to charge. Chip is more docile than Zoomer and will wait for you to give it a command before it starts doing anything, but Zoomer will be up and about as soon as you switch it on. The watch that Chip comes with will help it know exactly where you are in the room. He's less flexible than Zoomer, but his battery lasts much longer than Zoomer does.
Chip is more expensive than Zoomer, and each of these dogs comes with multiple models, so you can choose whichever is perfect for you. If you want an electronic dog that moves around the place like a real dog, Zoomer is the choice. If you want something calmer, then Chip is the choice of a toy robot dog.

Best Realistic Robot Dog
It's easy to see that many robot dogs are clearly robots, but what if you're looking for realistic robot dogs instead? You're in luck because if you're looking for robot dogs that look real, then this one from Joy For All fits the criterion perfectly. You get a dog like looks just like a real puppy but will get past any of the issues that stop you from having one, such as allergies.
The dog is covered with fur and looks like a golden retriever puppy. It is a really adorable puppy robot, to be honest. It moves ad sounds like a real puppy and can even respond to your voice. With the sensors built-in, it can respond to touch too! It even has a heartbeat, making it unbeatable if you are in the market for realistic robot dogs.
Pros
Very realistic in appearance
Heartbeat and sounds add to the immersion
Cons
A bit expensive
Does not use rechargeable batteries
Best Remote Control Dog
While fully autonomous robot dogs have their benefits, some people may want a robotic dog toy that is easier to tame. When you put a remote control in the mix, it is as easy to tame as possible. Not only can it play, sing, and dance like most similar models, but it can also teach numbers and letters to children. This remote control dog toy can easily be charged with a USB cable, so no stress whatsoever!
Pros
Rather affordable
Can serve as an educational tool
Easy to control
Cons
Volume is loud and can't be adjusted
Best Cute Robot Dog
Ricky is a robotic puppy that moves away from most robot pet dogs' plasticky appearance and goes with an adorable furry appearance. It is not meant to be a super-realistic dog but looks like a cartoon friend comes to life, which kids absolutely love! It interacts in a variety of ways, being able to perform numerous tricks and can even be posed. You can feed him treats, and he can lick you when he's happy too. 
Pros
Its appearance is very pleasing to children
Can perform an array of tricks
Comes with fun accessories
Cheap Robot Dog
If you want a robot dog toy that won't burn a black hole through your pocket, then this puppy robot from Masefu should top your list. While extremely affordable, you shouldn't expect it to do as much as more expensive models. It needs to be assembled from 34 parts, which makes this like a Lego with an entertaining product that you can play with. This can be your child's first robot assembly! It can make sounds, move, and even interact with the little bone that comes with it!
Pros
Assembly is an added stage of fun
Very affordable
Can respond to touch and voice
Cons
Does not do tricks
Does not operate without interaction
Best Robot Dog: My Top Choice
If you want my overall best choice for a robot puppy when all things are considered, it is from YuanBo. This robotic puppy can be controlled with the included remote control and listen to and obey voice commands to perform a wide array of tricks. It can also play songs for children and be able to dance thanks to the articulation it has. It has a rechargeable battery with an included USB cable, making this electronic dog juiced up and ready to play again very easy.
Pros
Affordable
Remote control adds an extra degree of operation
Rechargeable battery
Has a variety of tricks it can perform
Credits: Thanks for the photo to Canva.

At ipoki.com we only mention the products that we've researched and considered worthy. But it's important to mention that we are a participant of several affiliate programs, including Amazon Services LLC Associates Program, an affiliate advertising program designed to provide a mean for us to earn fees by linking to Amazon.com and affiliated sites. As an Amazon Associate ipoki.com earns from qualifying purchases.