In this hectic day and age, most of us just love things that are: 1. Making us more productive 2. Seem like a very cool gadget 3. Cost little. A self-stirring mug fits the bill. 
Imagine this: you woke up a bit late because you snoozed that annoying alarm several times (again!). But you still have a meeting to catch. And whether it's a face-to-face situation in the office environment or Zoom video conference, you still have to fresh up. You have at least one half of your body covered with some clothes. You are obviously out of time (damn you, snoozing). And you still owe yourself that morning shot of caffeine (tea, coffee, bulletproof coffee, whatever). 
So while you are looking for that outfit of the day and frantically brushing your teeth, the self-stirring mug will make sure that your drink won't get stale. And in some cases even keep it warm and spills-free, if you are on the run. 
And most importantly, it won't cost you much too, while being super practical. 
Anyways, I've done some research while writing this piece and found that many mugs you might purchase are utter rubbish. But there are still some decent options too. So if you are looking for one, let me share the relatively good I've found, please.
Do you have a particular question about self-stirring mugs? Then use the table of contents below to jump to the most relevant section. And you can always go back by clicking on the black arrow in the right bottom corner of the page. Also, please note that some of the links in this article may be affiliate links. For more details, check the Disclosure section at the bottom of the page. 

Best self-stirring mug: my top choice
With this self stirrer, you don't need batteries (magnetic self-stirring!), and you don't even have to press any buttons. Just pour hot water into this cup, milk powder, granules, syrup, and it will automatically stir itself. It will automatically stop working, though, after falling to 55 degrees. The cool thing about it is that it also has thermal storage function. So, in a cold environment, it will automatically warm up your coffee or tea. 
It's made of stainless steel and food-grade plastic, so it's absolutely safe to use and seems to be built quite durable. It is also waterproof and easy to wash. Although it's not recommended to wash it with soap. 
Overall, I think it's the best option in terms of price, functions, and consumers' feedback. 


Self stirrer for star wars fans
This Darth Vader self-stirring mug is fantastic for traveling (particularly if you are a traveling Star Wars fan). It comes with the lid, so there would be no splashy-splashy business with your hot beverages. It's officially licensed, so you are supporting a legitimate business by buying it. And it will save you from using all the paper cups, stirrers, and cup sleeves that you usually would need when making coffee on the go. 
This self stir mug is powered by two AAA batteries. And the stirring starts with a push of the button. With a mindful use, those one set of batteries will last you up to 1-1.5 years. 
And one thing to mention – it's hand wash only. And it probably won't hurt to remove the batteries whenever you wash the mug, in case you want to be extra cautious. But overall verdict: very cool star war gadget.


Cheap and good self-stirring mug 
This 8 oz. automatic stirring is an excellent balance between a decent look, quality, and the lowest price. It's quality fluid motor works upon the press of a button and is powered by a pair of AAA batteries.
The design is quite lovely. And it not only stirs your drink but also protects it from spilling since it comes with an airtight lid. It's a bit small to use for the trips (8 oz is never enough coffee for me). But might work in an office environment or at home too if you like pacing and doing things while enjoying the hot beverage of your choice. 


Best self-stirring mug with heating
Another automatic stirring cup without a battery that features magnetic self-stirring functionality. 
It's made of safe and durable materials: food-grade 304 premium stainless steel and silicone. 
It's temperature resistant from 32 – 212 F (0 – 100 C) and waterproof. 
It also will automatically warm up your beverage when it's cold. To make sure you won't lose the magnetic rotor, that looks like a little pill to make sure that your self stirrer will stir for years. 


Self-stirring mug. FAQ 
Who invented the self-stirring mug?
The idea of the mug was developed by designer Anastasia Gavrilova back in 2009. She was living in London at the time, and while eating out a lot, she noticed that there was very little chance to get a teaspoon with an order or tea or coffee. After years of development and contemplating the prototype of a smart cup that mixes your drink with a simple spin was created and patented.
And in 2012, this product won the Design and Design competition in Paris. Since then, the concept has grown more popular. And understandably the technology kept evolving, and the number of copycats increased exponentially too.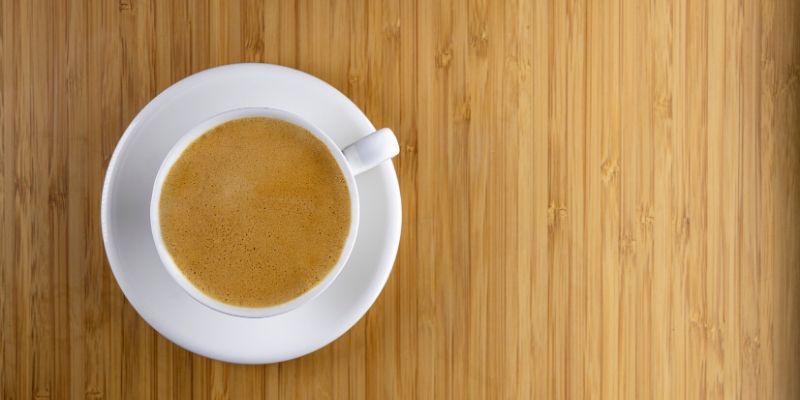 How does a self-stirring mug work?
These work silently at about 3000 revolutions per minute to make a perfect beverage that requires mixing. In most cases, there's a small electric motor driven rotary disk at the base of such cups. It whirls up the liquid and contents to create a smooth blend, while you are busy doing something else. Depending on the model, the motor can be powered by batteries, a power outlet, a USB, or a magnetic field.
Are self stirrers safe? 
If you pick the right model, it will be made of food-grade non-toxic materials. Also, quality mugs are very well insulated, so there's no risk of any electric shocks. And if you are opt-in for an option with the lid, you are also going to prevent hot beverages from spilling on you or someone around. So, overall it's a safe invention. 
Pros and Cons of a self stirring mug
There are some extra perks you might want to keep in mind when evaluating the potential purchase. So here to the pros and cons: 
Pros:
Works for practically any drink
Easy to use
Many models come with the lid, so beverages are spill-free
No need to wash spoons (or own spoons)
Some models are multi-functional and will keep your beverage hot too
Lightweight and portable so can be used on the go
Low price
Cons: 
Some models require batteries, and those need to be replaced 
In most cases hand wash only, and you have to be extra careful during the process
Not suitable for heating in a microwave oven or freezing
Credits: Thanks for the photo to Canva.

At ipoki.com we only mention the products that we've researched and considered worthy. But it's important to mention that we are a participant of several affiliate programs, including Amazon Services LLC Associates Program, an affiliate advertising program designed to provide a mean for us to earn fees by linking to Amazon.com and affiliated sites. As an Amazon Associate ipoki.com earns from qualifying purchases.