There are a lot of benefits you get when you opt for a small slow cooker. Also known as a crockpot, this kitchen appliance will change the way you do many things in the kitchen, thanks to the low temperatures that it cooks food at.
There are a lot of healthy ways to cook with a crockpot. This explains why the sales of slow cookers are so high. In 2019, it was estimated that 11.6 million slow cookers were sold. That's a lot! 
If you're in the market for a slow cooker, but a small one, then this article is for you. But if you don't feel like reading and might simply want to know the best one, I'd suggest this ceramic slow cooker by Elite Gourmet. You get an affordable slow cooker with a 1.5-quart ceramic pot and a clean stainless-steel finish. The value is immense.
Now, in case you might be looking for something a bit different in a small crockpot, let's dive right into it.
Do you have a particular question about choosing the small slow cooker? Then use the table of contents below to jump to the most relevant section. And you can always go back by clicking on the black arrow in the right bottom corner of the page. Also, please note that some of the links in this article may be affiliate links. For more details, check the Disclosure section at the bottom of the page. 

Best Small Slow Cooker: My Top Choice
If you want a small slow cooker that ticks all the boxes, then my top choice is this one from Elite Gourmet. It is very affordable, so the price is not a concern, and it gives a lot of value for the price. You get a 1.5-quart capacity, which is great if you want a smaller cooker. You also have a low and high heat setting and one that will simply help you keep your food warm for whenever you're ready. That stainless-steel looks mighty good too! This is the best slow cooker for a small kitchen, thanks to its compact size.
Pros:
Very inexpensive
The stainless steel finish is very attractive
The glass lid is hard to get at this price point
Multiple heat settings
Cons:
The wire is somewhat short
No timer
Small Programmable Slow Cooker
This is the brand that made Crock-Pot the household name that it remains today. This is a mini slow cooker that might not be the most compact ever but has many functions. You get 4 quarts of cooking space in this and a variety of programmable features. This includes choosing specific cooking styles such as steaming, simmer, pressure cook, and the like, with just a press of a few buttons. Also, this small crockpot with a timer can be set so that it can start cooking even when you're not at home, offering great flexibility!
Pros:
The delay start timer will have food waiting for you as soon as you get home
Has easy access to a variety of programmable modes
The cooking pot is non-stick and dishwasher safe
Has large capacity
Cons:
The non-stick coating maybe a little thin
Maybe a bit complex for first-timers
Best Lightweight Slow Cooker
If you need a small slow cooker with no hassle to move around frequently or take on travels, you should consider this one. It comes in at only one pound, which is incredibly light for something with a stoneware pot in it. It has a 1.5-quart capacity, which is rather impressive considering how lightweight it is. If you need something small that is no stress to move around, this is the one.
Pros:
It is incredibly light
Relatively affordable
Has two temperature settings and one for keeping food warm
Cons:
The wire for this is only two feet long.
Painted finish and plastic may seem low-quality
Best Cheap Small Slow Cooker
Sometimes you need a small slow cooker that won't cost you an arm and a leg. It's getting harder and harder to find those these days, as manufacturers race to add all sorts of features that ramp up the price and the size. Brentwood's product is perhaps the best mini slow cooker that you can get for an affordable price. It has a 1.5-quart capacity, with a ceramic pot holding your food on the inside. It's a solid body done in all white, which looks nice.
Pros:
It is inexpensive
The ceramic bowl is dishwasher safe and easy to clean
The glass lid lets you check on whatever you're cooking in it
Cons:
The white finish looks good but is prone to staining
The cord is just 2 feet long
Small Crock Pot with Temperature Control
When it comes to a small crockpot that gives you value for your money, Elite Gourmet does that fantastic. This slow cooker provides you with tremendous value, and the stainless-steel body is the first pointer to that. It is hard to find such a quality finish anywhere else at this price. You get temperature control with this slow cooker. It has three different heat settings, one for low, another for high, and one that will keep your food toasty and warm.
Pros:
Stainless-steel build looks good and is durable
Has 2 quarts of space to cook despite its size
The glass lid is a hard find at this price
Cons:
There is no auto shut-off feature
The handles are too small and hard to hold
Best Small Slow Cooker with Metal Insert
It's great to know that you have a mini slow cooker that is portable and light. However, there is one thing that even the smallest slow cooker can't do for you, and that's cook two different things at once. Sometimes you may want to mix up what you're eating, so you need two pots, and that's what you get here. The metal insert allows it to hold two pots at once, and the metal insert can be linked with other pots in the product series. Each can hold 1 quart, which is not the largest but works well for two meals.
Pros:
Can cook two separate meals at once
Has a low, high, and warm temperature setting
The connectable system gives a lot of versatility
Cons:
Each 1-quart pot may be a little small
Only one temperature control for both pots
Good Small Slow Cooker for One Person
One massive benefit of a small slow cooker is that it is perfect for just one person to use. That is the case with this one from Proctor Silex. You have a cooker that is taller than it is wide, with a 1.5-quart capacity. It is easy to use, with a ceramic, dishwasher safe bowl inside and three temperature settings that make cooking more straightforward than ever. On top of all that, it is nice and compact, which is very appreciated.
Pros:
The size makes it perfect for one person to use
The multiple temperature settings make this nice and versatile
A ceramic bowl is easy to keep clean
Cons:
It has no indicator light
Purchasing a Small Slow Cooker FAQs
Small vs. Large Slow Cooker
The most important consideration to make when trying to decide between a small and large slow cooker is how many people you are cooking for. If it's just one person, then the smallest slow cooker should do the trick. In many cases, a small one can feed two people comfortably. If it is a family of more than four, a larger one is a better bet.
What can you make in a small slow cooker?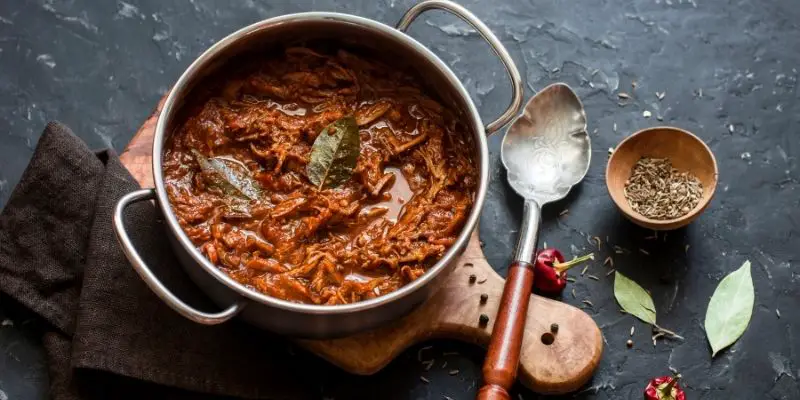 If you've been exposed to small slow cooker reviews, you're probably itching to buy one and wondering what you can make in them. Well, there are many options, such as oatmeal, yogurt, soups, stews, casseroles, bread, etc. 
What size is a small slow cooker?
A small slow cooker is usually one with a capacity of anything under 2 quarts. However, depending on how compact the manufacturers can make it, it can sometimes hold more than that. 
How much does a small slow cooker cost?
The prices of a slow cooker vary, but you can find decent models under $40. The best mini slow cooker on this list costs less than $20, which is incredible. It all depends on the features that you desire.
Tips for Cooking in a Small Slow Cooker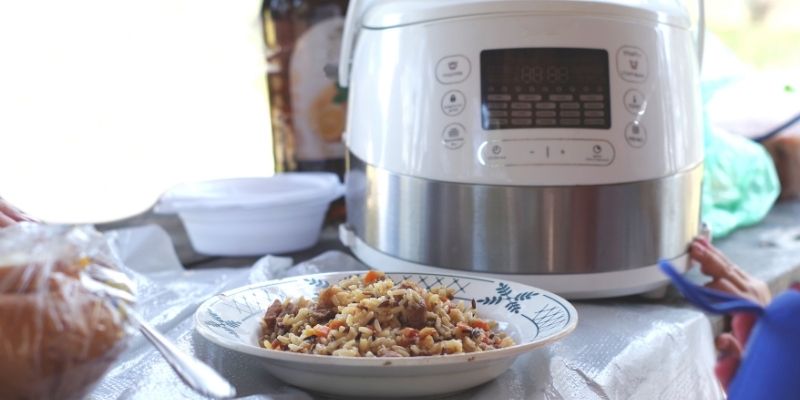 There's a lot that you can benefit from cooking with a slow cooker. You likely want to know some tips that you can use to help you cook up your next meal in your tiny slow cooker.
Let it preheat. Many don't know that you should let the slow cooker preheat before putting food in to get consistent results. You will get inconsistent results if you don't do this.
Use less liquid/water. A slow cooker typically won't reach a boil. At most, it will steam. It is essential to keep this in mind. If you are using a typical recipe, add less water because it won't boil away like most recipes.
Trim fatty meats. The low heat that a slow cooker uses makes cooking a lot different from usual. This fat will melt, but it will sit on or under the food. This can be very unappetizing.
Low heat is better for meat. This really helps to tenderize meat, especially tough or cheap cuts. If there's a stew involved, it can bring up some fantastic flavors in your meat. 
Credits: Thanks for the photo to Canva.

At ipoki.com we only mention the products that we've researched and considered worthy. But it's important to mention that we are a participant of several affiliate programs, including Amazon Services LLC Associates Program, an affiliate advertising program designed to provide a mean for us to earn fees by linking to Amazon.com and affiliated sites. As an Amazon Associate ipoki.com earns from qualifying purchases.