Smart backpacks are sort of like traditional backpacks but filled with more tech functionalities. They have anything you might need from a bag: easier airport clearance procedure for frequent travelers, charging any devices for heavy electronic users.
And this forecast, I am sure, is blowing up thanks to the appearance of the smart backpacks.

Smart backpacks started to be seen as a thing with the increasing number of successful crowdfunding campaigns. Let's remember Nomadic campaign on Kickstarter that raised $2.2 mln back in 2017 and backers were happy.
Although we can also not forget numerous examples when things get wrong (at least at the moment of writing this): I-Future raised $164,719 but never delivered, Lumzag raised $750,834 back in October 2018 and supposed to deliver the product in February, but there's still no sign of the progress with the product.   
And around some of those projects the real drama is unfolding, like the case of iBackPack. Back in August 2018 it was announced that Federal Trade Commission is investigating the project. It raised around $800,000 through several crowdfunding campaigns, but the product was never created.
All in all, smart backpacks are huge, even in spite of the market's setbacks. But it can be tricky to pick the good one. And that why I thought it makes sense to do my own research and try to figure out which options can be worth considering and potentially buying.  
Do you have a particular question about the smart packpacks? Then use the table of contents below to jump to the most relevant section. And you can always go back by clicking on the black arrow in the right bottom corner of the page. Also, please note that some of the links in this article may be affiliate links. For more details, check the Disclosure section at the bottom of the page. 

What is the best smart backpack?

Here's the list of the best smart backpacks we've handpicked after researching 247 models:

The best value: Mancro
Best smart laptop backpack: eBags
Best anti-theft smart backpack: KOPACK
Best smart business backpack: BOPAI
Best smart backpack for travel: Yorepek
Best rated smart backpack: Swiss Gear Scansmart
The lightest smart backpack: XDesign
And now, let's jump into the details:

Best smart backpacks: comparison
(guys, if you checking this table on mobile, just turn your phone for a better view)
Compare prices for the best smart backpacks
#1 The best value: Mancro
One of the most affordably-priced backpacks on the list.
It's a great backpack for travel, work, school, whatever. Carries a ton but has a compact design!
You can easily fit your laptop, a pair of shoes, water,  and a bunch of other things (notebooks, pens, pencils, phones, you name it)
Indeed an excellent backpack that looks clean, professional, holds a LOT and costs not so much.
Pretty comfortable to carry with 20+ lbs packed inside, comes in seven various shades, and it's waterproof!
Pros:
The size is perfect: Not so small that it can't carry most of your things, and not big enough to an obnoxious extent.
The zippers are sturdy and not easily broken. You can expect to keep pickpocketers at bay when carrying this.
The side pouches are ideal for bottled water and things you would require fast.
Do you have a phone and needs to charge it? Do you have a power bank? You can place the power bank in the backpack and connect the USB cable from your phone to an external USB at the sides of the bag.
It features an elegant design that makes you automatically fall in love with it.
Comfortable straps to allow a cozy fit against your back: This would make sure the bag weighs a feather, despite the items in it.
Cons:
Sometimes, the straps adjust themselves when you toss the bag over your shoulder.
The backside gets warm too fast. There need to be some padding for ventilation to ensure it gets enough air to cool it.
The laptop slot lacks padding at the top and the bottom.
Wrapping it up:
The backpack is 20* 12.2* 5.7 inches and weighs 1.5 pounds. It's water and theft proof. It has a stylish design that is great for camping and other outdoor activities.
#2 Best smart laptop backpack: eBags
A slim backpack that looks pretty professional (in those SUPER professional environments, so when you are there, tuck the shoulder bands into the special cuts and use the bag like a briefcase).
It also really spacious, but you will somehow have easy access to everything.
Have you ever experienced uncomfortable digging into the deep insides of your bag to find a pen or a thumb drive with the presentation that you are about to deliver? Can be frustrating, right? So forget about it. It's not the case with this backpack.  
Just amazing how pretty much everything seems to function better just because of the bag.
Pros:
It's sturdy and can't topple over when placed on the ground; this would ensure your things are safe inside and don't overturn.
The zipper is made of a superb material to enhance the safety of things inside.
The Teflon coat makes it suitable to walk briefly in light showers without water getting inside.
The laptop pocket is paddled at the bottom for protection against moderate drops: the paddling can be removed.
The interior pockets are lined with a bright orange material, making it easy to find things like a flash drive in low light condition.
Cons:
The lone side pocket is not adequate for tall things like an umbrella when it gets wet. However, you can use it to carry a bottle of water- not everyone takes an umbrella though.
It's a little heavier than other bags despite its elegant design. You'll realize this when you've your life inside it, and you attempt to lift it.
The shoulder straps are made of plastic hooks; some customers reported they hadn't lasted long when used daily.
Wrapping it up:
The smart backpack size is 8.5*18*12.8 inches. While the size of the laptop compartment dimensions are all the same, making it carry laptops of up to 17 inches. It weighs 3.3 pounds. It's black and sleek in appearance, thoughtfully designed and superb build quality. And it comes in four different shades.
#3 Best anti-theft smart backpack
This backpack is fantastic and comes at a pretty great price for those enhanced anti-theft features.
It's Grey black, water, scratch, and theft resistant, and is among one of the best anti-theft bag recommended in 2019.
Pros:
Where's your wallet? Is it inside the bag? In there, it's safe. The bag has hidden pockets to enhance the safety of your belongings.
Did you stay out in the rain? No problem, your laptop is safe. You only wipe the water off, and within 5 minutes, there's not a trace of water left.
The front lid opens at 90 – 180 degrees allowing yuppies to view their things in a suitcase-style when they bring the backpack down.
The zipper design is stealth making sneaky hands of pickpocketers at bay: This's in addition to hidden pockets.
Backings are made of bubbled-foam padding for cushion and flexibility. It's all comfort at home.    
So, you want to listen to music, but your phone is inside the backpack? Don't worry; the bag has a gap in its body to connect your earphones to the phone, what more could a guy want?
Cons:
It's sometimes a daunting task to reach the bottom contents of the backpack when you haven't opened the lid completely.
Though the bag is anti-scratch, some customers claimed that it isn't, upon testing it themselves.
The hidden pockets are cramped though not all customers had this problem.
Wrapping it up:
The backpack measures 18.9*5.5*14.2 inches, which makes it adequate to carry laptops of up to 17 inches.It weighs 1.94 pounds.
Now that you've known the cons and pros of having this smart backpack, you need to make a decision based on your preferences.
However, for a person who prioritizes the safety of his/her belongings, and wouldn't mind the annoying opening of the backpack from time to time, you should go for this.   
#4 Best smart business backpack: BOPAI
Multifunctional backpack with plenty of space. The soft section will protect your laptop very well. It also has hidden pockets on the back and the shoulder strap for transforming it from backpack to something even more businessy. Functional, high quality and sleek. Just a brilliant bag.
Pros:
Do you want to appear organized and always ready? Have this backpack. The pockets are enough for all your belongings such as pens, notebooks, sunglasses, plus all other belongings you'll need to have while traveling.
The double zipper design is unique and concealed, making sure your belongings inside are secure.
It's well designed to ensure you feel less than 18% weight; this comes from breathable mess padding on the shoulder straps, which enhance plenty of cushioned comfort.
Do you have a power bank? You can place it inside the bag and charge your phone on the go. It's convenient when you're using your cellphone yet the power is low.
Cons:
The straps can be bulky sometimes and make it hard to carry an additional bag.
The side pocket can be unreachable until you bring the backpack down.
Some customers complained that sometimes it's hard to zip and unzip.
Sometimes, the zipper breaks quite easily according to a few customers. However, it can be due to rough handling.
Wrapping it up:
The backpack measures 18.8*4.7*17.3 inches and accommodates laptops of up to 15 inches. It weighs 1.7 pounds. It's water and theft proof thanks to hidden pockets and well-designed zipper. And it looks GOOD.
#5 Best smart backpack for travel: Yorepek
The best thing about this one is the breeziness of security checkpoints. So, frequent travelers can share our excitement about smart backpack by Yorepek.  If only the rest components of air travels were as low-stress…

Another point to mention: no matter how many things you'll stuff inside you'll never seem to be hampered. The designers probably made some voodoo magic while creating this – but whether you will carry it on both shoulders or just one, you won't feel bogged down as heavy users reported.
Pros:
The backpack is extra-large, you can be sure to get adequate space for most of your belongings. The straps, too, can be adjusted to any length.
It has a TSA-friendly feature made exclusively to meet your air travel needs.
It has a built-in charging cable and a USB port to charge your phone at a go. Also, it has an earphone gap to ensure you listen to music hands-free- conveniently and stylish.
It's made to last; this backpack can survive for years. Also, it has two-way waterproof zippers, which you can operate on whichever side you choose.
Many pockets and a large laptop compartment to fit up to a 17-inch laptop: To make sure your laptop doesn't move when you're on a light run, it has padding and a Velcro strap.
Cons:
It doesn't have straps around the waist.
Some customers reported that the backpack topples over easily even when you have your belongings in there.
The zipper sometimes fails. However, not to everyone, it all depends on how you handle it.
It's great for light loads. However, for heavy loads, it may not be useful for long as one customer claimed.
Wrapping it up:
A large capacity laptop measures 19.4*10.4*14.96 inches and weighs 2.3 pounds. And it also holds laptops of up to 17 inches in size. Waterproof, comfortable, and spacious backpack is the best pick for all your possible travel needs. (And if you are looking for more travel gadgets you should definitely check out our guide on the subject: form water testing device to smartphone UV sterilized – all to enhance your trip safety and comfort).
#6 Best rated smart backpack: Swiss Gear Scansmart

Whether you are a business traveler, hardcore backpacker or just an office clerk – Smart Gear backpack will fit almost any demand.
The bag is extremely comfortable for continued use, even if fully loaded. There is an extra layer of padding on the back for increased comfort. And yet the straps are soft to decrease the pressure on your shoulders.

Pros:
Do you make long commutes every day? I get it that sometimes you're weighed down by that heavy backpack you're carrying. However, not with this one: It has mesh fabrics on the shoulder straps for ultimate comfort.
Large spacious pockets to make sure you don't leave anything you need behind.
It can withstand harsh conditions and heavy usage since it's made using 1200D ballistic polyester.
It opens quickly at airport security to make sure you save time and catch your flight on time. I know you feel annoyed when you're bated to wait at the airport security check.
It's very sturdy, with a proper back padding, along with meshed straps to allow for air flow around your shoulders.
Cons:
It has no padding on the sides and bottom of the laptop pocket.
Zippers are very noisy when you open hence not good for someone who doesn't want to draw attention.
Require considerate efforts to open the large pockets all the way, and the zippers, too, reported to break easily according to some customers.
Wrapping it up:
The backpack measures 18.5*13.5*9 inches and weighs 3.2 pounds. The laptop pocket measures 17*12.5*2.5 inches, this makes it accommodates laptops of up to 17'' in size.
Comfortable, stylish (comes in eight shades) and the best rated smart backpack.
#7 The lightest smart backpack: XDesign

Even though this smart backpack weighs just 1.2 pounds, it can carry laptops of up to 16 inches and has lots of things going on. E.g., enhanced security features: the front clip that has to be unbuckled to access the insides of the bag and secure section on the back.
It has a built-in USB charge port that comes with the cable the can be connected to the power bank.
The amount of padding seems to be perfect, and the overall look of the back is very stylish.
Pros:
It's made using an anti-scratch hard material that lasts; it almost feels like it's a pair of jeans.
A cushioned backside and adjustable straps enhance comfort.
It has an external USB port that allows you to conveniently charge your phone, in addition to having an earphone gap to enable you to listen to music hands-free.
The security of your belongings was considered when they made this backpack since it has secure zippers and front buckle for maximum safety. Besides, it has a lock at the top, which requires you to use force to open it.
The design of this backpack will marvel you. It's lined with an Oxford fabric that makes sure it's lightweight when traveling.
Cons:
The anti-theft clip gets in the way of opening and closing the bag often, this sucks, and you feel getting rid of it- though it's useful.
The backpack can be stiff for some people.  
Some customers complained about how the feel of the straps and the mesh feels cheap (but after all its super affordable)
Wrapping it up:
The backpack weighs 1.2 pounds (super light, right?), it's dimensions are 16*5*10, and it can fit laptops of up to 16 inches. Durable and practical backpack with features that are tailored to make your life hassle-free.
What is TSA approved backpack?
All of  Transportation Security Administration (TSA Friendly bags adhere to the following guidelines: The laptop backpack has a laptop-only segment that you can put flat on the screening belt. There are no metal clasps, buckles or zippers in any part of the laptop section.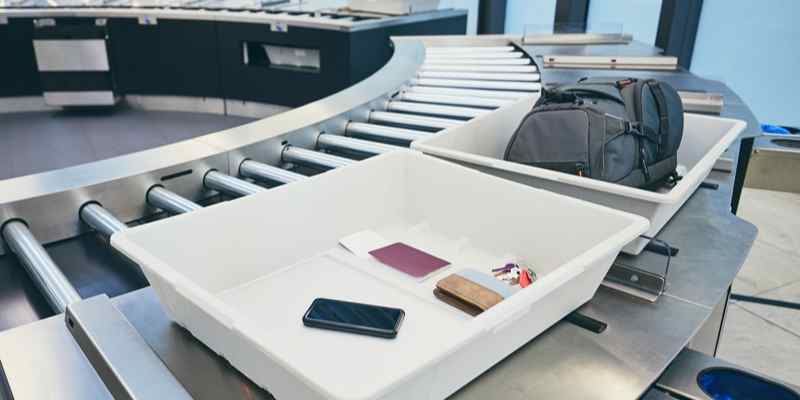 How to charge a laptop with a smart backpack?

USB charging backpacks can be different. Sometimes they can charge your devices using solar energy, sometimes, using the socket. On top of it, there's another feature to consider: the power bank can be included or not.

If the backpack doesn't come with a removable or built-in battery pack, chances are you own a power bank anyway. Therefore you can use it. Just slide it into an inside pocket that connected to the external USB port. Thus it's possible to charge your device without taking it our or even opening the bag.
How does anti-theft work in a smart backpack?
Smart backpacks are created to store expensive gadgets, so most of them have intensified anti-theft characteristics. An apparent addition are the lockable zips. Hidden pockets and false pockets are other ones. On top of it, one of the best deterrent for pickpockets are hidden zippers.

 And if you are looking for more travel gadgets you should definitely check out our guide on the subject: form water testing device to smartphone UV sterilized – all to enhance your trip safety and comfort.
Credits: Thanks for the photo to Canva.
At ipoki.com we only mention the products that we've researched and considered worthy. But it's important to mention that we are a participant of several affiliate programs, including Amazon Services LLC Associates Program, an affiliate advertising program designed to provide a mean for us to earn fees by linking to Amazon.com and affiliated sites. As an Amazon Associate ipoki.com earns from qualifying purchases.