Some might think why to be bothered with buying the tortilla maker if you can get this bread pretty much in any store. And while that might be true if you are a fan of wraps and freshly made produce, this little baking device might be worth the investment. 
While a packet of tortillas will cost you anywhere from $1.5 to $3 per pack of ten, you can make three-five times more tortillas for the same money. And those will be homemade and fresh. 
And tortillas aside, you can generally use tortilla maker for other purposes too – work on prepping ingredients for dumplings, pork tenderloin, and scallion pancakes. And even for hear transferring prints on t-shirts or crushing the hands of thieves. 
Jokes aside, if you are here for a quick suggestion, go with this one. It's sturdy, safe, reliable, rust-proof, easy to use and wash. 
But stick around if you can. 
I've looked into dozens of tortilla makers and shortlisted 5 of them. And since I've spent around 10 hours doing so, I hope you'll find at least a few of the options below worth considering and helpful too. 
Do you have a particular question about choosing the right tortilla maker? Then use the table of contents below to jump to the most relevant section. And you can always go back by clicking on the black arrow in the right bottom corner of the page. Also, please note that some of the links in this article may be affiliate links. For more details, check the Disclosure section at the bottom of the page. 

Best tortilla press
This tortilla making machine has a very durable build since it's made of rust-resistant cast iron. The material is safe and won't contaminate the food. 
Plus, making those tortillas is super easy. All you have to do is to place the dough on it and press the machine. The mixture will spread evenly, making sure you get a consistently cooked bread.
The handle is pretty sturdy and provides excellent balance and stability to the device. Other than tortillas, you can also use it for making tostones, empanadas, dumplings, pie shells, arepas, and more. On top of it, the price is more than affordable.

Electric tortilla maker
This one is not a tortilla maker per se. Its primary purpose was to make crepes, but you can utilize it for tortillas too.   
With a non-stick coated plate surface, you can make it in 20 seconds, even with no prior cooking experience. 
This compact electric tortilla maker has a leak-proof design, meaning your oil and batter won't slip off. So you can spread the dough out to the full diameter of the device.
Also, with 8" plate area, you can make big-sized restaurant-style tortillas.

Wooden tortilla press
This press will last a lifetime, or even for generations, thanks to the high-strength hardwood (oak and walnut) used for its build. Wooden makers are more of a classic – that's what they use in Mexican families for delicious homemade tortillas. The material makes it pretty easy to clean and maintain, making it a perfect gift for bakers. 
You don't need to fret about safety too. The device is coated with food-grade mineral oils and beeswax to minimize the stickiness and make it safe. And you can also line it with the parchment paper, so dealing with the sticky dough won't be a problem. 

.
Pan for tortilla
This pan is made with iron and has a bee wax finish to fight against oxidation while helping season the pan. The darker it becomes, the better it is for natural non-stick properties. 
The pan is oven-safe for up to 20 minutes at around 204°C. It distributes the heat evenly for consistently well-cooked tortillas. 
Plus, the ergonomic-design handle provides a good grip and balance for maximum convenience. 
Don't ever put it in a dishwashing machine, though. Just spring it with warm water and sterilize using coarse salt.

Best authentic tortilla press
This sturdy cast-iron build provides a stable base and easy press while the sturdy handle enables excellent resistance. This way, you can get well-formed tortillas with optimal heat distribution.
This flattener is really heavy. To get your tortillas thin, you just need to press with only a tiny bit of force. Ideal size and versatility make this option one of the best tortilla makers out there. And this should also last for a lifetime. Build quality is very impressive.  

Tortilla maker shopping guide and FAQ
How does a tortilla maker work?
Tortilla cookers are simple devices that flatten the dough with the help of a pan or pans and often bake them. They make your work a lot easier and allow you to make traditional tortillas all by yourself at your home.
You just have to make a dough, place it on its surface, and then press it. Your tortillas will be ready in a matter of a few seconds. Sometimes, to avoid stickiness, you can use parchment paper. However, most of them are non-stick and won't need one.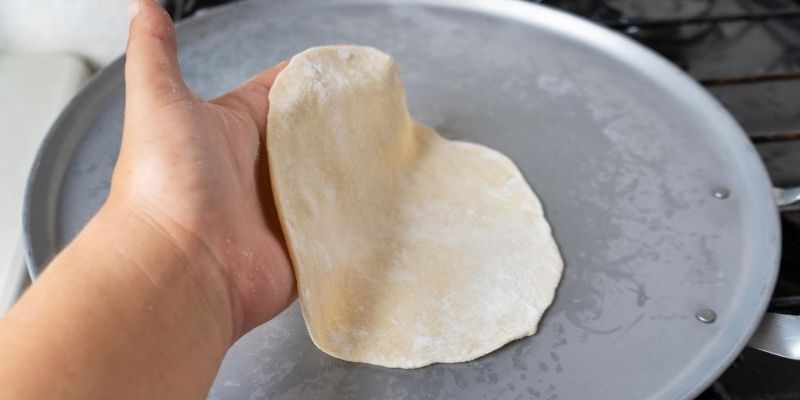 Types of tortilla makers?
There are two main types: aluminum and cast iron. Aluminum tortilla makers are lightweight, so easy to handle. In contrast, cast iron makers are heavy, longlasting, and may require more maintenance.
Based on the functionality, a tortilla maker can be electrical or non-electrical. The electric ones use electrical energy to bake your tortillas. In contrast, non-electrical tortilla presses such as pans would need a separate energy source like a stove.
How much does a good tortilla maker cost?
For home use, a decent tortilla making machine may cost around $20-$40. However, it may fall in the range of $15 to $100, depending on the material and functionality.
Credits: Thanks for the photo to Canva.

At ipoki.com we only mention the products that we've researched and considered worthy. But it's important to mention that we are a participant of several affiliate programs, including Amazon Services LLC Associates Program, an affiliate advertising program designed to provide a mean for us to earn fees by linking to Amazon.com and affiliated sites. As an Amazon Associate ipoki.com earns from qualifying purchases.