Samsung is by far the most popular TV brand in the world. Samsung TVs typically last for at least 10 years, even when used for 8 to 10 hours a day. That's because Samsung TVs come with premium-grade components that outperform those in budget-level TVs. However, unlike cheap TV brands, Samsung TVs are getting more sophisticated yearly.
While that's a great thing for tech lovers, it can also confuse average TV users. New-age Samsung TVs feature a plethora of buttons & dials. The problem is – in every new model, the locations of these buttons & dials are changed. This trend has left many users questioning – where is the power button on my Samsung TV?
It's a basic question that some users feel embarrassed to ask out loud. Well, they shouldn't because thousands of Samsung TV owners have the same question. Not knowing the Samsung TV power button location is an unfortunate yet common occurrence. So let's address this common query once and for all.
Do you have a particular question about finding the power button on your Samsung TV? Then use the table of contents below to jump to the most relevant section. And you can always go back by clicking on the black arrow in the right bottom corner of the page. Also, please note that some of the links in this article may be affiliate links. For more details, check the Disclosure section at the bottom of the page. 

Where is the Power Button on a Samsung TV? 
The location of your Samsung TV power button will depend on what TV model you own. Some Samsung TVs have power buttons on the top of the device. Some have them in the left/right corners of the devices. Others have their power buttons on the back of the TV. Confusing, right?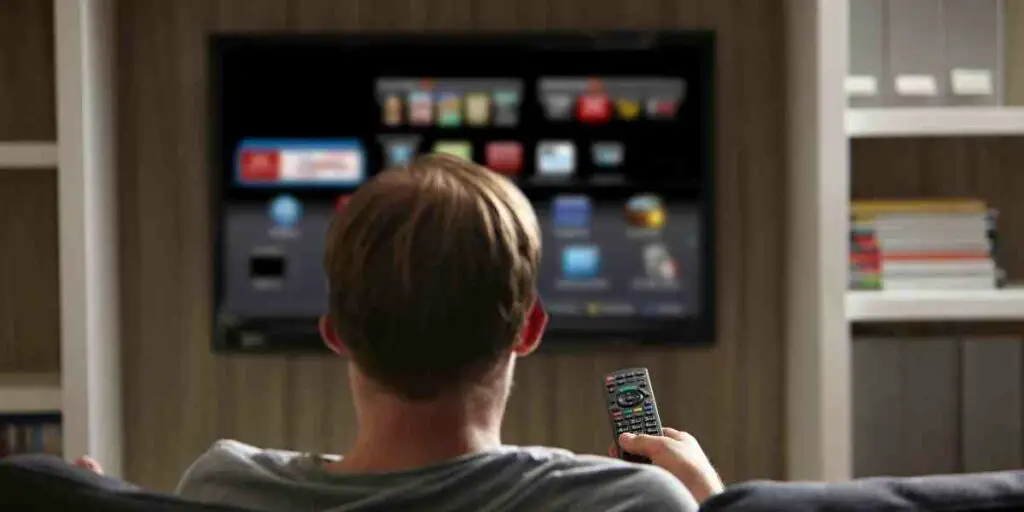 To clear all of your confusion, check the following locations on your Samsung TV:
CHECK THE MIDDLE, UNDERSIDE REGION OF YOUR TV
The most common location for the Samsung Smart TV power button is right underneath the central region of the TV screen. Look at the panel underneath your TV screen. The power button may be positioned bang in the middle of that panel.
Or, it may be positioned on the left or right side of the panel. But, in most cases, you'll find the power button on that panel. Just rub your hand across the panel & see if you feel a button or switch.
CHECK THE UNDERSIDE OF THE TV
Placing the power button on the underside of the TV could be more user-friendly. But, some Samsung TVs do have power buttons placed in this hidden location. So, again, run your hand across the underside of your Samsung TV. Do you feel the presence of a small button? If yes, press it to see if your TV turns off/on.
ON THE FRONT BEZEL (LEFT OR RIGHT)
Users often can't find power button on Samsung TVs because they're unknowingly using touchscreen TVs. That's right – many new-age Samsung Smart TVs come with touchscreen panels. These panels feature touch control power buttons & they're usually located on the right or left bezels of the TV.
Run your hand across the left & right bezel of your Samsung TV. Do you feel the presence of light touch control power buttons? You may also find volume, channel control, and other touchscreen controls. If you find these touch power buttons, tap them gently. If your TV turns on, congratulations!
CHECK THE BACK OF YOUR TV
This is another controversial feature that many Samsung TVs have. The power buttons on these TVs are located on their backs. So, move your Samsung TV away from the wall & inspect its backside. Rub your hand across the back panel to see if you feel the presence of a small power button there.
If you still can't locate the button, grab a flashlight & perform a visual inspection. Still no signs of a power button? Don't worry. Bring out your user Samsung TV's user manual. Your TV manual will precisely answer the question, "Where is Samsung TV power button?" But what if you've lost your TV manual? Again, no worries.
You can use the e-manual on your Samsung TV. Here's a good video on how to find & read the e-manual on Samsung Smart TVs. But what if your Samsung TV won't turn on because you can't find the power button? Then, use this link to download the manual for your TV on your phone or computer.
This link will take you to a page on Samsung's official website where all manuals published by the company can be found. First, find your TV's exact model number (it should be imprinted on the back of your TV). Then, find the right manual & look for diagrams that detail the specific locations of all the buttons on your TV.
How to Turn on Samsung TV Without Power Button?
Can you activate & use Samsung TV without a power button? Yes. There are many ways to turn on & operate a Samsung TV without using the power button or the remote. The simplest way is by using Samsung's SmartThings app. Here's how you do it:
Download Samsung's SmartThings app from Apple/Google's app store.
Create your own Samsung account (just follow the on-screen instructions).
Once your account is set up, tap the "+" sign (plus sign) in the upper-right corner of the app.
Select your device from the drop-down menu
Select Samsung as the brand
Select TV
The SmartThings app will automatically locate your TV & establish a connection. Now, you can control your Samsung Smart TV via your smartphone. Select the app's TV icon and choose "Turn On." Your TV will turn on automatically.
What if My Samsung TV Has No Power Button?
"My Samsung TV has no power button." Many Samsung TV owners have made this claim after repeatedly failing to locate the power button. They're wrong. Regardless of the model, all Samsung TVs come with manual power control buttons. They're always located on the TVs. It's just a matter of finding them.
So, apply all the procedures mentioned in this list. Once you find the power button, use colored tape to mark it so you don't lose it again. Smart TV Samsung TV power button locations are getting more complicated every year. So, don't feel embarrassed about facing this problem. Use this guide to fix this problem once & for all! 
Credits: Thanks for the photo to Canva.

At ipoki.com we only mention the products that we've researched and considered worthy. But it's important to mention that we are a participant of several affiliate programs, including Amazon Services LLC Associates Program, an affiliate advertising program designed to provide a mean for us to earn fees by linking to Amazon.com and affiliated sites. As an Amazon Associate ipoki.com earns from qualifying purchases.