If you've been paying attention to the $3.2-billion-dollar smart home security market, you know that there's a raging debate on the Internet – Wyze vs. Blink, which is better? These are both super-popular smart home security companies.
Both Wyze & Blink specialize in producing wireless security camera solutions for residential consumers. These companies offer a variety of home security systems like video doorbells, floodlight cameras, & security cameras.
But which one is better – Blink or Wyze? Let's explore the main products from both brands to determine which wireless security camera is the best option for your home. Before that, let's address some basic differences between the two brands:
Monitoring Services: Neither Blink or Wyze offers professional monitoring. However, Wyze offers a similar service called "Wyze Home Monitoring."
Storage Capabilities: Blink recording costs depend on how much video footage you collect & store. That's because Blink stores your footage exclusively on its cloud services. Wyze is different because their devices come with built-in microSD cards that support continuous recording.
Power Features: Wyze devices come with built-in batteries & power cables. That's why those who don't like dealing with cables prefer Blink cameras compatible with AA-Lithium non-rechargeable batteries. These batteries can last up to two years.
Now that we have addressed the core differences between Blink cameras vs Wyze cameras let's dive deeper into the differences that set apart these two brands.
Do you have a particular question about comparing Wyze vs. Blink? Then use the table of contents below to jump to the most relevant section. And you can always go back by clicking on the black arrow in the right bottom corner of the page. Also, please note that some of the links in this article may be affiliate links. For more details, check the Disclosure section at the bottom of the page. 

Wyze vs. Blink Outdoor Cameras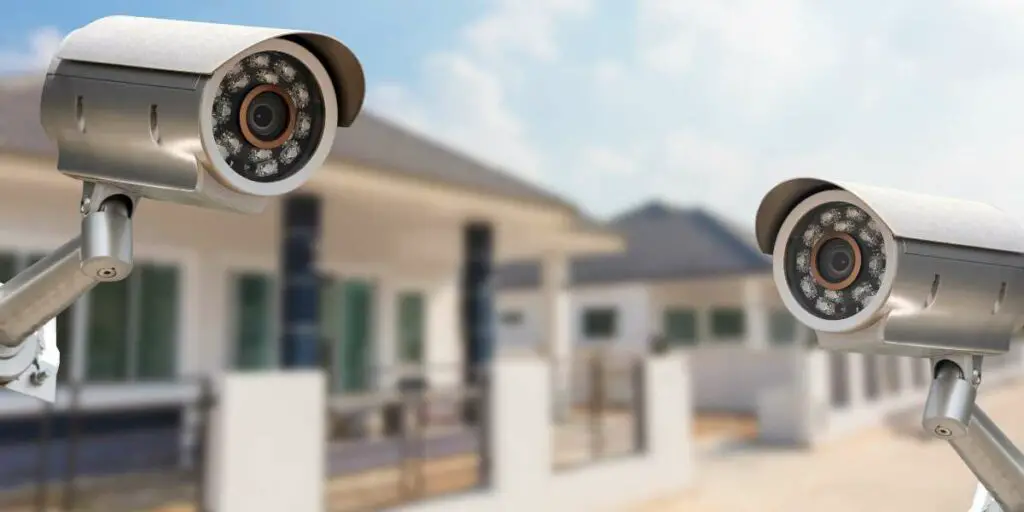 There are only so many differences between an outdoor Blink vs Wyze cam. Outdoor cameras from both these brands are extremely popular among residential users. Both cost less than $100. Both offer limited free cloud storage. So, what makes them different & which brand offers better outdoor security cameras? Let's address the following:
  Design: The Wyze Outdoor Cam is only available in white color. The Blink Outdoor Cam is only available in black color. Which one has a better design? Depends on which color matches your home's outdoor décor. Both are light, compact, & easy to install. However, the white-colored Wyze Outdoor Cam weighs slightly more than its counterpart.
  Battery: The Blink Outdoor Cam wins this point with ease. That's because its built-in rechargeable AA batteries can last up to two years. You can even purchase expansion packs to extend that period. The Wyze Outdoor Cam offers only 3 to 6 months of battery life. But it comes with a micro-USB cable which you can use to recharge the batteries in just a few hours.
  Compatibility: Only Wyze cams are compatible with Google Assistant. They're both compatible with Alexa and Amazon Echo products.
  Cost: Wyze Outdoor Cams are cheaper than their Blink counterparts. The Blink Outdoor Cam costs $90. The Wyze Outdoor Cam costs $70. In addition, if you pre-order your outdoor security camera from Wyze's website, you're even entitled to discounts of up to $20.
Which is Better? Both these brands offer amazing outdoor security cameras. However, the Wyze Outdoor Cam is the clear winner in terms of cost-efficiency. It offers the same features that Blink Outdoor Cams offer. But it costs less. However, buying a Blink Outdoor Cam is good if your smart home is entrenched in the Amazon ecosystem.
Wyze Vs. Blink Indoor
Both Wyze & Blink offer some of the world's most advanced indoor security camera systems. The best indoor security cameras from these two brands are – the Wyze Cam v3 & the Amazon Blink Mini. Let's review the two to see which one's better –
  Storage: One of the key differences between Wyze & Blink security cams is their storage mechanisms. The Wyze cam record to hard drive feature is loved by users. This means that Wyze's security cameras offer both offline and cloud storage. These cameras come with built-in microSD cards, which allow them to continuously record footage. There's also the Wyze continuous recording cloud feature. With this feature, you can opt off the continuous offline recording mode. Your Wyze camera will only record 12-minute videos when asked. The Blink Mini only offers cloud storage. There's no offline storage & you'll need a Blink Subscription Plan to save videos.
  Design: In terms of design, the Blink Mini truly lives up to its name. It's a small, compact, & light device that can be easily mounted on walls. The camera rotates on its base as well. The Wyze Cam v3 is also a compact device. It's not as light as the Blink Mini, but it does offer IP (Ingress Protection). Unfortunately, the Blink Mini doesn't, so it can't be used as an outdoor camera. On the other hand, Wyze cam outdoor scheduled recording is a great design & utility feature.
  Compatibility: Both these devices support Alexa integration. They also offer crisp two-way audio features.
Which is Better? Overall, the Wyze Cam v3 is a more versatile and cost-effective product. You don't need a monthly subscription to save/store footage. You can use it as an outdoor camera as well.
Wyze Vs. Blink: Continuous Recording
Blink cameras don't record continuously. When does Blink camera record? Only when it senses motion & when you ask it to. You can open & view a live feed from your Blink Camera whenever possible. Wyze cameras come with built-in microSD cards which support continuous recording.
You'll need a special Blink subscription plan to get Blink camera continuous viewing. Even then, the camera will only record up to 90 minutes at a time. Here's a helpful video that details the storage differences between Blink & Wyze cameras.
IR Intensity on Blink and Wyze
Many users think that only Blink cameras come with invisible infrared LEDs. They're wrong. Most Blink camera devices have at least 850nm infrared LED lights, allowing users to receive clear videos even in pitch-black darkness. Wyze cameras also offer 940 nm infrared LED lights.
Blink Vs. Wyze Camera Subscription Cost
The Wyze non-subscription membership starts at less than $2/month per device. You'll have to pay $5 a month if you want the professional monitoring feature. Is Blink subscription free? No. Blink doesn't offer professional monitoring. Its subscription plan starts at $3/month per device. Both these brands offer discounts if you get a yearly subscription.
Which Is Better, Wyze or Blink?
Overall, Wyze has better offers for budget shoppers. It surpasses Blink in terms of storage features, subscription costs, & professional monitoring. So, Blink is still a good choice. But there are better home security systems brands than this one. Wyze is! 
Credits: Thanks for the photo to Canva.

At ipoki.com we only mention the products that we've researched and considered worthy. But it's important to mention that we are a participant of several affiliate programs, including Amazon Services LLC Associates Program, an affiliate advertising program designed to provide a mean for us to earn fees by linking to Amazon.com and affiliated sites. As an Amazon Associate ipoki.com earns from qualifying purchases.