World of Tanks is an MMO action game that puts players in control of an armored vehicle. One of the best multiplayer war games was developed by Wargaming and originally released in 2010 but since then, the game has become one of the most popular MMO games currently available. It was also released for the Xbox 360, Xbox One and PlayStation 4.
World of Tanks Game Play
The main focus on this online battleship game is large-scale PvP battles which are reflected in the game modes currently in the game. While there are five of them, the main is actually formed of three game types.
Random Battle is formed from Standard Battle, Assault and Encounter Battles. The Standard Battle is a team deathmatch style mode with some added base capture elements while Assault has players fight to protect their base which destroying the other teams. The final mode, Encounter Battles, is similar to Assault, however, players must race to claim a neutral base.
The other four game modes in the game are dedicated to clans or groups of players. It reflects the strong competitive community which is driving the game forwards in the eSports scene and in casual matches. The Team Training mode allows players to create custom lobbies while the Strongholds mode allows clans to fight in skirmishes for resources.

World of Tanks Basic Rules
Players have more than 350 different vehicles to select from. They are spread across five different 'classes' which dictates that vehicles role in the battle. While each class has a different purpose, players can also customize their vehicles mechanical components to make them better suited to different tasks or objectives. There is also a nice range of cosmetic items which can be used to make every tank unique.
While there's a large number of tanks in the game, players need to unlock them using points earned by playing games. It's also possible to purchase these points from the cash store. This does add an element of pay-to-win to the game as players can skip the early game content and go straight to the high powered vehicles from the end game content. As a result, some matches in this online battleship game
can be quite unbalanced.
After a match, the player needs to maintain and repair their vehicle to keep it in a good working condition. This is done by spending the monetary rewards handed out at the end of the match. In addition to this, players will also need to purchase new consumables and ammo to be used in the next match. These items can be quite expensive however so players must spend their money wisely.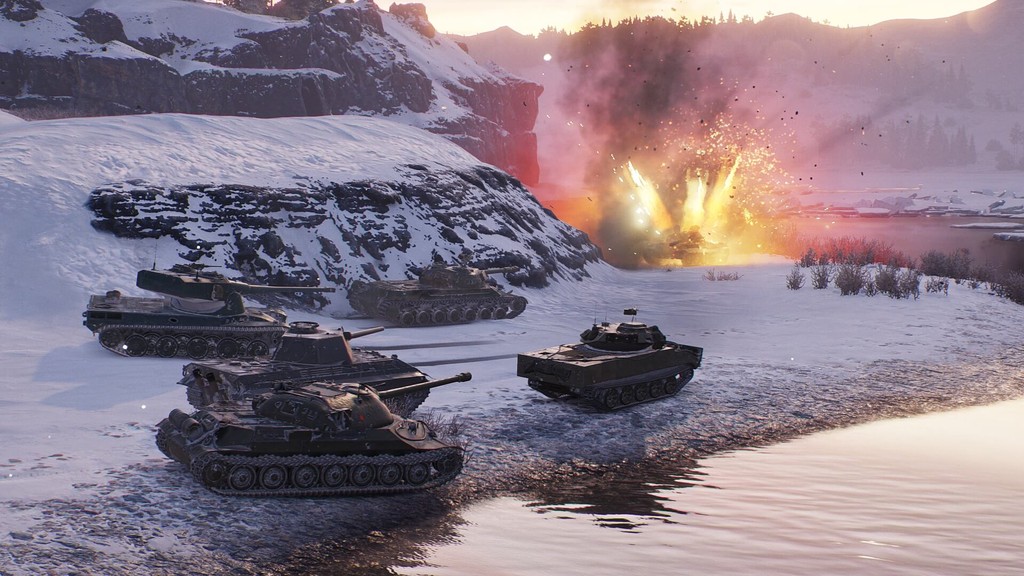 While there are various consumables, combat in World of Tanks is focused around a single main gun which is a 360-degree turret. Combat in the game tends to be very slow and very strategic. Players must use camouflage to hide their tank and avoid being shot at while also looking for enemy tanks. Team-play is the main focus of the game and using the different types of vehicles correctly can give a team an edge over the competition. It could allow the team to advance together as a unit or sneak up on an enemy vehicle.
Combat in this multiplayer war game is very tense as a result despite the slow nature of the battles. It can result in stressful situations. The ones players will either love or hate.

Last Thoughts. To Play or not to Play?
World of Tanks is one of the greatest MMO action games to ever be released and it's easy to see why. The game features strategic and team-based gameplay where teams must coordinate their approaches to attack the enemy team. This may not be an easy game to learn but the gameplay feels very rewarding. So if you are looking for perfect online battleship games to play for free – this one should one of your first choices.

At ipoki.com we only mention the products that we've researched and considered worthy. But it's important to mention that we are a participant of several affiliate programs, including Amazon Services LLC Associates Program, an affiliate advertising program designed to provide a mean for us to earn fees by linking to Amazon.com and affiliated sites. As an Amazon Associate ipoki.com earns from qualifying purchases.