Are you the proud owner of an Alexa Echo and a Nest device, and have your nights filled with dreams of connecting the two in perfect harmony? Well dream no more, folks. Alexa and Nest devices practically skipped the first date, the awkwardness, and went straight to being best friends. Leveraging their respective powers, they've become a harmonious pair making our tech-loving lives a tad bit easier.
You're likely familiar with Alexa, that friendly voice emanating from your Echo device, always ready to tell you a joke or dish out the weather. But you may not be as familiar with Nest, Google's smart home brand that produces sleek little gadgets such as security cams, thermostats, and doorbells. These devices are pretty neat on their own, but the magic amplifies when they shake hands with Alexa.
Do you have a particular question whether or not Alexa is compatible with Nest? Then use the table of contents below to jump to the most relevant section. And you can always go back by clicking on the black arrow in the right bottom corner of the page. Also, please note that some of the links in this article may be affiliate links. For more details, check the Disclosure section at the bottom of the page. 

Understanding the Compatibility: Does Nest Thermostat work with Alexa?
Like cookies with milk, or Batman with Robin, Nest Thermostat and Alexa are destined to be together. You heard it right, the amazing Nest thermostat does indeed work with Alexa. Once connected, you can profess your love for voice control and experience unanticipated joy while saying things like: "Alexa, adjust temperature to a cozy 72 degrees."
Why Should You Connect Your Nest Thermostat to Alexa?
Think about a world where you get to crank up the heat before crawling out of your warm, snuggly bed or turn up the AC while cooking a feast without leaving the kitchen. The voice control, which comes with connecting Nest thermostat with Alexa, makes this world a pleasant reality, and once you feel the convenience it offers, you'll never look back.
Connecting Google Nest Devices to Amazon Alexa: The Process Overview
Holding your hand (metaphorically, of course) through this process, it all narrows down to three basic steps: setting up your Google Nest device with the Nest mobile app, prepping your Amazon Echo with the Alexa mobile app, and finally – the part where the sparks fly – connecting your Nest devices with Alexa.
Prepping Your Devices: Necessary Steps Before the Connection
Like all good relationships, preparation is vital. You'll need to set up your Nest account (if you haven't yet), and make sure your Google Nest Skill is enabled with your Google account. Have your Echo device handy and ensure that it's functioning properly with the Alexa mobile app. Finally, whisper sweet nothings to your devices motivating them to build this connection, and you're good to go!
Step-by-step Guide: How to Connect Alexa to Nest
Once your prepping is complete, here's the easy-peasy connecting process: – Open the Amazon Alexa mobile app. – Locate and select 'Skills & Games.' – Seek, locate, and select the 'Google Nest Skill.' – Enable the 'Google Nest Skill.' – Log into your Nest account and authorize Amazon to connect to Nest. – Ensure success by asking Alexa to adjust the temp on your Nest thermostat or show the view from your Nest cam. And voila! You're now a proud owner of Nest devices with Alexa, all set up for voice control, and ready to command an AI-enabled rampart, cozily from your couch. Now, If only Alexa could cook dinner, we'd be all set!
Get Started: Setting Up Your Alexa and Google Nest Devices
Let's cut to the chase. To get your ball rolling in the smart home ecosystem, begin by setting up your Alexa and Google Nest devices. It's a piece of cake. Simply follow the user manuals that come with your devices, or If they've somehow vanished, tap into the vast knowledge available on the Amazon website. In no time, your Alexa and Nest devices will be ready to serve you like humble butlers.
Getting the Alexa App Ready: Where the Connection Begins
Your Alexa and Google Nest need a medium, an ecosystem of their own where they can interact. The Alexa App is the wire that connects these two and, to get it ready, you only have to download it from the App/Play store, sign in to your Amazon account, and voila – they're ready to talk!
Adding Skills: How to Enable Nest Thermostat on Alexa
Alexa, much like you, needs to learn new skills to communicate better with the Google Nest. This is where the 'skills' feature comes to play. Here's a quick guide: Open your Alexa App, tap on the menu button, and select 'Skills.' Search for 'Nest Thermostat' and enable it – simple as that.
Pipeline to Your Smart Home: Alexa Communicating with Nest
Once you integrate the Nest Thermostat skill and get your devices on the same platform, they become like best pals. Here's what happens: when you say "Alexa, set the temperature to 70 degrees", your Nest device isn't far behind, adjusting the temperature just as you commanded. That, my friend, is the power of a smart home ecosystem!
Run Your Checks: Ensuring Your Nest Device Works with Alexa
If you've got your setup done, you're probably wondering if the Nest and Alexa integration was successful. To confirm this, ask Alexa to perform a command for your Nest, like setting the temperature. Did it work? If yes, then there's your answer. If it didn't, don't panic. Go through your setup process again to ensure every step was completed accurately.
Exploring Advanced Connectivity Features
Beyond temperature control, there's a whole world of features that these smart buddies can offer. This includes home automation, energy savings, and much more. The limit is only your imagination. They're always evolving, so make sure you tune in to any updates in your smart home ecosystem to make the most of these marvels of technology.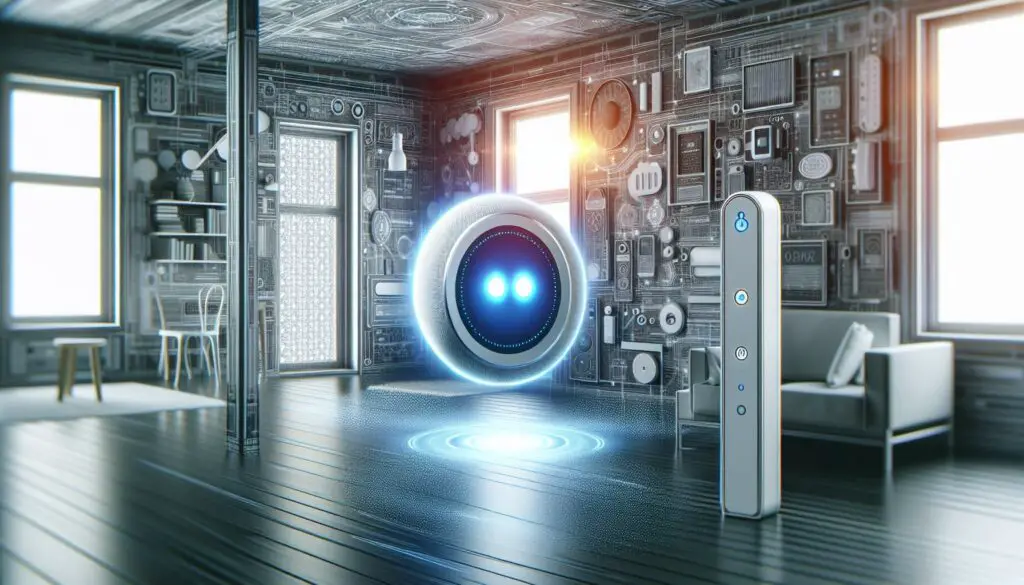 Besides Temperature: Other Nest Device Commands You Can Ask Alexa
Think your Nest is a one-trick pony? Think again! Besides temperature control, you can ask your device to do a bunch of nerdy (and not-so-nerdy) things. From turning on your Ring or Echo Show to setting up a bedtime routine, it's almost like having a personal assistant right at your fingertips. Try sensational commands like "Alexa, what's the carbon monoxide level?" or "Alexa, what's the humidity in the living room?" Believe me, once you start exploring these, you won't want to stop.
Customize Your Experience: Setting the Nest Thermostat Temperature with Alexa
We get it, it's all about comfort. Optimizing temperature to each person's preference is no longer a wild dream of sci-fi authors. The good news is – it's as doable as sipping a cup of freshly brewed coffee in the comfort of your home. All you need is an alexa-enabled device and your beloved Nest Thermostat, which nicely fit into the category of 'smart tech.' Ready to dive in? Let's start. Start off by navigating to your Alexa app. Next, effortlessly migrate your Nest account to a Google one. Then, Alexa will vouchsafe to pair with your Nest thermostat and, voila, it begins! By simply uttering, "Alexa, set my Nest to 72 degrees," our virtual assistant immediately obliges your command.
Breaking the Barriers: Connecting Nest Cameras & Doorbells to Alexa
Picture this: you're deeply engaged in a nail-biting boss fight in your favorite game on your Fire TV and suddenly, the doorbell rings. Annoying right? But hang on, welcome to seamless third-party integration. By allowing Alexa to pair with your Nest cameras and doorbells, you can enjoy pin-sharp video feeds right on your Fire TV without skipping any gaming action. Alexa's built-in feature instantly shows you who's at the door – convenience and security all in one package!
Exploring Voice Commands: How to Interact with Your Nest Devices via Alexa
Welcome to the magical world of communicating with your devices simply by using your voice. Alexa, with its precocious know-how, can communicate with your Nest devices through an array of voice commands. Fiddle around with statements like, "Alexa, show me the nursery camera" or "Alexa, what's my energy usage?" and watch the hefty smarts of this cross-platform integration in real-time.
Security Systems Integration: Nest Security System working with Alexa
Imagine having someone to vigilantly guard your dwelling round the clock, with hawk-like dedication. Alexa and Nest offer just that. It's like having a diligent robot butler at your service 24/7. Your Nest security system, armed with nimble sensors, automatically shares any suspicious movement with Alexa, keeping you notified on web and app interfaces. A tap on your phone and you're right in the midst of things, knowing exactly what's happening.
Common Challenges in Alexa and Nest Connectivity
Yeah, it can't be all sunshine and rainbows, right? Occasionally, connectivity between Alexa and Nest might experience some hiccups. Ghostly gremlins of the tech world, such as different network settings or a misbehaved ISP, might cause our solemn virtual butler to stutter. No cause for alarm though, most of these connectivity issues are solved by, you guessed it right, turning it off and on again. It's like a magical digital chant that gets everything back on track.
When Alexa Can't Connect to Nest: Troubleshooting Guide
Laying it bare – when our usually trusty Alexa turns her blind eye to Nest, it's mostly due to cross-platform compatibility issues. Discover the power of the "Forget" and "Discover" buttons. Triggering the "Forget" option for your Nest devices, followed by a fresh "Discover," often does the trick. Alternately, double-check your network settings. Make sure your devices are on the same network and have been granted permission to communicate. Finally, do not forget to ensure that your devices are running on the latest software version. Conclusion Welcome to a life where you harness the power of voice to command immensely smart devices. Prepare yourself for an exciting journey into the world where intelligence stitches together convenience and security to custom tailor an experience, just for you.
Credits: Thanks for the photo to Canva.
At ipoki.com we only mention the products that we've researched and considered worthy. But it's important to mention that we are a participant of several affiliate programs, including Amazon Services LLC Associates Program, an affiliate advertising program designed to provide a mean for us to earn fees by linking to Amazon.com and affiliated sites. As an Amazon Associate ipoki.com earns from qualifying purchases.