Can you screenshot a Facebook story? Of course, you can, just like you can screenshot anything else on your computer or phone screen. The main question that's on the minds of many people is can you screenshot a Facebook story without the original poster finding out? The answer to this question is multi-faceted. So, let's break it down.
Do you have a particular question about screenshotting a Facebook story? Then use the table of contents below to jump to the most relevant section. And you can always go back by clicking on the black arrow in the right bottom corner of the page. Also, please note that some of the links in this article may be affiliate links. For more details, check the Disclosure section at the bottom of the page. 

What is a Facebook Story?
Facebook, like almost every other popular social media platform allows users to create fleeting posts called Stories. Facebook Stories are typically mashups of text, images, videos, and background effects. This feature from Facebook is designed to allow users to create posts that they don't want to keep permanently on their profiles. Facebook stories disappear after 24 hrs.
Can You Screenshot Facebook Stories?
Ah, the age-old question: to screenshot or not to screenshot. Well, let's dive into the Facebook universe. As of 2023, when you take a screenshot of someone's Facebook story, Facebook doesn't send them a notification. So, yes, you can actually take a screenshot of a Facebook story or post without letting the user know. But here's a zesty tidbit: while Facebook doesn't notify the story creator, apps like Snapchat will rat you out faster than you can say "Mark Zuckerberg." So, if you're used to Snapchat's snitching ways, rest assured, Facebook's story feature gives you a little more stealth.
Keep in mind though, stories are designed to disappear after 24 hours. So if you're trying to keep a record of that amazing meme or that adorable photo of your friend's cat, screenshotting might be your answer. Just ensure you're not invading anyone's privacy. Because, let's face it, in the ever-evolving world of tech, respect for privacy settings is golden.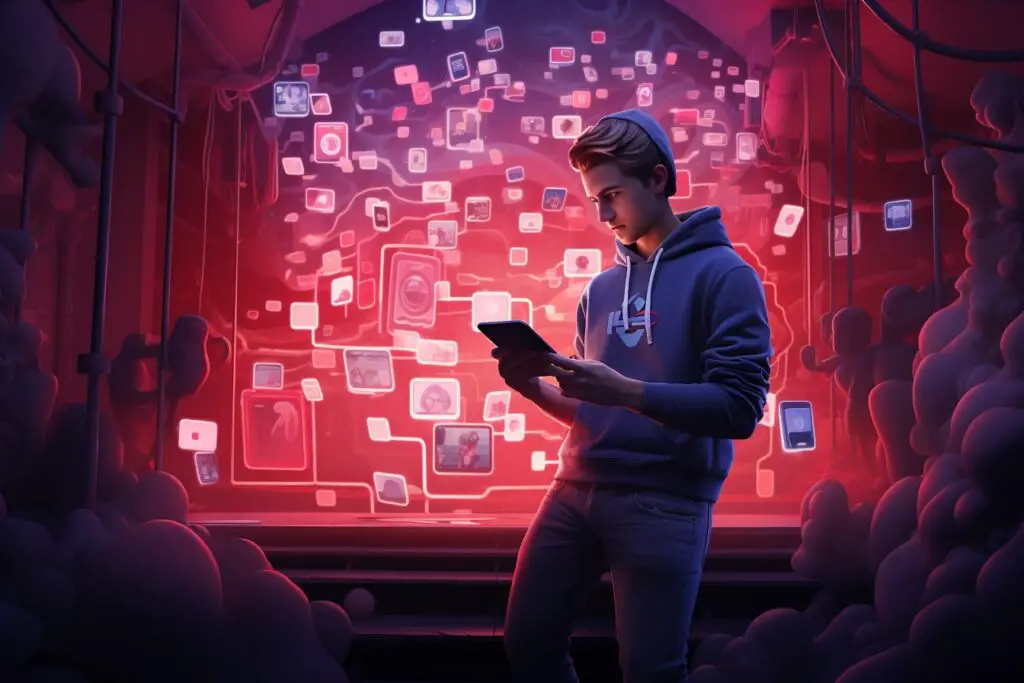 Does Facebook Notify When You Screenshot a Story?
Can someone see if you screenshot their Facebook story? In general, Facebook does not notify users when their stories are screenshotted. So, a Facebook story may not be a permanent fixture on your Facebook profile/feed. But, someone else can keep it forever by taking a screenshot, without you knowing. 
Is this a major privacy concern for Facebook users? Potentially. But the fact that Facebook allows users to screenshot temporary stories without notifying the original posters, is not surprising. That's because technically it's quite challenging for Facebook to know when screenshots are taken of posts and stories on their platform.
Even Twitter, Instagram, and LinkedIn suffer from this technical difficulty. Fleeting stories on those platforms (stories are currently disabled on Twitter) are also open to being screenshotted without the original posters being notified. Snapchat is the only platform that consistently notifies users when their stories are screenshotted.
Thankfully, things are changing for the better. Now, under certain conditions, Instagram does alert users about screenshots. Even Facebook has introduced a similar feature that applies to certain situations.
When Does Facebook Notify Users About Their Stories Being Screenshotted?
In November 2020, Facebook introduced a new feature called "Vanish Mode." If you are unfamiliar with this feature, here's a video that breaks down how it all works:
Also known as the "disappearing message feature," this feature is theoretically similar to Snapchat's temporary snap feature. It is only available in the Facebook messenger app. It only works in one on one conversations in the Facebook messenger app. This feature essentially allows users to send temporary stories in private DM threads.
These stories can feature photos, videos, and text. They vanish right after recipients read them. Facebook notifies screenshots for Vanish mode. So, can you screen record on Facebook without the person knowing? Not if the user has Vanish mode turned on his/her messenger app.
Vanish Mode users can essentially put self-destruct timers on the temporary stories they share in private DM threads. Vanish Mode on Messenger is currently available in select places. If you are in one of these select places (e.g., the United States) here's how you can turn on and use Vanish Mode on your phone:
Open the Facebook Messenger app on your iPhone/Android device
Click on the user you'd like to send the "disappearing message" to
In the conversation text box, place and hold your thumb; after 2-5 seconds swipe up your thumb
You'll see "shushing" emojis appear from the top of your screen
Above the text bar, a label titled "Vanish Mode" will be activated
Now every message or story you share with that specific user will disappear on its own after a while. Is screen recording a Facebook story possible if the receiver of your messages has Vanish Mode activated? Yes, Vanish Mode is not impermeable to screenshots. You or your Facebook friend can screenshot the messages you send each other.
But, the Messenger app will notify both of you about which messages in your conversation have been screenshotted. So, if the person you're conversing with screenshots messages that were not meant to be saved and stored, you will be notified. You can ask them to stop screenshotting and delete all saved messages.
To exit Vanish Mode, in the conversation text box, place and hold your thumb; after 2-5 seconds swipe up your thumb. Facebook has recently integrated the "Vanish Mode" feature into Instagram as well. Here's a video on how to use/disable this feature on Instagram:
Now that we've learned everything there is to know about screenshotting or screen recording Facebook stories, let's answer some similar questions that a lot of users have:
Can you see check many times a specific user views your story on Facebook?
No. Just like you cannot see who has taken a Facebook story screenshot, you cannot check how many times a specific user has viewed your Facebook story. The only meta-data regarding stories that Facebook shares with its users is the total number of views their stories collect. Here's how you can do that:
At the top of your Facebook feed, look for the Stories section
Tap on your Facebook story
Tap in the bottom-left section of the photos/videos in your story
You'll see a detailed list of who has viewed your story. You'll also come to know the total number of views on your Facebook story.
How can you screenshot Facebook stories secretly?
Considering you're diving deep into the nerdy nooks and crannies of secretly screenshotting Facebook stories, one might guess you're not up for some unsolicited drama. Well, you sneaky tech-ninja, here's your blueprint.
Let's kick things off with a bit of a reality check. While Facebook, as of 2023, won't notify if you screenshot someone's story, it's worth noting the ethical dimension. Taking a screenshot of someone's Facebook story without permission can be a violation of their privacy. Always remember, just because you can, doesn't always mean you should. In the whirlwind of iOS and Android updates, Meta (the rebranded name for Facebook's parent company) might just introduce a new feature where users get a story screenshot notification.
But, if you're all in, here are some steps and tips to keep your secret screenshotting on the low:
Stealth Mode On: Ensure your phone, be it an Android phone or an iOS device, is on silent. You wouldn't want an accidental beep or chime to give you away, especially if you're in close proximity.
Trustworthy Third-party Apps: If you're diving into the app world to take screenshot of someone's Facebook story, make sure it's from a developer with good reviews. The last thing you want is some rogue app posting cat videos on your news feed.
Full Screen Recorder: If you're using a screen recorder, configure it to capture the entire screen. You don't want to miss out on any juicy detail.
Photographing Screens: If you're going super old school and photographing your screen with another device (we see you), ensure the device is focused. Blurry screenshots? A total tech faux pas.
While you might be able to screenshot anonymously without anyone being the wiser, always remember to tread lightly. In the digital age, where taking a screenshot of a chat or a photo can lead to unforeseen consequences, it's always best to think twice and screenshot once. Or better yet, just ask for permission. Because as the wise ones say, it's better to be safe than to regret later!
How do I stop people from taking screenshots on my Facebook stories?
The short answer: You can't. No magic trick, no Mark Zuckerberg secret handshake. If someone wants to take a screenshot of your Facebook story, they will. However, the silver lining here is that there are other cool and (slightly) geeky ways you can at least make the sneaky screenshotting a bit more challenging.
How do I protect my Facebook stories from screenshots?
Before you raise the white flag, here are some strategies you can adopt to make screenshotting your Facebook story a tad more cumbersome:
Use a Watermark: This one's a classic. Imagine trying to screenshot a great photo, only to find a watermark making it look, well, not so great anymore. It's like playing a video game and realizing you forgot to hit the save button after hours of play. Heartbreaking, right? A watermark can deter most from screenshotting a story, as it takes away from the aesthetic appeal of the image.
Embrace the World of Videos: Why settle for a static picture when you can have moving ones? Facebook stories can be up to 30 seconds. Use a short video instead of a static photo. It's a tricky game for someone to screenshot your video without missing the perfect moment.
Private Groups or Close Friends List: Not everyone on your Facebook profile needs to see your story. You can always post to a private group or your close friends list, giving your story a level of exclusivity. The fewer the eyes, the fewer the screenshots.
Think Before You Post: Yes, it's cliché, but true. If you're about to share something super secret, like the kind of stuff you'd see in a spy movie, maybe think twice about sharing. And remember, even though you might feel like a detective trying to figure out if someone screenshots your Facebook story, Facebook won't tell you if someone's gone all paparazzi on your content.
So, while it's a bummer that there's no "Stop Screenshotting My Story!" button to press, these methods will at least give you maximum privacy and security. Just remember, if you post it, it's fair game in the digital world. And no, you won't get a notification if someone takes a screenshot, so keep the detective hat for another app or website. But hey, let's end on a fun note: Ever tried screenshotting a disappearing message on Messenger? Well, let's just say some things in the tech world remain delightfully mysterious.
Final Thoughts
So, you've reached the end, and you're probably itching to tell if someone took a covert screenshot of your story. And who can blame you? With every ding and notification, the paranoia kicks in. Is it a like? A comment? Or did someone just decide to keep a memento of your latest Facebook adventure?
Now, brace yourself: while apps like Snapchat notify the user when their story has been screenshotted, Facebook has chosen to walk a different path. It doesn't notify you if someone took a sneaky peek at your photo or video and saved it for later. Let's face it, if Facebook rolls out a feature where they'd notify you when someone takes a screenshot of your chat, we might all have fewer friends by the end of the day.
Wouldn't it be fab if you could press the power button on your iOS or Android device and instantly know whether Facebook notifies the owner about the screenshot on their story? Alas, the reality is different. Facebook will not notify the user. Even if you see their profile picture and want to check stories, there's no magic button to take a screenshot without them ever finding out.
However, before you start capturing everyone's fleeting 24-hour tales or screenshotting a controversial messenger chat, ponder this: Is it technically illegal to take a screenshot? While it's not against the law, it's essential to seek permission before taking a screenshot, especially if you plan to share or publish it. Not just because it's respectful, but imagine if every brand or celebrity you follow started screenshotting your comments or reactions and using them without context? Yep, that's a controversy in the making!
In past years, the urge to capture, keep, and maybe even gloat over someone's story might have been tempting. Still, it's always worth remembering: respect goes both ways. While messenger users can't tell if someone screenshots their fleeting content, it's always good practice to ask first. Because, honestly, who wants to be the talk of the next party for all the wrong reasons?
So, next time you're about to screenshot someone's story or you're paranoid about your own being screenshotted, just remember: it's not the end of the world. But maybe, just maybe, send them a cheeky message saying you loved their content. Who knows? You'll also get a new friend out of it. Until then, keep those stories rolling and those screenshots to a minimum. After all, what's the fun in a story if it's not a little bit ephemeral?
Credits: Thanks for the photo to Canva.
At ipoki.com we only mention the products that we've researched and considered worthy. But it's important to mention that we are a participant of several affiliate programs, including Amazon Services LLC Associates Program, an affiliate advertising program designed to provide a mean for us to earn fees by linking to Amazon.com and affiliated sites. As an Amazon Associate ipoki.com earns from qualifying purchases.