Is your Alexa spinning blue light non-stop for no apparent reason? That's weird. Blue lights on Amazon's Alexa-powered Echo speakers can mean a lot of things. The blue light will pop up whenever the device is listening to your commands and responding to your requests. This light will start spinning when Alexa fails to locate you in the room or when the device is rebooting.  These are light-based notifications that are featured on all Amazon Echo devices.
These blue-light notifications indicate the status of the speaker. Typically, the blue light stops spinning or blinking after the 30-second mark. That's how long it takes for the average Amazon Echo device to reboot. But, things start getting a little weird when the Alexa blue light keeps spinning on users' devices non-stop for over 30 seconds.
If you are one of these users, do not worry, you are not alone. Many Echo users have complained about the Alexa blue light spinning issue in the past. In this article, I will provide clear-cut and permanent solutions for this issue. Before that, let's try to understand what it means when the Alexa blue circle starts spinning:
Do you have a particular question about Alexa spinning blue light issue? Then use the table of contents below to jump to the most relevant section. And you can always go back by clicking on the black arrow in the right bottom corner of the page. Also, please note that some of the links in this article may be affiliate links. For more details, check the Disclosure section at the bottom of the page. 

Why is my Alexa just spinning blue?
Well, gamers and geeky aficionados, I feel your digital distress! That spinning blue light on your Alexa isn't just a fancy disco effect for your smart home. Picture this: Alexa's trying to tell you something. When you see that blue spinning light, Alexa is starting up or is in pairing mode. It's like when your game's loading screen gets stuck, and you're screaming internally (or maybe not so internally) for it to move on. The blue spinning can also mean that Alexa is listening for your voice command. Imagine your loyal sidekick in a game, awaiting your instructions. And, if Alexa keeps on spinning and shows a cyan light, it's her way of saying, "I'm having trouble connecting to the internet." We've all been there: that moment in an online match when your connection lags, and you're just shouting, "Not now!" But let's dive deeper into meaning of that blue light.
Why Does My Alexa Have A Spinning Blue Ring?
What does it mean when your Echo Dot displays a spinning blue light? What does it mean when the blue light is solid or blinking constantly? To answer these commonly asked questions about Amazon Echo devices, I've created this handy chart:
| | |
| --- | --- |
| Blue Light on Alexa | Meaning Behind the Notification |
| Solid Blue Light | Your Device is Waiting for a Command Whenever you activate Alexa, you'll notice that the device displays a blue circle. This blue light will change only when you give the device another command. The solid blue light notification indicates that the device has heard the activation command and is waiting for you to provide another command. |
| Pulsating Blue | Your Device is Processing a Command   A pulsating blue light indicates that your Alexa is processing your command. This light pattern will continue to be displayed until your Alexa is done responding.   Occasionally the pulsating blue light may appear while the device is loading certain features. |
| Spinning Blue Light | Your Device is Rebooting You will notice the spinning blue light on Alexa whenever you unplug and re-plug the device. This sign indicates that your device is rebooting. Until the setup is complete, you won't be able to interact with the device. |
| Spinning Dark Blue Light | Do Not Disturb Mode or Failed Wi-Fi Connection During Setup This dark blue light notification is almost purple in color. It indicates one of two things: If the spinning blue light ends with a purple flash, the "Do Not Disturb" mode has been activated on your Alexa.If you see this light notification during the setup process, it indicates a lack of Internet/Wi-Fi connectivity. |
|   |   |
Refer to this chart, whenever you see blue-light notifications pop up on your Amazon Echo device. For your convenience, I've also compiled this chart explaining what the non-blue colors on Alexa's LED light panel indicate:
| | |
| --- | --- |
| Light Ring Color | Meaning |
| Solid Red Light | This notification indicates that your speaker's microphone is disconnected.  Alexa isn't actively listening. To make her listen to you, you'll have to press the mic button and wait for the solid blue light. |
| Yellow Pulsing Light | Indicates that notification/s are waiting to be viewed. |
| Orange Spinning Light | Your device is in setup mode. |
| Green Pulsing Light | There is an incoming call on your Alexa device. |
| White Partial Light | This light appears when you try to adjust the volume. It indicates your speaker's volume levels.   |
| Spinning White Light | Alexa Guard is turned on. To remove this light, you will have to switch Alexa back to "Home Mode" via the Alexa app. |
Here's a cool video that further expands upon the meanings behind all light rings displayed by Amazon Echo devices:
Now, let's focus on fixing the Alexa light spinning issue for good.
How to Stop Spinning Blue Light on Alexa?
The Alexa light spinning issue is commonly known as the "Blue Light of Death." There are four common reasons behind this:
Power Supply Failure: If your speaker's power adaptor malfunctions or its cables stop working, it won't receive sufficient power.
Poor Internet Connection: If Your Wi-Fi connection is disrupted, your Alexa won't be able to connect to the internet and it will show a spinning blue light.
Outdated Firmware: Your Alexa may have outdated firmware. This can cause internal issues like rendering the device in a frozen blue state.
Hardware Issues: Hardware problems like your Alexa getting wet can cause the device to suffer the blue ring of death.
Here are 5 tips for fixing these and other problems:
Power Cycle Your Speaker
Alright, level with me, techies. Remember when your favorite console acted up and all it needed was a good ol' restart? Similarly, sometimes, Alexa needs a quick reboot to shake off that spinning trance. Simply press and hold the action button (it's the one with the white dot) until you see a cyan segment light up. Unplug your Alexa Echo, wait a cool 30-60 seconds (maybe grab a snack?), and plug it back in. This process takes just a few moments, but it can be the magic spell you need to fix that Alexa spinning blue light.
Check your Wi-Fi connection
Look, as much as we'd love to live in a cloud-based gaming paradise, a slow internet connection can rain on our parade. If Alexa is constantly spinning and belts out the heartbreaking line, "I'm having trouble connecting", then your Wi-Fi network might be the final boss here. Ensure Alexa is close enough to the router for a stable connection. If you've tried this and the light is still spinning continuously, maybe introduce Alexa to a new device or consider resetting your Alexa device. It's a bit like changing the server in an MMO when things get laggy.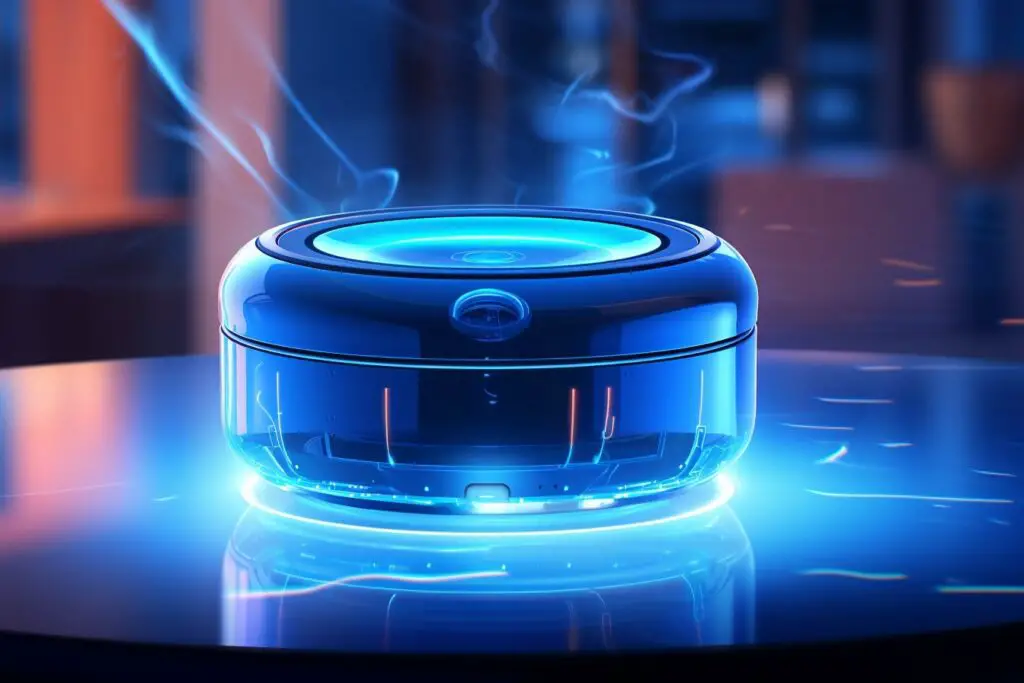 Disable Follow-Up Mode
Heads up, laid-back developers! Follow-Up Mode is that cool feature where Alexa's like an eager NPC, waiting for your next command. It lets Alexa keep an ear out after she's responded, thinking you might have another quest for her. But sometimes, she might be a tad overeager, mishearing background noises or your midnight snack munching as a voice command. This can make her light show blue for longer than necessary.
Want to tell Alexa, "Hey, take a breather"? Here's the cheat code:
Open the Alexa app. Head to Devices > Echo and Alexa > Your Device > Settings. You'll see Follow-Up Mode. Tap to disable it. It's a bit like toggling off that NPC's voice when they get a tad too chatty.
Deregister Your Alexa
 If resetting doesn't help, de-register it. On your phone, open the Alexa app > Select "Devices" > Select your Echo speaker > Select Settings > Scroll down to find an option titled "Registered To" > Select Deregister > Confirm the decision. Once the device is de-registered, re-register it and then check if the issue still persists.
Reset the Speaker
 Resetting your Echo Speaker means losing all your previously saved settings and preferences. So, be prepared to set up your speaker from scratch once this troubleshooting process is complete. To reset a 3rd/4th generation Echo device, press + hold down the main action button (white-colored button) on the top for 20-30 seconds. To reset a 2nd generation device, you will have to press + hold down two buttons simultaneously for 20-30 seconds: the mic off button and the volume down button. To reset a 1st generation Echo speaker, you'll have to press the button located inside the tiny hole at the top of the device. Use a paperclip to hold down the reset button for 20-30 seconds.
Before you reset your Alexa, I recommend you check out other tutorials on this topic like this helpful video:
Hopefully, the steps provided in this guide will put a nail in the coffin of your Alexa spinning blue light issue for good. If none of the solutions presented in this article work and your Alexa is stuck singing the blues, returning it for a refund/replacement on Amazon is your last resort!
Final thoughts 
Alright, tech aficionados, here's the lowdown: Sometimes your "Echo" or "Alexa" acts like that one gamer friend who takes several minutes to load into the lobby. The notorious spinning on Alexa, often dubbed the 'blue light of death', can make even the calmest among us feel like throwing our device out the window. Whether Alexa starts playing hide-and-seek by going into pairing mode or won't stop with the relentless spinning, remember, she's a bit like that complex video game that occasionally glitches.
You shout "Amazon," "Computer," even "Ziggy" as the wake word, hoping for some interaction, but nada. If "Alexa" croons back with the classic "I'm having trouble connecting" or decides to throw a startup tantrum, take a deep breath. Give it those sacred 20 seconds (or maybe even 10 seconds if you're feeling impatient). Most times, the blue light should go away, signaling Alexa is ready. If guard mode is enabled or the guard feature is acting up, Alexa could send you a notification. Pay heed, make sure the microphone off and the volume are adjusted right.
However, if your trusty device still doesn't work or decides to stop responding to your WiFi pleas, it might be signaling a deeper tech crisis. Before spiraling into digital despair, remember to get in touch with those who know Alexa's ins and outs. If all else fails? Well, there's always the refund card to play.
May your digital adventures with "Alexa" be glitch-free, and remember, every device may have its day of rebellion. Hang tight, and game on!
Credits: Thanks for the photo to Canva.
At ipoki.com we only mention the products that we've researched and considered worthy. But it's important to mention that we are a participant of several affiliate programs, including Amazon Services LLC Associates Program, an affiliate advertising program designed to provide a mean for us to earn fees by linking to Amazon.com and affiliated sites. As an Amazon Associate ipoki.com earns from qualifying purchases.