There's been an ongoing debate among tech enthusiasts regarding audio performance via Android Auto and Bluetooth. Between these two parallel technosphere bigwigs, the vote gravitates towards Android Auto for the audio laurel. Why? Well, for one, Android Auto uses a wired connection between your Android phone and the car via USB, enhancing overall sound quality. The data transferred remains uncompressed, meaning richer, fuller, clean audio. On contrast, Bluetooth employs a wireless connection, leading to compression and slight compromises on audio quality.  However, the actual audio quality can also depend on other factors such as the quality of the audio codec used, the compatibility of the car head unit and Android Auto app, and the acoustical tuning of the speaker or headphone drivers and enclosure. Moreover, it's important to note that Android Auto can work over Bluetooth, but it's a bit complicated.
Do you have a particular question about comparing sound quality of Android Auto vs Bluetooth? Then use the table of contents below to jump to the most relevant section. And you can always go back by clicking on the black arrow in the right bottom corner of the page. Also, please note that some of the links in this article may be affiliate links. For more details, check the Disclosure section at the bottom of the page. 

Discovering Android Auto: The Basics
Let's take it from the top. What is Android Auto? It's simple: Android Auto is a software program developed by Google that allows you to use certain apps from your Android smartphone on your car's in-dash control system. Plus, Android Auto is available on a vast range of modern cars and is compatible with an extensive selection of Android phones. Once you have connected to the car via a USB cable, this car-friendly interface displays apps and services in a simplified, readable format that's comprehensive at a glance. Whether it's streaming your favorite music or navigating uncharted roads, Android Auto steps up, making it simple and intuitive.
How Android Auto Optimizes Sound Quality Over a USB Cable
You may ask, how can a cable enhance audio quality? Funny, it's not so much about the cable itself, but the data being transferred. The audio data is transferred to your car via USB without being compressed, defending audio integrity in a way Bluetooth just can't touch. This unhindered data flow transmits the original audio files in all their rich glory, keeping your car tunes sharp and crystal clear.
The Role of the Android Auto App in Audio Performance
The Android Auto software program significantly boosts overall audio quality and performance. Featuring a user-friendly interface, Android Auto also prioritises safety, reducing the need for fiddling with your phone while driving. So, pump up the volume and let Android Auto manage your playlist for you.
The Benefits of a Wired Connection for Media Playback
Connecting your Android phone to your car via a USB cable does more than charge your device. It brings a superior media playback experience, delivering music and podcasts in uncompressed formats. It greatly reduces the risk of connection dropouts that may disrupt your listening experience. Truly, in the battle of wired versus wireless, wired takes the crown.
Comparing Audio Bandwidth: Android Auto vs Bluetooth
Let's talk audio bandwidth. This is where Android Auto definitely shines. Where Bluetooth might leave you feeling a bit cramped, Android Auto, ah, let's say it has a more expansive living room. Bigger bandwidth equals better sound. More data can flow from your Android phone to your car via a USB cable, leading to a fuller, richer audio experience.
Exploring Bluetooth Car Stereo Capabilities
Now, don't get it twisted, Bluetooth has its charmers. It offers a simple, wireless way to connect your device to your car. Whether you're an iPhone lover or an Android aficionado, Bluetooth is agnostic. It's an awesome middle-ground service, especially for those juggling multiple devices. Bluetooth might not match up to the audio quality of Android Auto, but hey, it's not always about the sharpest notes but the versatility of the song, right?
Understanding Bluetooth Connection in Car Stereos
Picture this: You get into your car after a long day at work, eager to unwind. All it takes is for your smartphone to get in range, and BAM! The built-in car stereo system senses the delicious scent of your tunes and starts playing your favorite playlist. That's the magic of Bluetooth connection in car stereos.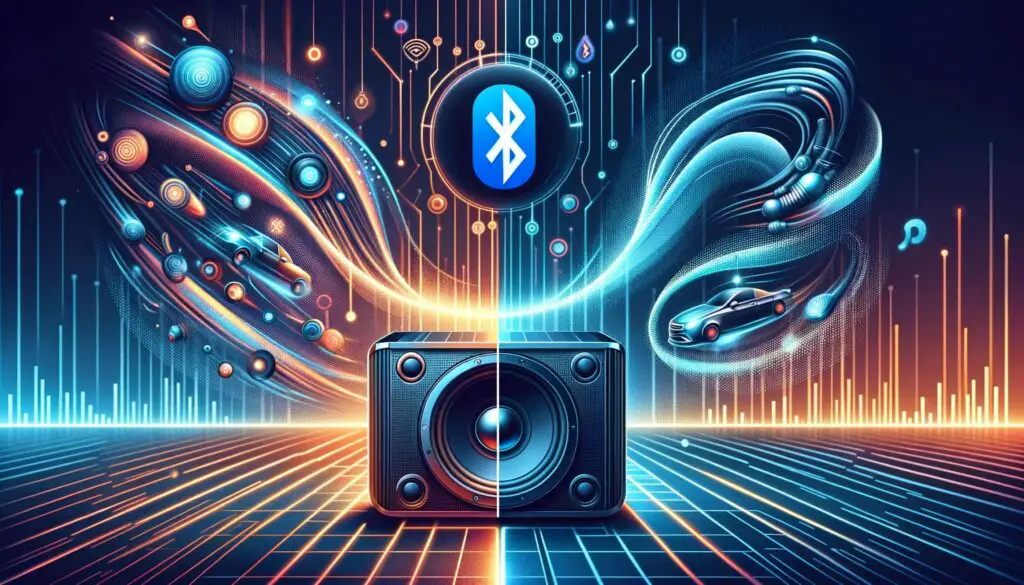 The Convenience of a Wireless Audio Experience
Wireless, in the context of car audio, does not just mean "lack of wires". It's more about liberating you from the inevitable clutter and the ancient 'checking if the AUX cord works' ritual. When Bluetooth is used, it automates the connection process every time you step into your car. You don't even need to connect physically to your car's stereo. At its best, it's like your phone and your car's head unit are old buddies, always eager to chat.
Does Bluetooth Audio Quality Measure Up?
You're wondering, "Does Bluetooth compromise on my hard-earned sound quality?" While Bluetooth audio quality is determined by many factors, such as distance, obstructions, and your phone's audio codec support, modern Bluetooth versions can sear your eardrums with clear, full-bodied sound. The Bluetooth connection may not be as ritzy as a wired connection, but unless you're an audio purist, the difference might be hard to spot.
How EQ Settings on Bluetooth Can Influence Sound
Much like a culinary savant adjusting the spices in a dish, you can fine-tune your audio according to your taste using your car's Equalizer (EQ) settings. The EQ modifies your audio's frequency response, turning up the bass, mellowing the midrange, or making the treble sing. The remarkable thing is, this can all be controlled from your phone now. That's music, optimized while you're driving, without fiddling with your car's display.
The Reality of Bandwidth Limitations with Bluetooth Audio
Despite its convenience, Bluetooth relies more on speed than winning a quality contest. What this means is that Bluetooth cuts down the audio file's size to send it quickly to your car's stereo. This is done by compressing the files, which can sometimes eat into sound quality. But fear not! Modern Bluetooth versions have learned to chew carefully, retaining much of your audio file's original flavor.
Comparing Android Auto and Bluetooth on Sound Quality
There's something you'll need to know about Android Auto: It is a liaison between your phone and your car. It's not a self-contained audio player. While both support Android Auto and Bluetooth can play your phone's audio, Android Auto has a trick up its sleeve. Despite using a USB cable, it can output higher quality audio than Bluetooth (provided your media source and car stereo support it, of course).
Wired vs Wireless: Which Delivers Better Audio Quality?
Here's the knockout round. A wired connection, like through Android Auto, certainly delivers cleaner sound. The reason? It doesn't worry about rushing like Bluetooth, gently cradling every bit of audio data to your car's head unit. However, Bluetooth's convenience is undeniable. In the end, it's about what rings your bell – sound quality or ease of use?
How Does Android Auto's Sound Quality Stack Up Against Bluetooth?
Android Auto is like an athlete who's also a Brainiac – effortlessly handling calls, texts, navigation, while also playing your music. When it comes to audio quality, provided your phone and car stereo support it, Android Auto can potentially output higher quality sound than Bluetooth. This is because Android Auto, despite using a USB cable, is just getting the orders – your phone does the heavy lifting. For this reason, factors that usually hinder Bluetooth audio, like bandwidth limitations or source codec, are not present when using Android Auto.
The Impact of Source Device Quality on Audio Output
Picture this: you've got your jaw-dropping anthem lined up on Spotify. But when you hit play on your phone that's connected via Bluetooth to your car stereo, the result is… less than epic. What gives? The quality of audio that your car stereo can output can be significantly affected by the source device. Whether you are using Bluetooth, a wired cable, or a USB audio connector, if your device's audio quality isn't up to scratch, it's like trying to fill a pool with a leaky bucket. The audio you get from Google Play Music, Google Maps voice directions, and call audio will only be as good as the source. The secret to better sound in your vehicle isn't just in the streams—it starts with the device.
Does Android Auto Provide a Better than Bluetooth Experience?
Now, let's dive straight into the meaty part of this techno-taco—Android Auto. Imagine this: better sound cruising through your car speakers while Google Maps guides you to your destination and you make seamless phone calls using the built-in infotainment system. Is this just a geeky dream? Not with Android Auto. While Bluetooth has always been a solid option for most users, Android Auto takes playing your favorite playlists on Spotify or making your phone calls on wheels to superstar heights. So, yes, folks, Android Auto can indeed offer a better in-car audio experience than just using Bluetooth alone.
The Significance of Car Stereo Head Unit in Audio Quality
Guess what? The significance of your car stereo head unit is comparable to the importance of the captain on a spaceship. And yes, you read that right. With the right car stereo head unit, the audio quality goes from something you hear to a sonic experience you feel. It isn't a mere mechanism to play music – it's a step into richer soundscapes, deeper base notes, and the feeling of being enveloped in sound. Your car stereo head unit makes the difference between just playing music and having a concert in your car.
How to Use Android Auto for the Best In-Car Audio Experience
You won't need Stephen Hawking's intellect to get the best audio experience from your Android Auto system. First, connect your phone using a good quality USB cable. Make sure your phone is connected properly, then choose "Android Auto" on your car's infotainment screen. You can now navigate Android Auto's highly seamless and intuitive interface, and select Google Play Music or Spotify to start your musical journey. Trust me, you'll feel like you've climbed right into the heart of your favorite song.
Setting Up Android Auto for Optimal Sound Quality
Speaking of better sound, setting up Android Auto correctly can make a significant difference in your audio experience. It's not rocket science—start by connecting your phone via a wired USB cable for superior sound. Then ensure your Wi-Fi is off—Android Auto doesn't need it and it saves your phone's battery. Lastly, take a minute to balance your car stereo settings. Once you have android auto adapted to your settings, you're all set for an out-of-this-world aural adventure!
Tips for Connecting Your Phone via USB for Superior Sound
Connecting your phone via USB for superior sound is as easy as finding Pac-Man in a room full of Ghosts. Simply use the USB cable that came with your device, or invest in a high-quality USB cable if the original isn't available. A good cable ensures a consistent connection, helping you avoid those annoying breaks in your favorite tracks. Also, make sure no dust has sneaked into your USB port—a common issue that's often overlooked.
Can You Use Wireless Android Auto for Quality Audio?
Good news, tech-heads: the future is wireless! And yes, it is utterly possible to connect Android Auto without a jumble of cables. Android Auto's wireless technology allows you to enjoy supreme audio from Spotify and other apps without the connectivity issues that plague Bluetooth.
With Android Auto's user-friendly interface, you'll be a spaceship commander in no-time. It's not just about the great calling and directions of Google Maps, but it also optimizes the audio for your in-car sound system. It gives you the power to play music in the way that sounds best to you. And with the bandwidth of wireless Android Auto, you're bound to have a richer, more robust sound. And that's a wrap! Remember, folks, always buckle up your seatbelt, turn the volume to 11, and let Android Auto deliver an unparalleled in-car audio journey.
Keep Your Phone Charged and Connected: The Pros of Android Auto
You know the giddy flutter in your stomach on receiving a new email? Or the unmistakable sigh of relief as your favorite song queues up on your playlist to soothe your traffic blues? Android Auto takes your driving experience to another level, providing you more than just navigation. It's your companion, helping you make and receive calls, and enables you to blast music from your phone, all hands-free! Trust me, the second you transmit your favorite flac files through Android Auto, you'd wonder why you ever fretted about keeping your phone charged with Bluetooth!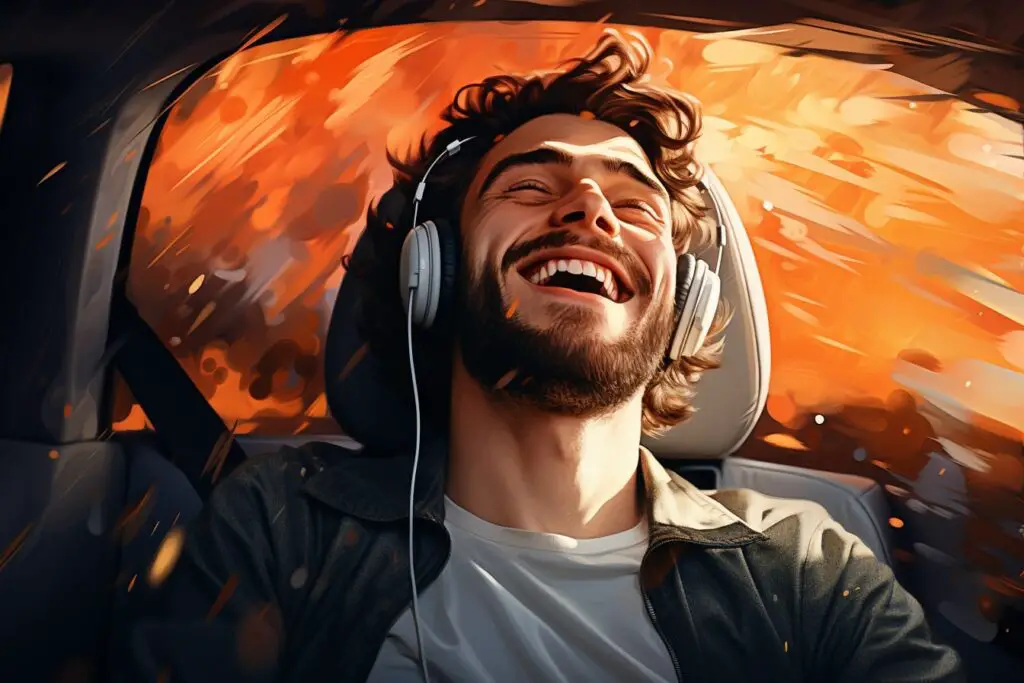 Why Better Than Bluetooth? The Case for Android Auto's Superiority
You know when you're enjoying your ride, grooving to the rhythm of your favorite jam blasting from your phone over Bluetooth, when suddenly, there's a dropout? No music, no calls, no nothing. And you're left wondering if your device has given up on you. Android Auto never gives you such heart-stopping moments. More than just a navigation assistant, a direct connection via USB results in smoother data transfer, crystal clear sound, and also read your messages aloud while you concentrate on driving. Moreover, Android Auto supports flac files of up to 96 kHz, outperforming Bluetooth's humble 44.1 kHz.
Advantages of Using Android Auto Over Bluetooth for Audio Playback
So you've equivocated over Bluetooth, and you've dabbled with Android Auto, but you're still on the fence about which is superior for audio playback. Take my word for it, navigating the choices isn't that hard. One of Android Auto's smooth features is its ability to offer superior audio quality. Unlike Bluetooth's easily interrupted signal, Android Auto offers a quicker, more stable connection that lets you enjoy your tunes interruption-free. Also, you can easily manage your playlist or even change tracks with voice commands.
Android Auto vs Bluetooth: Assessing the Overall User Experience
Android Auto not only takes in-car entertainment to a famously fun level, but it also significantly enhances your driving experience. Unlike Bluetooth that simply serves as a means to connect your mobile devices to your car's stereo, Android Auto does more. From streaming favorite tunes, hands-free calls, and messages to guiding you home with interactive navigation – Android Auto does it all!
Why Smartphones and Android Auto Work Better Together Than Bluetooth
Ever faced a situation where you had a call coming in, while you were having a jam session in the car? Interrupting your beloved track to answer the call is clearly a bummer brought to you by Bluetooth. Enter Android Auto – while Bluetooth comes with similar features, Android Auto offers a more seamless integration between your vehicle and smartphone. It not only allows you to enjoy uninterrupted music but also to handle calls and texts without missing a beat.
Support for Android Auto: Is Your Car Equipped?
Your car being compatible with Android Auto is like a cool kid with the latest kicks – the ultimate level up. Ask yourself this – does your car support this driving buddy? While newer models come equipped with Android Auto, older ones may require an after-market solution. However, with growing popularity, Android Auto is fast becoming a standard feature in most vehicles.
Choosing Between Android Auto and Bluetooth: Which One Should You Use?
In the end, it all comes down to this showdown. Imagine the final round in an epic video game where you have to make the crucial choice. Should you bet on the tried and tested Bluetooth or the sprightly Android Auto? Android Auto seems to have an edge with numerous extra features, not to forget the superb audio quality that truly enhances your road trip vibes. Now, isn't that a level-up worth choosing?
Credits: Thanks for the photo to Canva.
At ipoki.com we only mention the products that we've researched and considered worthy. But it's important to mention that we are a participant of several affiliate programs, including Amazon Services LLC Associates Program, an affiliate advertising program designed to provide a mean for us to earn fees by linking to Amazon.com and affiliated sites. As an Amazon Associate ipoki.com earns from qualifying purchases.