A good camping knife is not only able to cut food or open a beer but do all sorts of other things. E.g., adjust trekking pole set-screws, do minor gear repair and even remove splinters. 
But it can be tricky to find THE ONE, especially if it's your first knife. 
That's why my best advice would be to start cheap until you really know what you want in terms of the handle shape, materials, blade, etc. And then you can experiment with more expensive options. 
There's one downside though – we often get what we pay for. So with cheaper camping knives, there's always a higher risk to get the one that will be more like to rust or have an inferior handle, etc. 
That's why I thought I should put this guide together. 
If you are in a rush, though, and looking for a quick suggestion, check this one. It's durable, sharp, well-constructed, affordable, and safe to carry. 
But stick around if you can. 
I've looked into hundreds of camping lights options and shortlisted 8 of them. And since I've spent around 20 hours doing so, I hope you'll find at least a few of the options below worth considering. 
Do you have a particular question about picking the best camping knife? Then use the table of contents below to jump to the most relevant section. And you can always go back by clicking on the black arrow in the right bottom corner of the page. Also, please note that some of the links in this article may be affiliate links. For more details, check the Disclosure section at the bottom of the page. 

Best Camping Knife
This camping knife is made of 440C stainless steel, which is super hard and highly rust-resistant, making it a reliable camping associate.
You can't cut a sturdy rope with just about any knife, but with this knife's sharp edges, no rope would stand a chance. You can use it to slash anything, set up your tent, make food, or anything that comes up during a camping expedition.
The soft rubber handle lets you smoothly use the knife while also providing an excellent frictional grip for safe and effective handling.
You feel safe by sheathing it in the nylon cover and can carry it around with comfort. A sharpener and a fire starter come with it as a nice bonus. 
The premium nylon cover safety sheath, exceptional hardness, extreme sharpness, and ease of use make it the best knife for camping.
Best Survival Knife
This awesome survival knife is made of D2, one of the hardest steels with high carbon content. 
 Plus, it has high chromium content, which makes it highly resistant to rust and corrosion. So, the cutting blade is destined to last.
It's not that long and is 7 ¾ inches in length with a 3-inch edge blade. The knife is curve-shaped and can be stored easily anywhere.
The G10 material, specially made for knife handles, offers great grip comfort. 
Whether you are working on a project, cooking food outdoors, need to set up your tent for camping, want to dig, or cut/slice anything, the sharp-edged curved blade won't disappoint you.  
Best Outdoor Knife
1.2% carbon content and 1.6% chrome content makes this outdoor knife's blade extremely hard, corrosion-resistant, and practically everlasting. 
The nylon non-slip handle sits well in your hand. And there is a hanging clip that you can use to attach it anywhere. It's pretty safe to carry it around too, courtesy of its lightweight yet strong protective cover.
Plus, the nylon sheath is pretty enduring against harsh weather as well. 
With a full length of 9.56 inches and a blade width of 1.18 inches, and 0.35 kg weight, this outdoor knife won't take much space either. But will easily handle most of the outdoor tasks. 
Camping Pocket Knife
This cool 8″ knife has a compact folding design that makes it ideal for carrying it around in your pocket while camping. The knife handle is only 4.6 inches. 
Made with the 8Cr13Mov Stainless Steel, the blade is one of the hardest and pretty sharp. The high chromium content makes it very good at resisting corrosion and rust in the long run.
I hope you never had to break a glass or cut your seatbelt in case of an emergency. However, if it comes to this – this knife will got you covered as it comes with some handy tools, including a belt cutter and a glass breaker.
Best Fixed Blade Camping Knife
With 8.6 inches overall length, the weight of 6 ounces, and sleek design, this Old Timer's fixed-blade knife is pretty easy to carry on your camping expeditions.
Unlike folding knives, this one restricts the movements of parts and extends deep into the handle, making it more reliable and long-lasting.
The fixed blade has good hardness thanks to the high content of carbon in the steel.  
And it's super comfortable to work with – the grip is amazing. 
The limited lifetime warranty really puts you in a comfortable position. 
While the price still won't break the bank. Very nice one. 
Best Multi-Purpose Knife
This all-in-one knife renders your home improvement or outdoor tasks look simple. Everything you would need for a DIY project, it has it.
There are 12 tools in total. Most importantly, you'll get a saw, pliers, bottle opener, wire cutter, can, folding knife Pliers, screwdrivers, and box opener in a compact, pocket-sized camping gadget.
It comes with a durable nylon pouch that you can strap onto your belt loop. It has some weight to it, but still, you won't struggle to carry it around. 
To top it all off, you even get a lifetime warranty from the manufacturer.
Best Folding Camping Knife
This one is cryogenically treated at -300 degrees to ensure exceptionally high toughness. The treatment renders it highly resistant to wear and fracture as well, making a reliable camping tool.
It has a really smooth blade deployment mechanism. Just press the button with one hand, and the blade will flip out in an instant.
It's only 4.75 inches when folded and extremely light on your hand. 
Another good reason to like this one is its low price point compared to other folding knives. Especially considering its quality. 
The sturdy built, low price, ergonomic design, good grip, swift, easy flip action, and exceptionally hard/tough blade material make this one the best in my top of folding knives for camping tours.
Cheap Camping Knife
If you want to get the most for the least – this camping knife will do the trick. It looks cool. It features a sturdy handle and a tough steel blade. And also comes with a glass breaker, and a belt clip, all without breaking the bank.
It's a folding knife with a good grip handle. It's pretty easy to carry; you can just clip it in your pocket and forget about it until you need it.
The blade won't open accidentally as there is a fixed mechanism for that. And titanium is coated onto the blade to make it corrosion and rust-resistant, making it safe and adding to its potential durability.
Camping Knife Buying Guide
What kinds of camp knives are there, and which one to choose?
There are basically two kinds of knives: folding and fixed-bladed. Folding knives are easier to carry, and that's why most of the pocket knives are folders. However, they are more prone to damage due to the moving parts compared to fixed blade knives. But, the market sees sturdier folding knives now, making them one of the best camping gadgets.
Fixed-blade knives, on the other hand, can be more reliable and do not break easily. Their maintenance is easy and won't fail you if you throw challenging tasks at them.
Consider the nature of your tasks and the above features to land on the right blade.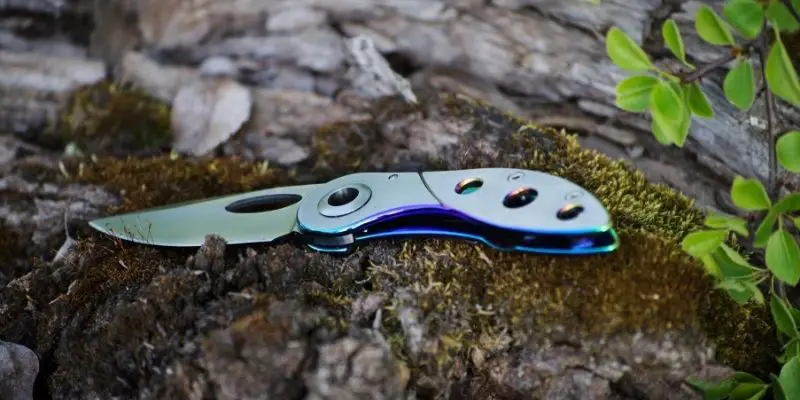 The best type of knife for camping
You can choose either. The folding and fixed-blade both will do good. However, for me personally, it feels like a 9″ length and good width would help in dealing with tasks quicker. But it's all about your preferences.
How much a decent camp knife costs?
While it depends on the brand, material quality, and style (folding or fixed-blade). The price can be as low as $10 and as high as $200-$300. However a decent camping knife would cost you around $25-$35 mark.
What are the best materials for survival knives?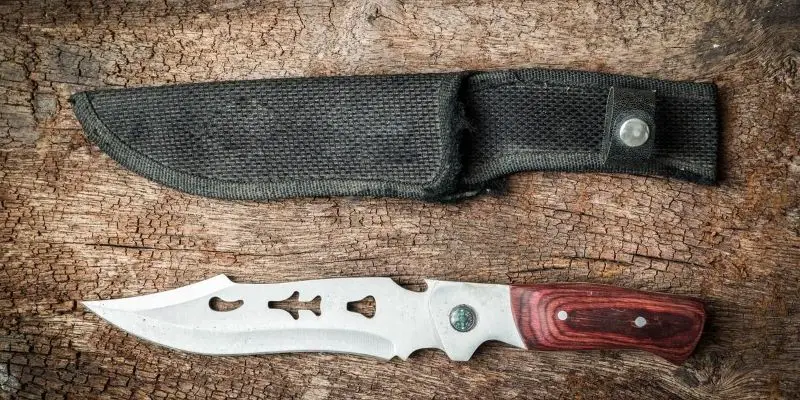 For good strength, rust-resistance, and hardness, high-carbon stainless steel would prove to be the best. Chromium coated, or stainless steel blades will last longer as they resist corrosion.
As for the handles, G10 material is strong, moisture-, chemical-resistant, and electrically insulated for comfortable and long-lasting usability. 
What are the must-have properties/functions for a camp knife?
A good camp knife's blade would be tough and strong. The handle should have a good grip and durable material. Make sure the knife's cover/sheath is easy to store and carry and has weather-resistant material. And well, don't get super expensive knives from the very beginning. Learn about your likes and dislikes first while shopping around for cheaper options. And only when you know exactly what you want, you can invest in something more expensive. 
Credits: Thanks for the photo to Canva.
At ipoki.com we only mention the products that we've researched and considered worthy. But it's important to mention that we are a participant of several affiliate programs, including Amazon Services LLC Associates Program, an affiliate advertising program designed to provide a mean for us to earn fees by linking to Amazon.com and affiliated sites. As an Amazon Associate ipoki.com earns from qualifying purchases.