I am a big fan of thermoses. First, I am a huge supporter of sustainability, and second I love to know what's in my food/coffee/smoothie, etc. It saves money and ensures that I eat all the right ingredients. So picking the best thermos for the various occasions is kind of my thing. 
So, I decided to spend several hours putting this guide together, and I hope it will be of any help to you. 
If you are in a rush, I would suggest this one as the best option. With effective heat insulation, a variety of lids, and corrosion-resistant stainless steel build, this handy thermos flask will prove to be a trustworthy survival gear.
 If you want to have an in-depth insight and want to make a more informed decision, according to your needs, keep on reading. 
Do you have a particular question about picking the best thermos? Then use the table of contents below to jump to the most relevant section. And you can always go back by clicking on the black arrow in the right bottom corner of the page. Also, please note that some of the links in this article may be affiliate links. For more details, check the Disclosure section at the bottom of the page. 

The best thermos of all: Our top choice
Air is a conductor of heat. The vacuum present between the two walls in this urban jungle survival gadget makes sure no air is entrapped, preventing heat conduction. And preserving hot drinks for around 12 hours and cold for up to 24 hours.
You have three varieties of lids; you can use any depending on the drinks and your liking. A straw lid is ideal for cold drinks and can be used as a sports lid as well. The stainless steel lid offers a wider mouth use for effective thirst-quenching, while the flip cover is designed for your hot beverages.
Plus, the premium-quality stainless steel build does not let the thermos bottle rust or corrode for a long time, making it long-lasting.
With double-walled insulation, three lids, and high-end build, this handy thermos flask is the best in my books.
Pros
3 varieties of lids
Safe: BPA-free
Double-walled vacuum
Cons
The lid may come off easily
The inner coating may come off


Best thermos bottle
This effectively insulated thermos bottle, with two stainless steel and one copper layer, keeps your cold drinks cold for about 72 hours and hot drinks hot for about 14 hours. It's coated with a durable powder, providing protection from the atmosphere, so it will be long-lasting. Plus, it contains a silicone bumper for protection and a silicon drinking lip to let you drink with convenience.
A removable filter lets you drink without the hassle of ice getting into your mouth. The thermos is designed with the food-grade stainless steel material that doesn't allow any flavor transfer to the food and makes the bottle everlasting.
The thermos is made with recyclable material and is BPA-free, making it safe for your food and green for the environment. Love it!
Pros
BPA-free
Triple-layered insulation
Available in different sizes
Sturdy and durable material
Cons
Price
Rubber bottom may fall off easily


Best hot and cold thermos
This survival gadget equips double-walled insulation for long-term efficient temperature preservation of your drinks. The thermos has a leak-proof design and has a lid that can be used as a big-sized cup.
The efficient insulation keeps your tea or coffee hot for about 40 hours straight, allowing you to sip through the hot beverage for as long as you want. This thermos bottle is capable of retaining the cold of your drinks for up to 35 hours. And ice for up to 6 days, making it an ideal outing associate.
This thermos is made with high-end 18/8 stainless steel material, so it won't rust or corrode and will be long-lasting. The fact that there is no plastic involved that can release BPA into your liquids makes it safe.
Pros
BPA-free safe material
Long hours of heat insulation
Sturdy, durable
Leak-proof
Cons
The plug may be a little loose


Best camping thermos
With the sufficient insulation of this thermos, your food and drinks will remain fresh for a long time. This makes it ideal for camping as you can use it as a meal box to keep your food fresh or as a drinks bottle to retain the temperature of your drinks for long periods.
This nice thermos is leak-proof, so you won't have to worry about any leakage in your bag. It has multiple size and color options for you to choose from according to your needs. The strong and sturdy stainless steel material is BPA-free, so there is virtually zero possibility of staining, sweating, or bad odors.
A small loop attached to this thermos makes it easy for you to attach it to your backpack or carry it around with your finger. Plus, there is a pressure release button; pushing this button a few times opens the lid.
Pros
Lid converts into a bowl
Not skid silicone base
Multipurpose: works for food and drinks
Convenient to open
Cons
Not very safe to use in dishwasher
Inside plastic may smell


Best cheap thermos
When cheap doesn't mean poor quality – exactly my thoughts about this thermos… With the ability to keep your cold drinks chilled up to 24 hours and hot drinks hot for about 12 hours, this thermos makes my list as the best inexpensive choice. Thanks to this double-walled insulation, when you hold this bottle in your hand, your body heat does not get transferred to the inside liquid, preserving its temperature. 
The thermos flask is built with the food-grade stainless steel material and coated with copper. This makes it durable, sturdy and prevents any time-dependent chemical reactions such as rust and corrosion. Plus, it's BPA-free, making it safe for your drinks.
The 17oz insulated mug is pretty easy to carry around in your hand or in your backpack, making it ideal for camping or EDC gadget.
Pros
Price!
Effective insulation
Stylish design with good ergonomics
Durable and safe material
Cons
The metal cover on the lid may come after a while
It doesn't have a loop for holding


Best outdoor thermos flask
This BPA-free stainless steel cool thermos with efficient insulation keeps your drinks safe to drink. It doesn't let rust and corrosion spoil the fun, making it one of the best outdoor thermos flask out there.
Because the material used in its build is high-end, you can fill it with ice, and it won't show any symptoms of sweat or leaks.
The thermos has an air-tight screw-on lid for added security, a metallic handle for carrying it around with ease, and a high-end powder coating to make it leak and sweat-proof.
Also, you can easily wash this nice 25oz-capacity thermos with a dishwasher, making it easy-to-clean and user-friendly. The durable 18/8 stainless steel material makes it long-lasting and safe for your drinks.
Pros
BPA-free safe material
Lightweight and leak-proof
Wide mouth
Sturdy handle
Cons
Quite heavy
Lid seal may get sticky if not washed regularly


Best rated thermos for hot foods
This 304 food-grade stainless steel thermos is BPA-, phthalate lead-, and PVC-free, making it ideal for hot foods.
The double-walled insulation is effective in keeping your food hot for about 8 hours straight. If you want it to keep your stuff cold, it does that efficiently for 6 hours.
With the large 27oz capacity, you can use it to keep an entire meal hot. The overall size of this thermos is such that you can put it in a kids' bag with ease. Plus, there is an easy-to-hold handle with the lid, which makes it convenient to carry around.
A serving bowl made with food-grade plastic and even comes with a foldable spoon, making it a perfect meal box for hot foods. One thing to mention: with this box, you should always use the air pressure release button to avoid any accidents.
Pros
Easy to clean
The base is non-skid and scratch-resistant
Sealed with a silicone ring
Hot air-pressure release button
Cons
Not dishwasher safe
The lid is hard to clean

Thermos buying guide.
Why do you need a thermos?
You need a thermos if you want to keep your drinks/foods cold/hot for a long time. A thermos' insulation keeps everything in isolation from the outside air, preventing the heat transfer and preserving the temperature of whatever is stored inside.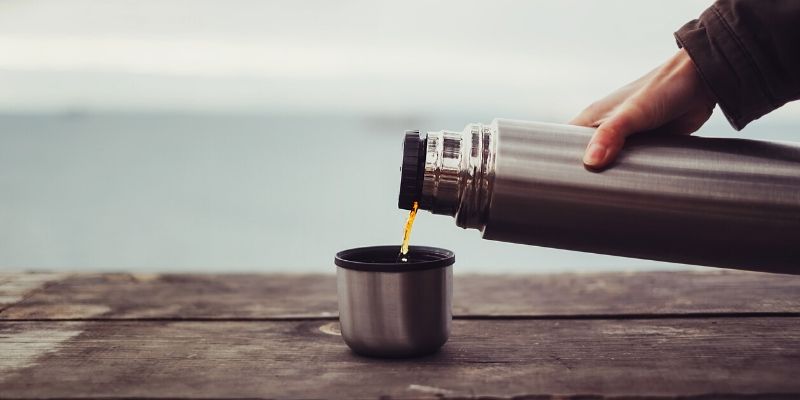 How much does it cost?
While each thermos' price will depend on its quality, a typical thermos efficient in its primary function. I.e., keeping your stuff's temperature at the same level. And it can cost anywhere from $15 to $150.
What to look for when buying a thermos?
First and foremost, the insulation should be top-notch; three-walled insulation would be ideal, two-walled will do fine too. Plus, the material used should be BPA-free and safe for your foods/drinks. It should be easy to carry around and easy to wash.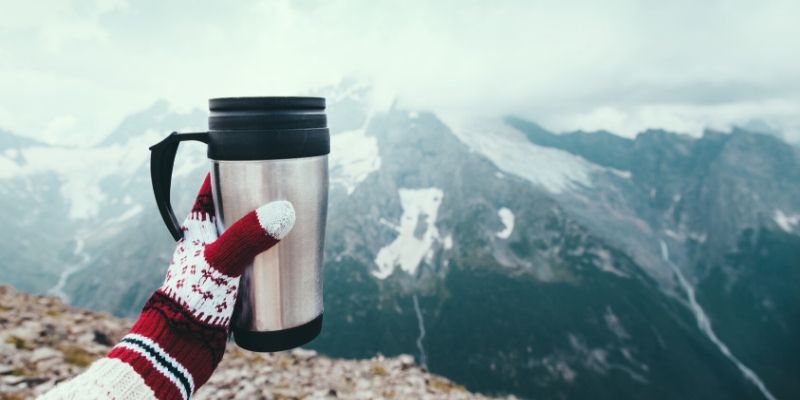 Make sure it's dishwasher-safe if you want to use a dishwasher only. Consider your desired capacity, the time you need your drinks cold, and the rust and corrosion-resistance of the thermos material. Also, make sure the thermos is leak-proof.
What's the best and toughest material for thermos?
The best and toughest material for a thermos is stainless steel. Unlike plastic, it is BPA-free, resists corrosion and rust, and offers longevity courtesy of its high strength and toughness.
Credits: Thanks for the photo to Canva.

At ipoki.com we only mention the products that we've researched and considered worthy. But it's important to mention that we are a participant of several affiliate programs, including Amazon Services LLC Associates Program, an affiliate advertising program designed to provide a mean for us to earn fees by linking to Amazon.com and affiliated sites. As an Amazon Associate ipoki.com earns from qualifying purchases.