Are your Beats earbuds and your Android phone not getting along? Fret not, fellow sound enthusiast! People often assume that Apple and Android users exist in separate galaxies, but quite the friendly diplomats. They can bridge the divide and work seamlessly with Android devices. Spoiler alert: yes, Beats do work with Android!
Do you have a particular question about Beats working with Android? Then use the table of contents below to jump to the most relevant section. And you can always go back by clicking on the black arrow in the right bottom corner of the page. Also, please note that some of the links in this article may be affiliate links. For more details, check the Disclosure section at the bottom of the page. 

How to Connect Beats to an Android Phone?
Connecting Beats to your Android phone feels a bit like introducing two friends you think will get along great. Here's a friendly 3-easy-step guide: – Switch your Beats headphones into pairing mode. Put your Beats in pairing mode by holding down the power button for 5 seconds. When the fuel gauge flashes, they are primed and ready to make a new friend! – Open the Bluetooth settings menu on your Android phone. Look for the Beats in the list of available device selection. – Tap on Beats headphones or earbuds and voila, your Beats and Android device are pal buddies.
Connecting Beats Studio Buds to Android
Did you score a snazzy pair of Beats Studio Buds recently? Let's make sure they're in sync with your Android phone so you can drown out the outside world effectively. Follow the same steps to put your Beats in pairing mode, then proceed to pair your Beats from your phone's Bluetooth settings.
Pairing Beats Headphones with Your Android
Pairing Beats headphones with your Android device is pretty much like matchmaking. Except, in this case, you are creating a wireless sound connection. So, once your Beats headphones are in pairing mode and visible in the Bluetooth settings on your Android, all you need to do is tap on the Beats label to pair them successfully.
Using the Beats App for Android
Who needs an olive branch when you've got the Beats app? Design with both Apple and Android users in mind, this app is your gate pass. Enjoying your Beats headphones with your Android is as simple as downloading the Beats app from the Google Play Store, then following the instructions to connect your Beats.
Checking Compatibility of Beats with Android Devices
Now let's get nerdy! Most Beats headphones or earbuds are compatible with Android, but it's best to double-check this diplomatic agreement. A quick visit to the manufacturer's website or a quick search of your earbuds/headphones on the internet will confirm if your Beats and Android are a match made in tech heaven.
Using Beats and Android Bluetooth Settings
Sometimes it's not about apps or compatibility; it's about discovering the magic hidden in your Android's Bluetooth settings. Navigate your Android's Bluetooth settings to locate visible devices, select your Beats, and leap into the wireless headphones era. It's just that easy to connect your Beats! So tune in and zone out knowing you've debunked the myth—Beats are, indeed, Android-friendly.
Understanding the Compatibility of Beats with Android
Alright, so let's dive right into it. How well do Beats gear get along with Android? You'll be glad to know they're pretty good pals. You're not tied down to Apple's ecosystem just because you're sporting some Beats. They're designed to work beautifully with Bluetooth-enabled devices, Android included. So, yes, long story short, your Beats will absolutely work with Android.
Exploring the Functionality of Beats Headphones with Android Devices
Let's delve into the juicy details. Your Beats headphones and earbuds can, of course, play sound from your Android phone. You've got options for wired connection with the 3.5mm audio cable or wireless via Bluetooth. Wireless Beats pair with your device with just a press of a button. You can control your music with the multifunction 'b' button or the volume controls on your headphones and receive calls too. Pretty nifty, right?
Downloading and Using Beats App for Android
Does iOS have all the fun with the Beats app? Nope. Go ahead and download the Beats app for Android from the Google Play store. Now your headphones will get a taste of that proprietary Beats audio algorithm that aims to deliver crystal clear sound with deep, resonating bass.
Pairing Wireless Beats with Android via Bluetooth
So, you've got the Beats and the phone. What's next? Pair them, of course. First off, make sure your Beats have some juice. Dive into your phone's Bluetooth settings and make it visible. On your Beats, press and hold the power button until the LED indicator starts to flash. Now, on your Android, search for new devices and connect. Voila! Your Beats are now singing last night's karaoke performances straight from your Android.
Updating Firmware and Software for Beats and Android Compatibility
Keeping your Beats and your Android on speaking terms involves some homework on your part. The Beats app helps you update your firmware and software with ease. Just download the beats app and follow the prompts. Keeping things fresh ensures compatibility is maintained, and you can keep rocking out without a hitch.
Using Beats Studio Buds and Other Models with Android Devices
Whether you're looking to connect a pair of Beats Studio Buds or any other Beats model, the process is almost identical. Once they're charged up, press and hold the power button until the LEDs flash, then select them from your phone's Bluetooth menu. Remember, it's not rocket science, just follow these steps and you'll have those beats coursing through your veins in no time. Battery levels also display in the Beats app, so feel free to check them there too.
Troubleshooting Beats Connectivity Issues with Android
So, you're seeing ghosts and your beats just cannot connect to your Android? No sweat, we've got your back. Update your firmware and try resetting your Beats. If it's still giving you 'tude, forget the device on your phone and then pair them again from scratch. Dig around your phone's Bluetooth settings – sometimes the answer's right there in plain sight. It's all about patience, my friend. Alright, welcome aboard, tech virtuosos, cool developers, and anyone having a knack for the fascinating world of technology. Ready to take an interesting voyage? Let's crank it up a notch and get to the meat of things, shall we?
Troubleshooting Bluetooth Connectivity with Beats and Android Devices
We've all been there. You're all snug and ready for a session with your beloved 'powerbeats pro' and Android smartphone. But as the perfect anti-climax, they refuse to make nice. Good news: this problem isn't as daunting as deciphering an alien code, and the solution is simpler than you think. The magic wand here is the 'Bluetooth Devices' option on your android device. The trick? 'Manually' connect your devices. If your Beats are acting up and refuse to connect, it may be due to issues with the Bluetooth pairing process. Hence, let your savvy fingers do the work: from your Android device, go to Settings, locate Bluetooth, and on the available devices, pick your Beats.
Resolving Pairing Problems and Error Messages with Beats and Android
Isn't it frustrating when you're all geared up to enjoy some quality sound from your Beats and your Android device decides to throw a tantrum, displaying error messages? Breathe. This doesn't require a tech genius to solve. Just like your Android smartphone sometimes acts up, your Beats are also moody. The culprit is often a connection error. As much as they're owned by Apple, Beats play nice with Android too. How? Simple. Delete the connection on your Android and then re-establish it.
Dealing with Outdated Android Versions and Beats Compatibility
Okay, let's address the elephant in the room. Despite the state of tech evolution, not everyone is aboard the firmware updates train. If you're rocking a retro Android version, you may need a step-up before getting your Beats to join the happily-ever-after squad. Keep in mind, you need updated firmware to get the best of 'sound quality' from your Beats, especially if you're into the 'earbud' stuff. So, check your Android version and make sure it's not from the age of the dinosaurs. Otherwise, like an insatiable boss, it will cry for an update.
Resetting Beats for Successful Pairing with Android Phones
Sometimes, it's not about your Android or the quirky 'aux' but it's your Beats throwing the tantrum. In that case, similar to what you do with another device causing you trouble, it's time for a reset. Resetting your Beats can be your salve to a successful pairing. Process? Easy-peasy: Press and hold the power button for about 10 seconds until the LED indicator flashes. That's all she wrote!
Optimizing Battery Life and Performance of Beats with Android
Our Beats headphones, much like us, occasionally need some rest to recharge and perform better. So, optimize the performance and battery life of your Beats by routinely switching them off when not in use. This little act of kindness ensures your coveted Beats stay alive when you need them the most.
Expert Tips for Using Beats with Android Devices
Since you're here, you're definitely not a run-of-the-mill user. For best results, using Beats with Android devices, familiarize yourself with the ins and outs of your Beats. And guess what? You don't need a tech degree for this.
Utilizing Beats App Features for Android Users
Well, this doesn't sound like rocket science, does it? The Beats App is your secret weapon for exploring the best of what your Beats can do. So, download it, play with it and give your Beats a chance to show off their full potential. Trust me; it's an experience that won't disappoint!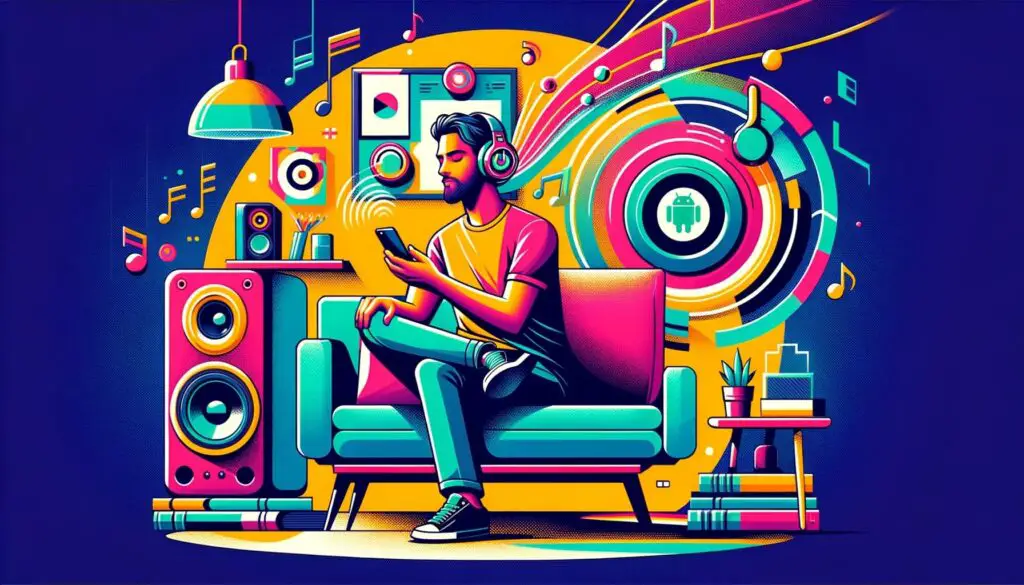 Optimizing Noise Cancellation and Audio Quality with Beats on Android
If you've got a pair of Beats and an Android phone in your pocket, then you're already off to a strong start. But here's how to up your mobile sound game: optimizing your Beats' noise cancellation and audio quality. First, start by powering on your Beats and activating the pairing mode. To pair those gnarly Beats to your Android phone is like teaching a fish to swim. It's ridiculously intuitive. But let's not stop there. To optimize your Beats' noise cancellation, ensure that you're running the latest software update on your Android device. Like a well-oiled machine, the freshest software lets your Beats and Android work seamlessly together for the best noise-banishing performance. Trust us; you don't want to miss out on this silence golden ticket.
Maximizing the Control and Functionality of Beats on Android Devices
Okay, now that we've got your Beats purring like a kitten with your Android, let's talk about making the most out of that relationship. Beats and Android go together like peanut butter and jelly. They're great on their own, but even better together. Start by ensuring your Beats are within range of your Android. Then get ready for some one-touch magic. Thanks to the Android operating system's user-friendly interface, controlling your Beats is as easy as swiping right on your dream date. Need to adjust the volume or switch songs? Just tap, swipe, or pinch, and you're good to go. And what about charging? Forget about fumbling with a cable or a plug. If your Beats boast a wireless charging case like the AirPods, you can simply place it on a Qi-compatible mat, and the charging process starts automatically. Bang! Charging issue: solved.
Utilizing Google Fast Pair and Other Advanced Features with Beats and Android
When we talk about the Android and Beats combo, we need to pump the brakes and chat about Google Fast Pair. This nifty feature allows your Beats to connect to your Android phone faster than you can say 'Bluetooth.' Just make sure that your Android is running the latest software, your Beats are in pairing mode and the two are within range. Then watch the magic happen. A notification will pop up on your Android screen to let you know that your Beats are ready to party. It's that simple. Added bonus? If you lose your Beats, Google Fast Pair can help you locate them. Talk about a game-changer, huh?
Customizing Beats Settings for Seamless Integration with Android Devices
Last but certainly not least, you'll want to tailor your Beats settings for optimal integration with your Android. Think of it as fitting a bespoke suit; a perfect fit equals top-notch performance. With the latest software, you can customize your Beats' settings, enabling essential controls right from your Android. Want to switch from noise cancellation to transparency mode? No problem. Just tap on your device, and you're ready to engage with the world around you. Or not, your call. With Android's flexibility and Beats' stellar performance, you can easily mix and match features until you find the combo that works best for you. Because at the end of the day, isn't that what we all want from our tech? Unmatched performance tailored entirely to us.
Credits: Thanks for the photo to Canva.
At ipoki.com we only mention the products that we've researched and considered worthy. But it's important to mention that we are a participant of several affiliate programs, including Amazon Services LLC Associates Program, an affiliate advertising program designed to provide a mean for us to earn fees by linking to Amazon.com and affiliated sites. As an Amazon Associate ipoki.com earns from qualifying purchases.