Tetris is one of the most recognizable games on the planet, and it's a significant part of pop culture. It's not surprising that it has hit such levels of respect. It is the second highest-selling video game franchise of all time, with about 500 million sales as of May 2021. That's insane, and it's dwarfed by only the most recognizable video game character of all time: Mario.
Tetris is popular for a good reason. It is a puzzle game, and the mechanic is satisfying and entertaining. Plus, it has been scientifically proven to help the brain, so it's hard to hate on a game like this. The problem is, Tetris has been in wide circulation since the 80s, and some people are looking for something similar, but with a new flavor. And retro gaming trend, responsible for many indie games to appear, is just the right solution to a problem. It also comes in handy in case you are not amused with the idea of paying $60 per game. Most of those retro games, including games like Tetris, are free. 
If you're looking for games like Tetris that you can play online for free, then you've come to the right place. All the games on the list below can be played without paying a dime!
Do you have a particular question about games like Tetris? Then use the table of contents below to jump to the most relevant section. And you can always go back by clicking on the black arrow in the right bottom corner of the page. Also, please note that some of the links in this article may be affiliate links. For more details, check the Disclosure section at the bottom of the page. 

If you're looking for a Tetris-like game that can take the place of the beloved original, then Block Champ is likely to be your savior. You play in a 10 by 10 grid, and instead of dropping blocks, you place them anywhere on the grid. The aim is to form straight lines with each set of three blocks you're giving. The moment there's no space left to fit any of your block shapes, it's game over!
While the better-known version of Lumines is a game that you have to pay for, you can play a similar version of this Tetris-style game for free. This fast-paced game can take getting used to, but the objective is to make anything larger than a 2 by 2 square before the line passes. Doing this with two colors in a square shape is a lot harder than it looks, I promise.
Blockout is a popular game in the years of DOS, stretching close to the years when Tetris came out. This is an excellent choice if you want to play a free Tetris game with a twist. You're playing Tetris in three dimensions as if looking down on a container that you're stacking the bricks into. Make a whole level to earn points. You can play this Tetris game online.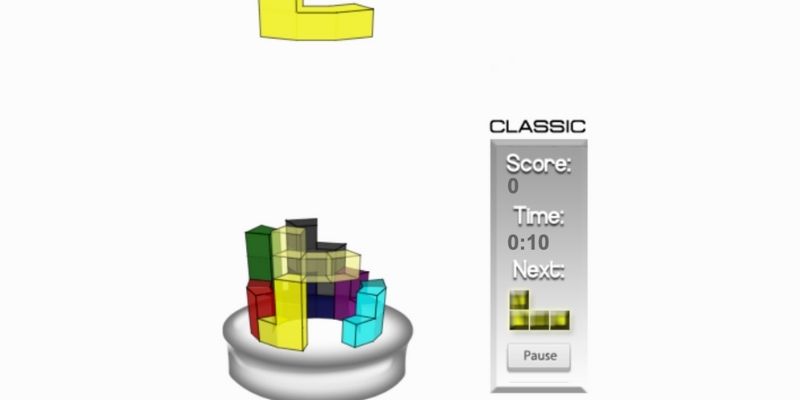 Want to play Tetris for free, but with a twist that's not too extreme? Tetris 3D is my number one recommendation. You play this Tetris game with the blocks curving around the outside of a cylinder. You drop bricks to complete a full circuit or line, just like you would in any other browser Tetris game. You could play Tetris online for free, but this one gives more of a mental rush.
If your goal is to find the weirdest of the games similar to Tetris, then I reckon Azzzleep is the one. It starts off with quite a strange scene between two talking neurons. The free Tetris online game has you make lines with more than one color, and how by drawing the pixel art indicated, you can earn extra points. This one will force your multitasking!
Hex FRVR is quite similar to the first game on this list, but instead, you're playing in a hexagon. It is pretty cool to play because there seem to be more shapes you can get each turn. However, note that there are no power-ups, making the game that much harder. If you love games like Tetris, though, you should certainly give it a try.
Depending on when you were born, you may or may not remember Collapse. I can tell you that this Tetris-like game can be played completely for free online. You have to eliminate chains of three or more blocks to collapse the stack downwards. Just like Tetris, the game is over when it hits the top. Eliminate bigger chains for more points, and use the power-ups to help!
Think of playing Tetris in browser but amplify the difficulty. That's what Jumble Blocks, a Tetris-style game, is all about. The mechanic is pretty much like Tetris, except you have to work with more than one color with bricks that come in various shapes. Instead of forming lines, you form 3 by 3 shapes or larger to clear them. You can play this Tetris game online for completely free!
We all know this retro game. It's been recreated countless times. Have you ever noticed that this is one of the games similar to Tetris? You stop the lines from touching the bottom instead of the top, and you have to clear shapes with careful aim. I love this version because of the power-ups. If you're looking to play something like Tetris in browser, then this is my favorite.
Okay, think of a game exactly like browser Tetris. If you know how to play Tetris, you'll know how to play this. The thing is, this free Tetris game has a major twist. Instead of playing alone for a high score, you're competing against up to 5 other people. When you make lines, you send garbage lines to the others, but they do the same when they make lines! Make sure you survive to the end!
Now, this is interesting because this is similar to Jstris, so it will definitely be as familiar as playing Tetris online for free on a regular day. The thing is, in this case, you get to play one-on-one. Plus, a ranking system means that you don't need to worry about getting beaten by professionals moonlighting on this browser Tetris game. The only downside is you need to register.
Credits: Thanks for the photo to Canva.

At ipoki.com we only mention the products that we've researched and considered worthy. But it's important to mention that we are a participant of several affiliate programs, including Amazon Services LLC Associates Program, an affiliate advertising program designed to provide a mean for us to earn fees by linking to Amazon.com and affiliated sites. As an Amazon Associate ipoki.com earns from qualifying purchases.