Want your roti to be fresh, nutritious, and well-cooked without virtually any effort? And also save you lots of money in the long run? 
I've analyzed all the machines with roti making capabilities and came up with the short-list of three models.   
If you want to make a quick decision without getting into the details and want to choose the best roti maker, go for this device. It has non-stick material, is easy to clean, made with stainless steel durable material for longevity. And it has a neon indicator to enable you to monitor the roti making process throughout. And all of this comes at a reasonable price.
Want to make a more informed decision with a comprehensive buying guide? Keep on reading. 
Do you have a particular question about roti makers? Then use the table of contents below to jump to the most relevant section. And you can always go back by clicking on the black arrow in the right bottom corner of the page. Also, please note that some of the links in this article may be affiliate links. For more details, check the Disclosure section at the bottom of the page. 

Best Roti Maker
This roti maker machine has a non-stick and smooth material that allows you to make chapati/roti in one piece much quicker.
The roti presser has a neon indicator that allows you to monitor the whole process. The red color indicates the power, while the green tells you that the roti presser is ready for the dough to be placed.
It's made with high-end stainless steel material, which makes it durable, and in turn, longlasting. The sturdy build helps improve the roti making performance and resists environmental degradation, making it the best tool for bakers.
Plus, you just need a damped cloth to clean the machine. Wrap the cord around the bottom base for convenient storage.
And the price is really friendly. Especially considering how much you can save on it. A bag of 10-15 roti cost anywhere from $10 to $20. And let's face it, you never know if it's that fresh and if ingredients are good. You can get the same amount of bread at $1-2 (depending on the flour you are using). That's a great budget saver. 
Pros
The neon indicator informs when to cook
Made with high-quality stainless steel
Non-stick material
Easy to clean
Cons
Takes some time to get ready for cooking
Tricky to figure out the ideal dough consistency


Best Cheap Roti Maker
If you like to roll the flour dough yourself for greater control over the shape and size of your roti/chapati/tortilla and are short on budget, this can be an ideal choice for you. It's more of a traditional roti maker though – nothing fancy or easy about it. 
Just mix water with the flour, make a round dough, place it on the wooden roti maker, and start pressing on it with the provided rolling pin. In this way, you will be able to make the roti as flat or as big as possible. The wooden presser is 10 inches in diameter. You can make whatever thickness or size you want the roti or tortilla to be.
Plus, the wooden top is pretty stable with bottom supports, giving you more control over the roti making process. The rolling pin is easy to use with two side-handles. All the qualities and the low price point make this roti maker an excellent gift for bakers.
Pros
Very cheap
Wooden, so safe and durable
It allows for a variety of roti size and thickness
Stable base
Cons
Manual process
Demands practice for perfection


Commercial-like roti maker
This roti making machine has a simple and effective design for making the roti. You can also use it as a warmer as it spreads the heat evenly to all parts of the bread.
There is virtually no effort involved; all you have to do is to place the dough onto the black surface of this impressive gadget for bakers. It bakes your bread, tortilla, roti, chapati, Arabic saj, chapati, papad, Persian and Indian naan in a jiffy.
With a 16 inch diameter, the roti presser provides more than enough space to make your roti/tortilla of any size and thickness. Plus, the temperature it bakes on is 536°F/280°C, making many tortillas in a short time.
This useful tool for bakers is non-stick and maintains a cool, comfortable temperature of the handles. Plus, an automatic thermostat lets you monitor the roti making process. These features make this roti maker an ideal choice for those who LOVE roti a lot and may think of taking this love to the next level. (E.g., cooking it for sale through local stores or starting a catering business).
Pros
Automatic thermostat
Ideal for professional bakers
Large-diameter
Speedy cooking
Cons
A little expensive
It could be slippery


FAQ on buying roti maker
Does roti maker really work?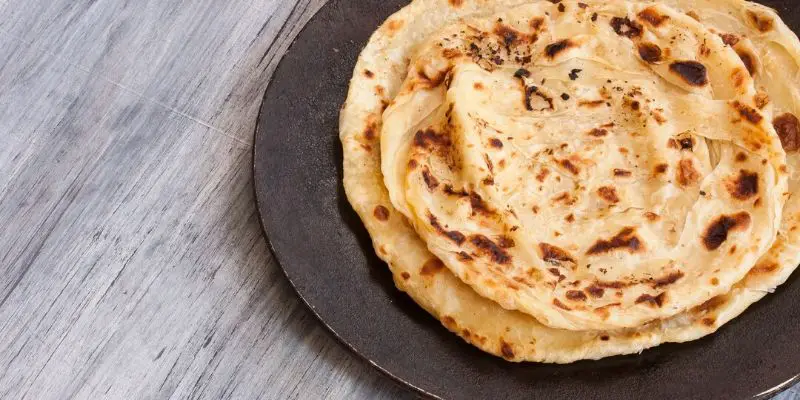 It works because the original process of roti making demands time and higher manual input. The roti maker makes it convenient and fast. You just have to place the dough on the surface of the machine, the rest will be taken care of by the roti presser. Plus, it more evenly spreads the heat to the dough, producing a much better-cooked roti and maintaining its nutritious value. 
How to use a roti maker?
You just have to make a flour dough by mixing water and flour in the right proportion for proper consistency. Turn the roti presser on and let it reach the required temperature to bake your roti. Place it on the roti machine's surface when it is ready, and allow it to do the rest of the work. In this way, the tiresome manual pressing of roti and uneven distribution of heat is eliminated, and you get a quick and healthy snack.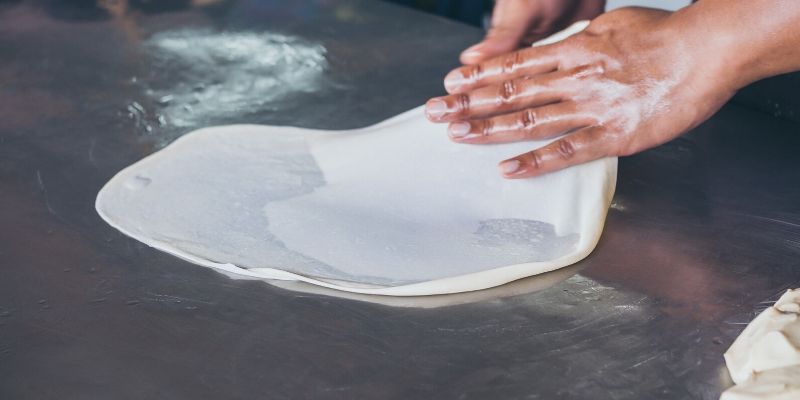 What is the price of a roti making machine?
The exact price of any roti making machine will depend on the material's quality, automation, technology, and how fast it can make a roti while preserving the nutritious value. A roti maker can cost as low as $18 and as high as $1000 depending on the factors mentioned above.
How much electricity does this device use?
The electricity of any appliance is measured in watts. As far as the roti machine is concerned, the electricity consumption varies. Higher wattages bake faster. On average, the electricity consumption range for a device like this would be 1000-1500W. To make an estimate, one hour of roti making would consume just above one unit of electricity. So, it's not that high, considering how much value it adds to your baking experience.
Do you have to use oil in these machines?
No, you don't have to use any oil in the roti presser machine as the material is non-sticky. You can use oil in your dough if you want to soften it a touch. However, it's not necessary; you can make a perfect roti/tortilla/chapati with roti making machine without using any oil.
Credits: Thanks for the photo to Canva.

At ipoki.com we only mention the products that we've researched and considered worthy. But it's important to mention that we are a participant of several affiliate programs, including Amazon Services LLC Associates Program, an affiliate advertising program designed to provide a mean for us to earn fees by linking to Amazon.com and affiliated sites. As an Amazon Associate ipoki.com earns from qualifying purchases.