You've got contacts piled up in your Alexa app quicker than you could say, "Alexa, play my favorite tune." Somehow every Tom, Dick, and Harriet from your email, phone, and social media accounts have found their way into your Alexa contact list. As impressive as this might sound to some, it's nowhere near fun when Alexa mixes-up calling your boss with your gaming buddy because they both happen to be named Steve. So how do you wrestle back control over your Alexa contacts? You're about to find out.
Say you've got an Echo or Tap. You're probably basking in the convenience of asking Alexa to call or message anyone with just a simple voice command. It's all fun and games until you start to notice the invasion of an army of imported contacts on your Alexa app. It's high time to get the house in order, you reckon. But how? Don't worry, we've got your back.
Do you have a particular question about removing contacts from Alexa? Then use the table of contents below to jump to the most relevant section. And you can always go back by clicking on the black arrow in the right bottom corner of the page. Also, please note that some of the links in this article may be affiliate links. For more details, check the Disclosure section at the bottom of the page. 

Why You Might Want to Delete Contacts from Alexa?
Let's start by understanding why one might want to delete contacts from Alexa. Maybe you've added a few folks you're better off not calling (exes, perhaps), or your contacts list has gotten so big, it takes longer to find a contact than it would take to write a novel. Or you've imported contacts that Alexa seems to misunderstand every time you ask her to call. Maybe you just don't want that many people in your Alexa contact list? Completely understandable. Below, we have outlined the easy steps to delete all.
Removing Contacts from Alexa
Step1: Fire up your Alexa app and click on the 'Communicate' icon.
Step2: You shall see a 'Contacts' icon. Tap on it. Now, depending on the numbers of contacts on Alexa, take a deep breath.
Step3: Scroll down the list until your find the contact you want to remove. Now tap on it.
Step4: You'll be taken to a screen with the contact details. On the top right corner, there's an 'Edit' icon. Click on it.
Step5: Scroll down a bit, and you'll find the 'Block Contacts' option. Aha, there's the culprit. Tap on 'Block Contact.'
Step6: Here's a quick heads up. Simply blocking a contact doesn't mean it'll disappear from your contacts list. It simply prevents the contact from calling or messaging you through Alexa. To remove the contact completely, you'll have to delete it from your device's contact list.
Step7: Now here's the catch — if you ever asked Alexa to 'Sync My Contacts,' you'd have to disable the 'Import Contacts' option from the settings menu.
Keep in mind that if you ever asked Alexa to call or message a contact manually added, they would automatically in the Alexa Contact List. You'll have to delete manually added contacts following these same steps. And there it is! Alexa should update itself every 24 hours, so you'll see a refined, updated contact list the following day. All of the unnecessary and recent imports will be absent. Remember, the 'Sync My Contacts' will automatically enable itself periodically. Keep a watch and disable it when you update your device's contact list. You see, better management of contacts on Alexa isn't as daunting as you initially thought. A few taps here, a few there, and you're good to go. Happy voice commanding!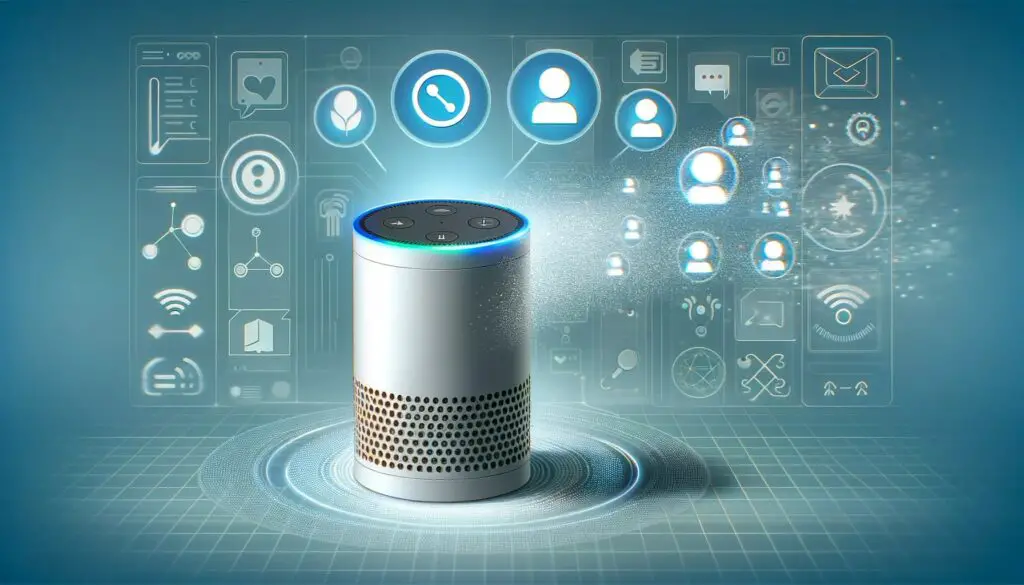 Deleting a Contact from Alexa via Alexa App
So, you've amassed a list of contacts in your Alexa app and now it's time for a little digital spring cleaning. A bit daunting you say? Sitting down with a cup of hot cocoa and your phone, you'll see, doesn't have to be as terrifying as it sounds. Buckle up as we guide you on this daring adventure of deletion! Kick start your mission by reaching out to the trusty sidekick, your phone. Unlock the bountiful realm of apps and select the 'Alexa' app. It's as recognizable as the Amazon logo itself – like a beacon in the dead of night. Once opened, it's onto the next challenge! Dodge the multitude of distractions and head straight towards the 'Communicate' button, found chilling at the bottom. A realm filled with an endless list of contacts awaits you, each a potential target for removal. This is where the mission gets tricky, folks! Do you have the gumption to press on? Find your target and give the three dots next to their contact a satisfying tap. You'll be greeted with a dropdown menu, flaunting 'Delete' like a fancy trinket in a shop window. Show no mercy and tap that juicy 'Delete' button and voila! You've de-cluttered your digital world – one contact at a time.
Delete Imported Contact in Alexa From iPhone
Talk to any iPhone user and they'll tell you their phone is an appendage they'd rather not lose. Ironically, for something so attached, imported contacts appear glued to your Alexa account like limpets on a rock. Don't fret though; there's a way around, and it doesn't require any hammering! Fire up your iPhone's Alexa app by tapping on the unmissable blue logo. Dive headfirst into the 'Communication' feature on the app's bottom bar – it's your gateway to an assortment of imported contacts. Change is just around the corner, can you feel it? Identify the erring contact and tap on the three dots next to it. Then it's just a simple game of Simon says – you don't touch anything else. The 'Edit' choice resides in a prompt box, waiting to be selected. Go ahead and tap 'Delete', and you can bid farewell to that contact. Easy peasy, wasn't it?
Removing Contacts from Alexa Using Alexa Device
Your Alexa device is more than just an electronic parrot. It's a bustling hub where you can communicate with other Amazon devices. But as the old saying goes, 'All good things must come to an end', and frankly, some contacts simply didn't make the cut! For this mission, you'll need to bank in on the Alexa's voice feature godsend. Ask Alexa to wipe a contact from your list, and voila! That contact is but a digital ghost of the past. So, warm up those vocal cords, strike up a conversation with Alexa, and watch the magic unfold.
Manually deleting contacts from Alexa
Hands-on folks, this one's for you! When you need to edit your Alexa contact list and prefer the trusty old manual mode, buckle up for a foolproof, straightforward process. Ready to dive into the abyss of minimal effort? Let's go! Open the Alexa app on your mobile device. See that 'Communicate' button at the bottom? Give it a friendly press. Once you're in, it's you against an ocean of contacts. Look out for the contact that didn't pass muster. Tap on the three dots and let the 'Edit' option unravel. A simple tap on the articulately designated 'Delete' button, and BAM! Just like that, your contact list looks a little less crowded. Cutting down your Alexa contact list is as easy as pie. It's spectacularly uncomplicated and an oddly satisfying task. Give these steps a try the next time you're in another round of 'keep or delete' with your contacts. And remember, being decisive is half the fun. Enjoy!
Deleting All Contacts from Alexa
No offence, but we all know that Alexa, Amazon's voice assistant, can be a bit nosy. She's got all those contacts you stored up in her memory bank at her disposal, ready to start an impromptu communication party, or worse yet, make a random call when you were just asking for the weather forecast. If having all your contacts in your Alexa account gives you the jitters, and you're looking for a fresh start of sorts with Miss Alexa's voice service, I have good news. Deleting every last one of your contacts from your Alexa account is as easy as pumpkin pie. Calm down, it's not rocket science.
First things first, grab your phone and fire up the Amazon "Alexa" app.
Then, bottom right, you'll see the "Communicate" tab – tap that.
Alright then, we're over the first hurdle. Now, in the top right, there's those three magical dots that everyone seems to love (who knew a trio of dots could be so important?). Tap them.
Now, this will pop open that good old menu we all know and love. Select the "Contacts" option. You should now be dropped into contact land, complete with all the names Alexa has been keeping an eye on for you.
Tap each one and then tap "Remove" – sing along with me, "Just hit that tiny 'Remove' button, again and again, until you don't see a single soul left". And voila, you just cleaned house! Alexa has been reduced to having zero friends. It's a tough life in the digital cloud.
Troubleshooting Common Issues with Deleting Alexa Contacts
Okay, you've given it a whirl. But what if you're stuck staring at your phone saying "Why didn't this work? Why won't Alexa let go of Aunt Martha?" Well fear not, fellow tech traveller. Let's troubleshoot. Sometimes, when you ask Alexa to dump your contacts, she might insist on playing hard to get. This isn't because Alexa's developed an emotional attachment to your contacts, it's usually because of some minor glitch in the tech matrix.
One common issue may come from the feature that syncs your contacts across Amazon's services. If you have a bunch of contacts in your Amazon account that you need to edit or delete, then you're going to have to take a slight detour and clean those out first. Another common issue may derive from not having the latest and greatest version of the Alexa app. Are you running your Alexa app on the latest version of your phone's operating system? If the answer is no, you're going to want to hustle over to your phone's app store and hit that update button right away.
Still having problems? You may need to toggle off the contact sharing feature and then toggle it back on. Like the old "turn it off and turn it back on" trick. It's essentially the tech world equivalent of a spell that solves a surprising number of issues. I'd be lying if I said these steps will always do the trick, but they've saved many a tech-geek's day. If worst comes to worst, you could always resort to writing a strongly worded email to Amazon's customer service – because, at the end of the day, they're the real tech wizards behind that magic little word – Alexa.
Credits: Thanks for the photo to Canva.
At ipoki.com we only mention the products that we've researched and considered worthy. But it's important to mention that we are a participant of several affiliate programs, including Amazon Services LLC Associates Program, an affiliate advertising program designed to provide a mean for us to earn fees by linking to Amazon.com and affiliated sites. As an Amazon Associate ipoki.com earns from qualifying purchases.