Is there a PS4 controller vibration app that can help us gamers avoid sudden, irritating, and often game-ending vibrations in-between games? I've been playing FIFA 22 a lot on my PS4 lately. A few days ago, my controller did something it has never done before.
After scoring a goal, it kept vibrating for over three minutes. I had to turn off the vibrations setting in the game to make it stop. Yesterday, I re-enabled the vibration settings and within three games, the same thing happened again.
Unfortunately for me and for many gamers, there is no app in the market that's specifically designed to regulate controller vibration. But, that hasn't stopped gamers from fixing this problem. Some have coded their ways out of this predicament.
Others have devised innovative ways to get around this issue. I'm one of them. Here's everything I did to resolve my PS4 vibration issues. 
Do you have a particular question about making PS4 controllers vibrate continiuosly? Then use the table of contents below to jump to the most relevant section. And you can always go back by clicking on the black arrow in the right bottom corner of the page. Also, please note that some of the links in this article may be affiliate links. For more details, check the Disclosure section at the bottom of the page. 

Why is My PA4 Controller Vibrating Constantly?
There could be multiple reasons why your vibrating PS4 controller keeps on vibrating non-stop. According to Sony, the three most common reasons why this happens are:
Settings: The controller's vibration feature has gone haywire. You'll have to turn it on & off in the settings menu to get rid of this glitch.
Low Battery: Your controller's battery is extremely low. But, instead of vibrating once, some sort of glitch is causing it to vibrate non-stop. Try charging it to see if the vibrations stop.
Hardware Problem: The vibrations that come from your PS4 controller, come from vibration motors. These small electric motors provide haptic feedback to users by producing vibrations. If your PS4 controller's vibration motors are broken, you'll either have to repair or replace them.
If you want to buy new vibration motors for your PS4 controller, I recommend you buy them online. Here's an affordable deal. Also, here's a helpful video on how to uninstall, repair, and replace these things:
How to Turn Off Vibration on PS4 Controller?
When your controller starts vibrating non-stop and charging isn't the issue, the first thing you should do is reset it. Unplug it from the USB cable. On the back of your PS4 controller, find the reset button (it should be recessed). Use a pin or a slender sim-ejector tool to press the reset button for 5 to 10 seconds. The controller will reset to factory settings.
Re-connect the controller using the USB cable and wait for it to run the setup process. If the vibrating PS4 controller is connected to your PC and not your console, the vibration glitch is probably being caused by mismatched drivers in-between your controller and your Windows OS. To resolve this issue, you'll have to install Steam.
The gaming platform 'Steam' provides in-app support for PS4 controllers. Running your PS4 controller through Steam (and not your Windows OS) can fix the vibration issue. However, this solution only works on Windows 10 and 11 PCs. If your OS is older, you'll have to update it. Then, take the following steps:
 Download and install Steam
Make sure your controller is connected to your PC
Created a Steam account for free
On your Windows 10 or 11 PC, open the Steam App's Home page
On the top-left region of the screen, find and select the option titled "View"
On the next page, select the option titled "Big Picture Mode"
Wait for "Big Picture Mode" to launch
On the bottom-left section of the main screen, find and enter "Menu"
Enter "Settings"
Scroll down to the option titled "Controller"
Search for your PS4 controller in the list
Once you find it, select the option titled "Identify"
Once your controller is detected on Steam, it will vibrate softly. After that, you can change all settings on your controller, including the vibration settings. Switch vibrations off entirely if you want to. But, I would advise against that. Here's why.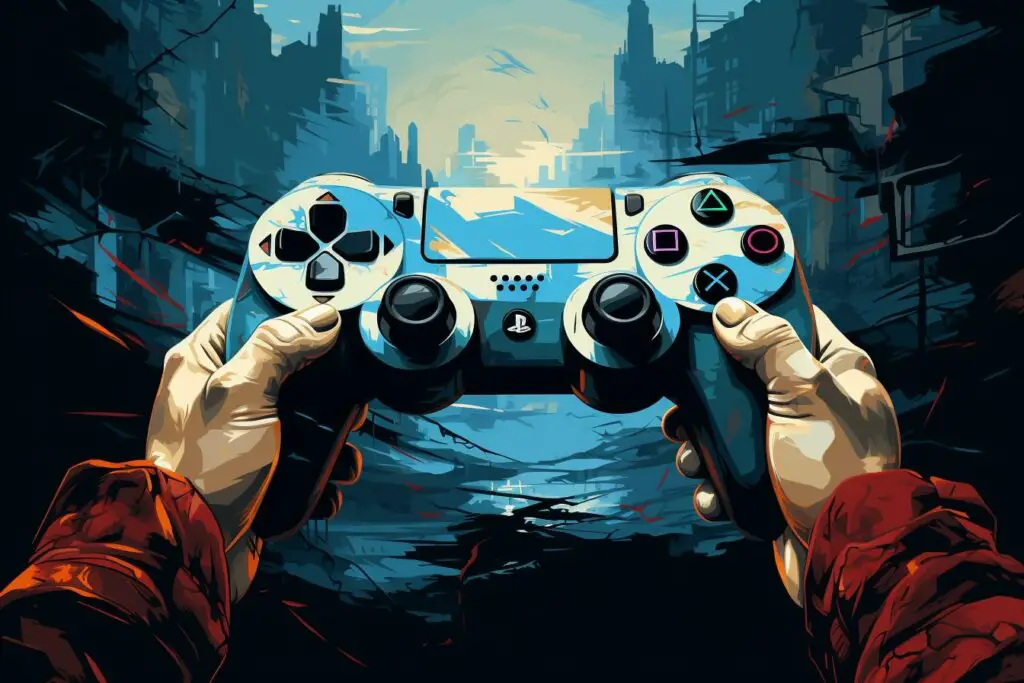 Why Would You Want to Make PS4 Controller Vibrate?
Vibrations on PS4 controllers definitely add a lot to the gaming experience. They give us critical feedback in key moments in games. Plus, pretty much all games feature built-in vibrations. For e.g., if you're playing a racing game, feeling the controller vibrate every time you run into obstacles certainly makes the game more fun. Vibrations also add a sense of urgency to games.
Okay, remember those electrifying moments in games like Fortnite when you take a hit, and your controller reacts as if it's just been zapped by Thor himself? Yep, we're talking about that good ol' vibrate mode. But what if you want that nonstop thrilling sensation, perhaps as a quirky prank on a fellow gamer or simply for the fun experience of having your DualShock 4 controller channeling its inner dance machine?
For instance, you could be playing a hide-and-seek game in Fortnite, and as the tension builds up, making your PS4 controller vibrate continuously could be a hilarious way to make your opponent think they're onto something.  Or FIFA 22, while playing that game, you'll feel your controller vibrate when your opponent hits the bar when you're taking a penalty, and in all types of pressure situations. Or, imagine you're engrossed in a horror PS4 game, and you've set your controller to vibrate continuously every time there's a jump scare. Talk about immersive!
How to Make Your PS4 Controller Vibrate Nonstop?
Using the Settings
To make your PS4 controller vibrate continuously, you'll first have to enable the vibration settings on your controller. Follow these steps:
Turn on your PS4
Connect your PS4 controller to the console; make sure it's charged 
Select Settings
Select the option titled "Devices"
Select "Controllers"
Find and select the option titled "Enable Vibration"
Once this setting is enabled, your controller will vibrate in specific in-game situations.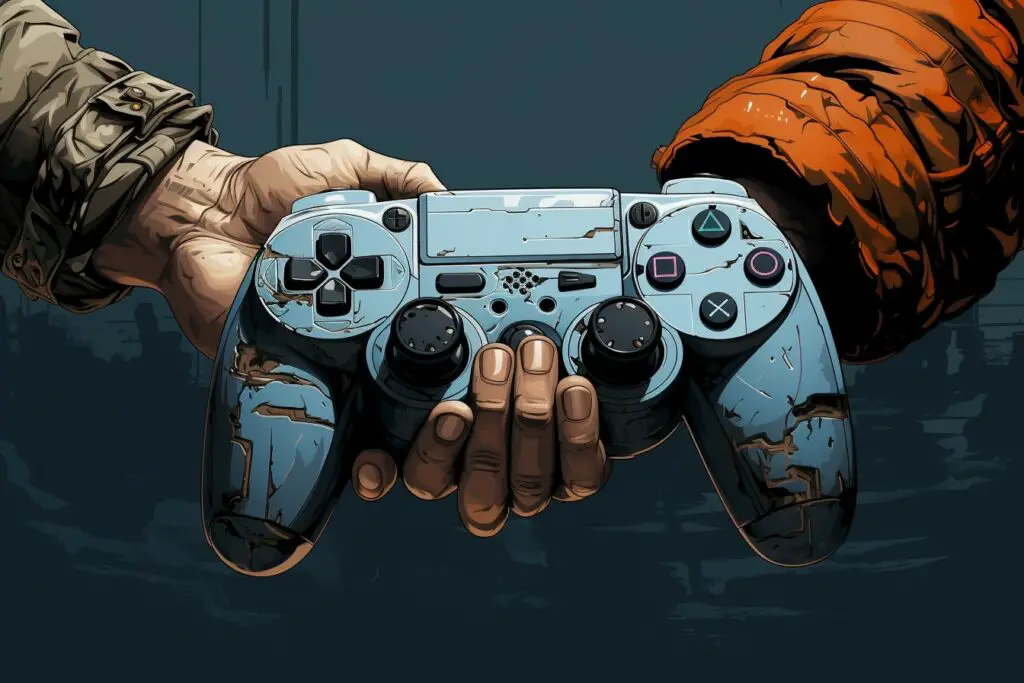 Using DS4Windows
 But, what if you want to make your PS4 controller vibrate continuously, irrespective of what the in-game situations are? Well, it's not possible to customize vibration patterns on the PS4 console. But, you can customize vibration patterns if your controller is connected to a Windows computer.
To do that, you'll need to download the DS4Windows app: a third-party app that allows users to customize the vibration settings on their DualShock controllers. This app only works on Windows PCs. To download and use this app, take the following steps:
Download the DS4Windows app from the website linked above
Install the app on your Windows 10 or 11 PC
Launch the app; follow the on-screen prompts to set it up
Connect your DualShock PS4 controller to your PC via Bluetooth
To do that, turn on your PS4 controller and press down the "Share" and "PS" buttons simultaneously
Keep pressing until the lightbar flashes and the controller enters "Pairing Mode"
Use the Bluetooth Settings menu on your Windows PC to connect it to the controller
If your PC asks for a pairing code, try the default code: "0000"
Once the PS4 controller is connected to your PC, reopen the DS4Windows app page
On this page, find a tab titled "Controllers"
On this tab, you'll see all the settings-related info on your controller
Edit the setting titled "Rumble;" increase it up to 100%
Now, connect the controller to your PC via USB. Launch any game and press any key to check if your controller vibrates (i.e., "rumbles") continuously. If you're having trouble using the DS4Windows app, check out the following video:
 Using iVibrate 
Alright, to the matter at hand. Want to turn your game controller into a perpetual vibe machine? Enter IVibrate, an app so cool it probably wears shades indoors. This nifty app allows your PS4, Xbox One, Xbox 360, or basically any other gamepad controller, to go into a fun, incessant vibrate mode. So, how does one set this magic in motion?
Motor Sliders: With the help of this feature, you can make your controller vibrate at certain intensities and really get that DualShock 4 or Xbox 360 controller dancing. Think of it as the volume knob, but for vibrations.
30 Vibration Patterns: Talk about variety! From gentle hums reminiscent of a purring cat to full-on earthquake mode, there's a pattern for every gamer's mood. You can even shuffle patterns for an unpredictable vibe party.
One Handed Mode: Playing a game, drinking coffee, and want to set your controller to vibrate? No problem. With one hand (or even a pinky), you can engage in vibration mode and keep the other hand free for, well, whatever your geeky heart desires!
10 Vibration Strengths: Whether you prefer the gentle touch or the full-blown 'I-can-feel-this-in-my-toes' vibration, IVibrate has got you covered.
Shuffle Patterns: Feeling indecisive? Put your controller's vibes on shuffle and let the app surprise you!
Now, the real question is: How do you get started? First, connect your controller—be it your trusty PlayStation 4 DualShock, your wireless Xbox 360 controller, or even a gamepad associated with PS4 games. Next, download the free app called IVibrate on your MacOS, Linux, or other supported platforms. This app allows you to go to settings, enable vibration on your PS4 (or other controllers), and set your desired custom vibration patterns. Once you've done all that, press and hold your controller's vibration mechanism, and voila! Your controller will not just vibrate, it will vibrate non-stop! And for those playing games like Fortnite, it's an added touch of whimsy.
How to Test Vibration on PS4 Controller?
As stated above, there's no specific controller vibrate app that allows you to customize your controller's vibration settings, especially if you're a console player. But, there are some helpful PS4 controller vibration test apps that can help you monitor the status of your controller's key functions. This gamepad tester app on the Apple app store or this Windows-friendly controller tester are good examples of such tools. 
Final Thoughts
To wrap things up, remember: In the vast world of gaming, where battles are fought, mysteries unraveled, and universes saved, there's always room for a touch of fun. Whether it's a prank, a sensory experience, or just pure unadulterated joy, making your PS4 vibrate non-stop is a hilarious, geeky trick to have up your sleeve. So game on, vibe on, and may your controller's rhythm always match the beat of your gamer heart! 
Credits: Thanks for the photo to Canva.
At ipoki.com we only mention the products that we've researched and considered worthy. But it's important to mention that we are a participant of several affiliate programs, including Amazon Services LLC Associates Program, an affiliate advertising program designed to provide a mean for us to earn fees by linking to Amazon.com and affiliated sites. As an Amazon Associate ipoki.com earns from qualifying purchases.