Samsung has topped the global TV market for 17 years in a row. There are hundreds of millions of Samsung TV owners all across the globe. That's because the company has consistently innovated and kept customers satisfied. However, Samsung TVs, especially Samsung Smart TVs, are getting more sophisticated every year.
The same applies to the remote controls that come with the TVs. While Samsung TV remotes are usually finely crafted and long-lasting, they could be better. Thousands of users have complained about their Samsung TV remotes needing to be fixed. Their main complaint? Samsung remote flashing red & not communicating with their TVs.
If your Samsung remote is blinking red, there's probably a communication issue between the remote & your TV. There are several potential causes behind these communication issues. Let's discuss them one by one & assess all the solutions that could fix this problem.  
Do you have a particular question about Samsung remote flashing red? Then use the table of contents below to jump to the most relevant section. And you can always go back by clicking on the black arrow in the right bottom corner of the page. Also, please note that some of the links in this article may be affiliate links. For more details, check the Disclosure section at the bottom of the page. 

Why is My Samsung Remote Blinking Red?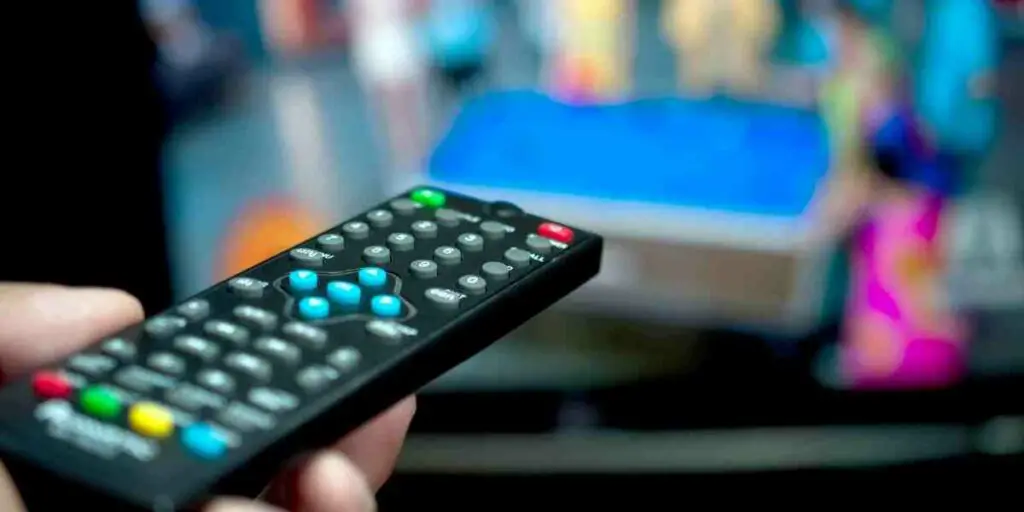 First & foremost – Samsung TV remotes blinking red is a common issue. Thousands of Samsung TV owners face the same issue every month. If you're one of them, don't panic & try out the most straightforward solution for fixing TV bugs – reboot your Samsung TV.
Turn it off, unplug it, wait for 5 minutes, re-plug the TV & then turn it back on. Trying out this simple technique is better than diving into more complex solutions.
Hopefully, rebooting the TV will fix the pairing/communication issues between the TV & the remote. However, if this simple solution doesn't work – try out the following slightly more complicated solutions –
Solution 1: Samsung Remote Flashing Red Because of Pairing Issues
It will only function properly if your Samsung remote is paired with your TV. Typically, Samsung TV remotes get automatically paired with the TVs during the initial setup process. This pairing happens automatically & users don't need to do anything. Usually, this automatic pairing lasts for a long time.
Your remote control may get unpaired from your TV weeks, months, or even years after the setup. When this unpairing happens, you notice a red light blinking on Samsung TV remote. That's when you need to manually pair your TV & your remote. To do so, take the following steps:
Turn on your Samsung TV (press the power button located on the TV)
Point your remote toward the TV & aim for the IR sensor (keep your remote control 1-2 feet close to the TV)
Press and hold the Play/Pause & the Return buttons on your remote for 10 seconds
Wait for the pairing process to be initiated
If you notice a battery icon & a remote icon appear on your TV screen – the pairing has been successful. If not, try the next solution.
Solution 2: Samsung TV Remote Blinking Red Because of Battery Issues
Some Samsung remotes keep blinking due to battery issues. If your remote has weak or dying batteries, it may blink red & not function properly. To fix this issue, replace the old remote batteries with new ones. Then, try repairing the remote using the method mentioned in Solution 1.
Solution 3: Fixing Potential HDMI Glitches
Many users who ask for Samsung TV remote replacements are Xbox and PlayStation users, i.e., gamers. Therefore, the glitches in their TVs are often caused by their gaming consoles. These types of glitches are called HDMI glitches.
To fix these types of problems, users should take the following steps:
Turn off the HDMI source of your gaming console
Turn off the gaming console
Reconnect the HDMI cable
Turn on the console & the TV simultaneously
Reset your Samsung TV
These steps will initiate a reboot of your Samsung TV's software. Hopefully, the connection problems get resolved after this step. If not, try replacing your old HDMI cable with a new one. Sometimes, old/damaged HDMI cables cause Samsung TVs to malfunction.
Solution 4: Fixing Potential Obstructions of the TV's IR sensor
A Samsung TV remote flashing red doesn't indicate that the remote control is dead. It indicates that the remote is still transmitting signals. Still, the signals aren't reaching the TV's receiver, i.e., its IR sensor. To fix this issue, try the following steps –
Remove any items (books, furniture, etc.) that could prevent your remote from having a clear, unobstructed line of sight with your TV's IR sensor.
Use the remote from 1-2 feet away from the IR sensor.
Clean all the dust on the TV sensor with a soft cloth.
Solution 5: Address the Physical Damage to Your Remote
A Samsung remote flashing red may indicate that it's physically damaged. To determine if that's the case, ensure that the circuit connections on the remote's motherboard aren't damaged. Any electrician can help you figure that out.
Also, clean your remote & press and release each button. This step will ensure that your remote control or its buttons aren't damaged. Here's a helpful video on how to fix damaged buttons on Samsung TV remotes.
If the buttons are irreparably damaged, you have no choice but to order a new Samsung remote. Before you do that:
Try power cycling both the television and the remote one last time.
Unplug the TV and remove all batteries from the remote.
Re-plug your TV & reinstall the batteries on your remote. If that doesn't resolve the problem, contact Samsung support.
How Do I Control My TV When the Remote Light is Continuously Blinking?
Whenever your Samsung TV remote doesn't work properly, use Samsung's SmartThings app to control your TV. Download the app from Apple/Google's app store. Create your own Samsung account by following the on-screen instructions. After that, take the following steps:
Tap the "+" sign (plus sign) in the upper-right corner of the app
Select Device (from the drop-down menu) & select Samsung as the brand
Select TV to make the SmartThings app automatically locate your TV
Now, your phone will be paired with your Samsung Smart TV. With the SmartThings app, you can use your smartphone as a temporary Samsung remote control.
Samsung smart TV remote blinking red light is, unfortunately, a common issue that affects thousands of Samsung TV owners every month. Try all the solutions on this list to fix this frustrating issue!
Credits: Thanks for the photo to Canva.

At ipoki.com we only mention the products that we've researched and considered worthy. But it's important to mention that we are a participant of several affiliate programs, including Amazon Services LLC Associates Program, an affiliate advertising program designed to provide a mean for us to earn fees by linking to Amazon.com and affiliated sites. As an Amazon Associate ipoki.com earns from qualifying purchases.