If you are a beginner and only here for a quick suggestion for a good drone with wifi camera, I'd say go with DJI Mavic Mini. It's small and lightweight (hence no licensing). It boasts a very decent 2.7k HD camera quality and is very easy to handle by first-time drone owners. But keep reading – I put 20 hours of research in this piece, and I bet you'll find some helpful suggestions in it.
Basic drones with wifi camera can be used in farming, firefighting, oil pipeline inspections, online deliveries, and cinematography (available for you aspiring directors, YouTube vloggers, or just travelers!). 
These drones, equipped with LED lights, are flown in a coordinated fashion to create still and moving images. This has been done in Singapore, Abu Dhabi, at Disney, at a Drake concert, and in China, where it broke the Guinness World Record. Long story short, this is just one of its many uses.
And whether your plan is to set a new Guinness Record or you just want to film fancy footage and get famous on YouTube and Instagram, you have to start with purchasing a drone. 
But it's a tough task! It was reported back in 2016 that 64% of drone crashes are caused by technical errors, so best research and choose from the below models for the ultimate drone experience.
Are you interested in a drone with wifi camera for a particular purpose? Then use the table of contents below to jump to the most relevant section. And you can always go back by clicking on the black arrow in the right bottom corner of the page. Also, please note that some of the links in this article may be affiliate links. For more details, check the Disclosure section at the bottom of the page. 

Best wifi FPV drone
The Holy Stone GPS Drone is for those who are looking for the optimum package. With it already comes a special carrying bag, 2 batteries, and spare parts. But enough about the add-ons! The drone itself looks sleek and epic, with a variety of cool features such as its live video feature and the ability to set a custom flight path. This definitely comes in handy to capture all your adventures and moments and 1080p video quality (HD level!).
Pros
Easy for beginners and very stable to control
1080 HD Camera that records images and voice at the same time
The drone can memorize "Home" and automatically return to you-great GPS capabilities
Live video feature, and you can control it with the app
Cons
Need to make sure you don't go too far in range/distance
Maintains current altitude when it returns "Home," instead of rising up and avoiding altitudes
May need to buy extra batteries at hand in the future, for longer flight times
Best mini drone with wifi and camera
We all need a vacation once in a while, don't we? There are vacations where all we want to do is just sit back and relax, but then it is also the type where we want to be active and go out on an adventure. Whether it's a hiking, zip-lining, riding a boat, or even just backpacking, I bet we try our very best to not pack so many things in our travel.
Especially when we are talking about camera equipment. The DJI Mavic Mini encompasses this need to pack lightly while capturing our adventures. It weighs only 0.55 lbs and doesn't require you to register your drone. It's the perfect travel companion!
Pros
Very small, lightweight, and easily foldable/portable
2.7k HD camera quality
Easy for beginners to control and is stable
Working distance of 1.5 miles in urban areas and 2.5 miles in rural areas
Cons
The Return to Home beeping cannot be silenced/disabled
Best drone with wifi camera: top choice
For my top choice of drones, this would have to go to the Potensic D58. Imagine jet-skiing, zip-lining, or riding a buggy in the desert. These are just some activities to get your adrenaline pumping and heart racing. I don't know about you, but moments like these, I tempted to show my family and following on social media #adventure #dronelife.
And this drone would be my weapon of choice in that case. Whether you want to use the 'Follow Me' mode or create a custom flight path, you can easily adjust the camera up and down for multiple-angle shootings. Hence, full control of what you want to film.
Pros
Great value for money, especially for beginners
Very quick and easy setup
A small drone that is easy to carry and pack
Great display quality with clear images even with small objects
Auto return feature for when the battery is low and brings the drone back safely
Cons
Flight time on two batteries is 30 mins, but this is reduced when winds are strong
Drone with wifi and 4k camera
The Potensic Dreamer Drone looks like it came out of a Star Wars movie. Yes, it looks super cool and all, but the important feature about this particular drone is its 5.8G wifi transmission! So when you're out there capturing your fast-paced and thrilling activities, this drone is what you can rely on to display 4k images and all with zero delays in its transmission.
Pros
Easy set up in seconds that will not need screws/tools
GPS and app can return the drone home automatically when the battery is low or the signal lost
Can reach great distances with smooth take-off and landing
The 5.8 wifi transmission streams the video to your phone immediately
Great battery life with a flight time of 31 minutes
Cons
If on an iPhone, data must be turned off to be able to use the app
Only comes with one battery
There is a cap on the propeller that may come off if not careful about hitting objects
Foldable drone with wifi camera
Ever watched Transformers growing up? Cars that transform into robots? I'd say this drone sort of reminds me of that. Though the Spartan A15H Foldable Drone doesn't particularly turn into a car, you can sure easily fold it into a compact, travel-friendly device. Plus, if you're already a gamer, you're going to find this drone's controller to be pretty rad. So
Pros
Includes adjustable angle to get great shots
The controller is similar to a gaming controller and is easy to control/navigate and learn flying 
Easily fold the drone, making it portable and easy to pack
Recharging is easy with the USB connector placed conveniently outside the drone
Cons
It's hard for the drone to take off on long grass
A bit difficult to connect with your phone at first. Turn on airplane mode, then manually turn on wifi to connect to the drone's wifi
Not very clear instructional videos/manual
Best drone with wifi camera under 100
In the drones that we've looked at so far, there are definitely options that are great value for money. But for a really reasonable option, I would recommend the Sanrock X105W Big Drone. This is something you could purchase if it's truly your first experience flying a drone OR if you're giving this as a gift to kids. There are a removable HD Camera and an app that allows users to immediately upload and edit their videos online.
Pros
360° flip feature for more fun, adventurous shots
Has protective propeller guards to ensure safe flying and landing
Really easy to operate and easy to pair with controller or phone, great for beginners
Comes with extra batteries already and extra parts
Very sturdy for its price and can handle hard hits
Cons
The flight time is 17 mins
No outside charging port; you must take the battery out then charge
Its range/distance is about 150 feet
Buying the drone. 5 features to look at
GPS and return to home feature
When looking to buy a drone, make sure the product has a strong GPS feature. This means looking at its ability to go great distances/range. Additionally, it's always helpful to ensure that the drone has the Return To Home feature (RTH). This will always come in handy in case your drone runs out of power or goes too far. After all, drones are not cheap, so you want to make sure you'll take good care of them for a long time.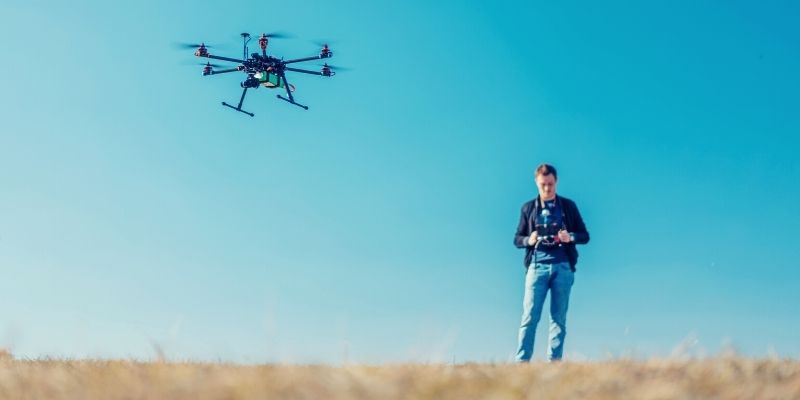 Video HD quality
This one is quite important if you are an aspiring cinematographer. It's no doubt the vloggers today are now celebrities, which often comes down to the quality of their videos. It's a great skill to pick up if you learn how to fly a drone properly, but what good is it if the images you capture aren't of the highest quality. Not to say other drones aren't great, but if your purpose is to capture HD scenes, then I recommend investing in a drone that has 1080p resolution or 4K.
Follow Me feature or set route
This feature is especially important if you use your drone mainly for adventures and crazy trips. It's good to have a friend around to fly the drone for you, but the Follow Me and Route-Setting feature is an additional advantage to ensure that you are getting the shots you want. Overall, it's more control from you, the director!
Wifi
Having a drone with good wifi transmission is definitely a feature you would want to show off. The reason why this is important is that in having strong wifi, the drone can transmit the video more quickly, clearly, and more "live" to wherever you are located. Simply put, there is no delay, and you can react better and faster to what you are viewing in the exact moment.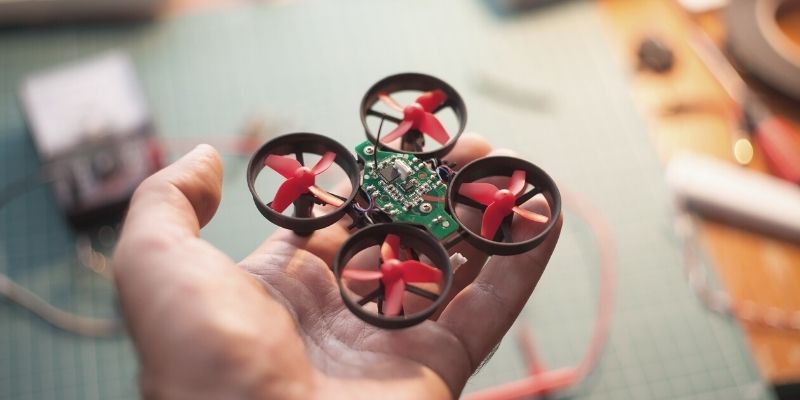 Battery life
Finally, battery life! Because who has got time to constantly have to charge their devices! Look for a drone with an easy way to charge the batteries and one that does not take too long to charge. This also includes flight time. I recommend finding a drone that has at least 25 minute flight time. This is usually the best you'll find for reasonable prices, just as mentioned in the above options.
Credits: Thanks for the photo to Canva.

At ipoki.com we only mention the products that we've researched and considered worthy. But it's important to mention that we are a participant of several affiliate programs, including Amazon Services LLC Associates Program, an affiliate advertising program designed to provide a mean for us to earn fees by linking to Amazon.com and affiliated sites. As an Amazon Associate ipoki.com earns from qualifying purchases.