Going camping with the tent heater is not just about being comfortable. Prolonged cold exposure can have adverse effects on our health. Even in the warmest months, nights can still get unbearably cold. And hypothermia is not a new thing for climbers and backpackers. 
As far back as 1966,  a case report  was done on accidental hypothermia. They didn't have access to the kinds of technology we do, so it would have been more difficult for them to stay warm. Yet, even in the modern era, approximately  700 people die annually from accidental hypothermia.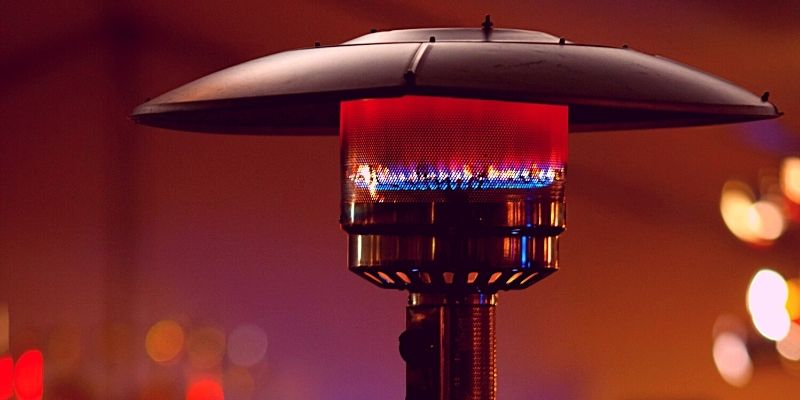 A tent heater is the best way to keep warm during your next camping trip and keep yourself safe and healthy. Figuring out which one is the best purchase for you can be difficult. As we come across real problems with tons of fake reviews and rapidly increasing numbers of questionable brands and products popping out in this category. 
I love doing the research, though. And since I've recently spent about 15 hours attempting to figure out the decent options of tent heaters for various conditions, it would be a waste not to put my findings in the blog post. 
If you don't want to read the whole thing and here only for a quick suggestion, I'd say look at the combo of  this portable generator and a small safe heater (e.g., this one). Yes, it's not a heater, but this is an excellent power source for any electric heater. It is versatile as it can be charged with a car, a solar panel, or a wall outlet, and it will last for a long time in the wild. And it's probably the safest option possible. 
For more (probably less complicated) options, keep reading. 
Do you have a particular question about tent heaters? Then use the table of contents below to jump to the most relevant section. And you can always go back by clicking on the black arrow in the right bottom corner of the page. Also, please note that some of the links in this article may be affiliate links. For more details, check the Disclosure section at the bottom of the page. 

Best propane tent heater
Tent safe heaters that work off gases like propane are great because you don't need to worry about powering it up. The fact that you can forget about power sources makes this a great indoor camping heater. This propane heater option by Texsport fits on top of a propane cylinder, which you'll need to provide on your own. Safety features like the auto shut off valve make this one of the best tent safe heaters you can buy.
Pros
3 heating settings allow you to set it to the perfect warmth
Extra safe, with a safety grid and auto shut-off valve
Stays on even with a sudden movement
Cons
Thermocouple makes it cumbersome to keep lit initially
Has no igniter
Best portable heater for camping
Suppose you want to heat up your enclosure on a camping trip without worrying about lugging around a propane cylinder. In that case, this electric camping gadget is perfect. You will need to lug around a portable power source. However, as it plugs into a typical mains outlet, there's no straightforward way to connect it to a car, for instance. Once you have that covered though, this portable heater for your tent can be set to two different heat settings with a thermostat to keep it constant or simply use the fan-only setting. If you want to keep the temperature consistent and comfortable, this tent heater with thermostat is the one.
Pros
Has tip-over and overheating protection
The thermostat allows for precise control of warmth
Relatively affordable for the quality
Cons
The fan is quite loud
Options for power sources are limited
Best tent heater
I know what you're thinking. Isn't this a power station and not a heater for tents? You're right, but here's the thing. Combining the portable generator with any tent-safe heater is practically as good as having a solar-powered tent heater. Not only is the capacity of this power station large enough to last you for weeks in the middle of nowhere. But it can be charged with wall outlets, solar panels, or even a car. With a tent-safe heater like this one, you're practically covered in terms of warmth for your trip. This can turn any electric heater into a car camping heater.
Pros
Multiple charging modes let you stay juiced up anywhere
Multiple outputs allow the whole group to charge, even when the heater is plugged
Completely silent
Charges to full in just 8 hours
Cons
It is rather pricey
Finding a compatible solar panel can be challenging
Outdoor camping heater
Carrying a power station may not be for everyone, as some folks just want to disconnect from electronics. I can understand that, and a propane camping heater is perfect for that. Texsport has made this extremely portable model that can be used with a 1-pound tank. It has an aluminum reflector to better spread the heat, with a safety grid over the flame and an auto-shutoff feature. This camp heater will definitely keep you warm through cold backpacking nights.
Pros
3 heat settings give control over warmth
Compact and light
Can last 7 hours on medium heat
Cons
Can tip out of the included base easily
The valve knob is low quality
Catalytic heater for tents
A catalytic heater is a great tent space heater as it uses low-pressure gas without any combustion occurring. This one is completely silent and requires no electric power. This makes it a perfect backpacking tent heater. It is rated to work in up to 100 square feet, making it more than suitable for your next camping adventure—no need for cables or battery packs.
Pros
Gas usage is minimal and can last days on a single gas cylinder
Higher setting can easily provide warmth on bitterly cold nights
Stays lit even at high altitudes
Cons
Pricey compared to other options
No thermostat
Tent heater FAQ
Do tent heaters work?
The quick and easy answer to this is 'yes'. Whether you are using a gas or electric heater, it is producing heat. Some of them make enough heat to eventually warm up an entire space, while others require you to be closer to feel the heat. Knowing the space's size where you intend to use a tent space heater in, can easily define which heater would be perfect. BTU, or British Thermal Unit, is a unit that essentially tells you the heating performance of a piece of equipment. If your heater has a low BTU rating, it may not work efficiently enough for larger spaces.
Is it safe to use a propane heater in a tent?
It is important to realize that any form of heater for tents poses a risk at the core. Producing immense heat levels makes any heater, whether a gas heater or an electric heater, a fire hazard. This should be kept in mind, and heaters should be kept clear of potentially flammable materials.
Propane heaters burn propane to produce heat and light. In this combustion process, gaseous byproducts are produced, such as carbon monoxide, a toxic gas. However, it is important to note that most modern camp heaters running on propane have safety features to keep the production of carbon monoxide down to an essentially harmless minimum.
Regardless of this, ensure that the backpacking tent heater you are buying is advertised as tent safe. When using a propane heater in a tent, allow avenues for ventilation. If possible, buy a carbon monoxide detector to keep yourself safe.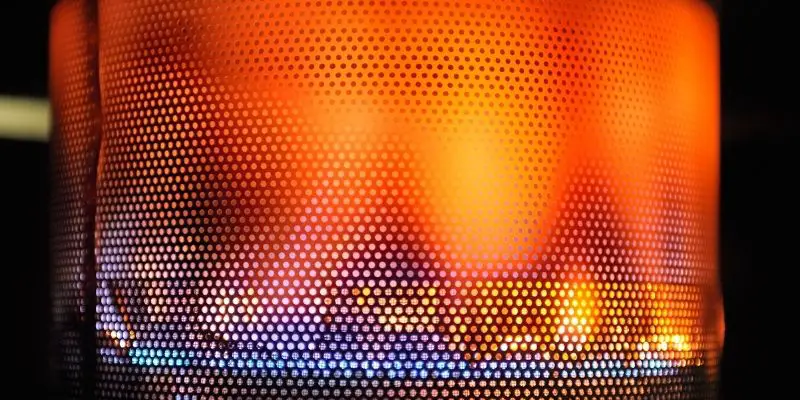 Tent heaters that are safe
As said before, all camping tent heaters pose a risk. Still, it is important to keep precautions so that you and your camping group remain entirely safe regardless of whether it is electric or gas-powered.
Keep all heaters free of clothing or flammable liquids. Position them away from corners to reduce the chance of overheating and catching fire. Buy camp heaters rated for use in tents or have numerous safety features to keep you protected.
What kind of heater can you use in a tent?
Any type of heater can be used in a tent, but you must observe the proper precautions to remain safe. For use in tents, catalytic heaters are the safest type. There's no risk of electrical mishaps. Gas is consumed at a slow enough pace and without flame, so the production of byproducts is lower. When shopping for catalytic heaters, it's essential to look out for a CSA 4.98 certification. It's a good way to know that your heater is well suited and safe to be used in an enclosed space.
Is it safe to run a Buddy heater in a tent?
Mr. Heater is a manufacturer that produces the popular Buddy line of portable heaters. These heaters are incredibly well-liked, with the company making figures north of an estimated $15M  per year. However, it is crucial to know whether such heaters are safe for use. There was a case of  a man dying from the use of a Mr. Heater brand heater in 2019. The death may have been due to improper use, though carbon monoxide poisoning was ultimately the cause of death. Regardless of this, many people have never had issues with Mr. Heater's Buddy line of heaters, particularly the infrared models. But it's something to keep in mind – heaters are not a toy.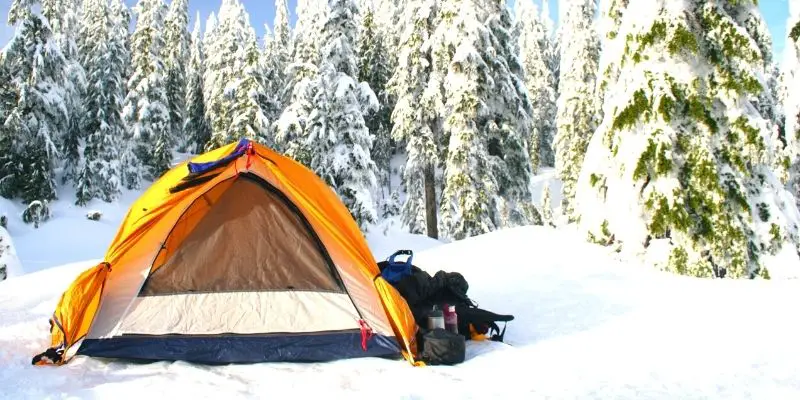 Do I need a tent heater?
Even in Summer and Spring, nights can get cold enough to cause hypothermia. Even if you don't go camping in the chillier months of the year, you're still at risk from getting sick due to the cold nights, and sometimes your sleeping bag or blanket just isn't enough. A tent heater can provide a degree of warmth that just can't be matched by wrapping up in a blanket. So, yes! You most likely do need a tent heater!
Credits: Thanks for the photo to Canva.

At ipoki.com we only mention the products that we've researched and considered worthy. But it's important to mention that we are a participant of several affiliate programs, including Amazon Services LLC Associates Program, an affiliate advertising program designed to provide a mean for us to earn fees by linking to Amazon.com and affiliated sites. As an Amazon Associate ipoki.com earns from qualifying purchases.