Lighting technology has evolved gradually after Thomas Edison and his team introduced the bulb as one of the greatest inventions of all time. Fast forward, we now have an LED flame bulb that lights the dark, while being cool and energy-efficient apartment gadget. 
I was thinking lately that I have to get one of those for myself. But as it gets harder to make a choice, you always have to put hours of research before making any purchasing decisions. 
I documented my findings in this post for future self. And for you too. 
I found that the best ratio between value and price are these gravity sensors bulbs from CPPSLEE. But I have more options to share, depending on what you might be looking for. So, read on. 
Do you have a particular question about the LED flame bulb? Then use the table of contents below to jump to the most relevant section. And you can always go back by clicking on the black arrow in the right bottom corner of the page. Also, please note that some of the links in this article may be affiliate links. For more details, check the Disclosure section at the bottom of the page. 

Flame light bulb with a gravity sensor
The CPPSLEE flame light bulb offers 4 modes: Flame emulation mode, breathing mode, general light mode, and gravity-induced mode. You can use different varieties of the same bulb, depending on your mood or surroundings.
Plus, you can use this flame effect light bulb with any standard E26 hold-screw inside or outside your home. It is an efficient energy saver so you won't have to worry about the electricity bill either. Its design has holes in it that enable effective heat dissipation. 
Besides, this fire bulb doesn't emit ultraviolet or UV rays, maintaining a safe environment. Install it in a frosted glass shade for an even better flame flickering effect. You can install this vivid, dynamic, moving flame bulb inside or outside your home to experience the real feel of a fire flame.
The feature that impressed us the most is its gravity sensor; the flame's upright position doesn't even budge when you flip the bulb upside down.


Best for outdoor flickering light bulbs
These artificial flickering-flame bulbs make your outdoor experience cozy and provide visual warmth without the danger of smoke or fire. Just like any other electric light bulb, this flame bulbs connect to any standard electric bulb socket inside or outside of your home with ease.
Just plug it in ceiling light socket, indoor floor lamp, or any outdoor socket, and take visual pleasure of a real flame of fire.
Also, you won't need to fret about your energy bills either. The fire bulb is equipped with 75 LEDs working together to produce a fire-like visual while consuming only 4 watts. Impressively, the two bulbs in the package possess the US patents and are safe for your eyes and environment.
Although the bulbs are pleasantly effective indoors, their outdoor application is equally impressive.


The flame bulb that looks like gas lights
With flame emulation, breathing, induced gravity, and general light mode, this gas-light look-alike flame bulb offer four varieties of flame. When you turn it on the first time, it will be on default flame mode. To get the most out of it, install it in a salt lamp, lantern, or frosted glass shade.
Plus, efficient heat dissipation makes it longlasting while also keeping it safe for the surroundings. This yellow light, which also repels mosquitoes and bugs, is safe for the environment as no UV or infrared rays are emitted.
Also, the company has chosen this yellow light after numerous tests and made this light color as close to the real flame color as possible.
Higher wattages produce more realistic effects. The higher wattage, i.e., 6W, allows the flame bulb to deliver extremely realistic and bright flame of fire that looks like it's fueled by gas.


Most realistic LED fire bulb
It's impressive how this LED fire bulb technology makes a flame look so close to the reality that you can't even tell it's artificial. This LED fire bulb from Pretigo, with 4 modes, is an ideal replacement for a traditional candle. Plus, it doesn't pose any smoke hazards or fire danger, as it's a "flame" without a real flame.
Additionally, this realistic flickering bulb is environmentally friendly; no UV or infrared rays are emitted. It's energy-efficient, so it will be light on your electricity bills as well. The design and material take care of the heat and dissipates it effectively to make the bulb longlasting and safe.
You can make yourself surrounded by flickering fire flames anywhere you want. Light it in outdoor gardens, rooms, or anywhere you want a soothing, calm atmosphere. 
This LED flame bulb amazed us due to its ability to produce the most realistic flickering fire.


Best blue LED flame bulb
This fire bulb is designed to provide a different variety of a real flickering fire flame. If you like the blue color, you'll love this fire bulb simulating a fire in blue. With fire emulation, induced-gravity, ample light, and breathing mode, the bulb offers varied styled blue flame.
To maximize its visual pleasure, install it in a Lantern, Lampshade, Salt Lamp, or any frosted glass. The flame bulb is safe and eco-friendly as it doesn't emit UV and infrared rays. It consumes considerably lesser power than conventional bulbs, reducing your electricity bills.
Plug it in any standard socket, it will work fine from -25 to 60°F temperature. With the lifespan of 120000 hours, the flame effect light bulb from OMK will be your long-term companion.
You can use it indoor or outdoor, pretty much anywhere there is a standard socket. The most impressive thing is that it produces a realistic blue-colored flame of fire. Such a cool gadget!


Fire Bulbs FAQ
How do flickering bulbs work?
Flickering bulbs use two plates of metal with less than one mm space between them. The electricity jumps into the near-vacuum as the plates don't touch, creating a plasma that flutters around.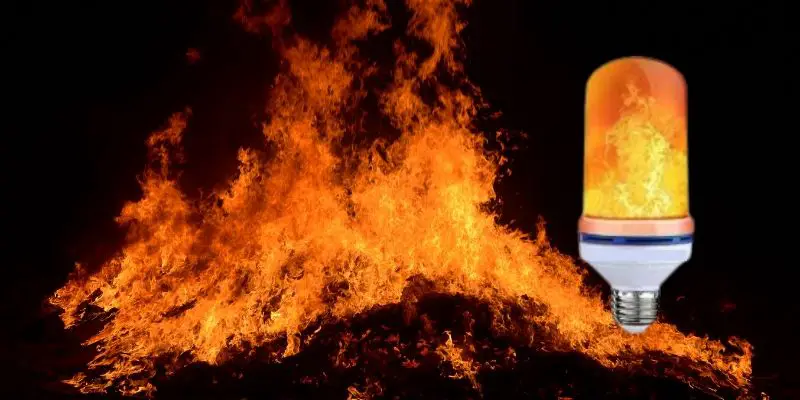 How long do LED flame bulbs last?
The life of an LED flame bulb will depend on its efficiency in dissipating heat. Normally, a good LED flame bulb will last for many years, depending on use. In hours, it could be as high as 120000 hours.
What to look for when buying a flame bulb?
The higher the bulb wattage, the brighter it will be. Consider where do you want to install the bulb and how bright it should be. Then, choose the appropriate wattage.
The base size of an LED flame bulb should be compatible with your socket. So, be mindful of that.
Usually, 2700 K color temperature produces warmth. An increase in this value will decrease the yellowness. Above 5000 K, the light appears bluish-white. So, consider the color temperature based on your liking.
Credits: Thanks for the photo to Canva.

At ipoki.com we only mention the products that we've researched and considered worthy. But it's important to mention that we are a participant of several affiliate programs, including Amazon Services LLC Associates Program, an affiliate advertising program designed to provide a mean for us to earn fees by linking to Amazon.com and affiliated sites. As an Amazon Associate ipoki.com earns from qualifying purchases.