Police officers deserve all the love and care they can get from us. They are putting their lives on the line for us every day. According to Statista there were 697,195 law enforcement officers in 2020. And 403 of them died trying to do their duty. So choosing the great gift to celebrate a police officer is the least we can do.
If you have also been thinking along the lines of this, here are some awesome gifts for police officers you can also consider picking from.
Are you interested in gifts ideas for a very special kind of cop? Then use the table of contents below to jump to the most relevant section. And you can always go back by clicking on the black arrow in the right bottom corner of the page. Also, please note that some of the links in this article may be affiliate links. For more details, check the Disclosure section at the bottom of the page. 

Gifts for new police officers
Waterproof notepad
Cops have to write down a lot of things – from notes, they take at crime scenes to number plate details and as well, other essential observations which they feel need jotting down.
Something as simple as writing can get tedious if it is to be done under, say, conditions of rain. That makes this Waterproof notepad an essential to make sure they can keep writing, even in the rain.
Made from materials which resist tear, can flip quickly even when wet and a pen that writes upside down, you make note-taking for those new officers a breeze.

Check the current price and more details here. 

Custom police awards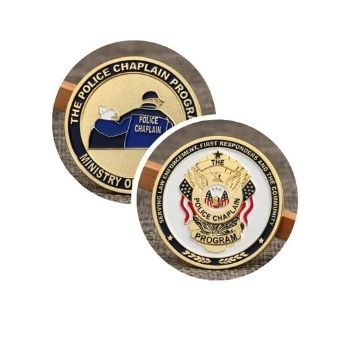 The police is a noble profession. And our fellow policemen are not always rewarded enough for their bravery. If you feel that's the case for someone you know maybe it makes sense to give this person these custom police challenge coins as souvenirs and rewards.
They can be used to celebrate an important event, a career change, professional achievement, progress on a case, etc. It can be bought in bulk and that way you can customize these personalized double-sided coins to reward a bunch of outstanding police officers. That's quite a unique and special gift! 

Law Enforcement Gift Ideas
BPA-Free Water bottle 
Whether working the beat, chasing down a lead, or just ensuring that law and order are kept in a particular locale, law enforcement agents are usually at the heart of the action. They can get so carried away by this that they fail to remember staying hydrated.
That should not be, especially when you can get them a BPA-Free Water bottle like this to make their days more pleasurable.
The bottle, made from BPA-free material to protect the health, also comes with a finger-carriage system. This beats the normal hand-carrying mode of most bottles, which renders one hand unusable.
Since this bottle also comes with an ice chug, to enjoy the most refreshing water, this bottle is as functional as it can be.
Check the current price and more details here. 
Tactical Gifts for Cops
Tactical pen
Cops face a lot of dangers every day they send in the office, and the next one might just be lurking around the corner. That means they might not always be prepared with self-defense tools, making the addition of an inconspicuous tactical pen like this just brilliant.
This tactical gear packs enough power to smash a car window or launch an assault on a criminal in the least time possible. This cool gadget is also discreet enough to be carried around like a regular piece of stationery while also not sticking out so much that it draws any attention to itself.
Check the current price and more details here. 

Gifts for Police Officer Boyfriend
Policeman Apron
Want to show your police officer boyfriend how much you care about them? You will love what a gift as thoughtful as this apron brings to the table.
This policeman apron also comes with small additions (like the identifying police embroidery), which spells the profession of your boyfriend to the world. There is no better way to handle the weekend party grill while still showing the neighbors who is in charge, don't you think?
On top of that, the apron is made of high-quality, stain-free material which can easily be machine washed after every cooking.

Check the current price and more details here. 
Police Detective Gifts
Police badge wallet
Police detectives always have to be mobile. At the same time, they have a better chance of getting what they want when they flash their badges. But they can't always have it around their necks for security and detective purposes too.
Thus, they will be most appreciative of a fantastic police badge wallet, like this.
This particular pick has been designed to hold any size and type of badge comfortably, featuring extra pockets for holding cards and such other valuables. They can even have a small notebook and pen here, aiding the detective in taking instant notes on getting to any crime scene.
Check the current price and more details here. 

Cool Police Gifts
Bullet shot glass
If you intend to make your present the most talked about in the office, while also making your police officer loved one look cool too, you can't go wrong with this bullet shot glass.
The glass might be made for shots, but it is also ironic that it has been shot with a real bullet too. Or has it?
Carefully crafted with a real bullet, the glass is suitable for taking anything. From whiskey sips in the after-hours to coffee gulping while on the job, they are the ideal drinking companion for your friend.
And oh, you don't have to worry about the real bullet used in the making. After all, you are getting it for a police officer.

Check the current price and more details here. 

Funny police gifts
Donut mug
The law enforcement business is a serious business. So it may be worth it to give a police officer something funny to lighten up their mood. And that of their co-workers too.
That's what you get with this mug, offering a two in one breakfast or lunch experience while also being comical in its form.
This present is perfect because of how functional it can be as either an actual mug/ donut holder or just a tabletop piece in the office. Crafted from high-quality, easy to clean ceramic materials, this novelty item is a practical joke that won't be lost on even the most serious of cops.
Check the current price and more details here. 

Gifts for retiring police officer
Personalized policemen board
After long years of serving to combat crime and making the world a better place, every police officer deserves just the absolute best for their service. You can always show how much you appreciate what they have done by gifting them a simple but very personal present. 
The best thing about this present is not the fact that it comes with the American flag to denote your appreciation of their service to the country but also features their name. Maybe you are not a constituted authority. But this piece is more like giving a personal medal of recognition for all the past sacrifices.
Check the current price and more details here. 

Gifts for Police Academy graduates
Mini donut maker
With a lot of years in front of them, considering something that would mark a unique start of their journey in the force is just apt. That is why we recommend buying this mini donut maker for them.
After all, if they would get into the cop stereotype of coffees and doughnut, you might as well be the one to usher them into it.
Ideally, this present can be taken to the office since it makes a total of 12 doughnuts on every try. Way to endear the recruit to their superiors faster.

Check the current price and more details here. 
Credits: Thanks for the photo to Canva.

At ipoki.com we only mention the products that we've researched and considered worthy. But it's important to mention that we are a participant of several affiliate programs, including Amazon Services LLC Associates Program, an affiliate advertising program designed to provide a mean for us to earn fees by linking to Amazon.com and affiliated sites. As an Amazon Associate ipoki.com earns from qualifying purchases.