Is your precious security camera offline, or not recording and you don't know how to reset Blink camera? You're not alone. Public forums are full of users facing similar problems. Unfortunately, most guides and instructions on this topic from both official and non-official sources, are rather confusing. In this article, I aim to clear up all the confusion and reveal every possible way that you can reset your Blink camera. Before that, let's try to understand the reasons why users like you feel the need to reset their Blink cameras.
Do you have a particular question about resetting the blink? Then use the table of contents below to jump to the most relevant section. And you can always go back by clicking on the black arrow in the right bottom corner of the page. Also, please note that some of the links in this article may be affiliate links. For more details, check the Disclosure section at the bottom of the page. 

Why Reset Your Blink Camera?
As stated above, resetting a Blink camera can help resolve temporary glitches like the camera not recording or not connecting to the Internet. In addition to eliminating these glitches, an all-out Blink reset can also be helpful in situations like:
  Your camera's Sync Module isn't connecting to the Internet or working correctly.
  You are selling or giving away your camera to someone.
In such situations, reverting your camera to its default, factory settings can be very helpful.
Can You Reset a Blink Camera?
Yes. All Blink cameras can be reset, including:
  Blink Mini Cameras
  Blink Outdoor Cameras
  Blink XT2 Cameras
  Blink Video Doorbells
All of these cameras, including the Blink Mini camera, come with reset buttons. But, the Blink camera reset button isn't the only tool for resetting these devices. You can also reset Blink via their Sync Modules. Most of the latest cameras (Indoor/Outdoor, XT, & XT2) need Sync Modules to connect with your smart devices and work properly.
Without this module, your camera will not connect to the Internet. So, instead of resetting your camera, you can reset the sync module and then re-integrate your cameras. Bear in mind: your camera will not be restored to its factory default settings via this resetting method.
Do Blink Cameras Reset After a Power Outage?
There you are, with your trusty Blink security camera, your home's very own sentinel. But what happens when the power goes kaput? Will your Blink camera system, XT2 or other models, have a memory wipe? Thankfully not. They're smarter than that. When power returns, your cameras will reconnect, settings and all. However, if a rare situation occurs and your camera decides to play the stubborn mule and stays offline, you may need to manually reconnect your cameras to the internet or hit the reset button on the side of the device.
Blink Camera is Offline, Should I Reset it?
Here's a thought: your Blink goes rogue. It's offline. Panic sets in. Do you need to reset it? Before you start hyperventilating, let me tell you – sometimes, all you need is to power cycle your camera, much like your grumpy laptop on a Monday morning. But, on those off-days when your camera needs a bit more persuasion, a reset might be in order. Spot the reset button on the side of the device, press and hold until the blue light decides to put on a red coat. Voila! You've successfully reset your camera.
Can You Reboot a Blink Camera Remotely?
Here's the million-dollar question – can you reboot a Blink remotely? The answer is, drumroll, please… Yes, you can! Your phone isn't just for Instagram and TikTok. It's the master control for your Blink. Through the Blink app, you can control, reboot, and even reinstall the sync module. You're the puppet master, and the app is your string!
But, if your camera is throwing tantrums and the solid green light won't change, you might need to consider a physical reset. And when all else fails, you've got Blink support on speed dial. Resetting should always be your plan B. Instead, try resetting the sync module from the Blink app first. More often than not, it does the trick, and your cameras will happily come back online.
Can You Reset Only One Blink Camera?
In the dazzling world of Blink cameras, here's some sparkly news. Yes, you can reset just one Blink, be it Blink Indoor, Outdoor, or the XT2. You see, each camera in your camera system is an individual, much like your favorite boyband. To reset one, locate the reset button on the side of the device and press and hold. Hold until the blue light pulls a chameleon and turns red. And presto, you've reset one Blink camera without disturbing the harmony of the rest of your Blink band.
When is it Safe to Say That You Have Reset Your Blink Camera?
In the suspenseful act of resetting a camera, when does the curtain fall? When can you finally breathe and say, "I've done it. I've reset my Blink Camera!"? The answer, my friend, lies in the lights. When the blue light decides to stage a dramatic costume change to red, that's when you've successfully reset camera. But remember, it's not a race. Patience is key. It's about pressing and holding the reset button until the light does its little color dance.
Reset vs. Reboot vs. Factory Reset vs. Restart?
Now we're stepping into the tech-terminology jungle. Reset, reboot, factory reset, restart – they all sound so similar, yet they are different as chalk and cheese. Here's how to navigate:
Reset: Think of this as a soft nudge. It's a soft reset where you use the reset button to get your Blink back on track. Much like nudging a snoring friend in a movie theater.
Reboot: Similar to a reset, but you're doing it remotely via the Blink app. No need to approach the camera, just click and poof, rebooted.
Factory Reset: This is serious business. It's the "Defcon 1" of resets, returning your camera to its factory settings, like a clean slate. It involves removing the sync module in the Blink app and reinstalling it. Only venture into this territory when you're prepared to reconfigure all your settings.
Restart: Think of this as a quick nap for your camera. It involves power cycling your camera – turning it off and on again to refresh the system.
Whether you're resetting, rebooting, factory resetting, or restarting, remember, it's all about getting your Blink security camera back in the game, ready to secure your world.
Where is the Reset Button on Blink Camera?
Look at the bottom region of your Blink camera. Do you notice a small pinhole? That's the reset button. Use a slender and small object (e.g., a small screwdriver or a paper clip) to press down on this pinhole. Here's what this pinhole looks like: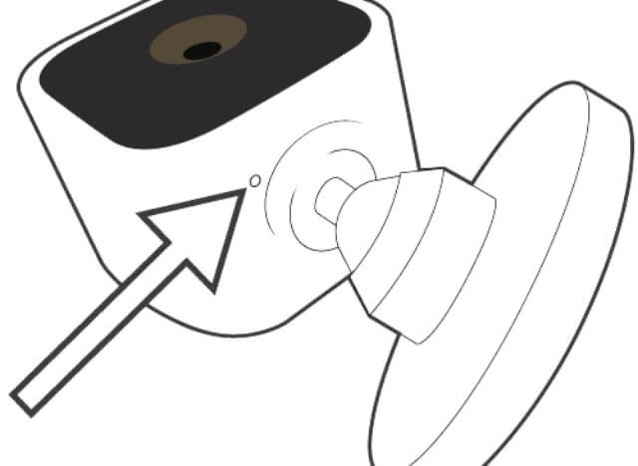 The reset button on Blink mini cameras can be harder to find.
How to Reset Blink Camera to Factory Settings?
Before you factory reset Blink doorbell or indoor camera, bear in mind: hard resetting your camera means losing all pre-saved configurations. It also means that you will have to re-install your security system from scratch. If you're not prepared to do this, don't factory reset Blink doorbell just yet.
If you're tackling glitches/bugs, I recommend power cycling the system first. Simply unplug all the cables from your camera, including the Internet cables. Wait for 5 to 10 minutes. Then, re-plug the device to see if the glitches are gone. If not, try power cycling your Sync Module. Factory reset Blink only when these steps fail:
  Locate the reset button on your Blink mini, indoor, outdoor, XT, or XT2 camera
  Take a paper clip or a small screwdriver (don't use sharp objects)
  Insert the object inside the pinhole to press down on the Blink reset button
  Hold the reset button down for 25 to 30 seconds
  Once you release the button, your camera will be restored to its factory defaults
  If you simply want to reset camera and not factory reset (i.e., wipe out all pre-saved data or settings), take the following steps:
  Locate the reset button
  Take a paper clip
  Insert the object inside the pinhole
  Hold the reset button down for just 5 seconds, not 30 seconds
Once you release the button, your camera will be reset – not restored to its factory defaults. This type of reset is better for resolving glitches. But, if you're selling or giving away your Blink, I recommend giving the device an all-out factory reset.
How to Factory Reset Blink Mini Camera?
The reset button on Blink mini cameras is slightly harder to find just because of how small these devices are. But, you will need to locate this button because you will need to reset your Blink mini, every time you:
  Switch your security camera to a new Wi-Fi network
  Move the device to a new location
  Reconnect to a Wi-Fi network after connectivity issues
  Troubleshoot glitches during the setup process
The process of resetting a Blink Mini is the same as other Blink devices (as explained above). Bear in mind: giving your camera a soft reset, i.e., pressing down the reset button on Blink mini for only 5 seconds will not:
  Delete your thumbnail image
  Reset the device to its factory settings
  Delete your camera/s from an existing account
These things will happen only if you press the reset button on your Blink mini can for 25 to 30, i.e., give it a complete factory reset. Your reset will be complete when you see a solid green and blue light displayed on the camera. Also, don't forget to keep your Blink Mini plugged in all throughout the reset process.
How to Reset Blink Outdoor Camera?
To reset a Blink outdoor camera, take the following steps:
  On the right-hand side of the camera, near the USB port, locate the reset button
  Press down this button for 30-seconds using a paper clip
  Wait for the solid green and blue light to flash (after 25 to 30 seconds)
  Release the reset button
Now your Blink outdoor camera's Sync Module will reboot. After that, it will restore to the Factory default settings. In very rare cases, Blink outdoor cameras display the following notification after the reset: "Your camera is registered to a different account." If that happens to you, check out this video guide on this topic:
How to Reboot Blink Camera?
To reboot your Blink, restart or power cycle the device. If this doesn't work, reset the Sync Module by taking the following steps:
  Find the reset button on the Sync module (check both sides)
  Press the button until its light turns red
  On the Blink app, reinstall the module
How do I Reset Blink Sync Module?
Wondering how to get your Blink sync module back in action? Just locate the physical reset button on the blink sync module. It's on the side of the device. Firmly press and hold it, like the start of a thrilling countdown. What's the sign you've hit the jackpot? When the solid green light turns red. Once you're greeted by this bright red light, you've successfully reset your Blink sync module.
But what if you need to reset the whole system? If your Blink cameras and sync module are offline, the solution is to power cycle the Blink camera and the sync module instead. It's like a tech-version of a refresh button, bringing everything back to life.
How Long Does a Blink Sync Module Last?
Thinking about the lifespan of your Blink sync module? Smart move! They're designed to stick around. As long as you keep them well-fed with a steady power source and your Wi-Fi stays consistent, they'll remain on duty, connecting your Blink cameras to the internet.
But remember, life happens and sometimes your Blink may go offline or need a system reset. When it does, just power cycle or hit that reset button on the device to bring it back to its glory days.
How to Unregister a Blink Camera?
Time for a change and want to unregister your Blink camera? No problem. Launch the Blink app on your device. It's easy to reset your Blink system from here. You'll see your cameras listed. Simply select the camera you want to unregister, and tap delete. Just like that, your camera is off the books.
But, if you want to disconnect a camera from the sync module, you'll need to delete the sync module from the Blink app. This will take all the connected cameras offline, so only choose this if you're looking to reset the whole Blink camera system.
Whether you're using Blink XT and XT2 cameras or models such as the Blink indoor and outdoor cameras, resetting or unregistering them is straightforward. So, whether you need to reset, unregister, or simply restart your Blink system, you're in control!
I've outlined every technique on how to reset Blink cameras in this article. Use this guide whenever you feel the need to restart or factory reset your Blink!
Credits: Thanks for the photo to Canva.
At ipoki.com we only mention the products that we've researched and considered worthy. But it's important to mention that we are a participant of several affiliate programs, including Amazon Services LLC Associates Program, an affiliate advertising program designed to provide a mean for us to earn fees by linking to Amazon.com and affiliated sites. As an Amazon Associate ipoki.com earns from qualifying purchases.