Smartphones have become indispensable. They serve various purposes, from pleasure and communication to productivity and organization at work and home. Viewing, storing, and managing documents is only some of its many features. However, as phones become more commonly used for document management, protecting confidential information is of crucial importance. Today's digital landscape necessitates the use of secure document management systems, as data breaches can cause considerable financial and reputational damage.
This article will explore the top tools for secure document handling on your smartphone. These tools are designed to protect your data and provide peace of mind, whether handling work-related documents, managing personal files, or sharing sensitive data. We'll look at a variety of applications and platforms that offer robust security features, from encryption to access control, ensuring your documents remain confidential and protected no matter where you are.
Do you have a particular question about top tools for secure files handling on your phone? Then use the table of contents below to jump to the most relevant section. And you can always go back by clicking on the black arrow in the right bottom corner of the page. Also, please note that some of the links in this article may be affiliate links. For more details, check the Disclosure section at the bottom of the page. 

Importance Of Secure Document Handling
Data breaches and cyber attacks are becoming more common; therefore, it's more important than ever to keep critical information safe. Secure document handling technologies provide an important extra degree of safety for any papers or files that may contain sensitive information, whether they are for work or personal use.
One of the key benefits of secure document handling is the ability to encrypt your documents. Encryption is the process of converting data into an unreadable format, making it inaccessible to unauthorized individuals. Encrypting your documents ensures that the information remains protected even if it is intercepted or accessed without authorization.
Another important aspect of secure document handling is access control. This lets you control who can view, edit, and share your documents. By setting up permissions and restrictions, you can ensure that only authorized individuals have access to your sensitive data.
Furthermore, secure document handling tools often provide password protection and two-factor authentication features. These additional layers of security help prevent unauthorized access to your documents, even if your smartphone is lost or stolen.
Common Security Risks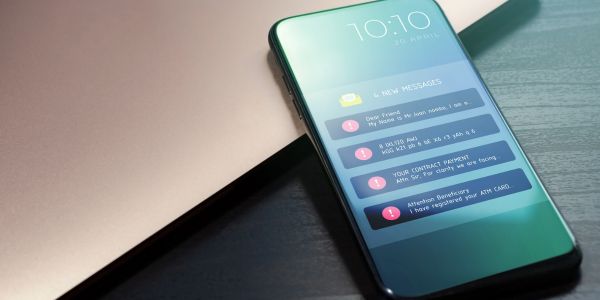 While smartphones offer convenience and flexibility for document handling, they also present certain security risks. It's important to be aware of these risks and take necessary precautions to protect your sensitive data.
One common security risk is the loss or theft of your smartphone. If your smartphone falls into the wrong hands, all the documents stored on it could be compromised. To mitigate this risk, it is crucial that you have a strong password or biometric authentication enabled on your device. Additionally, using secure document handling tools that offer remote wiping capabilities can help you erase all the data on your smartphone in case it is lost or stolen.
Another risk is unauthorized access to your documents through malicious apps or malware. Cybercriminals can create fake apps or inject malware into legitimate apps, allowing them to gain access to your documents. To protect against this risk, it is essential to only download apps from trusted sources, such as official app stores. Regularly updating your smartphone's operating system and apps can help patch security vulnerabilities and protect against known threats.
Phishing attacks are another common security risk. Cybercriminals may send fraudulent emails or messages that appear to be from reputable sources, tricking you into revealing sensitive information or downloading malicious attachments. To protect against phishing attacks, it is important that you're cautious of unsolicited emails or messages, double-check the sender's email address or phone number, and avoid clicking on suspicious links or downloading unknown attachments.
Using PDF Compressor Tools
One of the challenges of document handling on smartphones is dealing with large file sizes. Large files can take up valuable storage space on your device and can be difficult to share via email or messaging apps. PDF compressor tools provide a solution by reducing the file size of PDF documents without compromising their quality.
PDF compressor tools compress images and remove unnecessary elements from PDF files. This results in smaller file sizes that are easier to store and share. Compressed PDF files load faster, making it more convenient to access and view documents on your smartphone.
One popular compress PDF tool is Smallpdf, which is a web-based tool that can compress PDF files without the need for any software installation. Smallpdf also offers additional features such as PDF conversion and editing.
When it comes to securely sharing files on your smartphone, several top tools offer robust security features. These tools ensure that your documents are protected during transmission and can only be accessed by authorized individuals. Let's explore some of the best tools for securely sharing files on your smartphone.
Dropbox
Dropbox is a popular cloud storage and file-sharing platform that offers robust security features. It uses SSL/TLS encryption to protect your files during transmission and AES 256-bit encryption to secure them while at rest. Dropbox also provides two-factor authentication, adding an extra security layer to your account.
One of the key features of Dropbox is the ability to set access permissions for shared files. You can control who can view, edit, and download your documents, ensuring that only authorized individuals have access. Additionally, Dropbox allows you to remotely wipe data from lost or stolen devices, further protecting your files.
Visme
Visme is a versatile tool that allows you to create stunning visual content and provides secure file-sharing capabilities. With Visme, you can create interactive presentations, infographics, and reports and securely share them with others.
Visme offers password protection for shared files, allowing you to control who can access your documents. You can also set expiration dates for shared links, ensuring access to your files is limited to a specified period. Additionally, Visme provides analytics that allows you to track who has viewed or interacted with your shared content.
WeTransfer
WeTransfer is a simple and user-friendly tool for securely sharing large files. It allows you to send files up to 2GB in size for free, making it ideal for sharing high-resolution images, videos, or other large documents.
WeTransfer uses secure file transfer protocols and SSL/TLS encryption to protect your files during transmission. However, it's important to note that WeTransfer does not provide end-to-end encryption, meaning that your files are not encrypted while at rest on their servers. If end-to-end encryption is a requirement for your document handling needs, you may want to consider other tools.
Credits: Thanks for the photo to Canva.
At ipoki.com we only mention the products that we've researched and considered worthy. But it's important to mention that we are a participant of several affiliate programs, including Amazon Services LLC Associates Program, an affiliate advertising program designed to provide a mean for us to earn fees by linking to Amazon.com and affiliated sites. As an Amazon Associate ipoki.com earns from qualifying purchases.