All Samsung smart TVs have Wi-Fi capabilities. But Samsung TV Internet connection problems are rare. Every year thousands of Samsung TV users complain about Wi-Fi connectivity issues. Is it due to weak Wi-Fi signals? Or is it DNS server issues? Or is it because of outdated TV firmware? Let's address all the potential causes of why your Samsung TV is not connecting to Wi-Fi.
Do you have a particular question about the reasons and fixes for Samsung TV not connecting to Wi-Fi? Then use the table of contents below to jump to the most relevant section. And you can always go back by clicking on the black arrow in the right bottom corner of the page. Also, please note that some of the links in this article may be affiliate links. For more details, check the Disclosure section at the bottom of the page. 

Why My Samsung TV Is Not Connecting to Wi-Fi?
There can be various reasons why your Samsung TV won't connect to Wi-Fi. Here's a list of all potential causes:
Bugs
Sometimes, bugs interfere with the TV's software & corrupt its network settings. To fix these bugs, try rebooting the TV.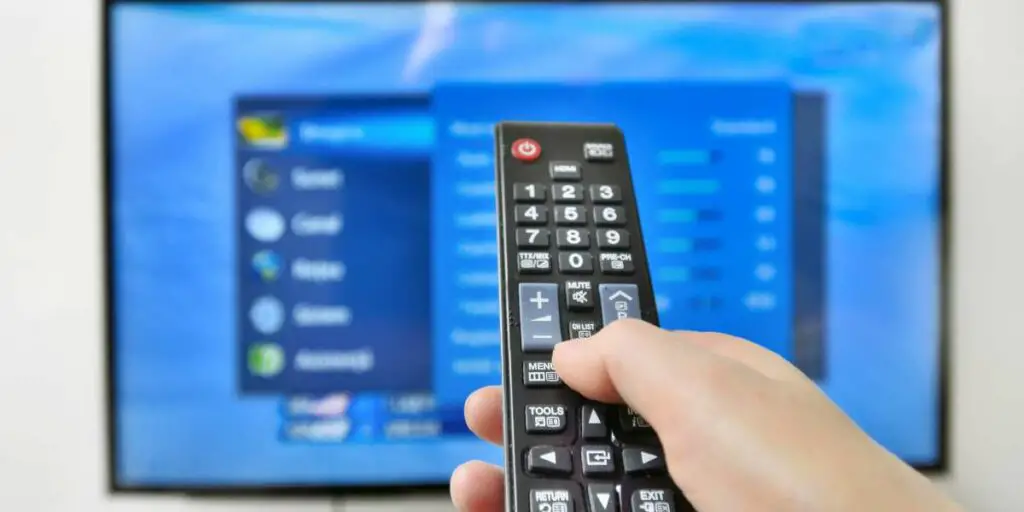 Outdated Firmware
Samsung Smart TVs with outdated firmware don't have all of their settings configured, including their network settings. Updating the TV's firmware to the latest version is the easy way to fix this problem.
ISP Ban
Every smart device that connects to your Wi-Fi router has a specific address – including your smart TV. Unfortunately, your Internet Service Provider (ISPs) may have mistakenly banned your Smart TV's address from the Wi-Fi connection. Lifting this ban is the only way to fix this connectivity issue.
DNS Setting Errors
The DNS settings on your Samsung Smart TV may need to be properly configured. This configuration issue may cause connectivity problems between your router and your TV. Correcting your DNS settings manually is the only fix for these connectivity issues.
These are some main reasons why Samsung TVs can't connect to Wi-Fi. But, being unable to connect to Wi-Fi networks is one of many issues Samsung TV owners have. There are several similar but slightly different Wi-Fi connectivity issues that many users have had to deal with. Here are some of these common issues –
Other Common Samsung TV Wi-Fi Issues
Samsung Smart TV Not Finding Wireless Network
Some users have reported seeing error messages on their screens when connecting their Smart TVs with their Wi-Fi routers. For example, they see messages like "Error Code 001," "Error Code 012," or "ERROR_MODEL_BIND" pop up on their TV screens. If this has happened to you, don't worry – we will discuss an easy fix to this problem in the next section.
Samsung Smart TV Connect to Wi-Fi But Not Internet
This Samsung TV network problem is also surprisingly common. A few things can cause a connection issue like this – old firmware, incorrect router DNS settings, or an ISP address block.
Samsung Smart TV Keeps Losing Internet Connection
If your Samsung TV wireless connection failed two or three times in a row – it's probably a router issue. Try resetting the router. Make sure the Smart TV is connected to that Wi-Fi network. Restart your Smart TV as well.
Samsung TV Troubleshooting Wi-Fi Issues
Here are all the troubleshooting techniques to connect Samsung TV to Wi-Fi:
Solution 1: Restart the TV (Soft Reboot)
Remove all potential bugs in your Samsung TV by rebooting it. Turn off the TV & plug out its cable from the wall. Keep it shut for 15 minutes. Then, restart it to see if the connectivity issues still persist.
Solution 2: Restart your Router
Is your Samsung TV's Wi-Fi not working, or is there something wrong with the router itself? To check whether that's the case, power cycle your Internet Router. First, turn off its power, unplug it from the wall, & then reboot it after 10 minutes. Now, open your TV's internet settings page & try reconnecting the Wi-Fi router.
Solution 3: Verify Your Internet Connection
If your Samsung TV doesn't connect to Wi-Fi, try connecting it to another Internet connection. Just use your smartphone's "Hotspot" feature & connect it to your smart TV. Is the TV still facing Internet issues? If not, then there's a high chance that your TV's Mac Address has been mistakenly blocked by your ISP. Contact your ISP to fix this problem.
Solution 4: Update Your TV's Firmware
All Samsung Smart TVs require firmware updates from time to time. Normally, these updates happen automatically & they improve the TV viewing experience. But sometimes, firmware updates require manual effort. To make sure an old firmware issue isn't behind your TV's Wi-Fi connectivity problems, take the following steps:
Visit the Samsung Download Center Page
Navigate through the page & find your Smart TV model
Find the correct firmware update
Download the update to your PC/Laptop
Unzip the firmware file; send it to a USB drive
Shut down your TV & plug the USB drive into the USB slot
Turn on the TV
Press the Home button on your remote
Navigate to Settings
Enter the "Support" Section 
Enter the "Software Update" Section
Press the option that says "Update Now" & Select YES
Then, select the USB option
Your Samsung Smart TV will automatically scan for firmware files on your drive & install them. After they're installed, the TV will restart by itself. Once the TV restarts, try reconnecting it to your Wi-Fi router.
Solution 5: Change the TV's DNS Settings
Sometimes, corrupted DNS settings on your television may cause it to not connect properly with the internet router. To ensure that's not the case, take the following steps: 
Press the "Menu" button on your TV remote
Enter the "Settings" section
Select "Network" and then enter the "Network Settings" section
On this page, click on "Start"
Select "IP Settings"
Select "DNS mode"
Put a green check on the option that says "Manual Mode"
Press "OK"
Navigate to the section that says "Enter Manually"
Here, enter the number "8888"
Press "OK"
If there ever was a problem with your TV's DNS settings, this trick should troubleshoot the connectivity issues.
Solution 6: Hard Reboot
A hard reboot is the last solution if your Samsung Smart TV's not connecting to Wi-Fi after all these steps. Follow these steps:
Disconnect all accessories from the TV (Firestick, Chromecast, DVD player, consoles, etc.)
Press the "Power" button on your remote for 25-30 seconds
A Samsung logo will appear on the screen & the TV will restart
Try re-establishing the Wi-Fi connection. If the issue is still not fixed, contact Samsung Customer Support. Don't try any advanced troubleshooting techniques without expert assistance. 
Credits: Thanks for the photo to Canva.

At ipoki.com we only mention the products that we've researched and considered worthy. But it's important to mention that we are a participant of several affiliate programs, including Amazon Services LLC Associates Program, an affiliate advertising program designed to provide a mean for us to earn fees by linking to Amazon.com and affiliated sites. As an Amazon Associate ipoki.com earns from qualifying purchases.