A party will always need snacks and food, and there are so many options you can select from. For instance, a chocolate fountain is seemingly a premium choice. They have been around for about 30 years now, so they have been perfected for all kinds of consumers. Not only it makes some delicious snacks, but literally, everyone loves using it to dip strawberries, marshmallows, and other small snacks.
You'd be excused for thinking that chocolate fountains are relatively pricey. Still, you'll be surprised at how accessible many of the options are (and I cover some of those below). 
Suppose you're looking for the best chocolate fountain that you can get and don't have time for reading. In that case, the Nostalgia CFF986 chocolate fountain machine is my top suggestion. You get 4 tiers, 3 different color options, and a capacity for 2 pounds of chocolate. On top of all that, it is absolutely affordable.
This article is the right one for you if you're looking for chocolate fountain machines and want one that will fit your circumstances perfectly.
Do you have a particular question about choosing the best chocolate fountain? Then use the table of contents below to jump to the most relevant section. And you can always go back by clicking on the black arrow in the right bottom corner of the page. Also, please note that some of the links in this article may be affiliate links. For more details, check the Disclosure section at the bottom of the page. 

Best Chocolate Fountain: My Top Choice
If you need a chocolate fountain that will perform admirably overall without taking a tool on your wallet, then this is the one. This hot chocolate fountain from Nostalgia does an admirable job with chocolate fondue, and the fun doesn't stop there. You can use it for cheese, ranch, and other sauces, which means it is very versatile. It comes in three different finishes, so you can pick the one that fits your décor best.
Pros:
Rather inexpensive
Comes in three different finishes
Stainless steel build makes it more durable
Cons:
Best Mini Chocolate Fountain
If you're looking for a small chocolate fountain that can pull its weight like a boss, then this one from Nostalgia is a great option. It uses a different style than many other fondue fountains, and some might say that this one is potentially less of a mess.
The chocolate cascades from the top tier of the mini chocolate fountain down into the next, which in turn does the same until it gets to the last of the four tiers. It can hold up to 2 pounds of chocolate, which is a lot considering its small build. It can also be used for various dips, which means this one purchase can work for various events.
Pros:
Compact design
Fountain style is definitely an eye-catcher
Cons: 
Pretty loud
Assembly is difficult
Best Stainless-Steel Chocolate Fountain
Like many fondue fountains, this one gives you four tiers for the chocolate to cascade down, which creates a really delightful effect. Suppose durability and cleaning is a major concern of yours, though. In that case, this stainless-steel design will definitely prove its usefulness. It helps to distribute the heat well, and you are sure that it won't rust and will be very easy to clean. This one is meant for chocolate only, so this is one of those chocolate fountains that are not as flexible.
Pros:
Stainless steel makes it easy to clean
Relatively simple to assemble
Cons:
It isn't built to work with other sauces and dips
Professional Chocolate Fountain (5 tier chocolate fountain)
People's needs for chocolate fountain machines differ significantly, so some individuals need a more professional hot chocolate fountain. If this sounds like you, you should be looking for a 5 tier chocolate fountain like this one from VEVOR.
It is built of durable stainless steel and can hold up to 11 pounds of chocolate, insane. It can be used for different sauces and is incredibly easy to disassemble and clean. This is perhaps the best chocolate fountain for pros.
Pros:
Capacity is huge
5 tiers make it look exquisite
It can be used with different sauces
Stainless steel makes it easy to clean
It is relatively quiet
Cons:
Best Cheap Chocolate Fountain
If you need a chocolate fountain but don't want to break the bank, then Nostalgia is back again with an offering that will be great for you. Priced at just over $20, this 3-tier fountain can be used for nacho cheese, barbeque sauce, ranch, and more. It provides you with a very affordable way to make your parties more fun, beautiful, and tasty.
Pros:
It is very affordable
Stainless steel tower and bowl stay heated evenly
Cons:
Chocolate Fountain: Buyer's FAQs
What chocolate works best in a chocolate fountain?
Many brands make chocolate for use in a fountain or as fondue. These ones make the perfect choice as they melt at exactly the right temperature and have little hassle. You don't even need to add an oil like in most fountains. One of the best brands for this is Wilton. If you want to melt chocolate yourself, you may need to pre-melt before placing it in the fountain, and you may need to add oil or cream to keep it flowing well.
What are the best things to dip in a chocolate fountain?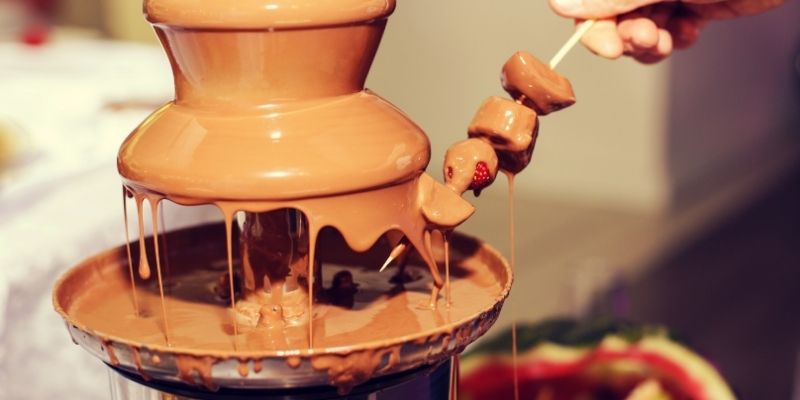 If you think out of the box, you'll realize that there is a whole array of things that you can dip in a chocolate fountain. This includes the usual strawberries and marshmallows, but you can also incorporate other fruits like pineapple and banana. Pretzels, wafers, brownies, cookies, and the like can all be dipped in chocolate to great effect too! Try cubed cakes and other pastries also.
Best fruit for a chocolate fountain
There are a lot of fruit options that work spectacularly with chocolate. These include strawberries, bananas, pineapples, apple and pear slices, kiwi, cherries, and coconut. To be honest, it is hard to pick out a single fruit that is best for a chocolate fountain. However, strawberry is a great choice. It doesn't need to be sliced like banana or other fruits, and once put on a skewer, it is a very hygienic way to dip in the fountain.
Best treats for a chocolate fountain
If you don't want fruit but would instead use sweet treats, then you're in luck. There's a whole lot that you can choose from. These are great for use with a kids' chocolate fountain. You can use marshmallows, granola bars, brownies, donuts, pretzels, rice krispy treats, gummy bears. The only limit is your imagination.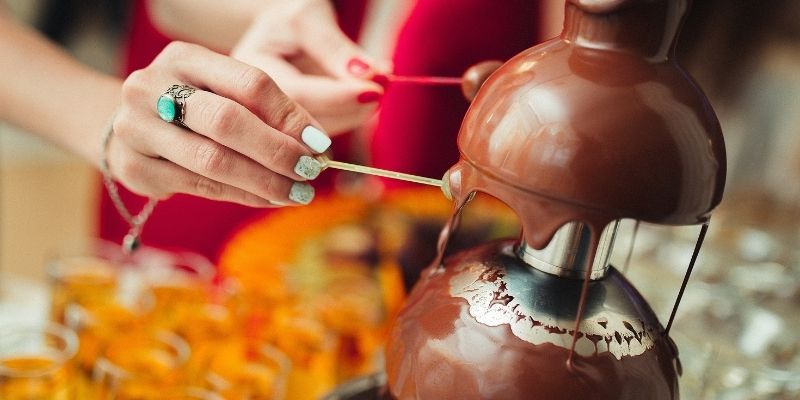 Best way to clean a chocolate fountain
Hot chocolate fountains can be tough to clean up if you're unsure of the best way to go about it. It is best to get a stainless steel one, or one that can be disassembled, making the process easier. You must start the cleaning soon after the party ends so that the chocolate doesn't harden. That will only make it harder to do.
Pour out the remaining liquid chocolate into a separate container. You can make use of this later. Use a plastic spoon or spatula to scrape off as much chocolate as you can. The less leftover, the easier it will be to clean. Disassemble the fountain so that you can wash the tiers and other parts separate from the base containing the motor. 
Use warm or hot water mixed with soap to take care of each of the fountain's removable parts. If they are dishwasher safe, you can toss them in after sitting in soapy water for some time. Avoid getting water into the base of the machine. This can ruin the electrical components!
Credits: Thanks for the photo to Canva.

At ipoki.com we only mention the products that we've researched and considered worthy. But it's important to mention that we are a participant of several affiliate programs, including Amazon Services LLC Associates Program, an affiliate advertising program designed to provide a mean for us to earn fees by linking to Amazon.com and affiliated sites. As an Amazon Associate ipoki.com earns from qualifying purchases.