The allure that a fireplace adds to a home is immense, but it also brings many risks. In an average year, over 20,000 structure fires are related to traditional fireplace and chimney use. I mean, you have a roaring fire in the center of your living room that clearly can present a fire hazard.
And there are health-related issues too. 
 When there isn't proper maintenance, the risk of carbon monoxide poisoning increases for the residents. There is a chance of lung and heart disease due to the constant inhalation of wood smoke particles.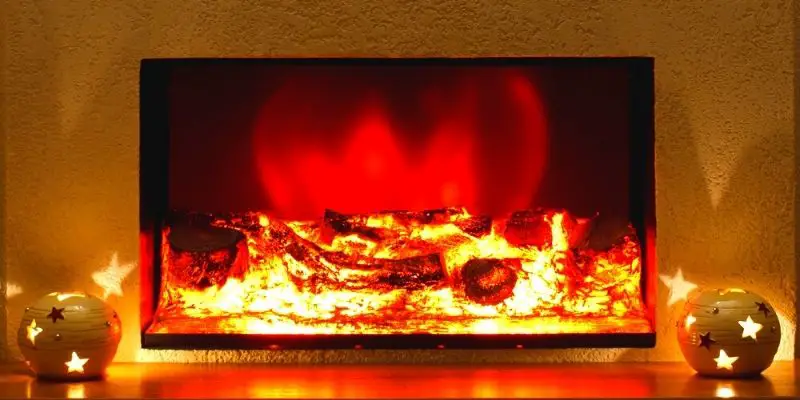 This is why if you haven't heard about electric fireplaces, you should definitely consider one. These are amazing, providing significant heat for space while being much safer. Without any physical material burning to give off heat, there's no risk of health issues from inhalation. The risk of fire is significantly reduced as well, as it is purely electric.
If you are willing to get one for yourself and just landed on this page for a quick suggestion, then my top choice of all the best electric fireplaces would be this recessed 50-inch electric fireplace. It's less than 4 inches thick and can be mounted into a wall for a premium aesthetic. The LED fire effects make it quite an item for any living space, and of course, it warms the room amazingly. 
But if you have more time, just read on. I've spent 12 hours putting this list together so you won't have to. 
Do you have a particular question about choosing the best electric fireplace? Then use the table of contents below to jump to the most relevant section. And you can always go back by clicking on the black arrow in the right bottom corner of the page. Also, please note that some of the links in this article may be affiliate links. For more details, check the Disclosure section at the bottom of the page. 

Best electric fireplace
If you're looking for the best contemporary electric fireplace you can get right now, then this option by R.W. Flame is my top choice. Compared to the previous model, this fireplace is over 33% slimmer, making wall fitting easier than ever. It can be operated at 750W to save power or 1500W for powerful heating. 12 flame color modes also mean you can make sure this appears perfect for whatever space you're in. 
Most realistic electric fireplace
Even though it is electric, many people would love to have a unit that still resembles a realistic fireplace. If you're looking for multicolored flames, this isn't the product. This real looking electric fireplace has just one flame setting. However, the brightness is adjustable, and that's how they could achieve such a realistic fire. You can even turn the flame on without heating. The casing and flame look authentic, and this fireplace works just as good as any.
Best cheap fireplace heater
If you're on the lookout for the best electric fireplace for the money, then this one from Air Choice is a great option. It is very affordable, considering everything it manages to give. It'll warm up to any temperature you like in as little as 3 seconds without drying out the room using infrared heating. You can use it at 1500W for maximum warmth and 750W to cut down on your electric bill. On top of all this, it is freestanding and looks as good as a real fireplace. 
Best electric fireplace insert
If you have a space in your cabinet or in a wall, and you want the best electric fireplace insert you can get, then this is exactly what you're looking for. It is meant to be used as an insert but can also be set to stand independently. This is one of the top-rated electric fireplaces thanks to its two power settings, realistic flame effects, remote control, and safety features. 
Modern electric fireplace
Vintage-looking fireplaces are cool and all, but sometimes you want something a lot more modern in appearance, without sacrificing the authentic look of a fire roaring. This modern electric fireplace insert puts a realistic flame within a stylish casing. It comes with three color options for the fire, with 5 brightness settings. It works perfectly as an insert in any home. 
Best electric fireplace for RV
This unique electric fireplace from Cambridge is a bit different from the other options on this list. This is mainly because it uses a vertical orientation instead of the horizontal or squarish builds that most others use. This helps it stand out nicely, as well as making it a perfect fit for an RV. It'll easily fit into the tightest of spaces. 
Best electric fireplace for apartment
For an apartment undergoing a redesign, you want to install the best looking electric fireplace you can find. So this model might be what you need. The heat comes from the underside, so touching the main casing is completely safe. It can be viewed from 3 of its 4 main sides, which adds to your apartment's ambiance. That's definitely one of the best apartment gadgets you may buy!
Best electric fireplace with crackling sound
Part of what makes an actual roaring flame feel so cozy is the crackling sound made as the logs split and burn under the heat. Inexpensive units don't bother with this feature, but a luxury electric fireplace will make sure you get that premium feel. This one comes with 6 different crackling sounds, 3 flame settings, and 2 heater power modes. You also get one of the most realistic looking logs and flames you can get in an electric fireplace. 
Do electric fireplaces heat well?
Yes, they do! Unlike regular wood-based fireplaces, electric fireplaces use fans to blow the heat, making them much better for distributing warmth through space. 
What is the most efficient electric fireplace?
Electric fireplaces depend entirely on electricity to heat up. Typically, the more power they get, the warmer they can make a room. However, sometimes you don't need all the warmth that some of them have. This is why some have lower power options, like 750W, to make them more power-efficient.
Which is the best gas or electric fireplace?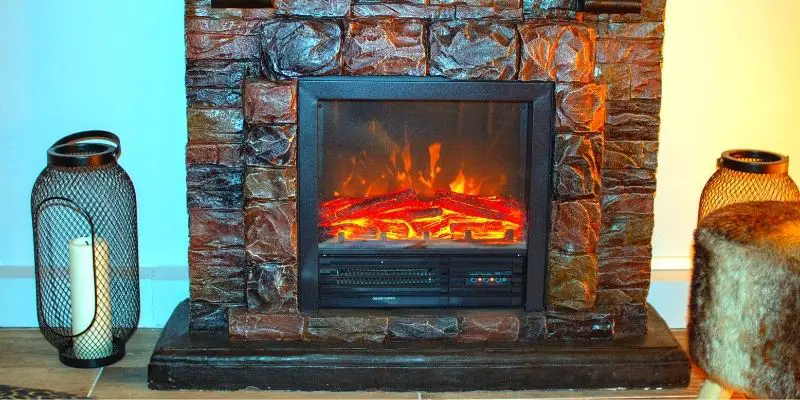 While both gas and electric fireplace have their advantages, in most cases, an electric fireplace is a more convenient option. For the best type of electric fireplace, you can simply set it on the ground and plug it in. Using recessed or wall-mounted options aren't difficult either. For a gas-powered one, however, you need to worry about setting up a gas line, and there is always the concern about safety with gas leaks and fire.
The most important thing to remember when shopping for an electric fireplace
When buying an electric fireplace, always remember to look out for the BTU rating to know how much heat it produces. Most are intended as supplementary heating and not as the primary source for the home. Also, look for the intended area, in square feet, that it is meant to warm up. Finally, when buying an insert, take good note of the dimensions to make sure it will fit perfectly.
Credits: Thanks for the photo to Canva.
At ipoki.com we only mention the products that we've researched and considered worthy. But it's important to mention that we are a participant of several affiliate programs, including Amazon Services LLC Associates Program, an affiliate advertising program designed to provide a mean for us to earn fees by linking to Amazon.com and affiliated sites. As an Amazon Associate ipoki.com earns from qualifying purchases.