Whether you are a professional nut eater or amateur home baker, a nut grinder can significantly save your time and offer great convenience. Some of those hefty devices will enable you to grind spices, coffee beans, seeds, grains, and herbs. 
There's a lot to look into. And the price may vary from a few dollars to hundreds. 
So, I've spent quite some time trying to figure out the best nut grinder for any specific demand you might have, and I hope you'll find this list helpful. 
However, if you are in a rush, I highly recommend checking out this option. It has a large capacity, durable build, a variety of applications, corrosion-resistant blades, compact design, and a reasonable price point. 
And, if you want to dig deep and know more about our best picks, keep reading. 
Do you have a particular question about nut grinders? Then use the table of contents below to jump to the most relevant section. And you can always go back by clicking on the black arrow in the right bottom corner of the page. Also, please note that some of the links in this article may be affiliate links. For more details, check the Disclosure section at the bottom of the page. 

Best nut grinder: Our top choice
This nut grinder is equipped to handle around 75g of coffee beans, which can be used to make 15 cups of coffee in half a minute. Don't run the machine for more than 30s to prevent burning smell. The powerful 150W motor and two stainless steel blades offer fine grinding performance and durability.
Depending on the time from 1s to 30s, your coffee beans or nuts will go from coarse to fine, with the powder form at 30s grinding time. You can grind nuts, spices, seeds, pepper, herbs, and grains, among others.
The cover protects the grinding nuts to pop out of the machine while the rotator blades work without causing much noise. Plus, it's scratch and corrosion-resistant, and the auto-shut makes it safe.
Pros
Multipurpose
Durable and safe blades
Compact and user-friendly design
Large capacity
Cons
It may not be easy to clean
No built-in battery


Best manual nut grinder
The three roller-blades of this crusher let you cut or slice your vegetables and fruits, and grind biscuits and nuts into powder form, making this machine multifunctional. The design is safe and effective; you can manually cut cheese with it without worrying about the blades.
This is a manual nut grinder. However, all you have to do is to put your food in the hopper, hold the lid with one hand, and rotate the handle with the other. Your edibles will be ground, chopped, sliced, or cut without much effort.
Plus, it's detachable, so you can take apart the drum and wash it in a dishwasher as well. It's made with stainless steel, the drum is durable, longlasting, and offers long-term and safe nut grinding, making it an excellent gift idea for bakers.
Pros
Easy to use
Versatile
It requires minimal effort
Safe and durable material
Cons
Manual operation
Effective cleaning requires disassembly

Nut grinder also great for spices and coffee
Unlike many nut and spice grinders in the market, this crusher produces consistent powder form. It offers good precision control over the fineness of your spices, coffee, and nuts. You can use it for chopping or grinding herbs, seeds, and other edibles too.
This nut grinding machine takes up little space as it's compact in design, so you can store it in any small-spaced drawer or place anywhere on the shelf or counter.
The sharp stainless steel blades grind your food with precision and let you control the final coarseness of your nuts, coffee beans, or spices. Plus, the material is resistant to environmental degradation, making the machine durable and longlasting. It's also relatively quieter during the grinding process.
Pros
Strong stainless steel blades
Takes little space
Control over the coarseness of the final product
Great for spices and coffee too
Cons
Hard to clean
The ON button is a bit stiff


Cheap (and good) nut grinder
This cheap yet effective nut grinder chops every type of nut easily with the durable stainless steel blades. The 18/8 stainless steel material blades make this grinding machine enduring to atmospheric reactions and physical damage. Plus, it's BPA-free and doesn't pose any harm to your food. It has a capacity of around 1.25 cups.
To operate it, all you have to do is to put the nuts in the hopper and turn the handle to make the stainless steel blades do their work. The chopped nuts fall into the glass base.
It has a sturdy build and durable material despite having a cheap price point. The glass base can be washed in a dishwasher. However, we recommend you to handwash the upper body in warm, soapy water. All these impressive features and the low price makes this nut crusher one of the best gadgets for occasional bakers.
Pros
BPA-free safe material
Sturdy and durable
Cheap yet works just fine
Rust-resistant stainless steel blades


Purchasing nut grinder: FAQ
Pros and cons of buying a nut grinder
A nut grinding machine is a small handy tool that makes nut chopping efficient and effective. A nut grinder typically grinds nuts, in addition to spices, coffee beans, and even a variety of foods in some cases. There is little to no effort required in most nut crushers, and it usually is durable enough to last a long time. It saves your time and energy and offers you to grind your nuts or coffee beans coarse or fine.
What are the most common types of this device?
There are mainly two types of nut grinding machines; the ones with the manual power input handle and those that work with electricity. While both work effectively, electricity-powered nut crushers are easier to operate but are more costly. And the manual ones are cheaper; however, there is no additional electricity cost. You have to do a little manual work with these. The final choice can depend on your budget, needs, and liking.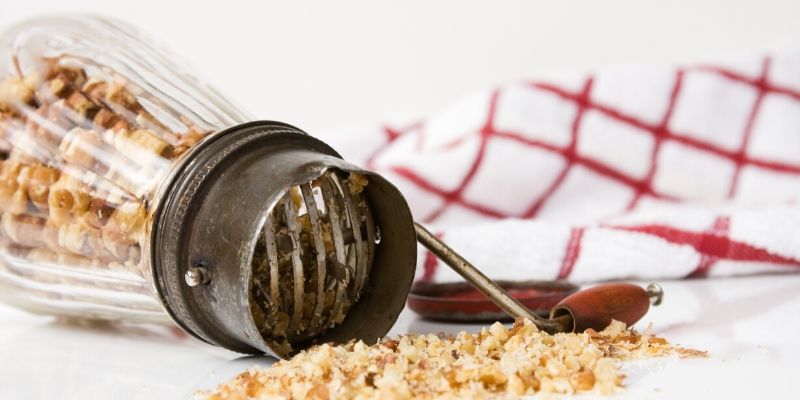 How much would it typically cost?
Electrically-powered nut choppers usually cost a little above $20 (and can be as pricy as $100). In contrast, the manual grinders' cost won't go much beyond $10-20$ range. So, a manual chopper, besides saving the upfront cost, doesn't add to your electricity bills. But, electric grinders, although cost higher, offer greater convenience and efficiency.
How can you control the coarseness of the grind?
The nuts/spices/coffee beans inside the jars are visible in most cases. You can control how coarse you want the final product to be, by increasing or decreasing the grinding time. For the electric nut crushers, a particular grinding time produces a certain coarseness. You can have your nuts as coarse as you want or turn them into complete powder, increasing or decreasing the grinding time.
How long will it last?
It depends on how you take care of their maintenance and what quality nut grinder you bought in the first place. A top-notch nut crusher, if taken care of properly, will last for years. Most manufacturers offer a 1-year warranty on this device.
How do you clean it?
Some nut crushers are dishwasher-safe, so you can clean them in your dishwasher like any other kitchen accessory. However, you should avoid washing certain parts of some nut grinding machines in a dishwasher and hand-clean them with warm water. Every product has its own requirements for cleaning.
Can you use a nut grinder to grind coffee beans or spices?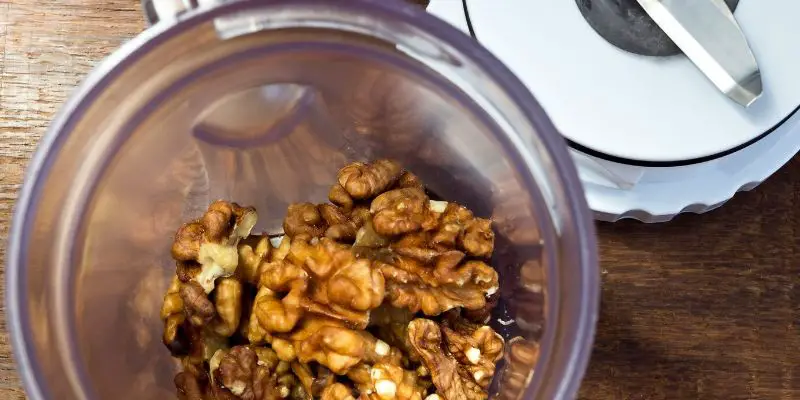 The stainless steel rotating blades mostly do the work; with a manual nut cutter, you turn a handle. With an electric machine, you just have to push a button. With the rotating stainless steel blade, you can mill coffee beans, herbs, spices, and virtually anything similar. If you want to grind a variety of products, select a multifunctional grinder.
Credits: Thanks for the photo to Canva.

At ipoki.com we only mention the products that we've researched and considered worthy. But it's important to mention that we are a participant of several affiliate programs, including Amazon Services LLC Associates Program, an affiliate advertising program designed to provide a mean for us to earn fees by linking to Amazon.com and affiliated sites. As an Amazon Associate ipoki.com earns from qualifying purchases.