Writers. Where would we be without them? They educate us, challenge us, correct us, and entertain us. No matter the type of writer, we have to admit that we need them in society to function (Ahem! You're reading this text from a writer, duh!).
If you are close to someone who is a passionate writer or an aspiring one, you know that this occupation requires constant inspiration and creativity. So, when it's time to choose some gifts for writers you know, below are a few recommendations you may want to think about to get their creative juices going.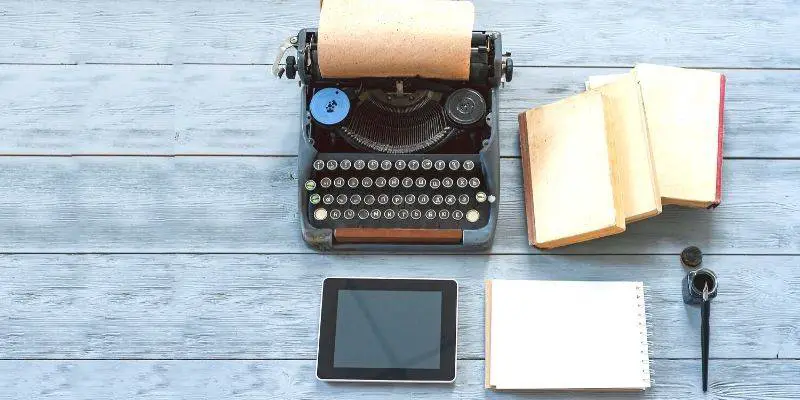 In 2019, there were reported over 45,000 writers in the US. However, only 21% of full-time published authors earn their entire income from their books. This means more are doing other jobs on the side, and even more (who are not published authors) are just doing freelance! It's a competitive field, which is why they deserve the best, most thoughtful gifts.
And you'll never know..maybe your gifts will give them a spark of motivation and inspiration to write a bestseller. You could be the reason they could one day be on the highest-paid authors' list!
Are you interested in a particular gift for writers? Then use the table of contents below to jump to the most relevant section. And you can always go back by clicking on the black arrow in the right bottom corner of the page. Also, please note that some of the links in this article may be affiliate links. For more details, check the Disclosure section at the bottom of the page. 

Writers' block candle
Once in a while, writers are bound to have a creative block. It's the worst thing that could happen while on the job. One gift idea for writers is the writer's block candle. It provides a great, calming, and soothing scent that can further make your environment more comfortable and work-ready. It's definitely a gift for writers' productivity.
There are various options, each with a funny name and funny caption/explanation of what the smell provides. Some examples are "Grammar Police," "Fake News", or "#Goals". Overall, this has some great potential to put a smile on a writer's face when doing their work.
Writer's t-shirt
This t-shirt is a great conversation starter. Not only is it budget-friendly, but it is also incredibly fun. I love the fact that the typewriter paper is blank, meaning it can be personalized with a permanent Sharpie pen. Perfect for writing that first line of your friend's novel (if you happened to read it). 
Collector's Sport Fountain Pen
This is the perfect gift for the writer who loves writing by hand. If your loved one is consistently scribbling notes and post-its, this is the gift for them. A fountain pen is the classic instrument professionals used to write with. Now, it is a sign of luxury, status, and comfort.
The beautiful designs of the Kaweco Sport Iridescent Pearl make this all the more fun. The german designed pen will look great on any writing desk. Not to mention, it writes better than any regular pen. This is a premium gift they will be delightfully surprised to receive!
Retro keyboard
Today, we have our beloved laptops and keyboards to do our work on. It's quick, efficient, and connected to the internet! However, if you have a writer friend who is either quirky or wants to feel like a classic writer like their idols, then a retro-inspired gadget, like Qwerkywriter S Typewriter maybe that cool gift for them. 
Sure it may look vintage, but you can actually connect it with multiple devices wirelessly, and has a USB port. So you can have that quick connection to the internet, but also have a sturdy, fun keyboard to work on.
Hemingway pencil cup
Another gift idea for writers, especially a great present for new, aspiring writers, is the Hemingway pencil cup. It's a cute decoration designed like a typewriter, but also functional to put your basic pens and pencils. I would recommend this for young writers who have great taste in classic literature. It's truly a great symbol for a passionate writer and can remind those to keep writing and reaching their professional goals.
Writing game
When you experience a writer's block, what do you do? I don't know about you, but I definitely procrastinate. However, after some time, I scour the internet, books, or articles to search for some inspiration. Well, this next gift idea for writers shortens that process and provides you with fuel to write creatively.
This inspiring writing deck includes 150 cards that intellectually stimulate your writing ideas. These are prompts that are designed to inspire and sharpen your writing skills. Imagine being stuck, out of ideas. With this box right next to your desk, you can easily shuffle through the prompts and gain some productive ideas—definitely a unique gift for beginner writers who may need a small push.
Writer emergency pack
The idea of using cards to help with writing isn't a new one, but Writer Emergency Pack is designed to be less abstract and more immediately useful. 
My friend says it's been incredibly helpful in helping them get unstuck and work through writer's block. The cards are designed to be less abstract and more immediately useful to people writing fiction, from novels to scripts, poems to plays. Each card focuses on story, character, and plot development. Furthermore, this product is extremely affordable, which is a major plus.
So if you're looking for a gift that your writer friend will actually use, pick up Writer Emergency Pack. 
Everlasting comfort seat cushion 
With its pure memory foam, this cushion is designed to adapt to your curves, giving the support one needs to work in total comfort. Not to mention, it also prevents unwanted bottom sweat, thanks to its breathable cover that won't trap heat. So no more feeling uncomfortable while you sit down and work on your latest masterpiece! Your friend (and their bottom) will thank you for this thoughtful and practical gift.
Writer's guide to publishing
If you're looking for a perfect gift for your friend who is a writer, "Before and After the Book Deal" by Courtney Maum is a choice you can't get wrong with. It's an incredibly funny, candid, and personable guide that cuts through the noise and helps aspiring authors navigate the challenges of the publishing world. It contains invaluable advice from agents, film scouts, film producers, translators and editors, making it easier for writers to publish their first book. It's the perfect gift for aspiring authors and can help them with their dream of getting published. Whether your friend is an experienced writer or starting out, they will appreciate this helpful and informative book (and your thoughtfulness). 
Smart water bottle
As a writer, there will be those moments, or bursts, of creativity. You are unstoppable. Writing and writing all day at your desk, excited to put all your thoughts and ideas in the paper. Time goes by fast when you are passionate about what you are writing. However, it is essential to always stay hydrated and healthy.
Move around once in a while! Stretch your legs and of course, drink some water. This smart water bottle by LifeFuels is one idea as a gift for the writers' desk. It's a smart nutrition bottle that puts flavor, essential vitamins, and nutrients in your water.
You can control and track your water consumption with the app, too, customizing your drinks as you want it. This gives writers more time to focus on their work and not have to worry about these minor things.
Tablet for note-taking
It is inevitable that the world is moving towards digitalization. Writers, back then, used to write using pen and paper (can you imagine?!). Today, we type and type on our computers all day. If you know a writer who prefers to use technology more in their work, than the versatile device like the one by Dragon Touch can be quite a handy gift.
It can be used for their everyday needs, reading e-books, and it's also one of the best tablets for note-taking. Unlike a laptop, this is much easier to carry around, especially if your job is remote. I would recommend this as a gift for freelance writers since they're always on the move, and hence, they can work, take notes, and read anywhere as they please.
Edgar Poe figure
Now, this next idea is quite an eccentric present for writers. This one is for the kid at heart–a gift for fiction writers in particular. It's the action figure of a favorite author, e.g., Edgar Allen Poe. Now, imagine this figurine sitting proudly on your bookshelf in your home office or writing room.
If the gift recipient is a true Allan Poe fan, then voila! Perfect gift right here. But also, it's a great conversation starter and if a writer ever has kids around him, then the action figure is a great toy to present to the young ones. They'll have the chance to talk about this world-renowned writer and even inspire the kids to become writers one day too!
Noise-canceling headphones
What writers need most of the time is simply some peace and quiet from their surroundings. And because they may travel a lot, they will most likely need some effective noise-canceling headphones to take with them on their adventures. The Bose QuietComfort 35 will do just that.
This is more of an expensive gift for writers. However, this is the best of the best quality headphones, guaranteed. Additionally, it is Alexa-enabled to access music, information, and settings through your voice. I recommend that once you give this gift to a writer, you also provide them with an awesome, relaxing playlist too!
Glasses for computer
Another gift idea for writers who like to work digitally or electronically is the blue light filtering glasses. This one is more of an electronic gift for writers, and will definitely help block headaches when staring at the computer screen too much. Even when they are not facing a screen, it still offers all-day protection against harmful high energy blue light.
We seriously need to be taking good care of our eyes starting now, and these glasses can reduce eye strain. You have to admit, we use our phones, TVs, and computers all day! Writers may even use them more! So, this is a fantastic gift to show your writer friend or family that you care about their health!
Leather journal
If you search for an inexpensive gift for writers, then the quality (and beautiful) writing journal is a lovely idea. Writers may want to jot their ideas in the more traditional way, which is in a notebook. The notebook itself is refillable, so you can use it for years. Plus, the sleek faux leather cover gives a classy aesthetic to your overall image. It's easy to carry, cruelty-free, and is elegant.
Banned books coffee mug
Writers probably drink lots of coffee, right? I mean, they need it to stay awake all night writing. Okay, but even if they don't drink coffee, let's say tea then! This next idea is an inspirational mug, like this Banned Book Coffee Mug, which displays all the novels that were thought to be too controversial or scandalous to read.
Give this as a gift, and your writer recipient may just get the inspiration s/he needs to write something eye-catching, controversial, or out-of-the-box!
Large coffee maker
The mug that I just mentioned above is not complete without an actual coffee maker. So another practical gift idea for hardcore creators can be a fancy coffee maker. Why go to Starbucks when you can just make it yourself at home.
It's cheap, it's sound, and can make 5 cups in one go. So with a coffee maker around, writers have more time to continue their work. And it also looks cool and actually makes a very decent coffee. 
Credits: Thanks for the photo to Canva.
At ipoki.com we only mention the products that we've researched and considered worthy. But it's important to mention that we are a participant of several affiliate programs, including Amazon Services LLC Associates Program, an affiliate advertising program designed to provide a mean for us to earn fees by linking to Amazon.com and affiliated sites. As an Amazon Associate ipoki.com earns from qualifying purchases.