According to studies and research, about 75% of people stated that owning a cat can reduce anxiety and depression by helping with loneliness and stress. But what if you or a member of your family has allergies? Or you don't feel very excited about dealing with cat's poop and smells?  
 That's why they designed a robot cat, a companion robotic cat toy for all cat lovers! The robot cats with touch, sound, and motion sensors mimic owning a real pet cat. I believe it would be nice to give the gift of companionship, comfort, and joy with realistic fur, purr, and meows.
Although there are so many of those toys these days, that it's hard to make sure you get the best bang for your buck. So if you are only here for a quick suggestion, I'd recommend going for this option by Joy for All. It looks quite realistic, won a bunch of awards throughout the years (and for a good reason). And even responds to touch. Honestly, it's almost as good as a real cat. Just doesn't require any feeding and grooming. 
But if you have some more time, read on. I've spent hours compiling the list below, so you don't have to waste any time. 
Do you have a particular question about choosing the robot cat? Then use the table of contents below to jump to the most relevant section. And you can always go back by clicking on the black arrow in the right bottom corner of the page. Also, please note that some of the links in this article may be affiliate links. For more details, check the Disclosure section at the bottom of the page. 

Best realistic robot pet
The orange dobby cat is the best realistic robot pet on our list. It's an award-winning fluffy robot cat that has won caregiver friendly award for 2016 and 2017. Plus, this realistic cat has appeared in many famous magazines like the Baltimore Sun and the New York Times. Hasbro's cat robot pet delivers a soothing joyful experience because it sounds and moves like a real cat. 
For the real cat purring effect, it features innovative Vibrapurr technology. It doesn't require any special feeding, care, maintenance, and without mess or responsibility. This Hasbro's cat combines all realistic features that including opening and closing of eyes, paws lifting, moving head and body while it rolls over for tummy rubs. It has built-in sensors that respond to touch. Plus, the real-feel synthetic fur offers pleasing tactile interactions.
Pros
Vibrapurr technology for authentic cat purring
Synthetic soft fur is almost real-like
Cat-like sound and movements
Available in 3 different colors
Cons
Cat movement whirring motor sounds are loud
Best toy cat that moves
The teal and white kitty from Tekno Newborns is a micro pet robot toy for kids of all ages. With sound and light technology, this robotic cat toy can sit, beg, walk, jump, and even sing with your commands. This 3.7 x 2.3 x 3.8″ robotic toy acts just like a newborn 8-weeks kitty. The cute life-like kitty has built-in touch and voice sensors that respond to your touch and voice. The toy knows when you're talking to them. Designed with state-of-the-art artificial intelligence, the kitty robots offer emotions and lighting-up eye patterns to express feelings.
Pros
It's touch and voice sensitive
Kitty lights up the eyes when awake
Interacts with other Tekno pets
Cons
4 hours of battery-life time
Best stuffed cat that look real
Another robotic cat from JOY FOR ALL, this silver tabby kitten, is the best-stuffed cat that looks real. It's a companion robot cat to bring comfort and joy to elders and those with pet allergies. The robot kitten feels and sounds like the real kitten with authentic cat meows and purring with the Vibrapurr technology. To give a real-like feline breed fur appearance, Hasbro's companion kitten has soft synthetic fur that can also be brushed. This gives you the feel of touching a real kitten. 
Moreover, the innovative built-in sensors respond to your hand motion and touch exactly as real cats do. This 2-way adorable interaction creates a healthy experience to bring joy, friendship, and fun into the elderly life. Also, it has a life-like cute kneading motion that alternates rhythmically with the kitten's paws, which push out and in against the objects.
Pros
Real purring sound
Real-like soft fur
Built-in sensors
Kitten-like movements
Cons
It doesn't turn to its back
No blinking of eyes or ear movement
 Best robot cat that walks and meows
This plush cat is the best robot cat that walks and meows. Designed for children (but cat-loving adults cat definitely enjoy it too), this cat stuffed animal toy has a touch control switch for easy operation. If you touch the tail or pat its body, the cat makes different actions. It can make 8 various movements that include 3 forward steps, push-ups, and bowing down, clapping, inverted, and get down. This white plush cat screams and says 'meow meow' just like a little kitten. 
It's made of high-quality fabric for comfortable soft touch without any toxic material or smell. Thus, this robotic kitty has a very cute appearance, and I assure you that it will be your kid's loyal playmate.
Pros
It can make 8 movements
Touch control switch
Soft plush fabric
Easy installation
Cons
The cat can't sing or play music
Best robot kitty cat
This Smalody plush is a cute robot cat that makes a reliable toy for your baby. It gives the feel of playing with a real kitten. Thanks to sound control, this interactive toy plays a great role in your child's sensory development and coordination. Plus, it's a great pet companion, too. The interesting thing is that this robot plush cat can interact with your real pets. The electronic cat features gesture sensors, voice, and touch controls that mimic the real kitty. 
Smalody cat reacts if you touch or clap your hands. This 10.47 x 6.73 x 4.06"grey cat has a safe and straightforward operation and runs on 4 AA batteries. Very suitable for children to play with, the robot kitten has staple high-quality cotton lining and plush soft fabric for a comfy touch.
Pros
Soft-touch fur
It has a small neck bell
Vibrant visual effects
Interactive sound control
Cons
It doesn't walk forward much
Best interactive kitten
If you're looking for the best interactive kitten with sounds, lights, and sensors, the Zoomer Meowzies kitten is the right choice. This pink chic kitten robot enjoys playing games with you, cuddling, and showing her glittery fluffy fur tail. I really like the concept of interactive games; you won't be bored or run out of things to do with your robotic cat toy. There are several games that children can play with this robot cat toy. The built-in intelligent IR sensors in its chest cleverly detect when your kids are tickling or petting it. You can also pat their head, back, and belly. Tickle this interactive cat to hear cute cat sounds because it feels it. Her eyes light up as she wakes up in an auto mode and will meow and purr all on her. Like a real kitten, it has many moods.
Pros
IR sensors to sense your hands
It's loaded with interactive fun games
Plays music and songs
LED eyes
Cons
It doesn't roll around
Fewer movement tricks
Best anime robot cat
This one is the best toy for any anime fan. It's cute and responds to your voice and actions, thanks to the intelligent sensors. With an innovative speech recognition technology, anyone can interact and communicate with this smart kitty. This smart robot cat features 2 LED eyes that light up and blinks to express emotions. Clap your hands, and the pink kitty moves and dances. And there's no need for replacing batteries with this cat. It's has a built-in rechargeable lithium-ion battery.
Pros
LED eyes
Air blower sensor
High-definition speaker
Music button
What is a robot cat, and why might you want one?
A robot cat features built-in intelligent motion, sound, audio, tactile, touch, and movement sensors to sound and act like a genuine cat. Some people might love cats but can be allergic to the pet and also not be very fond of the necessity of cleaning that comes with owning a real cat. So, a robot cat is a perfect alternative to owning a real cat. 

How much does a robot cat cost?
The robotic cat toys start from $15 price and go up to $500 for life-like robot cats that look and behave just like a real cat. Sounds pricey? But think how much money y

Advantages of an interactive robot cat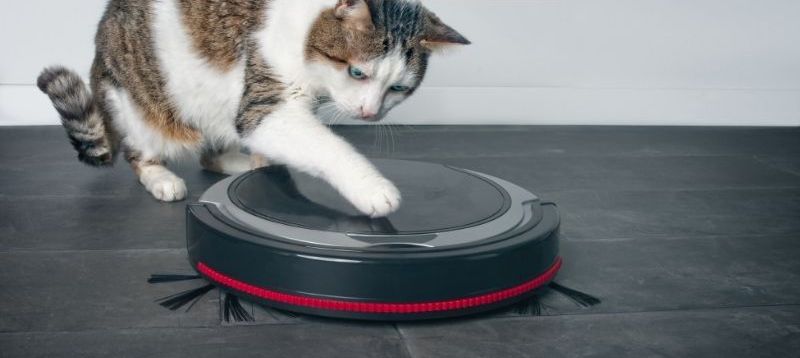 Robot cats have all the benefits of animal therapy for elderly patients with dementia, limited mobility, depression, or other illness. Interacting with a robot cat reduces stress, anxiety, loneliness, depression with psychological, motivational, and relaxation effects. People interact with robot cats as if they are alive since cats move the head, legs, eyes, and imitate cat purring. 

Robot cat or dog? 
 If you're a cat lover, then definitely a robotic cat is the animal toy you would prefer. On the other hand, if you're a dog person, you'll interact better with a robot dog. 
Credits: Thanks for the photo to Canva.

At ipoki.com we only mention the products that we've researched and considered worthy. But it's important to mention that we are a participant of several affiliate programs, including Amazon Services LLC Associates Program, an affiliate advertising program designed to provide a mean for us to earn fees by linking to Amazon.com and affiliated sites. As an Amazon Associate ipoki.com earns from qualifying purchases.