If you are anything like me and casually scroll through social media, you might have come across the ad for the magnetic window cleaner. 
Every time I see it, I wonder if it really works. And then I scroll down to the comments and think to myself: "Nah, probably not."
But cleaning stained windows can be a headache (even though you still have to do it). So we are always looking for an easy fix and hoping that yet another new little device would be that… 
I've spent several hours trying to figure out whether or not those magnetic gliders are worthy. And I still have mixed feelings about it. However, since the investment is really low, it might worth a shot, and can be a decent addition to any collection of apartment gadgets, in my opinion. 
The best one I've come across is this one by Charminer. The design of the brush lets you tackle some challenging spots, and magnets are pretty strong. That's to keep in short. But you can read the full review in this article (with all the pros and cons). And also, find more magnetic cleaners options and check the FAQ section for some handy tips too. 
Do you have a particular question about magnetic window cleaners? Then use the table of contents below to jump to the most relevant section. And you can always go back by clicking on the black arrow in the right bottom corner of the page. Also, please note that some of the links in this article may be affiliate links. For more details, check the Disclosure section at the bottom of the page. 

Best magnetic window cleaner: our top choice
This magnetic window cleaner, with its durable magnetic design, significantly reduces your input, is ideal for high-rise windows, and works on both sides of a window. The water sponge does not need to be replaced often as it absorbs a lot of water, making clean-up further convenient.
The triangular design and powerful magnets do not leave any spots uncleaned, no matter how difficult it is to reach the spots. Plus, the magnet is strong, so there is no need to worry about the other side as it will be cleaned effectively.
ABS plastic is chemical resistant, has high strength, and is very stubborn to physical impacts. The material is used in this magnetic window cleaner of our choice, which makes it durable and long-lasting. It's ideal for cleaning any 15-24mm range glass; for instance, you can use it to clean car windows, sliding doors, home windows, and so on.
Just wrap the rope around your hands for better handleability and give your windows an effective wipe.


Magnetic cleaning tools for hard to reach windows
This magnetic cleaning glider equips powerful rare earth magnets for strong forces between the inside and outside details of the glider. Perfect for hard-to-reach areas of your windows, the glider washes all kinds of dirt from windows with few simple wipes.
Just place the outside part opposite the inside part and start wiping dust, dirt, and stains off your windows. The glider also comes with a microfibre cloth to give your windows a more polished and shiny look after the wipers have taken care of the dirt.
You don't need to climb on a ladder or go outside to clean the windows. This magnetic cleaning tool reaches every part of your windows easily. It's designed to wash single-glazed windows from 0.1″ to 0.3″ thickness. However, if your windows are thicker, you can choose from three different models designed for three different window-thickness ranges.


Best magnetic cleaner for double glazed windows
This magnetic cleaner is ideal for cleaning double-glazed windows; the strong permanent magnets let you wash your glass effectively. The powerful magnetic forces do not allow the two parts of the glider lose the binding force, ensuring better cleaning.
Spray the washing soap on the window's nearest spot, separate both gliders by pulling them apart, and place them parallel to each other; one inside and the other outside the glass. Don't forget to attach the safety string with your finger.
A microfibre cloth comes with the glider using which you can dry the glass and even make it shiny. Slide the glider from left to right in a snake pattern to ensure efficient cleaning. Don't push it too hard; the magnets will do their job, you just have to slide it over the window from inside.
You should ask someone else to use it if you use a pacemaker or have a cardiac stent as the strong magnets can interfere.


Cheap magnetic window cleaner
This cheap magnetic window cleaner comes in two colors; red for a thickness range of 12-24mm and blue for 5-12mm thick windows. So, opt for the one covering your window thickness.
The powerful magnetic force allows you to use it on double-glazed windows because of the strong adsorption forces. However, the magnetic window cleaner is a little heavy, around 2 pounds. 
Top-notch ABS material is used to make it environmentally friendly as well as long-lasting. ABS plastic is strong, corrosion-resistant, and impact-resistant.
The overall price of the cleaner is low. Yet, the natural latex rubber, durable ABS plastic, and powerful NdFeB magnet make this cleaning tool effective.


FAQ section
What is a magnetic window cleaner?
A magnetic window cleaner makes use of attractive forces of magnets to clean inside and outside of a glass window with easy wipes. Depending on the power of the magnet, a thickness that can be cleaned effectively, changes.
How do magnetic cleaners work?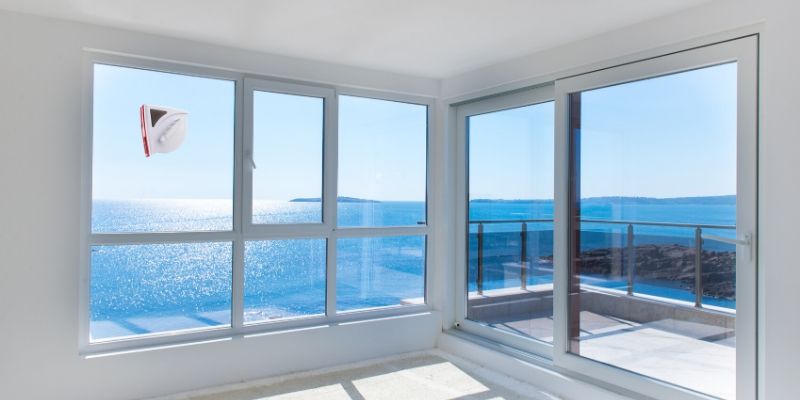 A magnetic window cleaner uses magnets to clean both sides of a window at a time.
Two oppositely charged magnets attract each other, forming a perfect pair of cleaners moving along the same line from the inside and outside of the glass. This lets the cleaning agent do its work.
How do you use it?
You just have to hold this tool with its handle, attach the ribbon to your hand (if applicable), and wipe it over the stained window. Usually, a piece of cloth will let you dry out the water and gives shine to the glass afterward.
Are magnetic cleaners any good?
Magnetic cleaners use the power of a magnet; they attract each other with opposing charges. When you wipe your window from the inside, it gets cleaned from the outside as well. So, yes, a magnetic cleaner is a pretty handy device and eliminates the work needed to cleanse the outside part of a glass window.
What to look for when buying a magnetic cleaner?
While buying a magnetic cleaner, know the thickness of the windows you are going to wash from it. Not every cleaner will be effective on every glass.
Secondly, the magnets' strength is a crucial factor. More powerful magnets attract with a higher force, making the two parts work effectively on both sides of the window.
Then comes its durability; The material should be chemical and impact-resistant to survive for a long time.
Last but not least, it should be convenient to use. You don't want to buy a cleaner that has a complicated process and doesn't make your window cleaning tasks worthwhile.
Credits: Thanks for the photo to Canva.

At ipoki.com we only mention the products that we've researched and considered worthy. But it's important to mention that we are a participant of several affiliate programs, including Amazon Services LLC Associates Program, an affiliate advertising program designed to provide a mean for us to earn fees by linking to Amazon.com and affiliated sites. As an Amazon Associate ipoki.com earns from qualifying purchases.