For centuries, technology has been making human life easy. Artificial intelligence takes it to another level; now, you can make robots do your time- and energy-consuming tasks efficiently.
And a window cleaning robot is a perfect example. Yes, this task doesn't seem cool enough to be outsourced to robots. But in my book, if someone can help me clean my windows efficiently while ensuring that I am safe (even climbing the ladder gives me vertigo), it's worth a shot.  
While those devices still can be a hit or miss, I spent quite some time working on this guide, trying to find a few viable options of the best window cleaning robots that you can depend on.
I have spent a lot of time making sure I filter out a few of the best window cleaning robots that you can depend on.
Suppose you are in a hurry and looking for a quick suggestion. In that case, I'd say go for this one as it offers professional, thorough, deep, and hassle-free cleaning of your high-rise windows and gives you a great bang for your buck too. And judging by the overall experience of all the buyers, you have a better chance to get a device that will actually work. 
But if you are open to more suggestions, keep reading. 
Do you have a particular question about window cleaning robots? Then use the table of contents below to jump to the most relevant section. And you can always go back by clicking on the black arrow in the right bottom corner of the page. Also, please note that some of the links in this article may be affiliate links. For more details, check the Disclosure section at the bottom of the page. 

Best automatic window cleaning robot
This automatic window cleaning machine deep-cleans your hard-to-reach windows. It minimizes your work to as extent that you can control the device using your mobile phone while snacking on the sofa.
The washable microfiber pads scrub off any dirt on the window effectively, giving it a sparkling and smooth look. Its intuitive AI technology ensures automatic edge detection and thorough cleaning.
So, if you hate cleaning windows, this one does that for you professionally. Instead of paying a professional, why not entrust Gecko with your window cleaning chores?
Plus, it requires minimal cleaning agent in getting the job done. It would be best if you cleaned the pads before reusing them.
It has circular edges, so you may have to clean the square corners of your windows manually, if any. And it only works with bordered windows, so if you have borderless glass panels, the Gecko will not be the best choice for you.
All in all, this automatic window cleaner provides good value for money. It's high-quality, does the job professionally, and uses an intuitive interface for effective cleanup. One of the greatest apartment gadgets if you ask me.
Pros
A mobile app for control in case remote is misplaced
Intuitive AI technology ensures intelligent cleanup
Cleans professionally, thoroughly, deeply
Requires minimum cleaning agent
Great value
Cons
The rounded edges won't perfectly clean square window corners
Can be a bit noisy


Exterior window cleaning robot
Cleaning the exterior of windows can be a pain if approached manually; thankfully, with devices like this one that can wipe off that dirt from the window exteriors without our input.
This robot window cleaner cleans 1 m2 of window area within 3 minutes while being exceptionally quite. Impressively, unlike many others, this one wipes off dirt and watermarks from even unframed windows.
The built-in UPS system won't let the robot fall off the glass if a power cut off, allowing you to operate it with peace of mind.
Plus, the remote control distance is 15 m with unlimited wiping height. You can attach up to 12 m long extension cable.
You can also clean glass walls or even tiles with it. The setup is easy, and you can have your windows cleaned in no time.
Pros
It stops automatically once it is done cleaning and notifies you
Cleans quickly compared to other robots
Cons
Instruction manual could be better


Professional window cleaning robot
This square-shaped window cleaning machine makes sure every corner of your windows are cleaned effectively and returns to the starting point after it's done.
You can control the robot with the remote control, one-touch key, or mobile app.
Plus, it will work on your frameless windows, tables, floor, and walls too. You can use it on marble and ceramic surfaces as well.
The built-in UPS makes sure it sticks to the window for 20 minutes and alarms you if the power goes off, ensuring its safety.
This cleaner won't come off the glass easily either, so you can keep your mind at ease.
 And it does the work silently with less than 65 dB noise level.
However, it can't replace the good old human cleaning. It's still less effective than if you would do the cleaning manually, as it won't probably wipe off the hard stains completely.
Pros
Multiple-use: more than just a window cleaner
AI technology enables it to make the ideal cleaning route
Square shaped: Reaches square-window corners
Good quality and design
Good value
Cons
Won't work on slanted or skylight windows
No cleaning solution storage; uses only water to clean
Not ideal for tough-stained windows


How does robotic window cleaner work?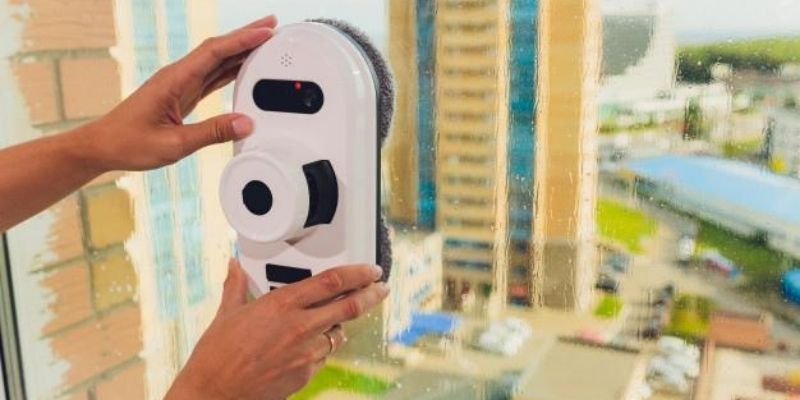 A robotic window cleaner clings to the glass using either magnetic power or motor-powered suction technology. Suction is reliable, but inappropriate moisture levels can make it lose the hold. However, some nice ones offer a good grip.
Magnetic ones, although more complex, use the power of attractive magnetic forces on either side of a window and keep a stronger hold onto the glass, rendering them more reliable.
Once this window cleaning machine is stuck on a window, it automatically cleans the window, including its out-of-reach areas using "artificial intelligence" – like tech.

Do window cleaning robots work?
Robotic window cleaners intelligently recognize dirty spots on your windows and thoroughly clean them without needing any physical input from you whatsoever.
A window washing robot works on almost all window thicknesses (except for very thick option). The technology used is either vacuum suction or magnetic connectivity; both are reliable and can be trusted to do their job effectively.
Credits: Thanks for the photo to Canva.

At ipoki.com we only mention the products that we've researched and considered worthy. But it's important to mention that we are a participant of several affiliate programs, including Amazon Services LLC Associates Program, an affiliate advertising program designed to provide a mean for us to earn fees by linking to Amazon.com and affiliated sites. As an Amazon Associate ipoki.com earns from qualifying purchases.