Making candies is a fun hobby. And if you do it, often you know that there's nothing worse than spending several hours cooking and cleaning and ending up throwing the whole batch of sweets you've made.
The tricky thing is that even when you have a candy thermometer, it can still be poorly constructed or not accurate enough. So you may end up with plastic melted into your caramels or get your candies burned instead of making those golden heavenly good sweets. 
Money and time wasted! 
And I wish it never happened to any of us. 
That's why I've decided to put together this buying guide. If you are in a hurry and only interested in my best recommendation – the top choice would be this digital candy thermometer by Cave tools. It's super quick, versatile (works for sweets and meat too), comes pre-calibrated, shuts off automatically, and even has a lifetime guarantee. 
But keep reading if you want to learn more. 
I've spent a good 10 hours evaluating different models of candy thermometers. I hope you might find it helpful and choose the one that will work for your needs and budget.  
Do you have a particular question about choosing the best candy thermometer? Then use the table of contents below to jump to the most relevant section. And you can always go back by clicking on the black arrow in the right bottom corner of the page. Also, please note that some of the links in this article may be affiliate links. For more details, check the Disclosure section at the bottom of the page. 

Digital candy thermometer
This digital thermometer by JAKO has an accuracy of 0.1°F, pretty particular if you ask me! It is also super fast – you'll know the temperature within 2 seconds. It features a large LCD screen, and it's working range is from -58°F to 572°F, enabling you to make practically any kind of candies and other dishes.
It can detect the core temperature of your meat precisely. You can use it to monitor the temperature of a variety of foods, including turkey, bread, jam, candy, chocolate coffee, barbecue, milk, drinking, or even bathwater.
Besides, the device gets turned off after 10 minutes of inactivity, saving electrical power. It's easy to hang with the hang hole and easily stored thanks to its internal magnet.
Pros
Very well made
Responds almost instantly
The backlit display is easy to read
Versatile: works not only for candies but for meat, mozzarella, BBQ, etc.


Best candy thermometer: my top choice
This digital candy thermometer by Cave Tools has it all! It reads the temperature of your food with high accuracy within seconds. It has a wide digital display to enable easy reading and automatically shuts off, saving battery power.
With this thermometer's pre-calibration feature, you won't have to worry about the accuracy of measurements when using it out of the box.
Another impressive feature is its ability to give the reading in both Fahrenheit and Celsius scales with the measurement range of -40°F to +450°F. You can conveniently use the device for indoor or outdoor cooking, no matter the temperature of your food.
It has a pocket clip, so you can easily store the candy thermometer wherever you want. Amazingly, the thermometer comes with a lifetime warranty. So, you won't have to buy another thermometer ever. 
Pros
Comes pre-calibrated
Quick – takes 1-3 seconds
Versatile – works for many kinds of food
Shuts off automatically after 10 minutes
Lifetime guarantee
Very responsive support
Cons
Some felt the item is a bit flimsy


Best thermometer spatula
This thermometer spatula from BOHK lets you monitor your cooking temperatures with ease. With this nifty device, you can check your food's temperature in a liquid state while stirring it. For meat, BBQs, steak, and other solid food, you can separate the probe, insert it in the food, and do an accurate reading.
With the working range of -58 to 572°F, you can monitor every temperature and have better control over your cooking. The high-quality silicone paddle is unreactive and resistant to extreme temperatures, making it long-lasting and safe for your food.
The probe is made of stainless steel, so there won't be any reactions as well.
An easy-to-read screen is located on the top of the handle. And it always shows you the changing temperatures. Using just a button at the handle, you can toggle between °F and °C whenever you want while stirring.
Pros
Accurate
Convenient to use
Multifunctional (works as the thermometer and a spatula)
Lasting battery
Cons
The spatula itself is not very flexible


Clip-on thermometer
This clip-on thermometer offers you precise, easy-to-read temperature readings. You can measure the temperature within the range of 100°F to 400°F, covering virtually every temperature any of your food will probably go through while cooking.
Plus, it's made of really sturdy stainless steel; it's corrosion and rust-resistant. Most importantly, the material is completely safe for your food.
The pot clip attached with this thermometer lets you focus on your cooking; you just have to connect the clip to the pot, and it will remain intact throughout the process. 
You can even wash it in a dishwasher, which makes it really easy to clean. Plus, it comes with a 1-year warranty. 
Pros
Convenience: It has candy-related notations on the scale
Heat-resistant handles
Sturdy, durable
Responsive support
Cons
Several people reported inaccuracy in measurements 


Cheap candy thermometer
The price point of this candy thermometer by GDEALER is pretty low, especially when you consider the value it delivers in your kitchen. With the accuracy of 2°F and the range of -58°F to 392°F, this thermometer can be used for cooking practically any dish.  
The extra-long probe enables you to read the core temperature of the meat without involving your hand. It's 4.45″ long and is ideal for a large turkey, chicken, BBQs, and candy recipes. It's made of reaction-resistant stainless steel, which enhances its life and makes it safe for your food.
Despite being cheap, this candy thermometer has a 10-minute auto shut off feature that won't let it waste virtually any energy. And the temperature reading will remain the same after pulling out the needle. So you get some of the high-end features at a very low price point.
Pros
Versatile – works for all kinds of food – from meat to candies
Price
Accurate and easy to use
Customer support is pretty active
Cons
Not waterproof
Malfunctioning units can occasionally be shipped


Best instant-read candy thermometer
This candy thermometer from Habor accurately reads your foods' temperature, letting you monitor your food every step of the way. It takes about 4-6 seconds to provide you the temperature value.
Just turn the device on, select °F or °C, and put the probe in your food. The probe is 4.7″ long, enabling you to use it for a variety of foods, be it candy or meat.
The thermometer measures between the range from -58℉ to 572℉, which makes it quite universal. The battery life is also protected via an auto shut off feature after 10 minutes of inactivity.
The device is protected with a sheath, so you can conveniently store it anywhere. This thermometer's ability to take instant and accurate readings makes it a good gift idea for bakers.
Pros
Works for all kinds of food
Cheap
Long probe
Lasting battery
Very accurate
Cons
Very sensitive to water – not waterproof by any means 
Doesn't feel like "built to last" 


Candy Thermometer FAQ.
How do you use a candy thermometer?
Just clean the probe with a damp cloth, turn it on, put the probe in the cooking food, and monitor the temperature while stirring or cooking. Make sure the end of the probe doesn't touch the bottom of your pan. Remove the device when you get to your desired temperature.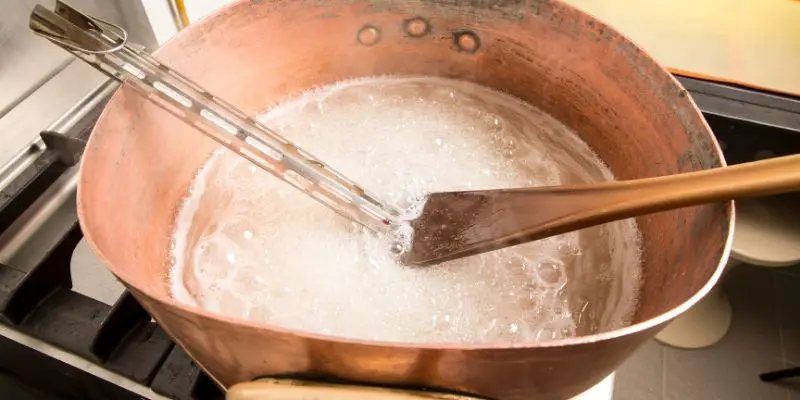 Recipes that use a candy thermometer
Recipes that normally use a candy thermometer include, but not limited to, soft and hard candies, nut brittle, dark chocolate, fish fry, toffees, bark, fudge pops, fried chicken, and fried Oreos. However, with a versatile all-in-one candy thermometer, you can even monitor your meat's temperature.
Do candy thermometers have mercury in them?
Most of the candy thermometers don't have mercury in them. If a thermometer has a silvery liquid and is not labeled as "mercury-free", it's probably using mercury to give you temperature readings. Mercury thermometers are almost obsolete these days; because of the health concerns attributed to mercury. A digital candy thermometer that uses the battery is commonplace today.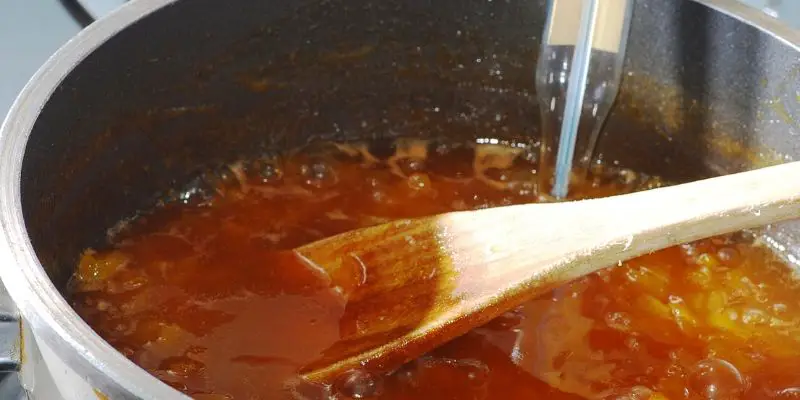 What temperature does a candy thermometer go to?
A candy thermometer is meant to measure the temperature of a recipe boiling on a stove. Meat or cooling thermometers typically measure lower temperatures than a candy thermometer. Normally, a candy thermometer goes up to 400°F to ensure high-temperature measurements with high accuracy.
Candy thermometer vs. cooking thermometer
Both are similar except their temperature reading range. Candy thermometers typically cover a higher temperature range, going up to 400°F, while most cooking/meat thermometers read up to 200°F.
Can you use a meat thermometer for candy?
A candy thermometer normally can be used as a meat thermometer. Still, the other way around is not a very good idea. A meat thermometer can only go as far as 200°F, and it won't tell you anything above this temperature. A melted sugar will be higher in temperature than steak, so it's not recommended that you use a cooking thermometer for your candies or sugar recipes. It's not designed to measure or even endure such high temperatures.
Can I use a candy thermometer for oil?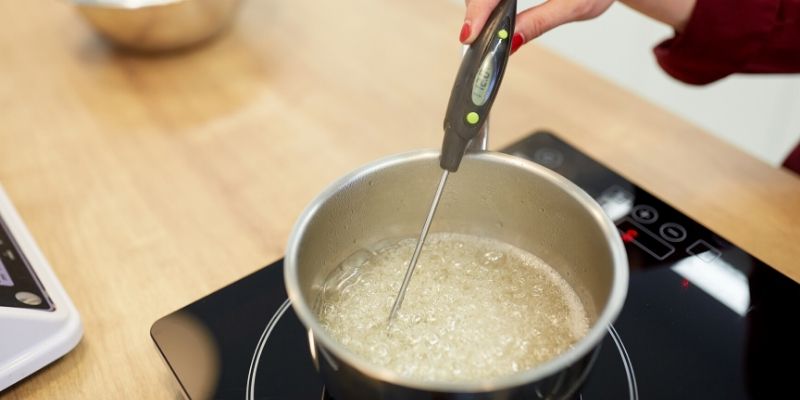 A candy thermometer is an ideal device to measure oil temperatures. The reason is its ability to take very high-temperature readings. Around 370°F would be a perfect temperature for frying; a candy thermometer is equipped to measure up to 400°F.
How to calibrate a candy thermometer?
The purpose of calibration is to make sure your thermometer is measuring accurately. Water's boiling temperature is the most useful baseline for this. Place the thermometer into a pot of water and bring the water to a consistent boil. Monitor the reading; if it stops at 100°C/212°F, you are good to go. If not, adjust the position of the thermometer until it shows the boiling temperature of the water.
How to check the candy thermometer for accuracy?
You can use the calibration method to check whether your thermometer is showing accurate readings or not. Water boils at 212°F temperature. If your device shows this temperature while inside boiling water, it's accurate.
How much does a candy thermometer cost
A candy thermometer is an inexpensive and handy tool for bakers. Depending on the quality and technology, it can be as low as $7 or as high as $35. But, a decent digital candy thermometer costs around $15 on average.
Credits: Thanks for the photo to Canva.

At ipoki.com we only mention the products that we've researched and considered worthy. But it's important to mention that we are a participant of several affiliate programs, including Amazon Services LLC Associates Program, an affiliate advertising program designed to provide a mean for us to earn fees by linking to Amazon.com and affiliated sites. As an Amazon Associate ipoki.com earns from qualifying purchases.