Even the cheapest (but well-built) star projector can show planets, stars, and galaxies in your own home. Astronomy enthusiasts can use these as a light feature for a party, by parents to help kids sleep or simply educate on space/astronomy, or for a cool decoration feature for your home.
And it can possibly be a handy bedroom gadget for those willing to improve their sleeping patterns. E.g., there were some studies that found that sleeping under the stars had shifted participant's circadian rhythms back where it should be if you care for the healthy release of sleep hormones. 
Well, yeah, stars projected by these devices are not the real thing. But it's something. 
Apart from being an exciting social experience, star gazing even makes us nicer (at least that's what the scientists say). 
If you're just super excited and cannot wait to buy your own star projector and don't have time to read this report, my best recommendation would be this option by Echowho. It comes with multiple projections, a realistic display, rotates 360, and goes along with your music. Plus, it's easy to take around. 
If you want more options, please read further.
Do you have a particular question about picking the right star projector? Then use the table of contents below to jump to the most relevant section. And you can always go back by clicking on the black arrow in the right bottom corner of the page. Also, please note that some of the links in this article may be affiliate links. For more details, check the Disclosure section at the bottom of the page. 

What is the best planetarium projector for home?
This next light display is mainly for children who have a knack for space and planetariums! It can be for adults, too, though. It comes with ten colors, 13 lighting modes, and reveals a realistic Aurora Borealis. This is a step further from a star projector because there is greater detail in displaying space and the planets. 
Pros
The lights can go to the beat of your music
Simple to use and a rechargeable battery so you can take it outside too
Great quality and the high-resolution display where you can actually see a couple of planets faintly in the view
Automatic timer means you can set it up however you want during the night as you sleep
Cons
No remote control
Only the blue, red, or green light can continuously flow. The purple light is only accessible in the shuffle mode
Best cheap star projector
If you are looking for a more simple and small design, this option would be the perfect addition to your child's bedroom. Not only is it the cheapest option, but it's quite ideal if you feel that the larger projectors might be too advanced/powerful for a younger child. This one can be kept close to your child, and you won't have to worry about brightness, as that is easily adjustable. Importantly, it comes with five different projection films! No need for a TV or iPad to put your child to sleep. 
Pros
Comes with different projection films, lights, environments
You can easily change the brightness, so that it turns into a night light also
Small and compact, quickly moving it to different rooms
Cons
No option to connect to Wi-Fi 
The cord is relatively short and hence, will have to be close to power outlet
Works best in small rooms or near the wall; will not project clearly if the ceiling is too high
Top moving star projector
An amazing moving option is this device by Kistra. Like the previous item, it comes with various baby cartoon films, colors, and themes. This one is also perfect to use for luring the newborn baby to sleep. You can set up the timer to get the baby sleeping and set it to not disrupt the rest afterward. Just as some babies easily fall asleep in a moving vehicle, this device may provide that as it has a moving feature, keeping the animations alive. 
Pros
Comes with six stories/films that are detailed
Comes with a remote control
Can light up the whole room, filling the wall and ceiling
Can put custom songs to the device due to the preloaded SD Card
Cons
Lacks complete and clear instructions
The cord is quite short and hence needs to be near a power outlet
Best kids star projector
New parents know for sure that sleep is precious. When babies sleep, parents must take advantage of that time to sleep too. This device also works as a white noise sound machine and baby/toddler star projector that will help your baby go to sleep in 30 minutes or less. It comes with 10 relaxing lullabies, nature sounds, and even mama's heartbeat. This is definitely a safe and sound option for the little ones. 
Pros
Comes with 3 colors/modes and 10 songs
Batteries can last long and require no cords; hence portable
Can set brightness and the sound quality is excellent
Cons
May take some time to get used to the button
Only has one option of setting the time; no more than 30 minutes
Adult's favorite star projector
For a more mature option, I would recommend this thing. It looks nicer, unlike most projectors that are made for kids. It has 8 mode lighting shows, different settings for brightness, and a speaker. You can also attach your phone to play your own music. It has a removable cover and comes with a spare battery already. Overall, it is soothing and can aid you in falling asleep by creating a relaxing atmosphere. 
Pros
The remote is very simple to use and to control the multiple options available
Even during the day, the light projects very good still
You can set it with a timer to turn off automatically while you sleep
It is silent and is small and compact; not distracting to be in your room
Cons
It can make a weird mechanical clicking noise if you set it on rotate mode
It does not tilt 360 degrees
Best laser star projector
Suppose you're specifically looking for stars, and you're already an admirer of star watching anyway. In that case, this laser projector is a fit for you. It uses powerful green laser and holographic technology so you can have the wonder and beauty of the universe indoors into your home.
Pros
Easy to use and set up
It has a very good spread and angle, still good quality projections 5 feet up
Really mesmerizing projections with realistic movements of shooting stars and clouds
Cons
Great for mood lighting but not super realistic when focusing on it
No remote control and no timer
Makes a squeaking noise once in a while, may need to be greased a little
Things you should know before buying a star projector
What may seem like a simple device can actually bring stars and galaxies onto your ceiling and walls in your home, similar to a home planetarium. Star projectors can create a wonderfully relaxing environment to chill out in, meditate, or even help you sleep. It's also great for kids to have in their bedrooms at night as we all know how challenging it might be to make your kid falling asleep. 
If you've had a hard and stressful day at work, what better way to unwind than to lie down in a dark room and switch on the galaxy projector. Just look up into a highly realistic night sky, full to the brim of stars and galaxies, and feel at ease.

What are the uses of star projectors?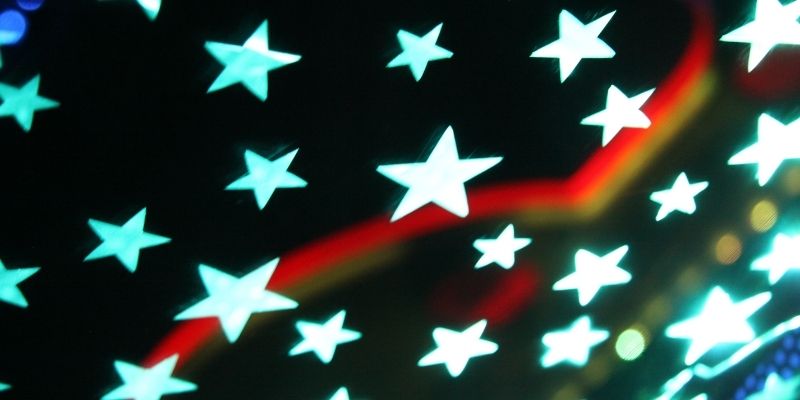 A star projector's main goal is to light up a room in a way like you're surrounded by stars. There are a lot of uses for a star projector. They can be used to soothe young children or help to light a group (depending on the one you get). Some of the star projectors can even play music.  With many capabilities, it's easy to assume that a star projector would cost you a penny, but our list shows that this isn't always the case.

How did star projectors come about? 
Star projectors are instruments that only exude the visuals of stars and other celestial phenomena into the ceiling and wall. The star projector's outer dome shape is filled with different cosmic designs so that when light passes through it, the desired shape on the ceiling is created. Nowadays, many people are using it to embellish their room and set the mood for their home party or put someone to sleep. 
Star projectors take inspiration from the planetarium. The first modern planetarium was built around 1924 at the Zeiss optical works in Jena, Germany. This device was known as Mark I and is installed at the Deutsches Museum in Munich. Inside is a dome 32 feet (10 m) in diameter. The Adler Planetarium, built in Chicago in 1930, was the first major planetarium in the United States.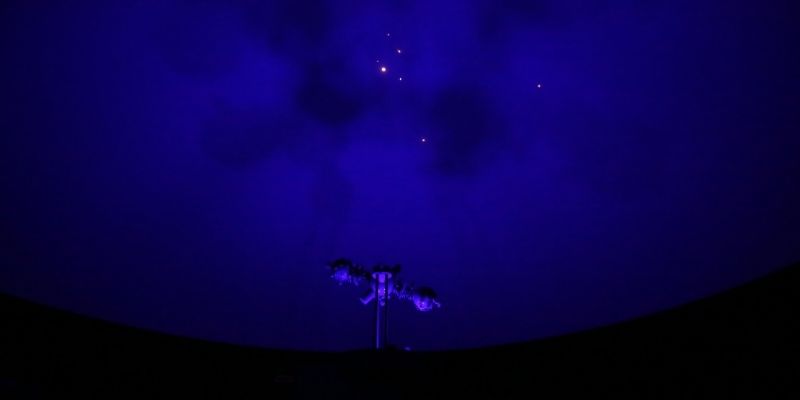 How does a home planetarium work?
There are different types of the planetarium. Depending on the technology, working can be different. But the most simple home planetary has a source of light inside.  As the light passes through many lenses, it projects star-like images on every surface, giving the true night sky's effect.

Does all home planetarium project real constellation?
No, not all home planetariums are designed to project constellations. Most of the models would just project random "stars." So if you are going for accuracy, it's still possible to find, but you have to shop around. 

How much does a home planetarium costs?
It might cost anywhere from $40-$100. The highest quality home planetariums cost around $100. In case you want a soothing device for babies, they can even go as low as $20.

Home Planetarium Vs. Star projectors?
Many people think those are the same. But these two are different. The star projectors are used for entertainment and are not an accurate representation of the night sky. But home planetarium offers more sky like projection.

What to keep in mind when buying a star projector?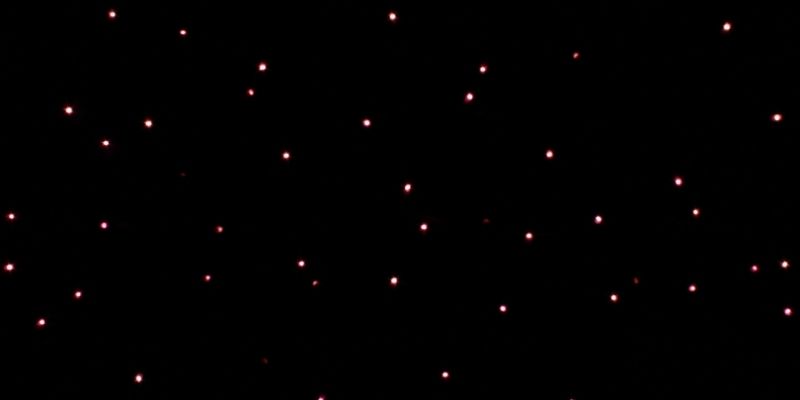 Projection Type.
There is a range of projection types, and they are modified using modes or covers. Some devices also offer a shooting star feature that is a treat to watch. So you must figure out your requirement because you're not going to get all sorts of styles in one device.
Material.
Always go for a device that provides longevity and does not break down quickly when it unexpectedly falls to the ground. 
In addition to building efficiency, it should also have proper architecture so that it can be useful. And it has to be free of lead, BPA, etc., which are harmful to children. BPA (Bisphenol A) has potential health effects associated with diabetes, angina, heart disease, and heart attacks. 
Audio.
Nowadays, many projectors provide audio features. You only had to play music from an external computer via a projector speaker.
Power.
 Almost all of the star projectors come with a battery power backup option. So you should make sure that they also have another power source. Many models are now fitted with USB or DC charging equipment, so you should consider this aspect.
Credits: Thanks for the photo to Canva.

At ipoki.com we only mention the products that we've researched and considered worthy. But it's important to mention that we are a participant of several affiliate programs, including Amazon Services LLC Associates Program, an affiliate advertising program designed to provide a mean for us to earn fees by linking to Amazon.com and affiliated sites. As an Amazon Associate ipoki.com earns from qualifying purchases.