Things that happened in 2020 helped to blur the line between traditional and online education. With online learning sessions progressively streamed, it's only natural to seek out what new technology gadgets you might need in this new reality.
In 2020 analysts predicted that the online learning market will grow by $12.81 billion by 2024.
From webcams to headsets, a poor choice in tech gear may not only mar the overall educational experience but equally waste a lot of non-reclaimable resources on the part of the students.
In this article, I've compiled a list of several simple accessories worth checking out before you have to take or attend your first class.
Do you have a particular question about the best gadgets for distance learning? Then use the table of contents below to jump to the most relevant section. And you can always go back by clicking on the black arrow in the right bottom corner of the page. Also, please note that some of the links in this article may be affiliate links. For more details, check the Disclosure section at the bottom of the page. 

Webcam
Chances are your computer originally comes boarded with a web camera. However, a standalone Webcam typically delivers superior streaming quality compared with embedded variants. 
Consider getting models with many positive reviews and compatibility with a broad range of personal computers, especially ones with a USB cable.
Superior HD webcams would come in especially handy for teachers considering they've got to ensure that students get all that's being recorded and said.
Ring Lights
Your gadget pack would certainly be incomplete without a ring light. Should you have to make a board presentation, the tool would be especially suitable as they provide adequate lighting. With the proper illumination, your students (or teacher) would certainly never have to complain about not being able to see your face or presentation.
While at home, they could also double as indicators to the rest of the household that classes are on and you would prefer not to be disturbed.
Headsets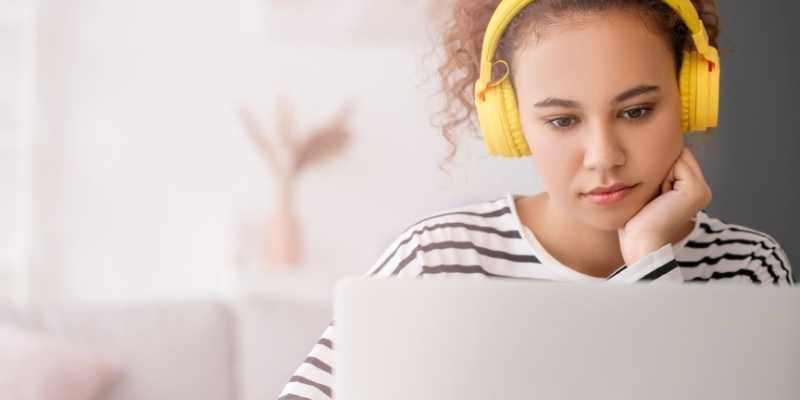 Your choice (or perhaps, disregard) of headsets could make or mar your video conferencing sessions. Most headsets tend to come with microphones embedded in them.
These days, however, evolving trends allow microphones to be built into wearables. Wristbands, wristwatches, and other wearable technology in education are continually changing the face of schooling and conferencing in general. As opposed to needing to have to use cumbersome headsets to have a shot at communicating, wearables streamline everything and take away most of the inconveniences associated with using such hardware. The low-power requirements of the in-built components make them hugely suitable for these tasks.
On the side, however, should you not have access to wearables, a headset with a microphone embedded would save you from having to rely on your computer's in-built mic. The idea of you having to raise your laptop to your mouth to communicate is not particularly welcome. 
Consider getting a wireless noise-canceling variant. That way, you wouldn't have to continually burden a USB port or look for quiet areas to attend your sessions. And the fact of it not needing wires would prevent you from necessarily being constrained to a sitting spot.
Laptop Vent
Classes tend to go on and on all over the year. Continually running your personal computer would only serve to heat it. Fortunately, ventilation accessories, should you get one, are great options for laptop cooling and would rid your machine of most of the onboard heat.
And there would also be that twin upside of relieving your cooling fan, enabling hardware longevity. That aside, not only do they cool, most vents are designed in such a way as to prop up your computer. Considering that you would be on your seat for a fair percentage of the time, you get to benefit from easily adjusting your posture as you desire.
Second Screen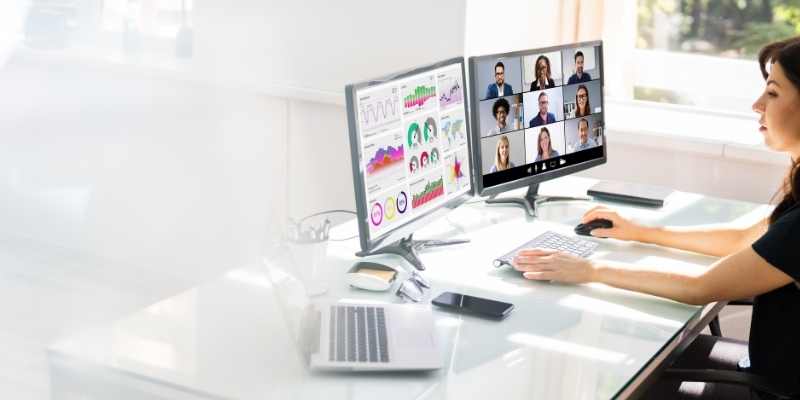 Second screens are nice to have; more importantly, they allow you to review every little detail of your class presentation more carefully. They, obviously, are an easy and way more convenient alternative to cramming up every shareable on a single display.
"Should you have to attend a zoom or Skype class, constraining your field of vision to a single display would be nothing short of inimical. An optimum educational experience is delivered when different devices handle different tasks. Perhaps you have your PC display the class in session with your tablet or a spare monitor handling in class presentation," recommends Shawn Briggs, a computer science tutor from papersowl.com. More screens won't only deliver optimum communication; they equally would mitigate the chances of you developing posture issues. 
Consider adding new monitors or an iPad to your small budding stack of schooling gears.
Face Tracking Swivel Mount
Face-trackers are relatively recent intros into the technological scene and would be especially suitable for schools. As you would guess, the mounts keep track of your face as you teach, hereby optimizing lecture delivery. They typically allow for full 360 degrees axis rotation, options made for streaming videos to the web, and allowances to be remotely controlled.
Wi-Fi Extender
If the network strength around your home or office is inadequate, you definitely would need to add a network extender to your list of to-haves. 
Continually needing to reconnect to your sessions would make for a poor communication experience. Extenders work by intensifying the already present signal strength from your in-house router. They would more than take care of the poor network coverage you may experience at your workstation.
Bluetooth Speakers
The odds of your phone or laptop being pre-equipped with high-grade speakers are not as high as one would ordinarily like.
At specific frequencies, it's not beyond the onboard speakers to fail. Add that to the inherent volume limitations that tag along, and onboard speakers would be inadequate for most practical tasks. Consider getting portable Bluetooth speakers to spice things up during your virtual sessions.
Look out for one with dependable battery life (preferably over 14 hours ) and a superior media format. One way would be to go for the ones with only a four-star and above in reviews.
Conclusion
That's a wrap. To obtain a learning to experience as remarkable as with traditional education, It's mostly about using the best accessories the planet has to offer. Anything less and remote learning might be unsuitable for the learner.
If you have not, consider upgrading your webcam, boosting network strength with a new Wi-Fi extender, and getting yourself a new vent to level up.
It's crystal clear that virtual education is the next phase in educational evolution. Adopting it on this day would set you up for long-term success.
Credits: Thanks for the photo to Canva.

At ipoki.com we only mention the products that we've researched and considered worthy. But it's important to mention that we are a participant of several affiliate programs, including Amazon Services LLC Associates Program, an affiliate advertising program designed to provide a mean for us to earn fees by linking to Amazon.com and affiliated sites. As an Amazon Associate ipoki.com earns from qualifying purchases.