Nobody wants to eat soggy bread or spend soggy dollars. And that's just the minor inconveniences that come to mind when I think about what might happen if your backpack turned out to be less waterproof than you might have expected. 
There are tons of "lifehacks" that allow you to protect any backpack: from lining it with garbage bags to covering it with beeswax. But probably the most efficient (and less ridiculous) way is to get a good waterproof backpack that works. 
 If you want to land on a quick suggestion, I would recommend this one. It's 100% waterproof, scratch-resistant, comfortable to wear, has inner safe pockets for more protection. And it's budget-friendly too. 
But stick around if you can. 
I've looked into dozens of waterproof backpack options and shortlisted 9 of those. And since I've spent around 14 hours doing so, I hope you'll find at least a few of the options below worth considering. 
Do you have a particular question about picking the right waterproof backpack? Then use the table of contents below to jump to the most relevant section. And you can always go back by clicking on the black arrow in the right bottom corner of the page. Also, please note that some of the links in this article may be affiliate links. For more details, check the Disclosure section at the bottom of the page. 

Best Waterproof Backpack
This backpack is built with 500D fabric, which is one of the best at resisting water. The PVC fabric won't let water even stay on the surface of your bag; it slides off, making it perfect for outdoor activities.
It's wear and scratch-resistant too, which render it pretty durable for even rough use. 
The honeycomb carrying system gives breathing space to your bag and makes it comfortable on your back.
It's IPX6 water-resistant, which means it can even resist water sprays at high pressure. So, you won't need to worry about the rain.
The bag can be quite spacious too (it comes in several colors and sizes), so if you are to go on a full-day or even a long-week trip, this backpack will suffice. Love it! 
Small Waterproof Backpack
This compact and stylish water-resistant backpack for women provides excellent value for money. It's small (it measures 12 x 10 x 5 inches and only weighs 0.5 lbs), yet you can store all the necessary everyday items. 
It's made of waterproof nylon, which won't let much rain and water in.
Another great thing I love about it – this backpack provides enough air courtesy of the highly porous material used in the back cushion. So no back sweating on a hot day!
However, it won't fit a laptop or big notebooks, so if you are looking for an all-in-one option, this won't do best. It is what it is – a SMALL waterproof backpack. 
Waterproof Laptop Backpack
This one is ideal for those who love to carry their laptops wherever they go (and not thrilled with the idea that it may get wet). This bag has an exceptionally sleek design that won't stick out your back, and yet it can store a good amount of things you might want to carry around.
It has a special compartment for a 15-inch laptop that will hold your device in place. There is also a hidden pocket for your wallet, phone, an occasional bar of gold, and other valuables.  
Waterproof Travel Backpack
This backpack's spaciousness, versatility, ergonomic design, and waterproof material make it ideal for any travels. It also equipped with bungee cords and carabiner to maximize its utility in outdoor activities.
Extra-large storage space allows you to store a good deal of clothes, gadgets, and other stuff you need. Plus, the chest strap keeps the backpack secured while you enjoy activities like biking or hiking. IPX8 rating of this backpack even allows it to be your scuba-diving companion for long hours. 
With Vinyl Tarpaulin and welded stitching, the backpack can withstand extreme weather conditions. Moreover, the built-in padded shoulder straps for comfort and mesh lining for airflow make it an effective addition to your camping gear.
Cheapest and Best Waterproof Backpack
This cheap, yet durable backpack can resist harsh environments. It's built with water-resistant nylon material, so it's super lightweight, but also durable. 
With a 30L capacity, this inexpensive backpack can safely host a week's stuff, allowing you long travel trips. You can put your laptop, tablet, clothes, towels, phone, and even drinks.
However, try not to put it under heavy rain for too long to ensure longterm use. After all, you only get what you've paid for. 
When not in use, it's foldable and easy to store even if you don't have enough space in your apartment.
Lightweight Waterproof Backpack
This lightweight bag is waterproof, but it also won't let dust, sand, snow, and dirt in, keeping your gadgets and clothes dry and clean. Its seams are welded and heat taped for improved isolation from the outside environment. 
The soft handle for carrying it easily and thick ventilated padding for good airflow makes it comfortable. Plus, the sternum strap shares the load of your stuff and keeps the bag upright.
Impressively, you can use this bag for pretty much anything – it can hold up to 50 pounds while only weighing 2 lbs. 
To keep your small items organized, this lightweight bag has a small pocket in which you can safely hold your mobile, wallet, and other small items. You also get a special inner pocket for your laptop.
Waterproof Hiking Backpack
This one is made of 500 denier PVC material and features water-tight welded seams and roll-down top. It is pretty much capable of resisting anything that the environment might prepare for your trip. So this bag can be a good candidate for accompany you even on the most hardcore hiking trips.   
Hiking tests your body's endurance; if your backpack is uncomfortable, it can get really exhausting. The padding and sternum clip on this backpack enables you to hike with comfortable shoulders.
You can close the top by either simply folding the top three times and clicking the top clip, or you can just use the side clips for a compressed fit. And the main compartment of the bag is IP6X waterproof. It's spacious too; you can carry towels and clothes isolated from your gadgets.
Another thing like about this one – it comes in many sizes and colors, so you can pick the one that will work just for you.  
Waterproof School Backpack
With a variety of colors to pick from, enduring material, comfortable padding, and folded cover, this backpack is an ideal option for schoolers. It's lightweight and holds a multitude of stuff without letting water or dust reach it.
Two side pockets, one front zipper pocket, a middle zipper pocket, and one large compartment with a laptop pocket allow the owner to have a day's worth stuff at their disposal all the time.
It's only 1.61lbs, and so will be light on the shoulders. A nice bonus also comes with a USB charging port and a wire, so your phone will most likely never run out of battery again. 
Large Waterproof Backpack
This 40L 100% waterproof UV coated PVC backpack has a large 40L capacity. But it also can be rolled/air squeezed out when needing to carry less stuff. 
The side pockets can securely hold a 30 ounce of a water bottle; just pass the strap over it and strap it to secure it to the bag. You can also store a 15" laptop in the internal sleeve.
You can store your documents and mobile phone in the waterproof side pocket and a waterproof document pocket. The thick shoulder strap and a wide belly strap will let the bag be adjusted to any body type. 
Waterproof backpack buying guide
Is there such a thing as a 100% waterproof backpack?
Some backpacks offer some water resistance and some not. However, there are completely waterproof backpacks that won't let any water in. These use high-quality material to keep the water at bay, saving things inside. Just do your research before settling on a particular backpack to ensure that it has proven to withstand water.  
The best fabric to make backpack waterproof?
Nylon is the most common material when we talk about durability, lightweight and weather resistance. It's typically can be coated with PVC or PU to make it completely waterproof. This renders the material long-lasting and highly resistant to weather and water, making it ideal for the manufacture of camping gear.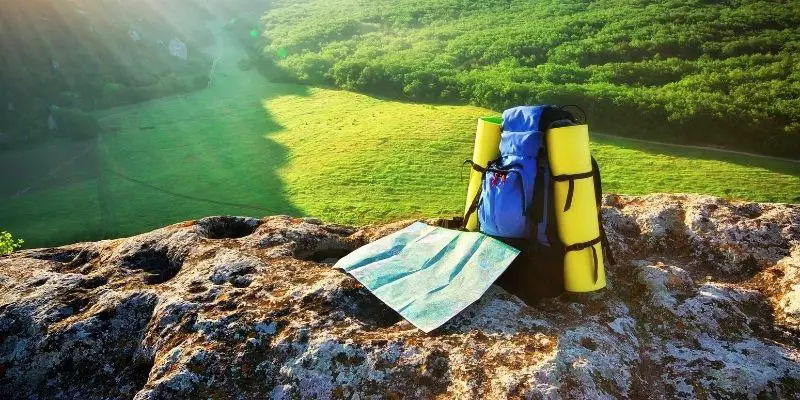 How to wash a waterproof backpack?
Add a detergent-free soap in some water and insert the bag into the solution. You can scrub the dirty spots with a brush or cloth, and get it cleaned easily. Don't use fabric softener or detergent on a waterproof backpack.
What is the cost of a decent waterproof backpack?
A waterproof backpack can cost you as low as $20 all the way up to $300, depending on the functionality, brand, size, and quality. Overall it's possible to get a decent waterproof backpack for something between $25 – $50. 
Credits: Thanks for the photo to Canva.
At ipoki.com we only mention the products that we've researched and considered worthy. But it's important to mention that we are a participant of several affiliate programs, including Amazon Services LLC Associates Program, an affiliate advertising program designed to provide a mean for us to earn fees by linking to Amazon.com and affiliated sites. As an Amazon Associate ipoki.com earns from qualifying purchases.