Some would say that brewing tea is not a big deal – you just pour some boiling water and a cup with a sachet of grounded tea leaves, and the job is done. 
But for all those REAL tea-nazis such statements are like a slap in a face. 
Different kinds of teas require different temperatures and brewing time. The method described above can simply kill the authentic taste of a drink. 
A good reliable tea maker is not a useless accessory but rather a must-have apartment gadget for anyone who loves his or her tea done right. 
If you are in a rush and looking for the best tea maker option, I suggest looking into this tea brewer by Decen. It's very durable, has a wide range of adjustable temperature settings, and priced pretty well for the quality and features you get. 
But if you have some time and want to learn more – read on. 
I've spent 14 hours researching dozens of tea makers to come up with this list. So I hope you'll find it helpful. 
Do you have a particular question about choosing the best tea maker? Then use the table of contents below to jump to the most relevant section. And you can always go back by clicking on the black arrow in the right bottom corner of the page. Also, please note that some of the links in this article may be affiliate links. For more details, check the Disclosure section at the bottom of the page. 

Best tea maker: my top choice
This tea brewer is made of temperature and scratch-resistant borosilicate glass. This is quite a fancy material that is also BPA-free and completely safe for any beverages you intend to enjoy. Its inner lid and bottom are built of enduring stainless steel material, rendering it long-lasting and stable.
You can set the temperature of your tea on the base menu with 5°F increments/decrements in the range of 100°F to 212°F.
Six premade programs let you make a variety of beverages, including tea of any type, coffee, hot milk, or boiling water.
With the keep-warm function, you can keep your hot beverages warm for 120 minutes. Impressively, the boil-dry feature will turn off the heating element if it runs out of the water, and the auto shut off offers you peace of mind.
Lastly, the tea brewer has a wide mouth, which means you can easily clean its insides. The safety, wide temperature range, premade programs, keep-warm, and auto shut off functions make it the best tea maker of all.
Pros
Very affordable and good value
Adjustable temperature settings
Easy to read LED screen
Cool design


Best iced tea maker
This model of Takeya iced tea maker is built with a BPA-free material. It has a patented leak-proof design that enables you to store chilled tea for as long as you want.
The pitcher's lid is airtight, so there would be no leaks or even temperature drops with this iced tea maker. It will save you time by making your tea in a mere 30 seconds thanks to Takeya's flash chill technology. 
Want to use leaves or tea bags? Then you'll love that this gadget has a tea infuser with fine mesh. So, place whatever you want and enjoy the pitcher-full chilled tea for an extended time. It preserves your tea's flavor and taste as well.
You just have to fill the tea maker with water, put the tea in any form inside the infuser, add ice, and shake it slightly (after removing the infuser) to enjoy your iced tea in an instant.
Pros
Actually airtight
Very easy to clean
Holds temperature pretty well
Does make ice tea for a large group fast
Doesn't stain brown from frequent tea brewing
Handles boiling water right from the electric kettle
The infuser is big, so even high-end quality leaves have some room to unfold
Cons
Turn-lid-to-pour feature could be better
There are no measurements on the container
The base is too wide to fit in a car cup holder
The handle feels a little flimsy


Loose leaf tea maker
If you love your tea fresh, natural, tasty, wholesome, and rich with antioxidants, you probably never stop raving about leaf tea. 
This tea making machine lets you do that conveniently. You can extract every ingredient of your leaves using this tea brewer and enjoy healthy and tasty tea.
The material is BPA-free and safe for your beverages. Plus, the device is relatively easier to wash. You can easily remove and clean the stainless steel tea strainer. Its capacity is 34 fluid ounce, which is quite large, but you can make less tea if you want if there are no guests around. 
Pros
It is larger than most similar devices – more tea and more room for the leafs
It's quite wide and low, so it's easier to clean
The little "spire" on top of the filter makes it easy to grasp and remove


Best single serve tea maker
If you need a quick option for a perfect cup of tea because none of your family members enjoy this beverage, this option by Sweejar can be ideal for you. 
The cup is made of hard porcelain ceramic material, which seems very durable. It also comes with a corrosion-resistant stainless steel infuser that makes your tea brewing safe and healthy. The infuser is ultrafine, so it's easier to clean, and it keeps your drink free of larger tea particles. 
This tea brewer does not pose any difficulty whatsoever, you get to make instant tea. You can wash the device with great convenience, saving you time and energy.
It also comes in 11 colors, so it can even make a beautiful focal point of any moderately colorful room.  
Pros
Good size
Nice design and colors
The strainer is perfect for even very fine teas
Cons
The lid doesn't fit without the strainer


Coffee and tea maker
If you are a coffee and tea person, this electric kettle has got you covered. You can make your tea or coffee at precisely the temperature you want. It offers good control of the temperature within the range from 160°F to 200°F.
The stainless steel lid mesh filters the drink well. It's resistant to rust, so don't worry about device durability.
It has 2-liter capacity and features a programmable menu. So you can make not only tea or coffee, but also pasta, eggs, yogurt, oatmeal, soups, and anything else you can think of. 
Pros
Automatic hold temperature function is very handy
Built-in diffuser for teas
Easy to use and clean
Has cooking settings for instant noodles, egg, oatmeal, and even yogurt
Cons
A bit noisy when bringing the water temp up
Price


Best programmable tea maker
This tea maker had 9 different programs to use as a yogurt maker, milk warmer, kettle, thermos, soup pot, and tea maker.
You won't even have to adjust the temperature, all those presets are programmed for a particular task. So, if you value the convenience and versatility, this option is a great one to consider. 
Pros
Has 9 built-in functions for fruit tea, herbal soup, yogurt, etc.
Boils fast
Easy to control taste and favor with infuser
Low noise


Best cheap tea maker
If the budget/value combination is your main concern, this cheap yet high-quality tea maker would be ideal. It's not only durable but also offers some features that more expensive tea makers have to offer.
The thick borosilicate heat-resistant glass adds up to the list of its advantages. The handles will remain cool. And it's super easy to use and take care of. You can make your teas by putting the leaves in the stainless steel rust-resistant removable infuser. Plus, you can reheat your tea in it with a microwave or electric stove.
This inexpensive tea brewer can be washed in a dishwasher. However, I'd still recommend hand wash it.
Pros
Beautiful design
Good size for 3 – 4 people
The glass is heat resistant
The stainless steel parts are all removable 
Price
Cons
It's difficult to clean inside of the spout 
Since it is made of clear glass, yellow tea stains become visible as you use it many times


Shopping and using a tea maker. FAQ
Can you make coffee in a tea maker?
You can do it, yes. However, make sure you wash it thoroughly after making either one if you don't want your tea taste like coffee and the other way around.  
How much does a tea maker cost?
While the cost of a tea maker will depend on technology and material quality. It may generally cost as low as $10 or as high as $150. You would easily get a durable tea maker that does the job done at around $30-40.
How to clean tea maker?
Although some tea makers are dishwasher safe, to practice safety, it's recommended that you wash it with warm soapy water. You may require to disassemble some tea makers to clean them effectively.
What are some tips to make the tea maker last?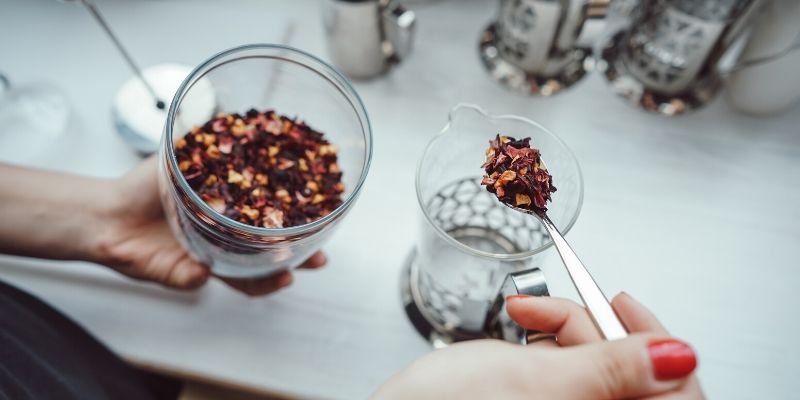 For a tea maker to last longer, it should be of high-quality material and simple design. However, careful washing, handling, and storing can extend the life of a tea maker.
What to look for when buying a tea brewer?
Before buying a tea brewing machine, make sure it is easy to operate, easy to clean, is of simple design, and built with durable material. Make sure that it can make the tea that YOU like – not all the tea makers are created equal. 
Credits: Thanks for the photo to Canva.

At ipoki.com we only mention the products that we've researched and considered worthy. But it's important to mention that we are a participant of several affiliate programs, including Amazon Services LLC Associates Program, an affiliate advertising program designed to provide a mean for us to earn fees by linking to Amazon.com and affiliated sites. As an Amazon Associate ipoki.com earns from qualifying purchases.