There's nothing like the exhilaration that comes from being out amongst nature, breathing in the fresh air, and maybe going through some extremes to get from one point to another sometimes. And even if you don't fight Saber-toothed tigers every time you go into the wilderness, it's challenging to go backpacking without lighting a single campfire. 
So, things like backpacking axe or hatchet come as handy survival gear on practically any trip. These make gathering wood so much easier, and even fun. 
Chopping wood isn't the only reason you'd want an axe though. In the 2010s, there were 29 recorded deaths by a bear in North America. And while rare, a weapon may have changed the outcome in many of these cases. 
It can be hard deciding which axe or hatchet to get, but I have done the heavy lifting for you and put them all into an easy-to-digest list.
 If you are in a rush and all you really want to know is which axe is best for general backpacking use, this Liantral axe is as good as it gets. It is versatile, with a knife, flint, and flashlight attachment; while being collapsible. It is affordable despite everything it brings to the table.
If you're looking for a lightweight axe, or a hatchet perhaps, then you should head down to read the rest of the article. I'll answer some frequently asked questions regarding backpacking axes as well. I've spent around 20 hours on this research, so I hope you'll find a few of the suggestions below worth considering (and save yourself some time). 
Do you have a particular question about picking the best backpacking axe? Then use the table of contents below to jump to the most relevant section. And you can always go back by clicking on the black arrow in the right bottom corner of the page. Also, please note that some of the links in this article may be affiliate links. For more details, check the Disclosure section at the bottom of the page. 

Best backpacking axe
It'll be hard to stuff your backpack full of rations when it's full of equipment, and I understand. That's where this hiking axe from Liantral has you covered. Forget about bringing a knife, compass, whistle, flint, or even a sickle when you have this because it has each of those, and that's a lot of space saved. The aluminum alloy shaft and stainless steel head mean worry not about rust or durability. Considering the price, it's easy to see why this axe was our top pick.
Pros
Versatile, with several attachments
Excellent build quality
Weight makes cutting wood uncomplicated
Extremely sharp blade
Cons
Rather heavy, so hard to carry over long distances
Quality of some of the attachments may be low


Best backpacking hatchet
Hatchets are the younger brother to axes. Sometimes, the heft of an axe is unnecessary, so a quality hatchet like this will perfectly fill your criteria. This is a lightweight hatchet, so it is easy to carry around with a lanyard or attached to your belt. It comes with a sheath to prevent any accidents when it isn't in use. The handle has a comfortable rubber grip, which can't be said of most hatchets.
Pros
Full tang design keeps the blade solidly in place
Lightweight and easy to carry around
High-quality rubber grip makes it easy to wield
Cons
Thin blade end means it can't double as a makeshift hammer
The sheath is low quality


Best lightweight axe
Liantral is back on the list. Suppose you want a hatchet alternative to the hiking axe that was my best overall choice. In that case, this backpacking hatchet should be exactly what you're looking for. You've got a sharp stainless steel blade out of the box, which is full tang, so you don't need to worry about the blade flying off during a powerful swing. It comes with a sheath and a lanyard, which makes it easy to tote around. The hatchet weighs less than a pound, and I had a hard time finding one lighter than this.
Pros
Small compared to other hatchets, and perfect if you're looking for a really portable option
The blade is razor-sharp
Full tang blade makes it very durable
Cons
The sheath is a low quality
Not enough weight to easily cut smaller logs


Budget backpacking axe
Perhaps all my options are great, but you just want something you can get for cheap. If that's the case, then this axe from iunio is the one. Despite the price, this is a real multipurpose implement, with a compass, knife, whistle, flint, hammer, and even a window breaker attachment. The length is easily adjustable, and it is ridiculously simple to put together. It's hard for me not to recommend this if you're looking for a light axe on a budget.
Pros
Handle length can be adjusted up to a maximum of 16 inches
Hammer opposite the blade makes it incredibly versatile in addition to the included attachments
Easy and quick to put together
Comes with camo tape for better grip on the handle
Cons
Build quality is questionable, screw-on parts may loosen during use
The axe head is weak and may break or chip during intense use


Backpacking folding axe
Swiss Army Knives are cool, but they never have axes. An axe on a multipurpose tool? It might sound outlandish, but it is a thing. Rose Kuli has this portable, versatile tool that not only includes a knife, wrench, hammer, wood saw, screwdriver, wire cutter, and more (yes, more), but it has a small hatchet too! It's incredible how versatile this tool can be, and it can definitely save you a lot of space.
Pros
Extremely portable and easy to carry around
Tools are sturdy and high quality
The axe is sharp despite the size
Great price considering the versatility
Cons
Tools may be too small for comfortable use
Included pouch is low quality


All you have to know about backpacking axes
If you're not an experienced backpacker, then this section is for you. This will answer some of those common questions you might have about axes when it comes to backpacking.
Do you need an axe for backpacking?
While I like carrying a light axe or a hatchet along, a lot of folks feel it is unnecessary weight. If you enjoy bigger, longer-burning fires, you'll find it easier to use chopped firewood, which will require a hiking axe or hatchet. They can also be versatile: as a weapon against predators, for breaking frozen ground, to drive in tent stakes, or to carve or shape wood!
How to carry axe backpacking?
Hatchets are smaller than axes, so in many cases, they can be strapped to your belt or waist with a lanyard. Axes are heavier, so those can be stored in your backpack, particularly easy with the folding variants. However, unless you're of larger build or are sharing weight between your partners, you'll start to feel that weight after some time.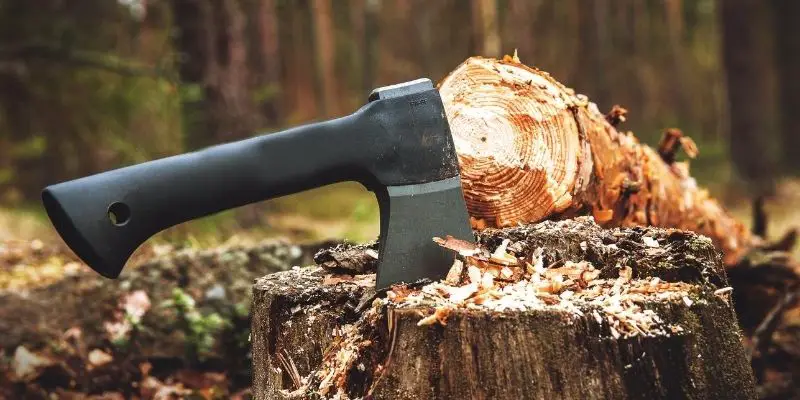 What is the best axe size for backpacking?
This answer here depends on your exact needs as a hiker or backpacker. Still, essentially, the lighter you can travel, the better. Axes are big and tend to be too heavy to wear on your waist. Meanwhile, backpacking hatchets are smaller and lightweight, which makes them easy to wear. That's more space in your bag and easy access to it in case of any emergencies. In a large group, however, it might be worth bringing an axe over a hatchet.
Backpacking knife vs. axe?
An axe excels at cutting wood, as a weapon, and for hammering things. A knife is better for finer techniques like woodworking, starting fires, or skinning your game, though it can still manage to do some axe things while being lighter. But remember! Some of the axes on our list come with knife attachments, which can give you the best of both worlds, so no compromises need to be made.
Credits: Thanks for the photo to Canva.

At ipoki.com we only mention the products that we've researched and considered worthy. But it's important to mention that we are a participant of several affiliate programs, including Amazon Services LLC Associates Program, an affiliate advertising program designed to provide a mean for us to earn fees by linking to Amazon.com and affiliated sites. As an Amazon Associate ipoki.com earns from qualifying purchases.