Pancakes are often one of the most favorite breakfast choices. And if you are making those at home, you might only want to save it for the weekends, as cooking it can sometimes be a hassle. 
And even if you are using a store-bored frozen option, there may still be sticking and burning. Not to mention situations when you make these from scratch. 
Pancake maker is an ingenious invention that will let you cook the tastiest breakfast to perfection. However, as the demand for this gadget grew, the same did supply. So there are too many options to navigate. (And the quality control is sometimes lacking). 
So, I decided to put together this list to give you several decent choices to consider.
However, if you are short on time, my best recommendation would be this one. It is non-slip and durable, bakes the dough evenly, and dishwasher safe. 
But stick around if you can. 
I've looked into dozens of pancake makers and shortlisted 5 of those. And since I've spent around 10 hours doing so, I hope you'll find at least a few of the suggestions below worth considering. 
Do you have a particular question about pancake makers? Then use the table of contents below to jump to the most relevant section. And you can always go back by clicking on the black arrow in the right bottom corner of the page. Also, please note that some of the links in this article may be affiliate links. For more details, check the Disclosure section at the bottom of the page. 

Mini Pancake Maker
This pan is great. The pancakes do not stick and come out perfect every time, and it's easy to clean. If you are a fan of mini pancakes, you will absolutely love it.
 It has 7 perfectly designed molds for seven mini pancakes. (And you can also cook eggs, omelets, or anything you can fit in its optimal-depth molds.)
The non-stick feature lets you easily bake and release the cakes. Cleaning can be a pain when the surface is sticky; however, you can easily wash this one off after cooking.
Also, you don't have to use too much oil since the surface is smooth, so you can cut off some extra calories from your pancake feast.  
It's made of aluminum alloy, so it's safe sturdy and durable. The bakelite handle is heat-proof, allowing you to handle it with ease when cooking. And, most importantly, the pancakes turn out to be so cute and pretty every time. 


Best Pancake Pan
If you ever felt that you are not good with flipping pancakes while using the pan, I tell you this is a gamechanger. 
With this one, you will actually enjoy the pancake making process. Gotham Steel has put together two smooth-surface pans for making yummy fluffy pancakes with impressive ease.
The design is such that you won't even have to use a spatula; flip the pancake maker after it's done. Your creation will slide off the surface without any effort.
There is no need for oil/butter as the pan coating ensures effective release without the need for any lubricant. It makes your food enjoyable and healthy at the same time.
The aluminum composition and the double-dome design allow even heat distribution, ensuring it will be well-cooked.
It's also lightweight, dishwasher safe, toxin-free, and features ergonomic design for easy handling. 


Best Pancake Maker
The pancake machine is one of a kind. The build is very compact – so you can use it even if you are limited in space (even if we are talking in vehicles and tents). The small size won't take up much of your counter space, so you can store it anywhere you want.
It's so easy to operate that you won't require a manual to crack any code. Just plug it in, wait for the light to turn off, and you are ready to make your favorite recipes.
The heating surface is made of dual PFOA-free and non-stick material, making the machine easy to clean. And your pancakes will be safe to eat and will slide off smoothly once baked too. 
And the design of the machine is pretty neat. 
You also get a recipe guide with it. And you can actually cook not only pancakes but also french toasts, omelets, grilled cheese sandwiches, quesadillas, etc. So it can be a great gift idea for bakers.


Pancake Maker with Shapes
You can make 7 different-shaped pancakes with this machine to add fun to the meal. Cooked pancakes turn out to be super cute. And it can be a big hit, especially if you have kids in the house. 
This device is made of aluminum, which is very good at heat conduction. So there will be even heat distribution, ensuring that your pancakes are well-cooked.
After baking your favorite recipes, the non-stick surface lets you release the end product smoothly. In case it doesn't, the package comes with a silicone spatula as an added bonus.  
It's a very cool little gadget for a fun breakfast.


Best Crepe Maker
If you set the heat right and follow the batter recipe from the machine's guidebook, you practically can't mess it up. The 12″ diameter of the device allows you to make large, thin, and crispy crepes. You can also bake several pancakes with this if you want. 
Its surface is non-stick, so you can quickly cook, release the crepe, and clean the appliance. It's made of aluminum, so the heat distribution is even, and your pancakes turn out to be well-cooked all around. You also get a wooden spatula with this product, making it easy to release the baked crepe. And you can use it as a griddle too. 


Pancake Maker Buying Guide and FAQ
What is the pancake maker, and why do you might want one?
Pancake maker is a kitchen appliance with the help of making well-cooked and fluffy pancakes in no time. So, without any hassle, you get to bake your favorite recipes quickly and effectively.
If you would like your children or yourself to get an instant healthy breakfast, you might want one of these. A pancake minimizes your effort and time while delivering a favorite breakfast. 
What are the main types of pancake makers?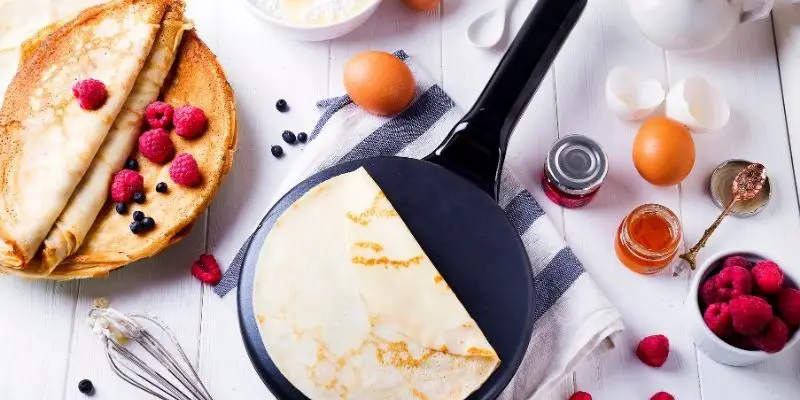 Mainly two types of pancake makers are used: stovetop pans and electric pancake makers. You can use stovetop pans for cooking on any fuel. In contrast, the electric ones are self-sufficient and bake you pancakes rather quickly.
Further, they can be classified based on the shape and size of the pancakes they cook. Mini pancakes with different shapes can make children's breakfast fun. If you like large and thin ones, you can opt for a crepe maker.
Which one is the most popular and how to use it?
Electric pancake makers are the most convenient, quickest, and effective. They are designed to distribute even heat, provide toxin-free and non-stick surfaces, and offer ease of use.
All you have to do is pour your dough in the pan form/forms, close the lid, and cook. That's all. Your pancakes will be ready in minutes; you can easily release them, sometimes without even using a spatula.
What kind of pancakes can I cook in a pancake maker?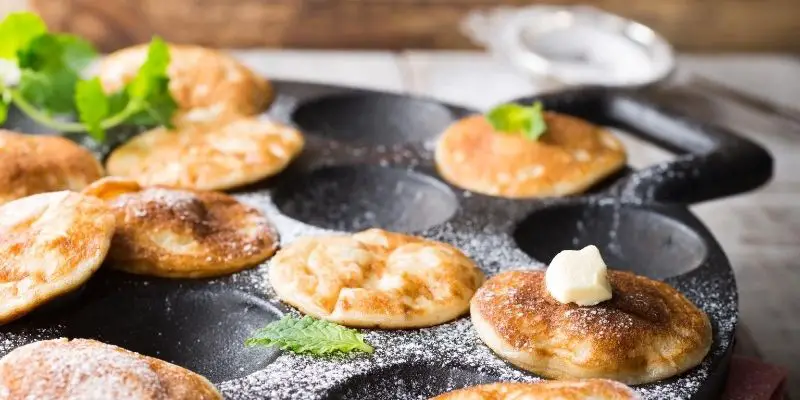 There are a lot of shapes and sizes in which you can make your pancakes. The most common is the simple plain ones. However, you can make emoji pancakes and spiderman pancakes. These fun shapes can add real fun to children's breakfast and may make them consume enough food for the day.
What is the decent pancake maker's average price?
It's not costly when you consider the value it adds to your kitchen and life. A decent pancake maker will cost you around $20-$30. However, depending on the energy source and quality of the material, the cost may vary from $10 to about $50.
How to clean a pancake maker?
Cleaning a pancake maker is usually very easy; the material of most of them nowadays is non-stick aluminum. So, it won't require any extensive cleaning.
You can just rub a damp cloth onto the surface and see if it gets clean; use some soapy water to clean it thoroughly if any batter remains.
Credits: Thanks for the photo to Canva.

At ipoki.com we only mention the products that we've researched and considered worthy. But it's important to mention that we are a participant of several affiliate programs, including Amazon Services LLC Associates Program, an affiliate advertising program designed to provide a mean for us to earn fees by linking to Amazon.com and affiliated sites. As an Amazon Associate ipoki.com earns from qualifying purchases.